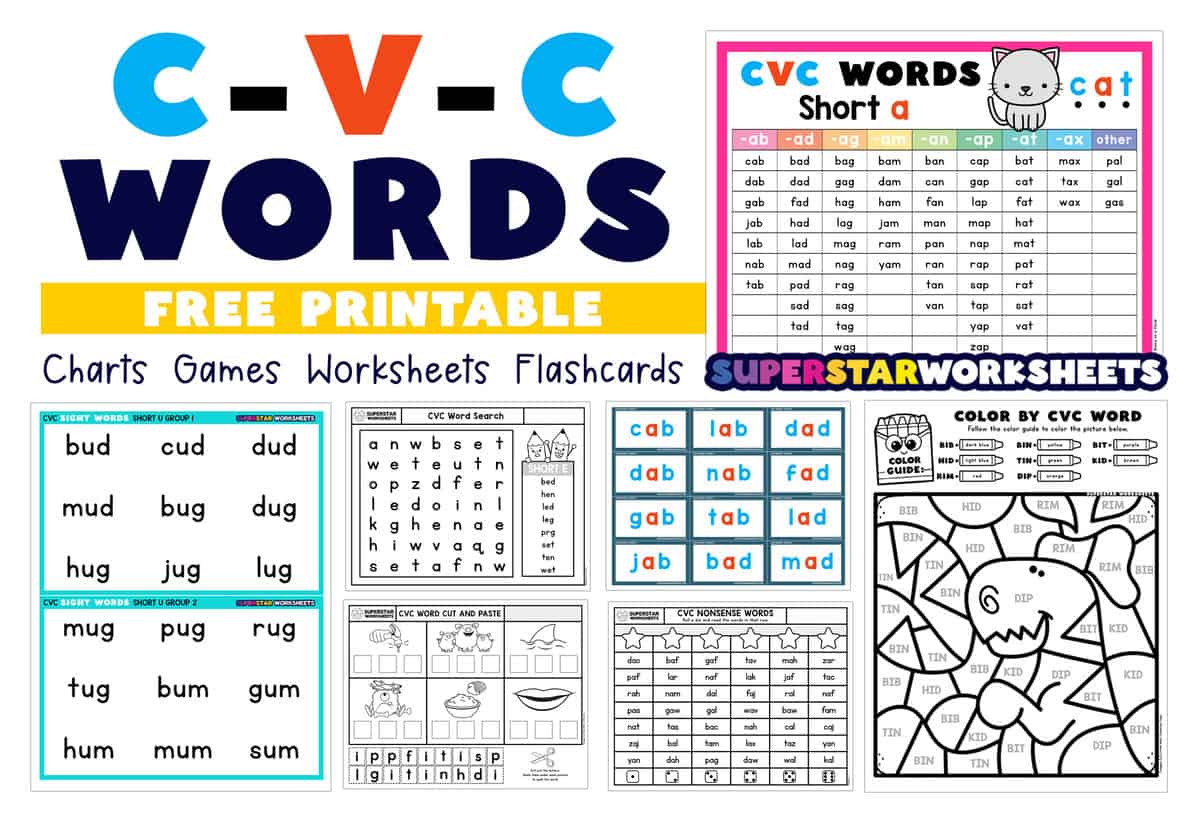 Free CVC word lists, printables, worksheets, flashcards, charts, games, and assessments for students learning to read phonics and word families. We've created a variety of tools you can use to teach your child to read at home with very little expense. If you're looking for a more robust, planned for you curriculum, check out our Kindergarten Reading Curriculum for a complete 36-week program covering kindergarten phonics, sight words, grammar, writing, and more.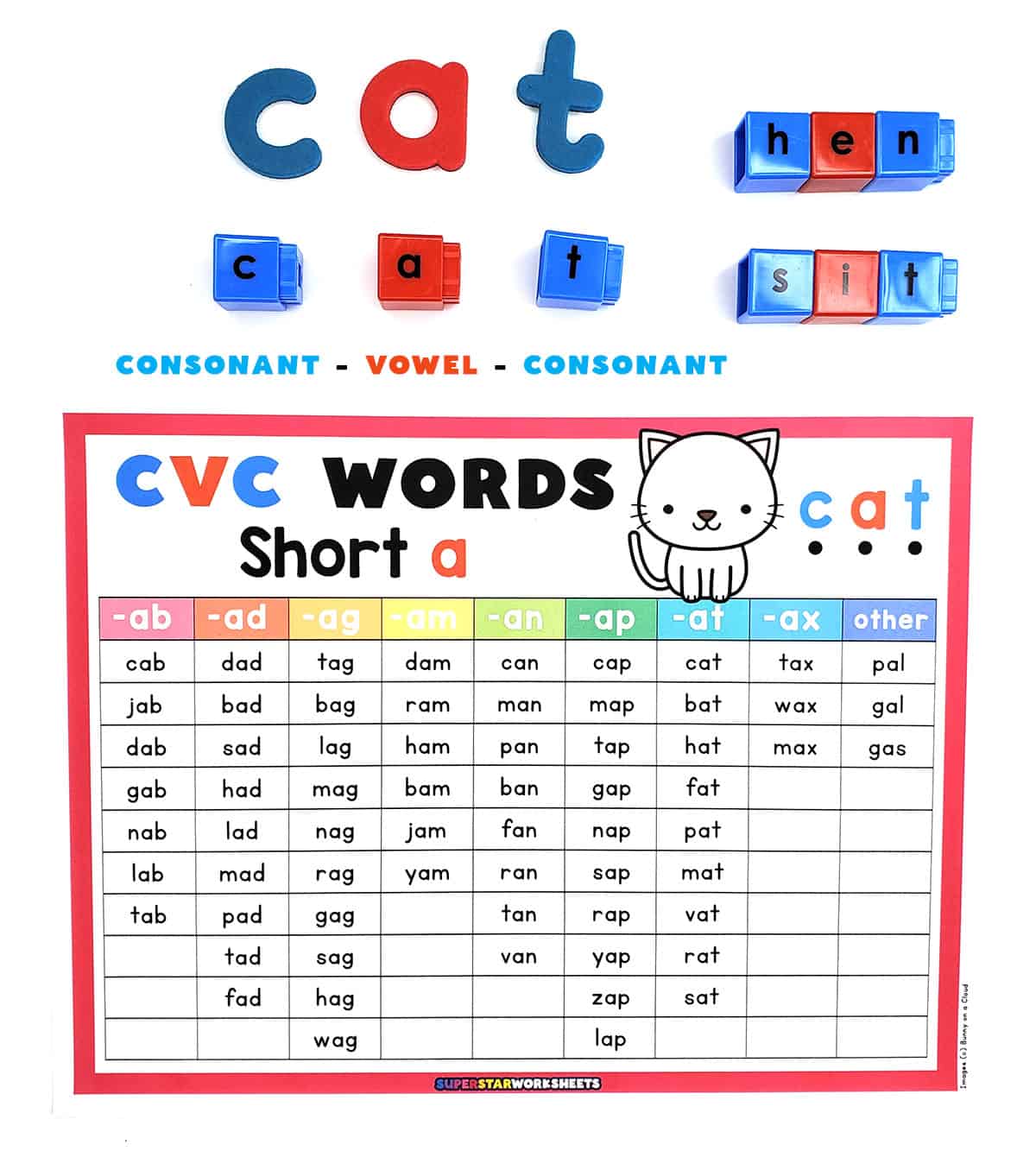 What are CVC Words?
CVC words are single-syllable, three-letter words that consist of a consonant-vowel-consonant letter pattern. For example, cat, fan, tab, mug are all CVC words because they are all three letters, can be said in one syllable, and follow the consonant-vowel-consonant letter pattern. The vowel sound in the middle of the word is always the short vowel sound. Students might learn CVC words as part of a phonics program (words that can be phonetically sounded out) or when learning word family rhyming words like -at words (cat, hat, sat, fat etc…). We have a complete, free List of CVC words, including a printable PDF version of each short vowel sound.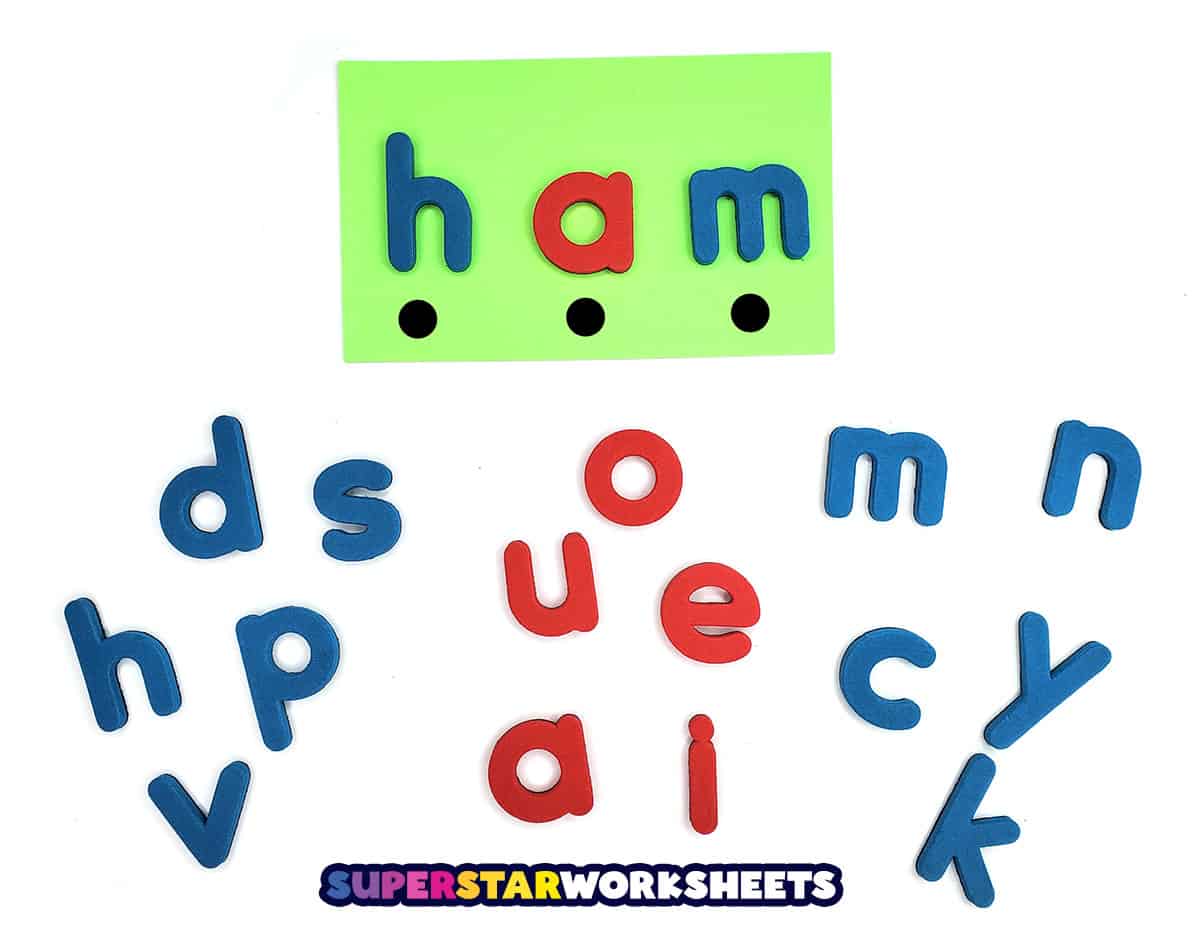 When to Teach CVC Words:
Before you can teach your child to read, you want to ensure they have hit a few reading benchmarks. Even though CVC words are generally all lowercase letters with short vowel sounds, before starting lessons on learning to read we suggest your student be able to complete the following tasks.
Recognize all lowercase letters
Recognize all uppercase letters
Know letter sounds for all consonants
Know the five short vowel sounds
Know the five long vowel sounds
All students learn at their own unique pace, so you are the best judge of when to teach your child to read. As a general guideline, most of these pre-reading skills are covered during the preschool year, thus making CVC words and learning to read an important focus during the kindergarten year. If you need to review the alphabet with your student, we have hundreds of alphabet worksheets and activities available.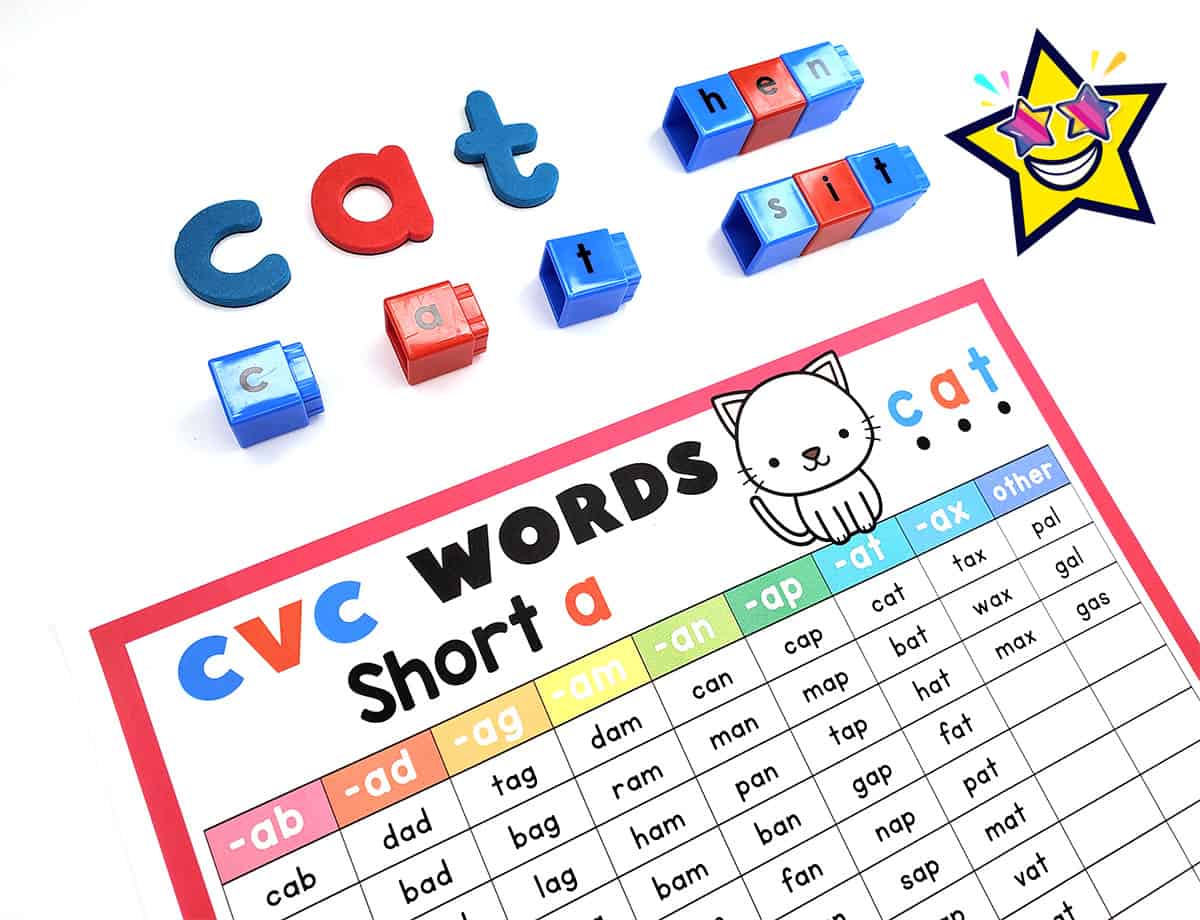 How to Teach CVC Words:
After students have a grasp on consonant letter sounds and short vowel sounds, you can begin to introduce common c-v-c words. C-V-C words are an important first step for students who are learning to read as each letter sound can be sounded out individually, then blended together to form a word. Often teachers will scaffold CVC words based on the medial vowel sound. For example, teaching students all the CVC words with the short A middle sound first. Additionally, students will begin to recognize sound patterns with rhyming word families that will build confidence and speed up reading skills. We have a variety of free printable resources for learning CVC words below: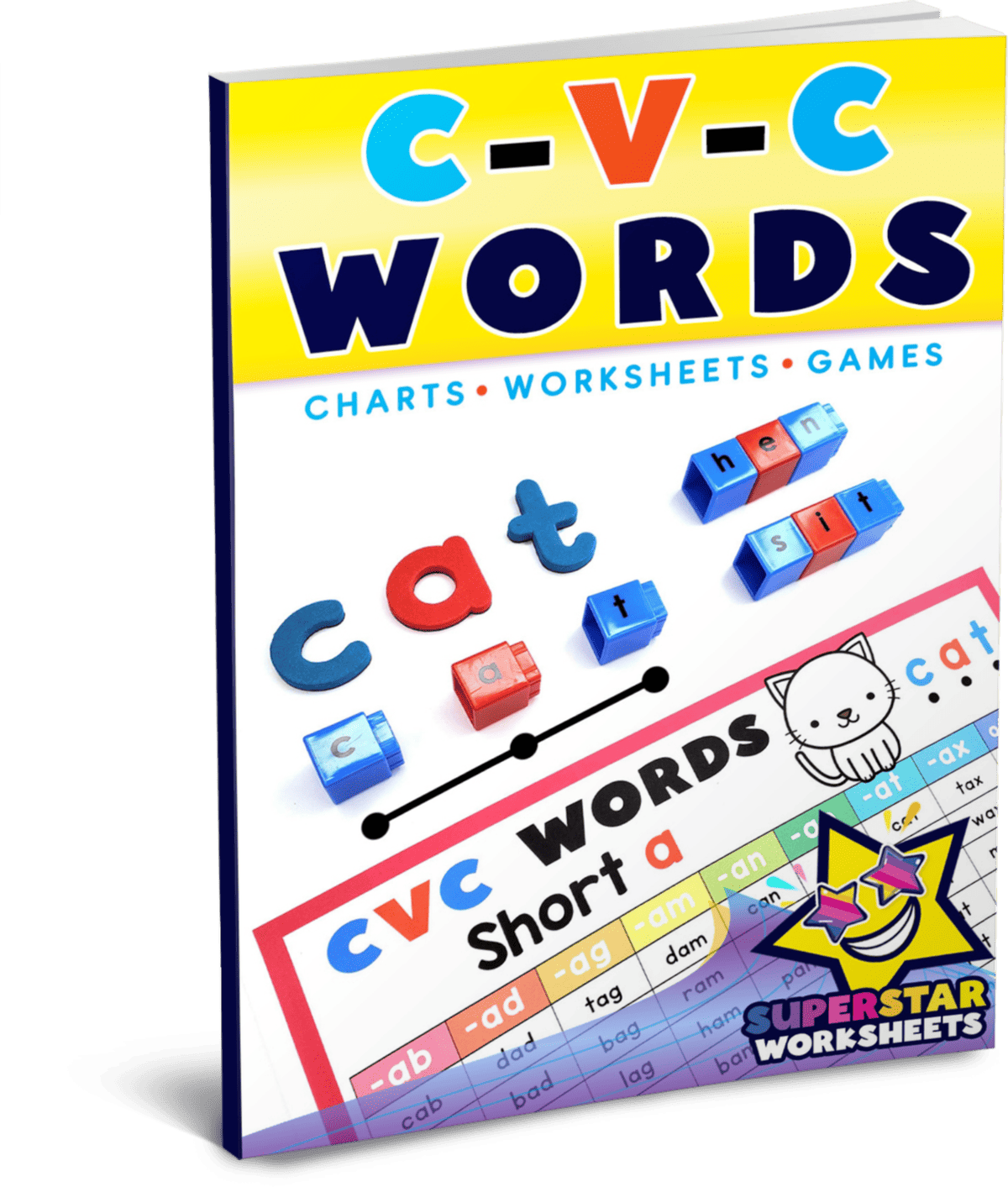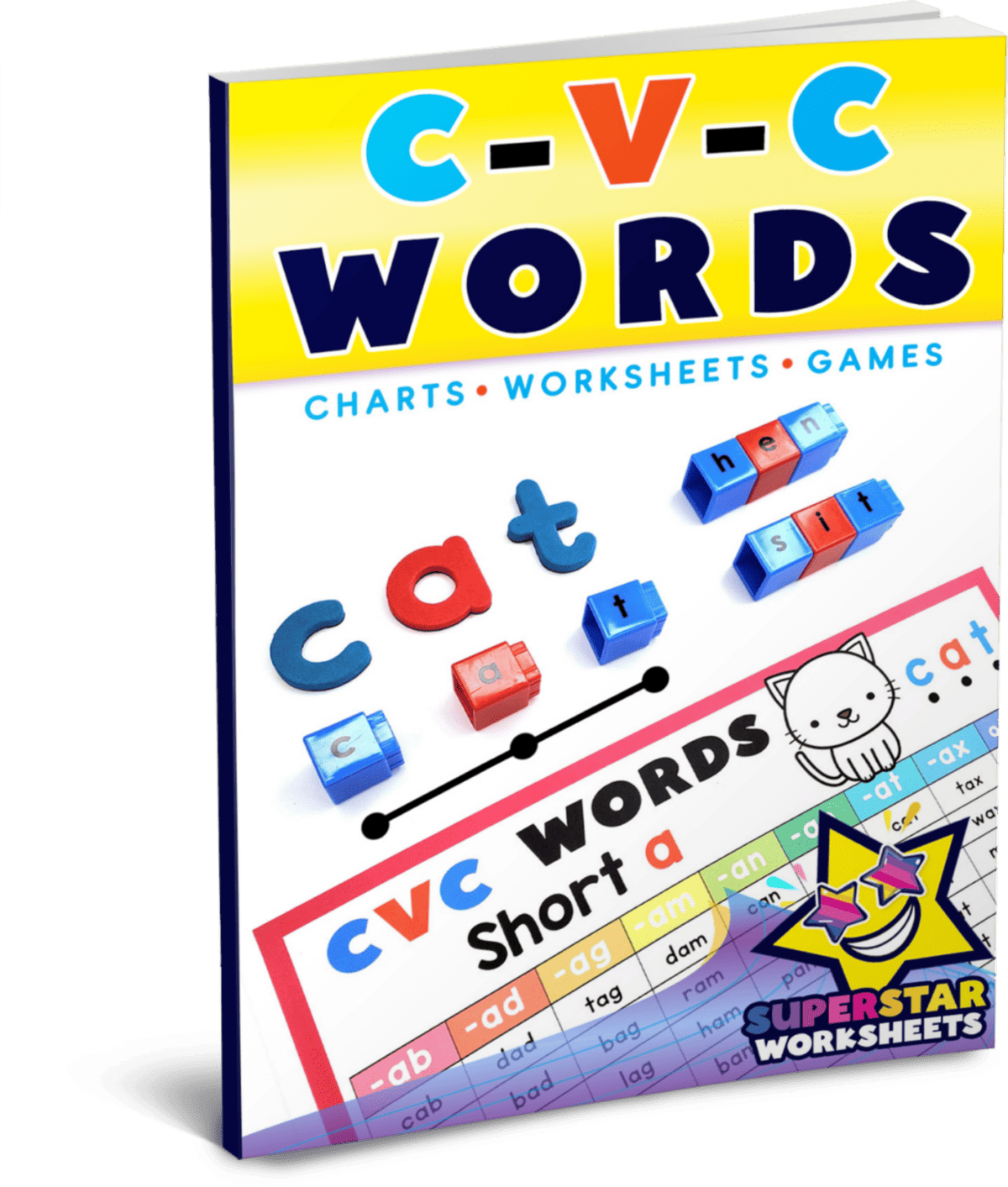 CVC Word Resources
Learning to read is fun and free with this simple CVC word activity pack. Your students will be reading, rhyming, and even spelling common word families with this print-and-go teaching resource.
CVC Word List
CVC Word Worksheets
CVC Word Flashcards
CVC Word BINGO
CVC Word Assessment
CVC Word Games, Activities, and Teaching Ideas:
Children seem to learn best when multiple senses are involved. Engaging them in hands-on activities that require movement activates their visual, auditory, tactile, and kinesthetic senses simultaneously. This multi-sensory approach helps reinforce learning and strengthens neural connections. All good stuff when you are teaching them to read! Here are some helpful ideas for how you can delight and engage even the most reluctant young readers:
Word Family Puzzles: Make word family puzzles by writing different C-V-C words on popsicle sticks. Split each word into its individual sounds, and let your child assemble the sticks to form the complete words. For example, "c" on one stick, "a" on another, and "t" on the third stick, forming "cat" when put together.
Word Family Matching Game: Alternatively, you can write the entire C-V-C word on a popsicle stick, mix them up and have students sort them by word family / rhyming word. You could even turn this into a Scavenger Hunt by hiding the popsicle sticks around the house for them find, collect, read, and sort.
Phonics Hopscotch: Draw a hopscotch grid on the floor or use tape outdoors. Instead of numbers, write C-V-C words in each square. Have your child say the word out loud as they hop to it. This activity combines movement and phonics reading practice!
Word Building with Playdough: Give your child playdough and letter stamps or cutouts. Show them a C-V-C word card and have them use the playdough and stamps to build the word. This tactile experience enhances letter recognition and word formation skills. For larger motor skills, they can roll out the entire word in dough.
Letter Sensory Bins: Fill sensory bins with materials like rice, sand, or beans. Hide small alphabet letter tiles within the bin. Provide your child with CVC word flash cards and have them dig through the bin to find the corresponding letter tiles and build the words.
Building Word Towers: Provide your child with alphabet blocks. Show them a C-V-C word card and have them use the letters to build the word vertically, creating a tower of letters. This visual and kinesthetic activity strengthens letter recognition and word formation. You can make this more difficult by showing them CVC picture word cards so they must sound out and spell the words on their own.
Silly Sentences: Create sentence strips with our C-V-C Word Flashcards and a few of our Sight Word Flashcards. Mix them up and have your child arrange the words to form silly sentences. Encourage them to read the sentences out loud and have a good laugh together.
Tools For Teaching CVC Words:
Learning to read should be fun! The more hands-on elements you can include with your lessons, the more engaged your students will be, and the more they will remember! There are many educational studies that suggestion student engagement is correlated with retention and recall–it's one of the reasons we develop our curriculum with so many hands-on learning opportunities. There are also some amazing manipulatives available that can help you setup fun and enticing phonics learning centers.
Alphabet Magnets
Letter Tiles
Alphabet Snap Cubes
DIY Phonics Teaching Tools:
Printable Alphabet Letter Tiles
Word Family Block Game
Phonics File Folder Games
List CVC Words by Short Vowel Sound
Here is a quick list of CVC words you can copy and print if needed. We've organized the list by short vowel sound and in alphabetical order.
Short A CVC Words:
-ab cab, dab, gab, jab, lab, nab, tab
-ad bad, dad, fad, had, lad, mad, pad, sad, tad
-ag bag, gag, hag, lag, mag, nag, rag, sag, tag, wag
-am bam, dam, ham, jam, ram, yam
-an ban, can, fan, man, pan, ran, tan, van
-ap cap, gap, lap, map, nap, rap, sap, tap, yap, zap
-at bat, cat, fat, hat, mat, pat, rat, sat, vat
-ax max, tax, wax
other: pal, gal, gas
Short E CVC Words:
-ed bed, fed, red, wed, zed
-eg beg, keg, leg, peg
-en den, hen, men, pen, ten
-et bet, get, jet, let, met, net, pet, set, vet, wet
other: web, gem, hem, yes
Short I CVC Words:
-id bid, did, hid, kid, lid, rid
-ig big, dig, fig, gig, pig, rig, wig, zig
-im dim, him, rim
-ip dip, hip, lip, nip, rip, sip, tip, zip
-it bit, fit, hit, kit, sit, wit
-ix fix, mix, six
Short O CVC Words:
-ob cob, gob, job, mob, rob, sob
-og bog, cog, dog, fog, hog, jog, log
-ot cot, dot, got, hot, jot, lot, not, pot, rot, tot
-ox box, fox, pox
other: rod, sod, mom
Short U CVC Words:
-ud bud, cud, dud, mud
-ug bug, dug, hug, jug, lug, mug, pug, rug, tug
–um bum, gum, hum, mum, sum, tum
-un bun, fun, gun, nun, pun, run, sun
-ut but, cut, gut, hut, jut, nut, rut
other: bus, cup, pup