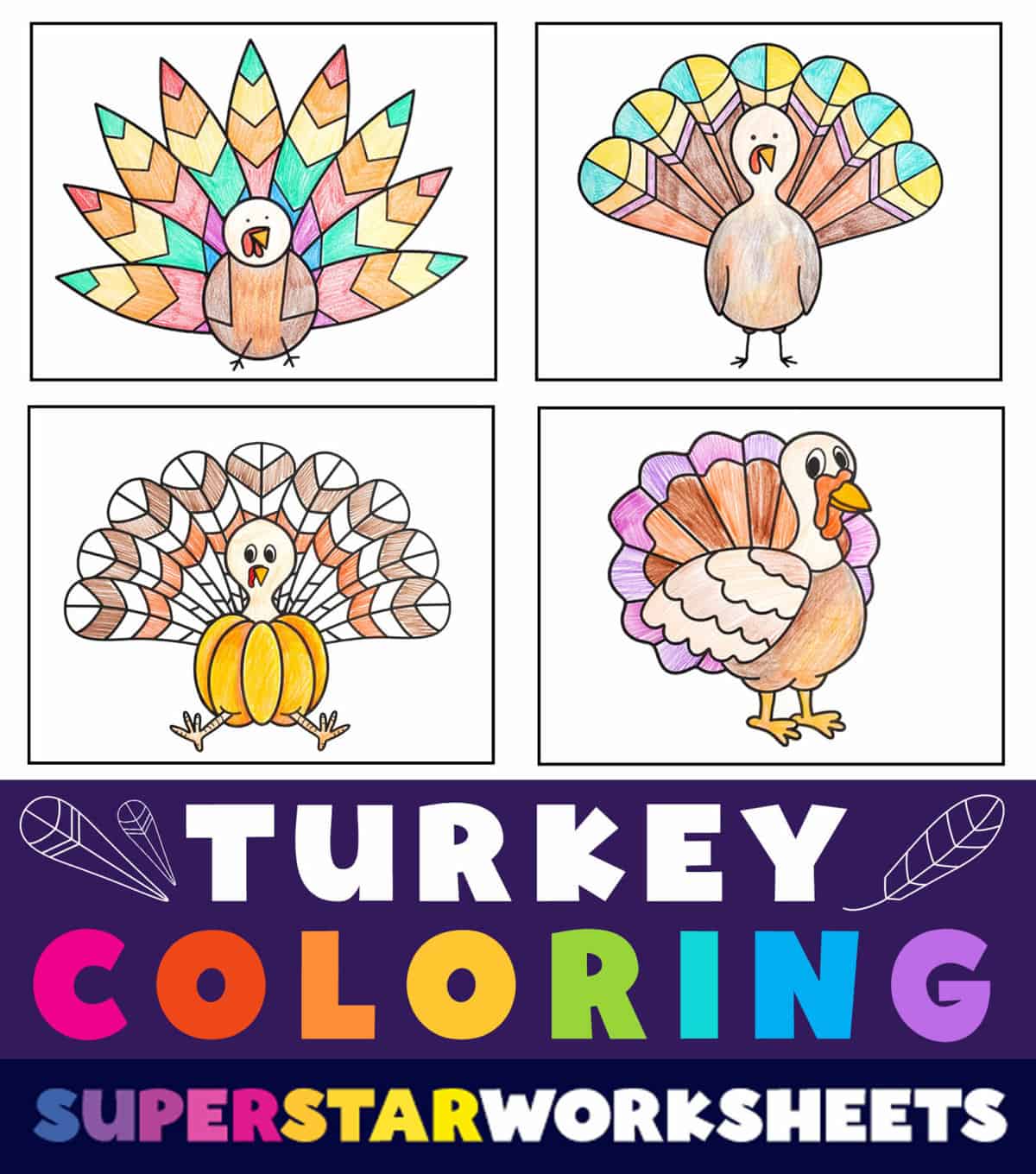 Free Turkey coloring page printables for kids! These cute turkeys are great to color for Thanksgiving or anytime you need simple, and easy turkey coloring pages. We've got everything from preschool turkey coloring pages, to fun and silly turkey design that teens and adults can color. These free printable turkey coloring pages are available in PDF format so you can print a variety of different turkeys for students of all ages to color this Fall.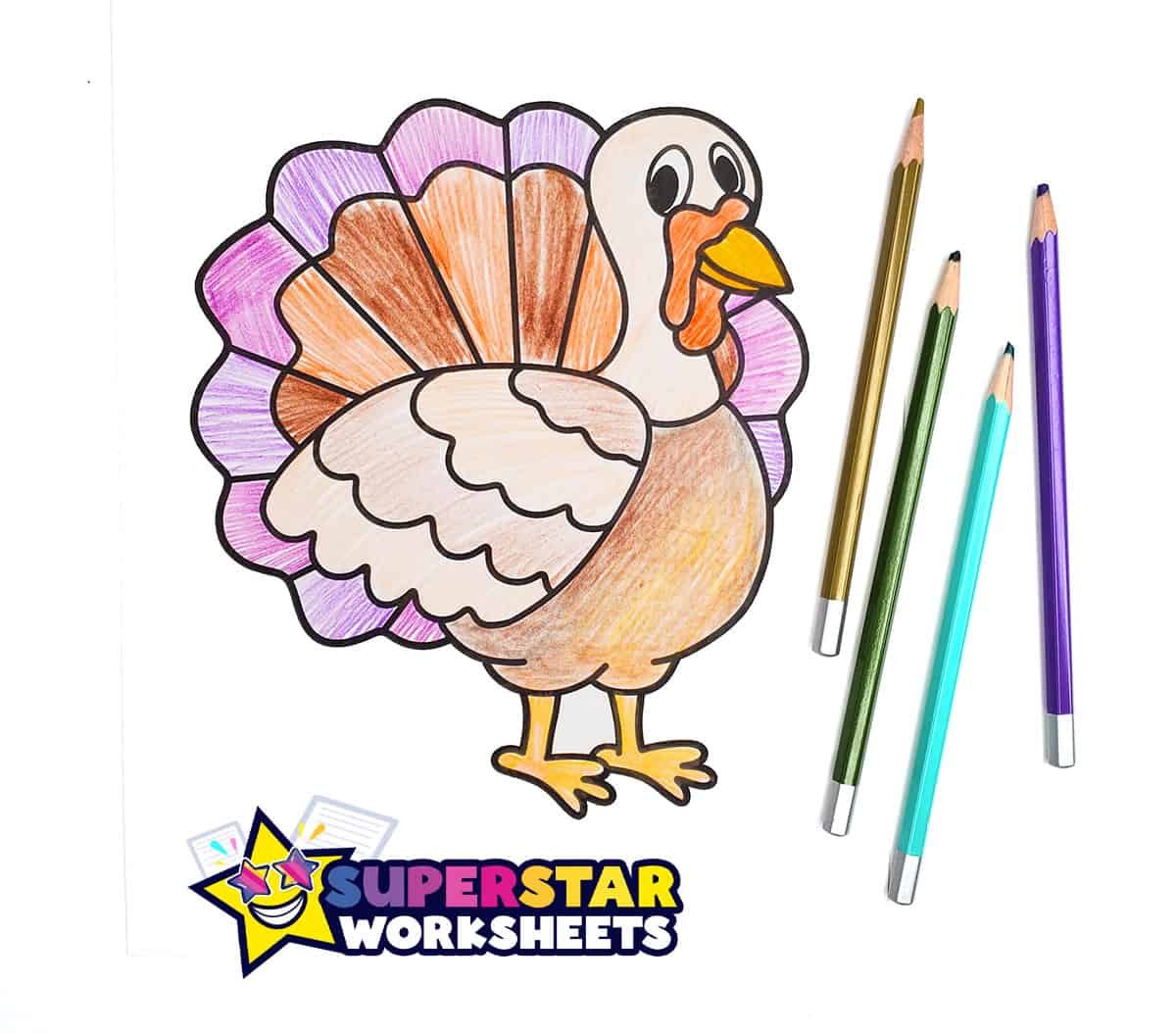 Turkey Coloring Page
We have a great variety of free turkey coloring pages below. However, you might also enjoy our free Thanksgiving Coloring Pages where students can color festive Thanksgiving placemats, signs, and more decorative coloring pages. Additionally, if you're looking for turky craft ideas try our free printable turkey templates. They are perfect for creating turkey handprint crafts, paperbag turkeys, and even pinecone turkeys. Your students will love these creative Thanksgiving projects for kids.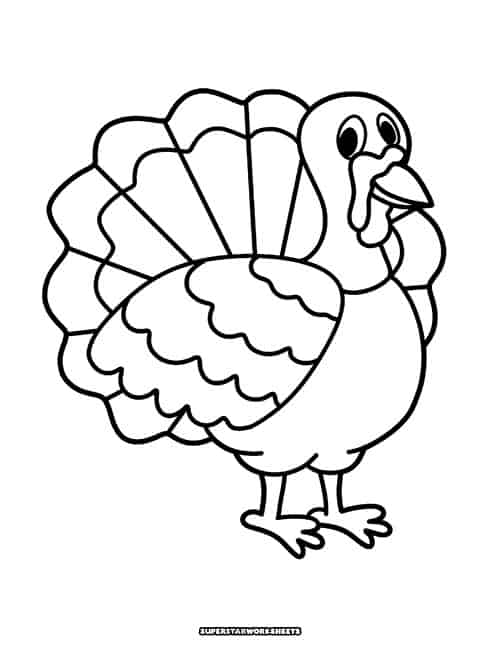 Free turkey coloring page for Thanksgiving. This cute turkey printable is simple to color and just right for preschool or elementary students. There are wavy turkey feathers that students can color in a pattern.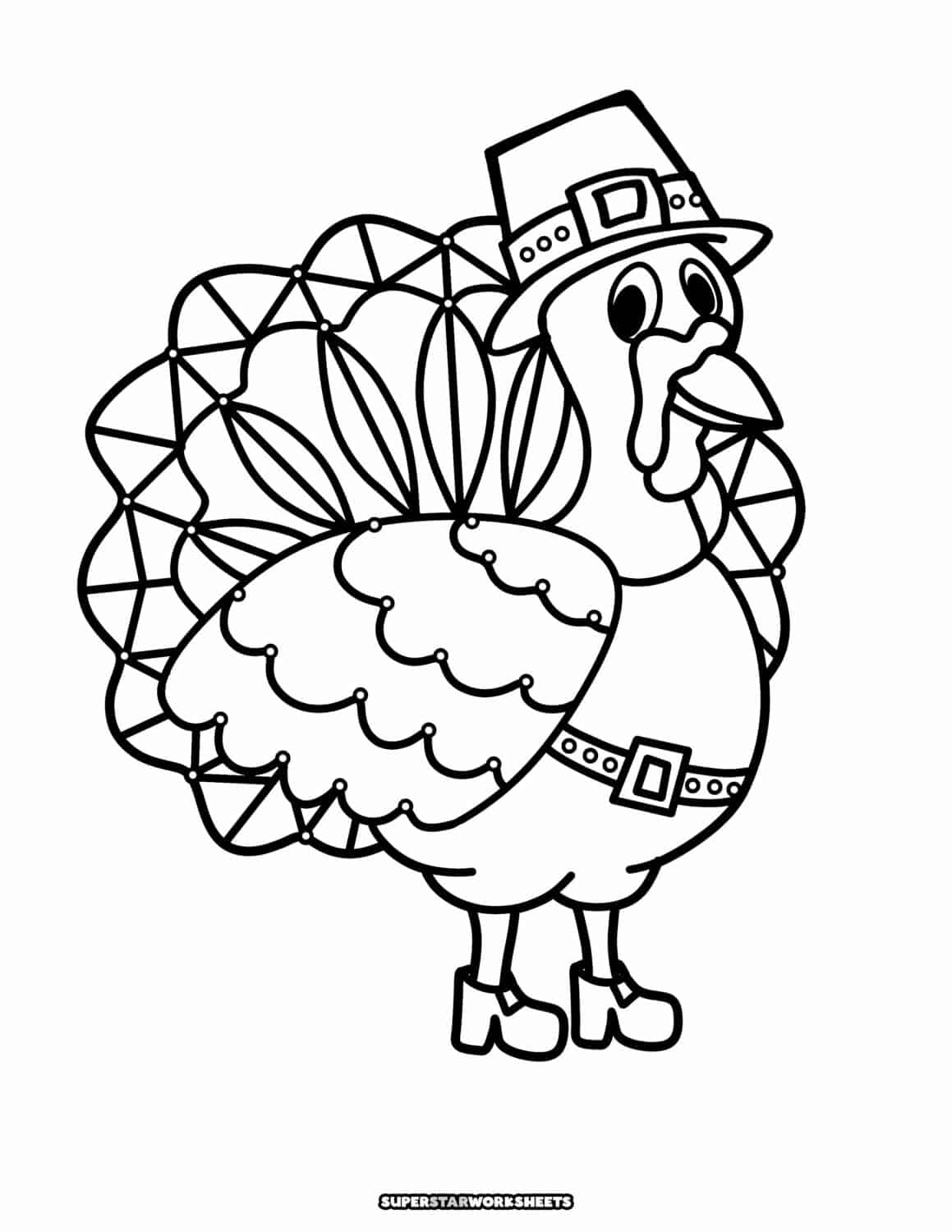 This turkey is ready for Thanksgiving celebrations! He's wearing a pilgrim hat and other fancy decorations for the Thanksgiving meal. This coloring sheet is great for students who want more fancy details to color.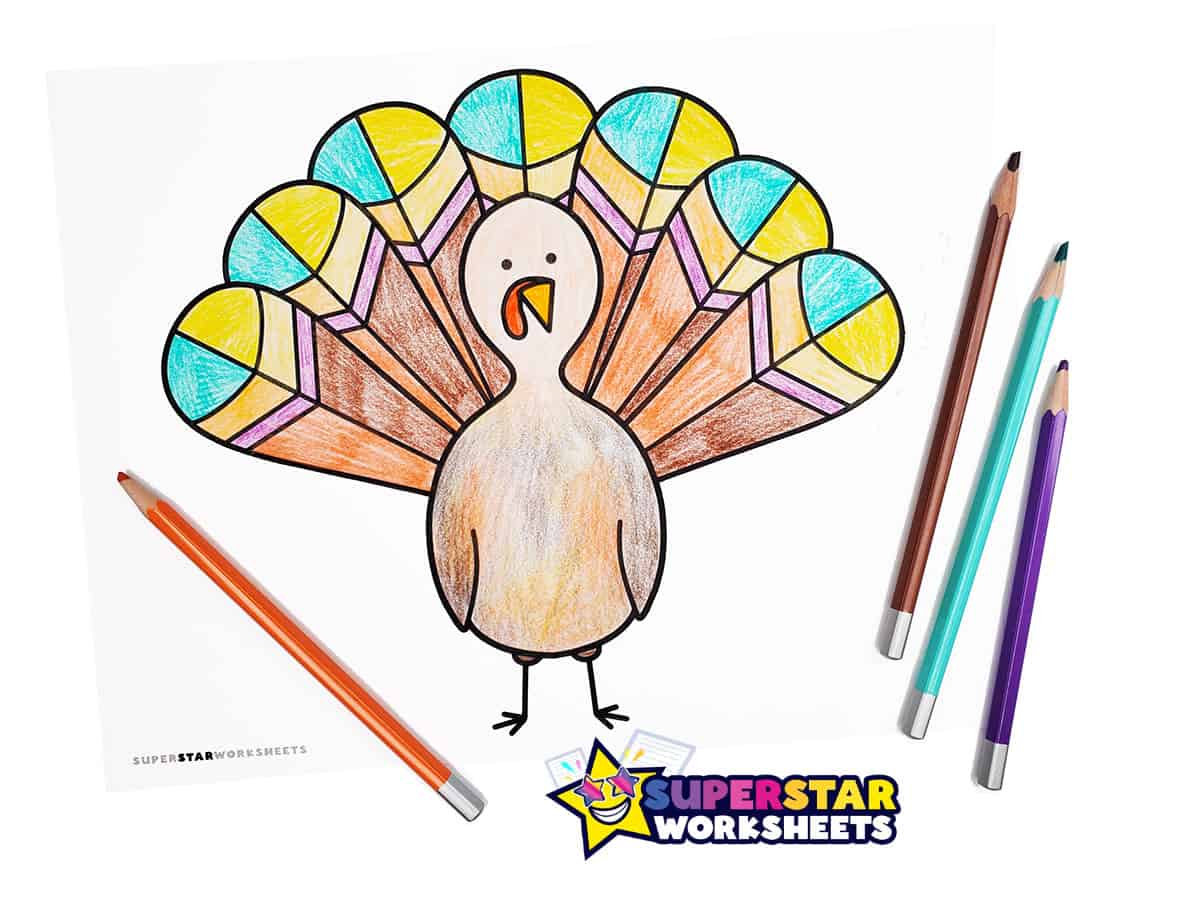 Free Turkey Coloring Pages
Our turkey coloring pages are hand drawn and digitally designed just for you! We've created them with your students in mind, giving them lots of opportunity to color and and add unique designs to these fun and festive turkeys.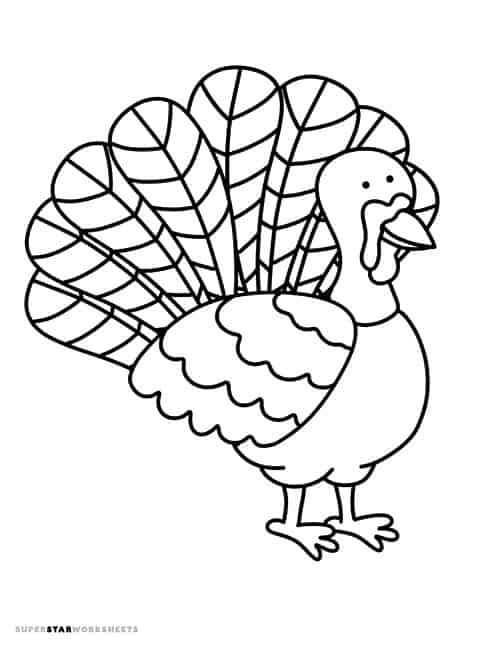 This festive printable turkey coloring page features a standing turkey with a display of feathers for students to color in.
Another festive turkey all dressed up for Thanksgiving holiday. This turkey is great to color and add to Thanksgiing cards and crafts.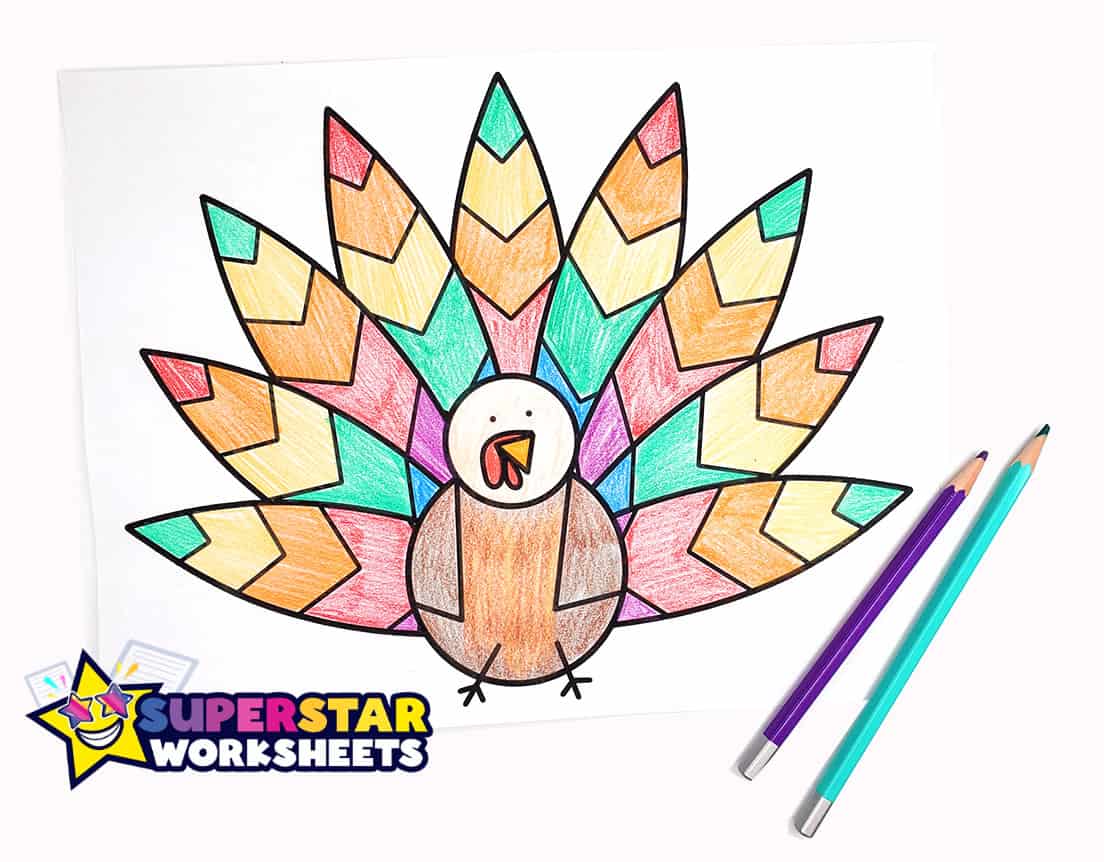 Printable Turkey Coloring Pages
These simple turkeys have beautiful feathers to color in. Your kids will love all the different color patterns they can make coloring in the turkey feathers on display. Each coloring sheet features thick black outlines for easy coloring. We recommend using a nice set of colored pencils with a variety of hues so students can work on color blending.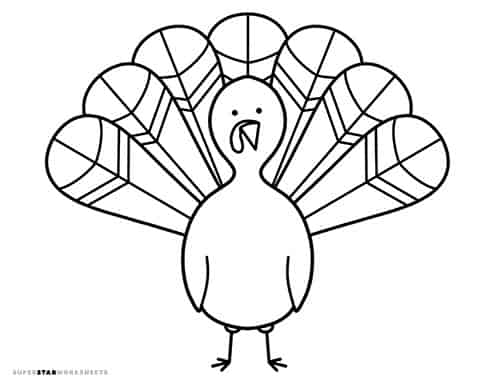 Here is another cute standing turkey you can print and color! This turkey has a fun pattern on it's feathers for your students to color. Use warm and cool colors like the photo.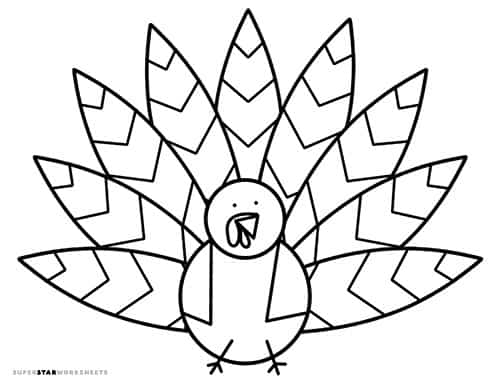 This festive printable turkey coloring page features a standing turkey with a display of feathers for students to color in.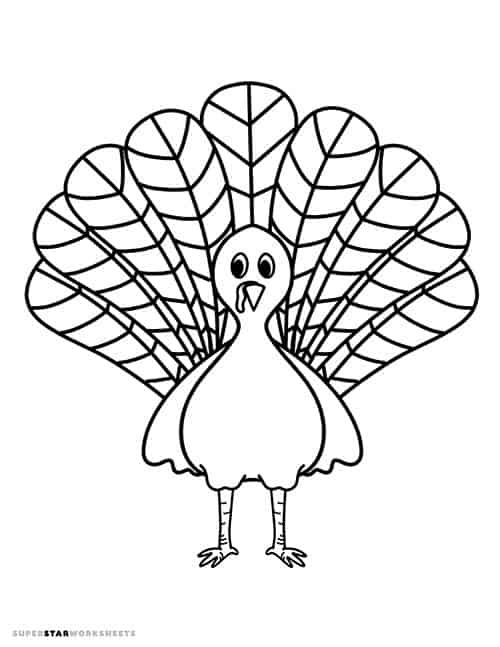 This free printable turkey coloring page features a standing turkey with his feathers on display. Students will love to color the patterns on each feather with different designs.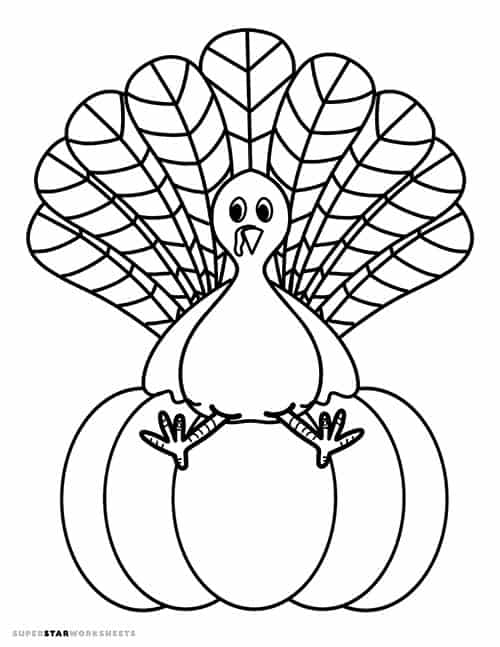 This turkey is taking a break by sitting on a pumpkin! Use this printable coloring during any fall harvest holiday like Halloween, or Thanksgiving.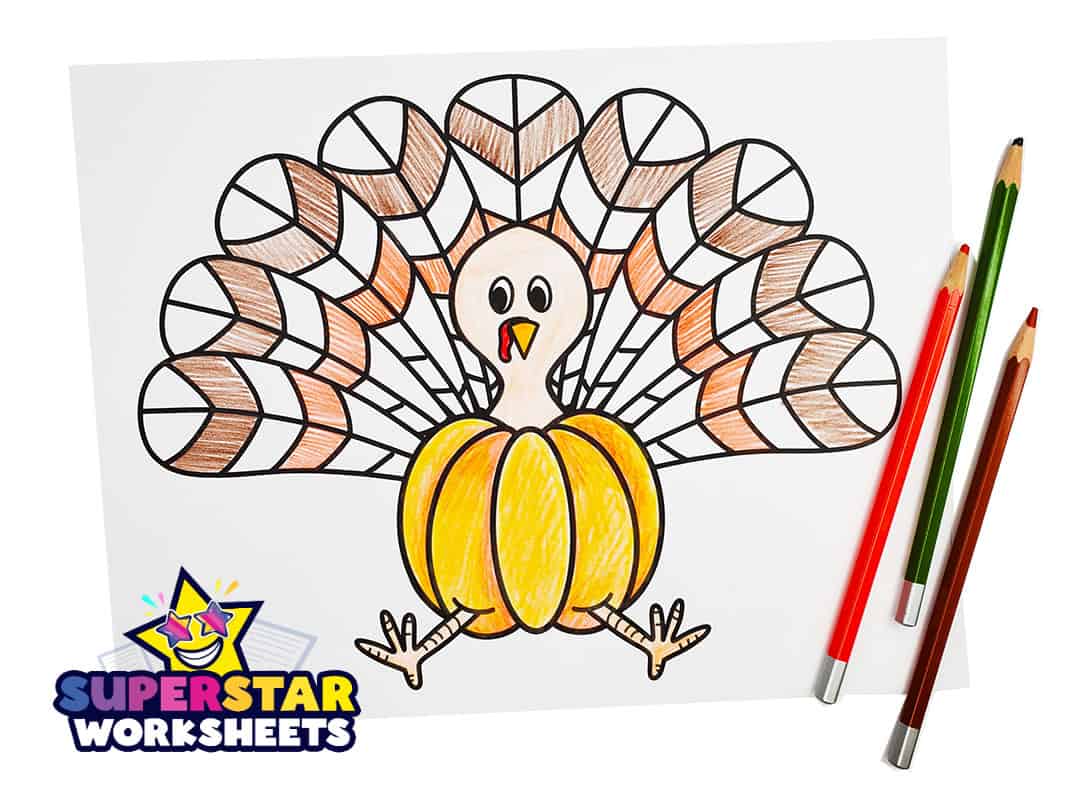 Funny Turkey Coloring Pages
These silly turkeys will add a little character to your Turkey Day activities! Not only are they fun and engaging to color in, but they can easily be used as story starters and writing prompts for a Disguise a Turkey project, or a simple How Turkey escaped Thanksgiving story.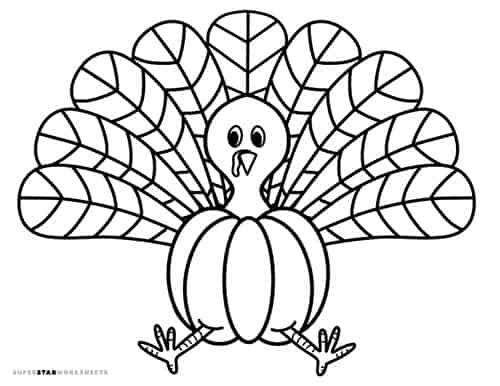 This silly turkey has gotten himself stuck inside a pumpkin! This cute turkey coloring page is great for elementary students, or to use as a writing prompt for older students….you might ask them, "How did the turkey get stuck in the pumpkin?"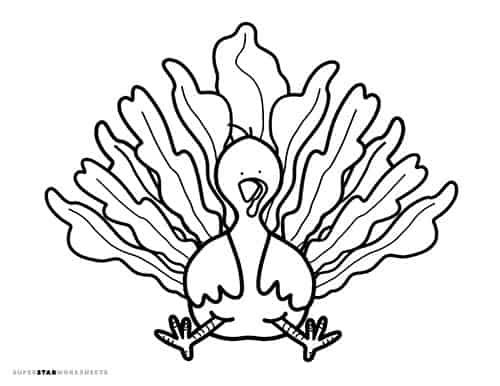 This cartoon turkey is fun, whimsical, and has a ruffled feather modern look to him. He'll make simple printable Thanksgiving decorations or a fun addition to the front of your Thanksgiving name cards.
Cute Turkey Coloring Pages
There is something so cute and adorable about baby turkeys! These cute Kawaii baby turkey coloring pages are sure to delight your students. Featuring large eyes and thick black outlines, your students will be able to add unique designs to the baby turkeys feathers. Younger students might also enjoy our Thanksgiving Color By Number Worksheets.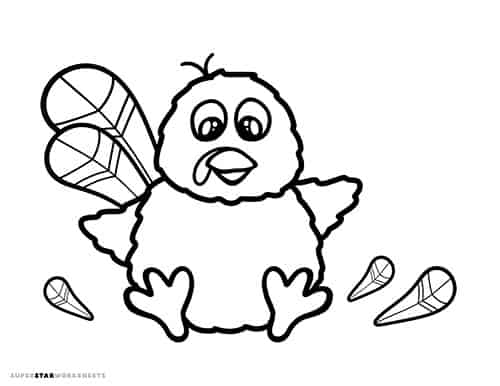 This fluffy feathered baby turkey is fresh on the scene and ready to be colored in! How cute are his fluffy features and not quite together yet feathers? This cute baby turkey coloring page is super Kawaii! Featuring large eyes, and an adorable plump, fluffy body, your students will love to color in this cute turkey!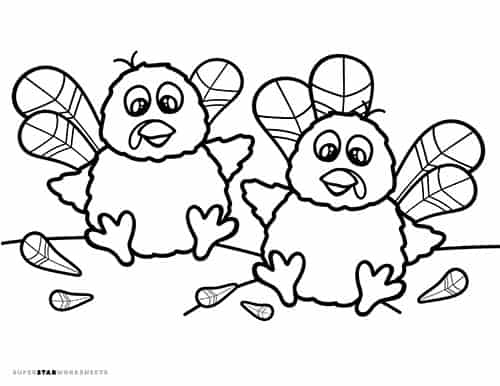 The only thing cuter than one baby turkey, is TWO baby turkeys to color. These twin turkeys make cute little coloring pages for younger students. This free printable baby turkey coloring page features a cute baby turkey with lots of extra details for your students to color in. This is a simple, thick black line drawing for simple coloring.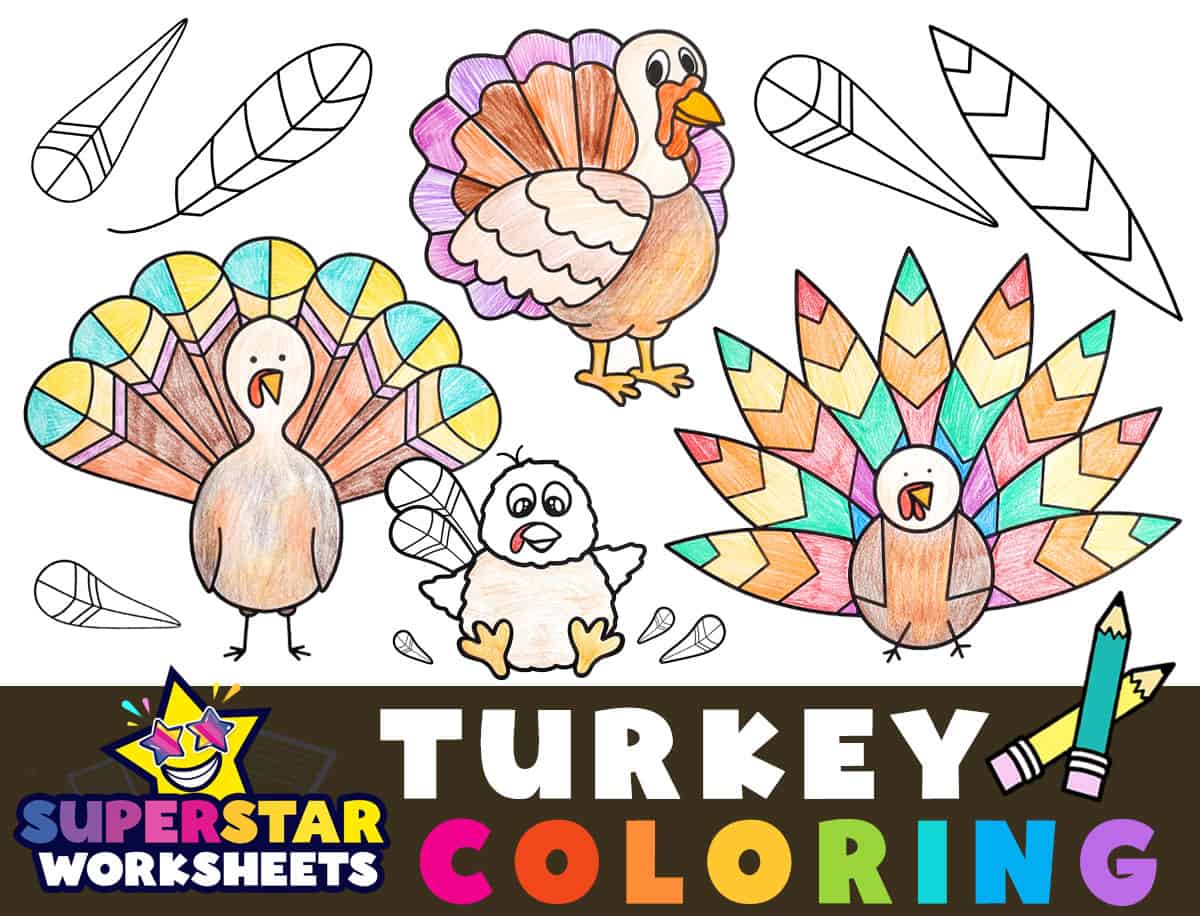 Preschool Turkey Coloring Page
These simple turkey coloring pages are great for younger toddlers and preschool students. We've created these with thick black outlines for easy coloring and help to stay in the lines. Additionally, you'll want to check out our free printable turkey templates for creating Thanksgiving Turkey Crafts, bulletin board displays and more.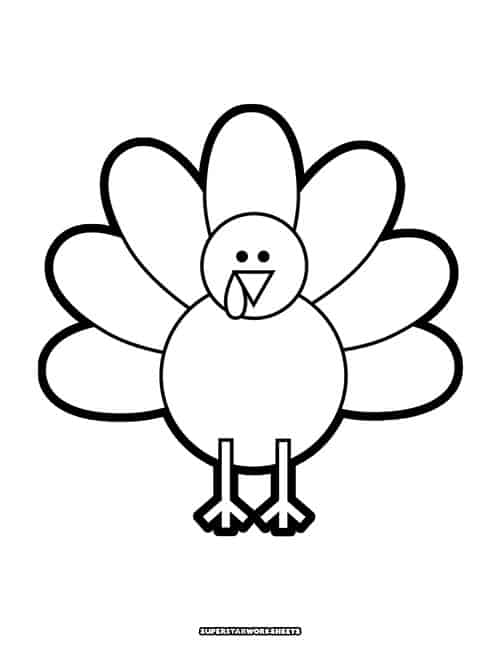 This is a free printable turkey coloring page your preschool students can color for Thanksgiving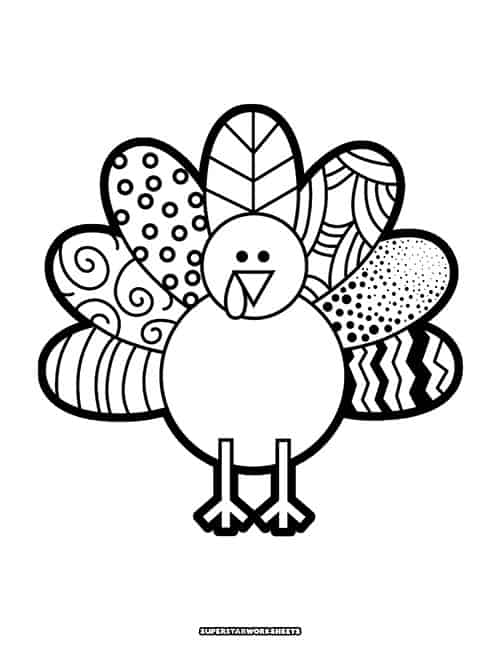 This printable turkey coloring sheet features a cute turkey with zentangle design feathers that are easy for young preschoolers to color.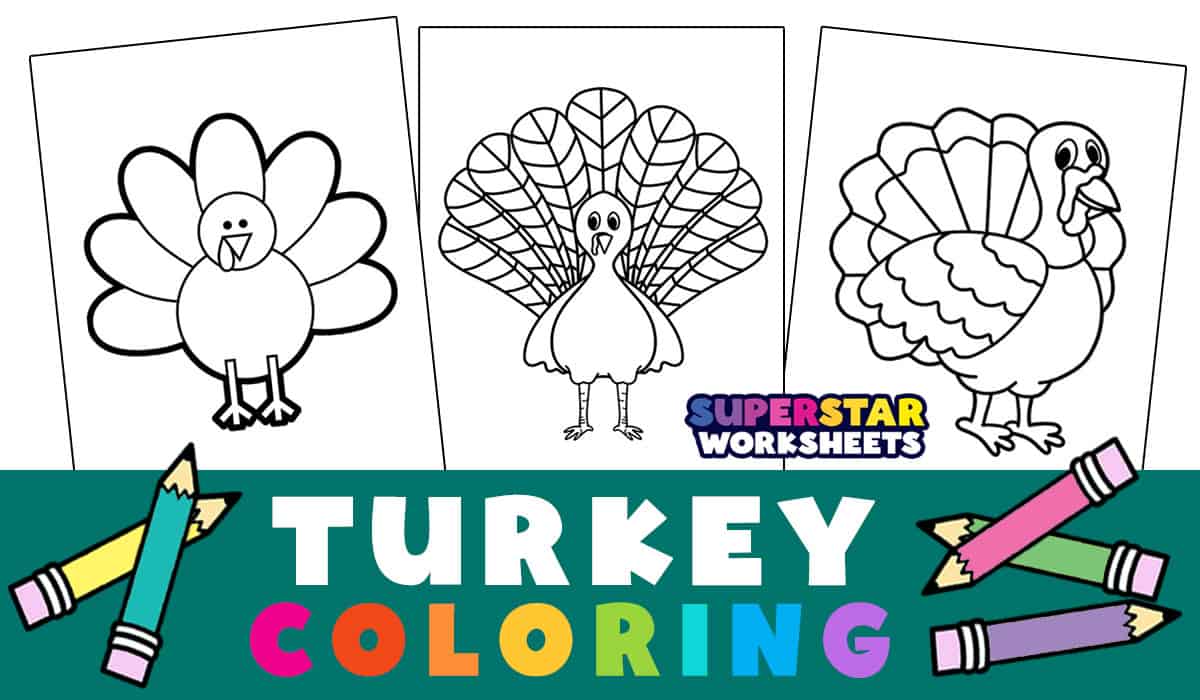 Turkey Feather Coloring Page
This Thanksgiving, why not encourage your students to try new and interesting art mediums and techniques? Print our free turkey feather art templates for simple coloring with oil pastels, watercolor, zentangle art, and more. Additionally, our free blank printable turkey feather templates are helpful for any classroom decorations or if you are doing the traditional I am Thankful Turkey Feather Craft with your students.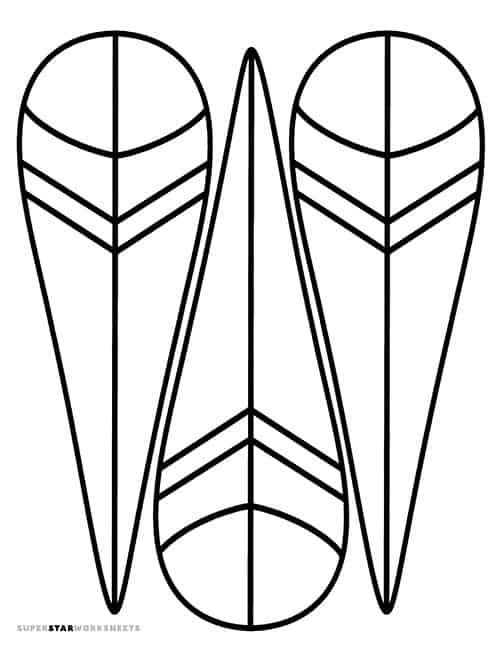 Here are three turkey feathers to color and cut out, These are great for making Thanksgiving Turkey bulletin board displays or for Turkey Crafts.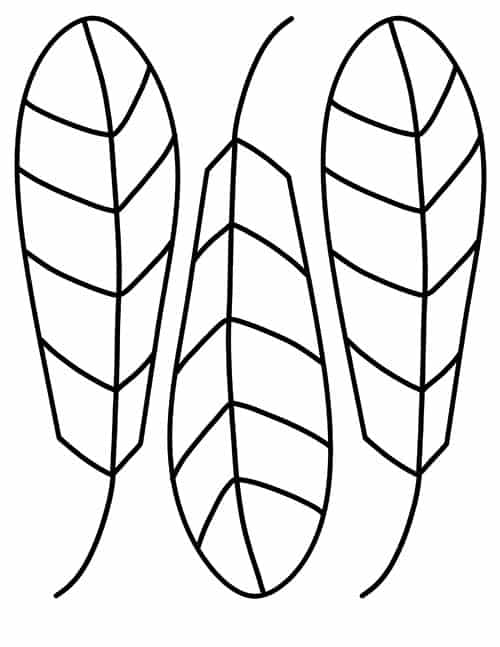 Here are two turkey feather templates with designs for your students to color in. These print two to a page so each student can color in two unique turkey feathers.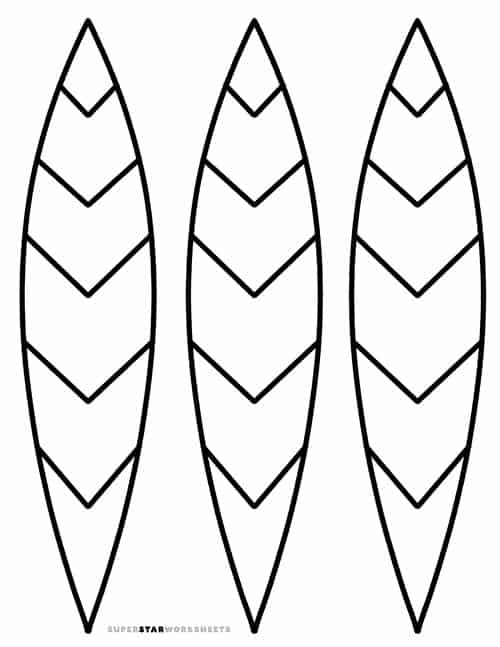 Use this Turkey feather template to create a group project with your students. Each student colors their own unique feather that you can add to a bulletin board display.