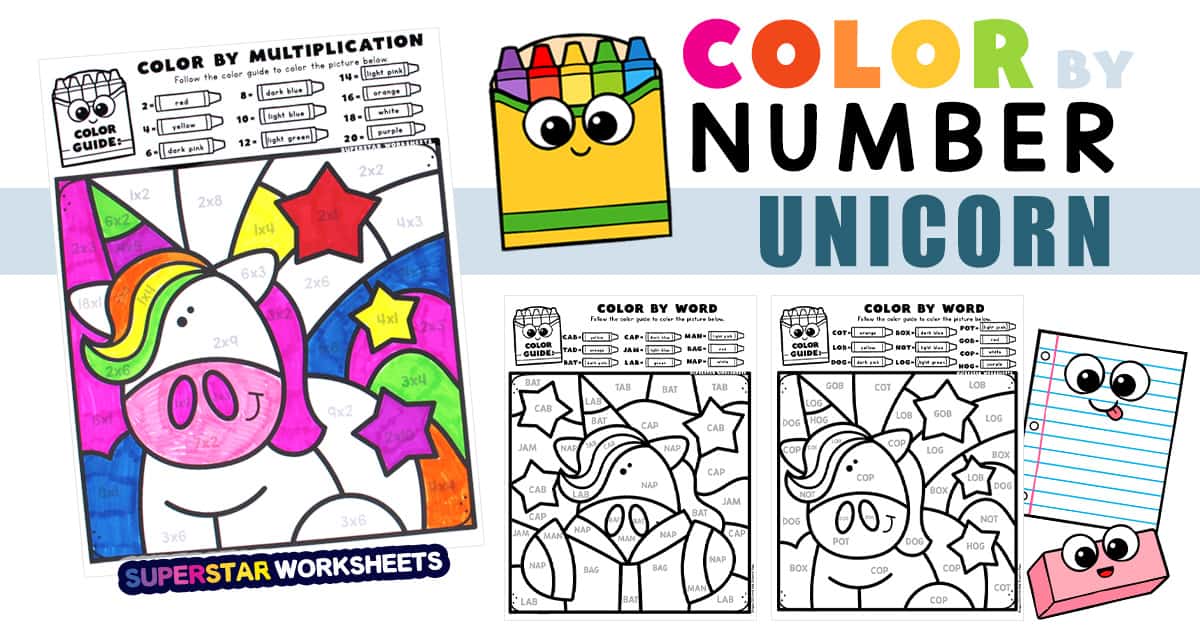 These Color by Number Unicorn Worksheets include a variety of coloring activities for your students! Color by Number Unicorn Worksheets are for elementary students ranging from preschool to fifth grade. Kids will complete simple math equations as well as learn to understand and follow simple directions. Reading skills are also taught with these coloring sheets. Students will read small words as well as identify singular letters. If you are looking for more activities for your students, you'll want to try our Preschool Curriculum Bundle!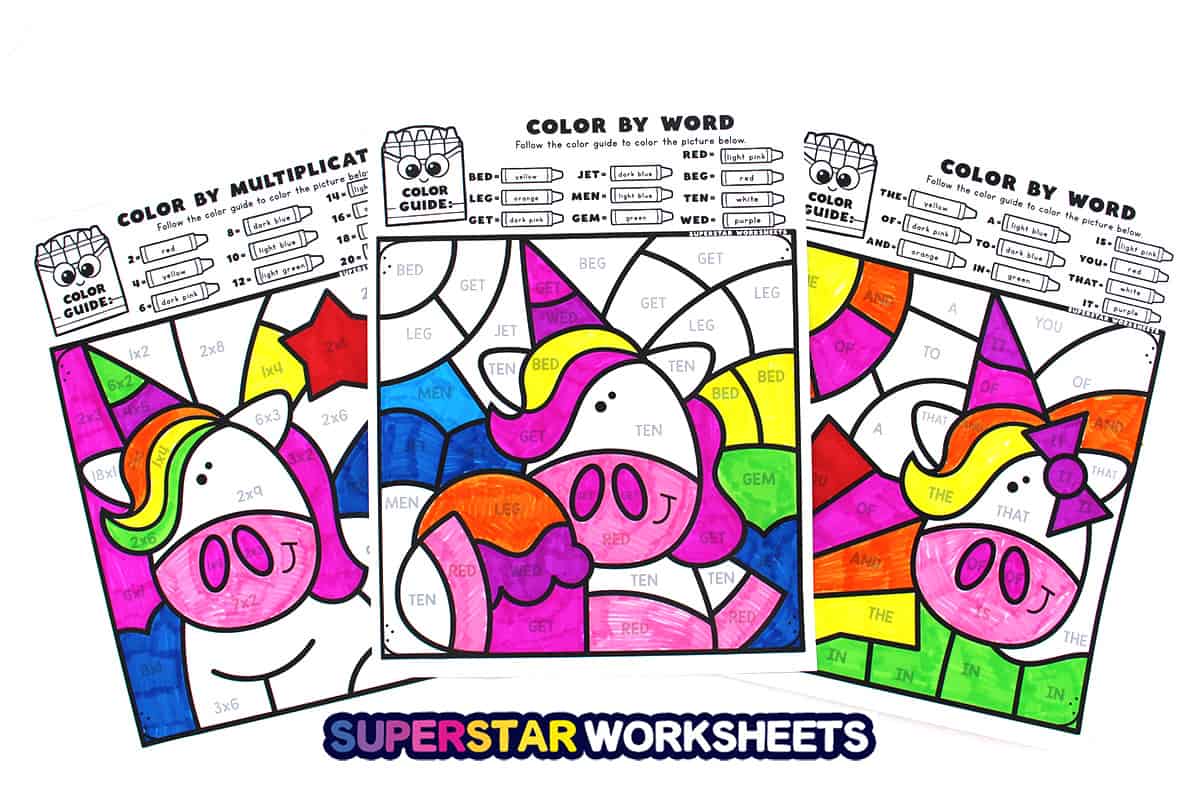 Color By Number Unicorn
Color by Number Worksheets is included in this free pack of coloring activities! Help your elementary student reach their standardized math goals with these fun coloring math sheets! Single-digit math worksheets are included to help kids recognize their numbers before moving on to math equations. Students will learn how to easily subtract and add numbers no larger than 12. They will also learn other math skills such as division and multiplication.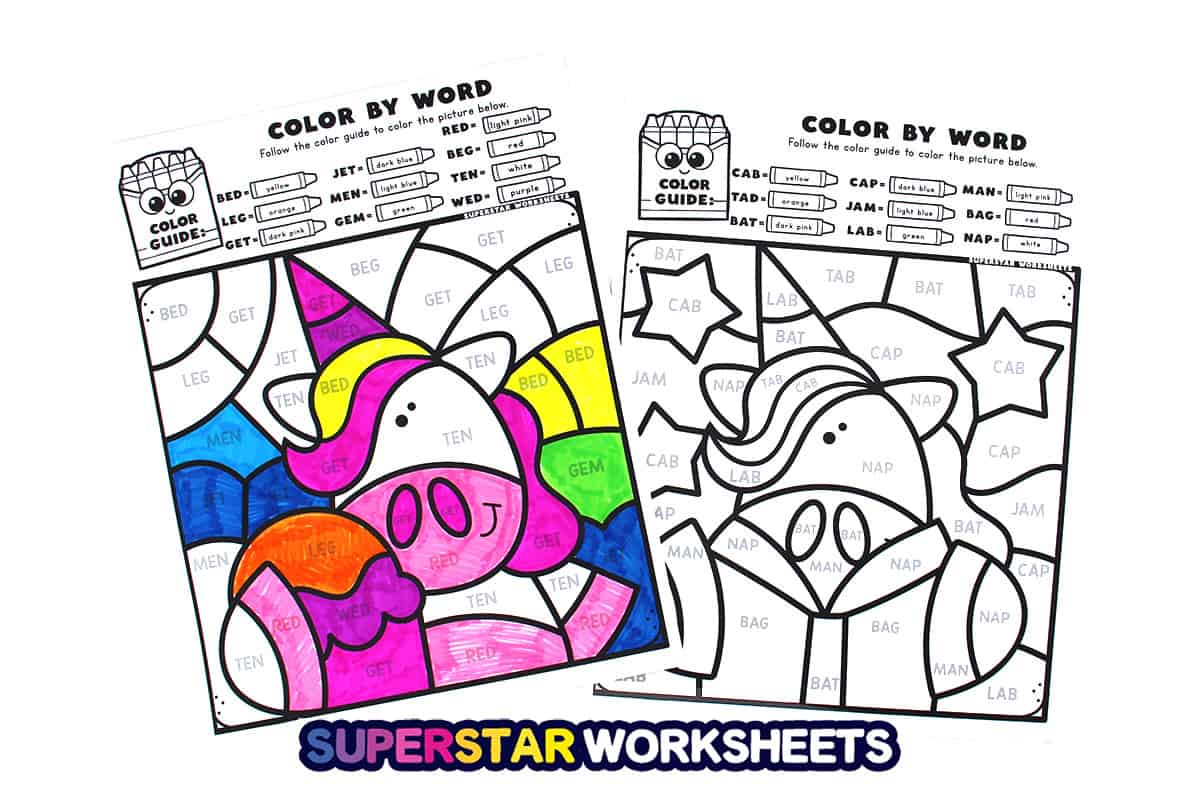 Color By Number Unicorns
The Color by Number Unicorns are an easy and fun worksheet to give your students to show them math can be fun! Each one of the unicorn pictures is divided up into sections with a math equation, number, word or letter on the inside. With the math sheets, students will either use the color key to color the right section correctly or they will need to solve the equation in the section and then color the section with the color corresponding to the number answer.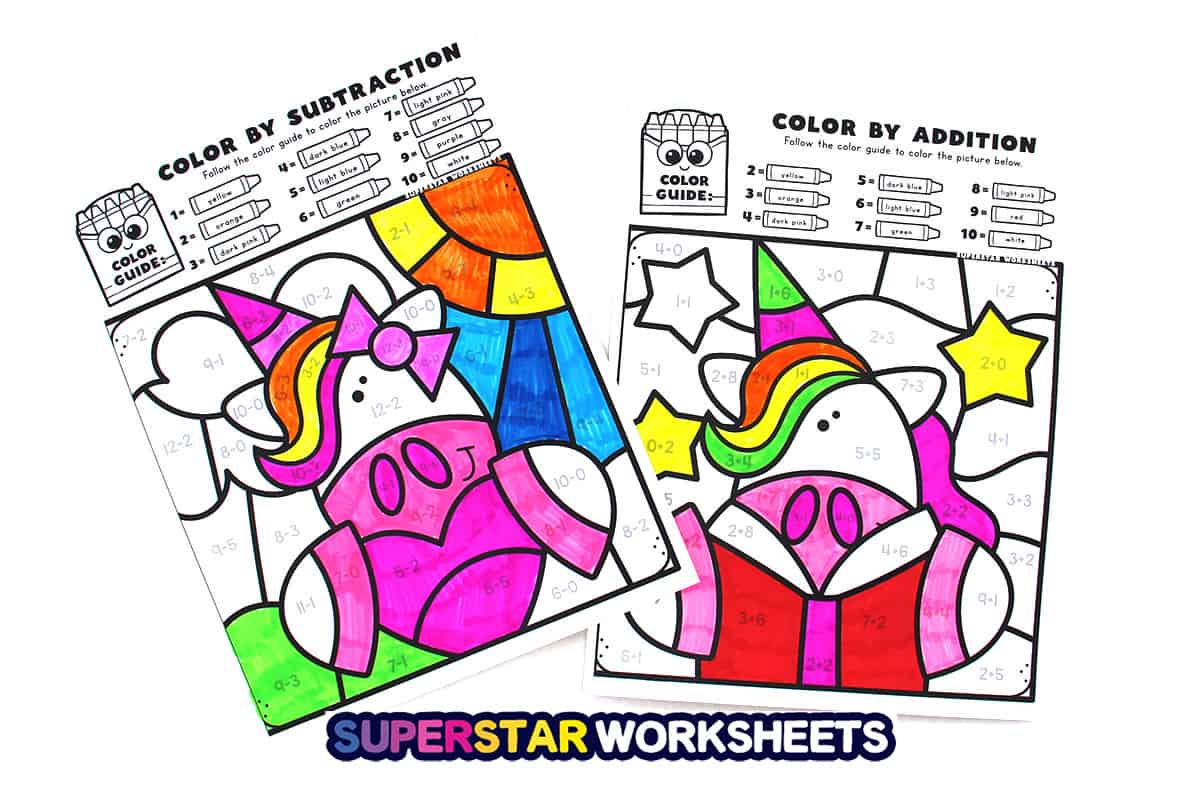 Unicorn Color By Number Free Printable
The unicorn coloring printables include worksheets focusing on reading and letter recognition. Students will identify the word or letter in one of the sections and then color it with the corresponding color. These coloring printables are great ways to teach your students single-syllable words! When students are finished coloring, they will have a beautifully colored unicorn! If your students like these printables look at our other FREE color-by-number worksheets! Halloween Color by Number and Fall Color by Number.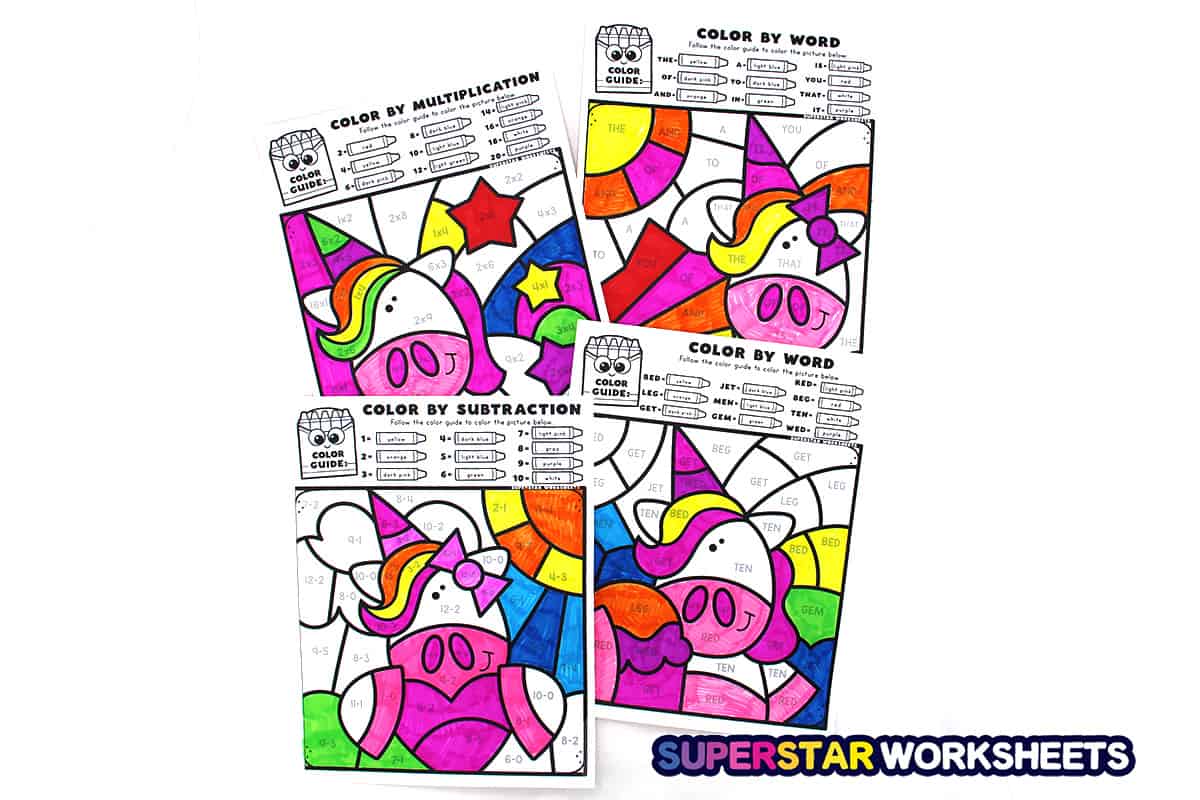 Unicorn Color By Number Printable
These free color-by-number worksheets are great for teaching the necessary reading and math comprehension skills needed for elementary students! In this free printable pack, 15 coloring worksheets are featured for students to use. For reusability, these worksheets can be laminated and colored with colorful expo markers, this way multiple students can use them!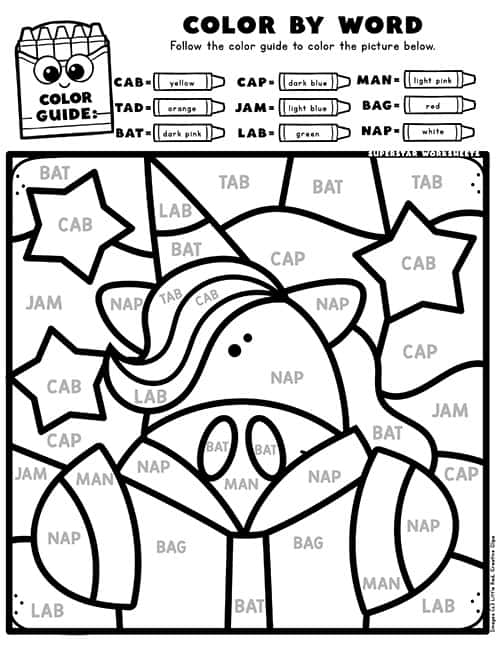 Students will not only learn how to easily read one-syllable words with CVC Words with vowel a in our color-by-word worksheets, but they are getting to have fun coloring each of the sections.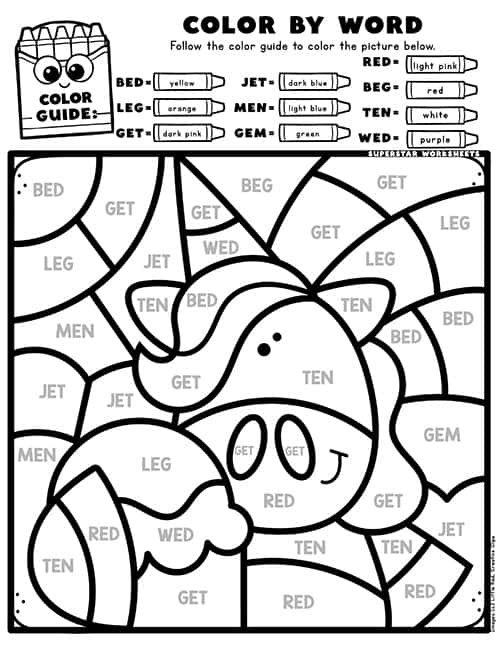 Teach your students how to read with these fun and simple coloring worksheets! Students will learn to easily recall these short CVC words with vowel e by practicing with these sheets.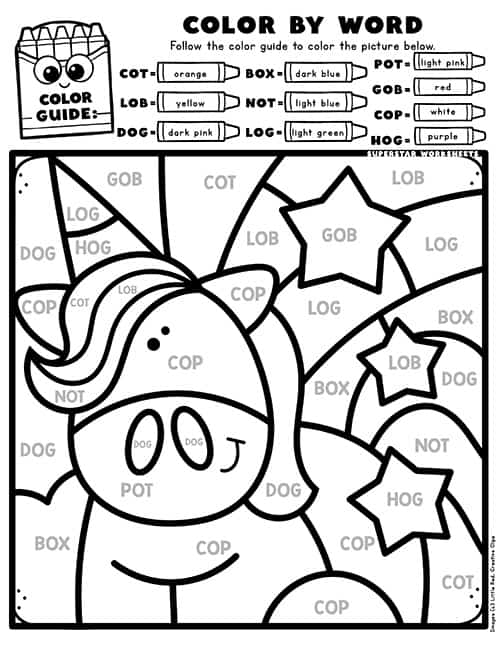 Students will learn how to read phonics words with these coloring vowel o CVC Word worksheets! Memorizing sight words is a necessary skill for elementary students to learn.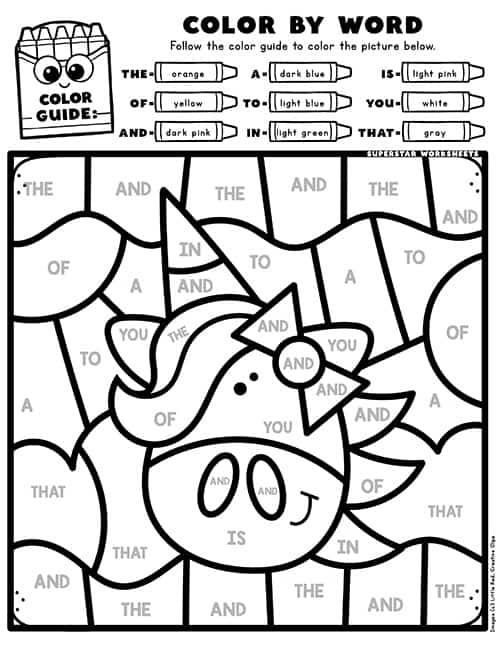 In this pack of coloring printable activities, students will learn how to recall common words used to piece together sentences with Fry Sight Words.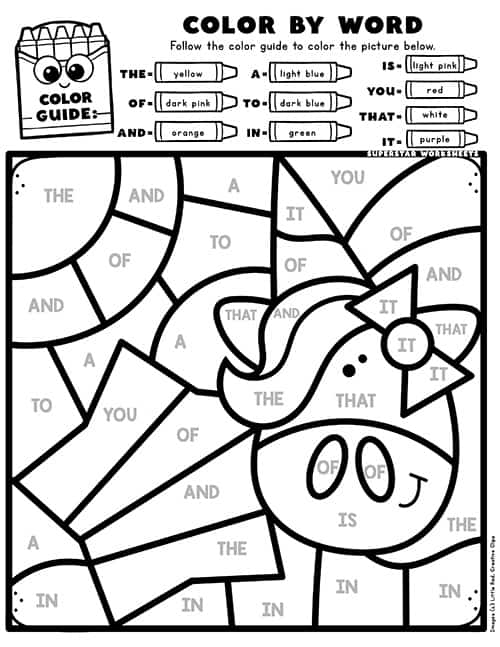 Students will read each Fry Sight word in each section of the page and then follow the directions in the color guide for how to color each of the different sections.
Your students will learn how to use a 'key' when completing this color by word worksheets. Students can even color each crayon the correct color to help the process.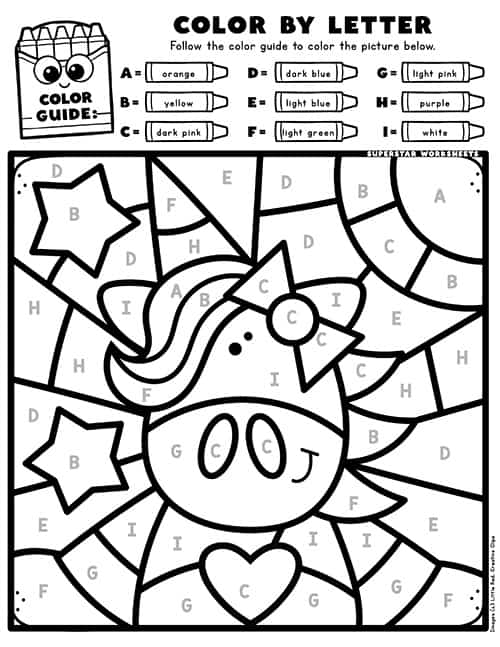 The color by letter worksheets will help your students learn their alphabet as well as recognize the meaning behind each letter.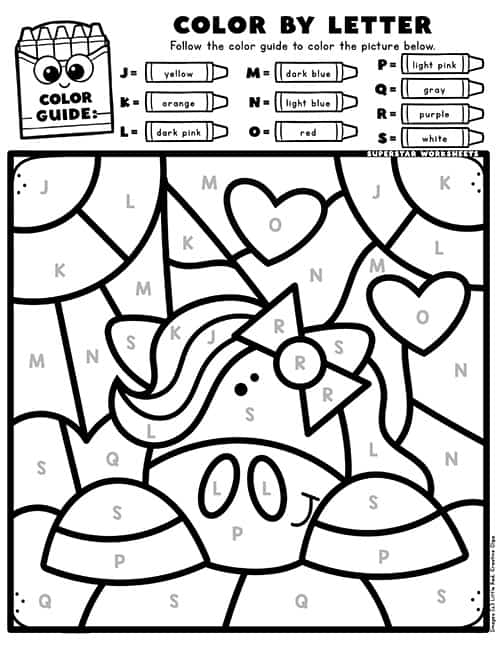 Have fun in the classroom with these FREE color by letter worksheets! Your younger elementary students will have a blast with these coloring worksheets!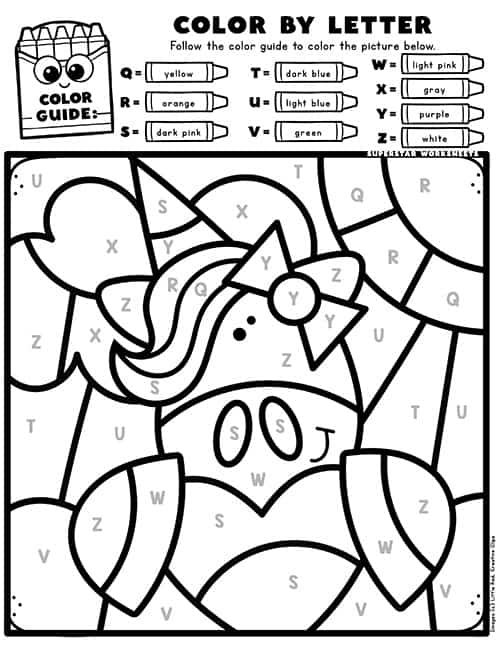 Teach your students the alphabet as well as how to follow instructions while having fun with these colorful and engaging unicorn printables!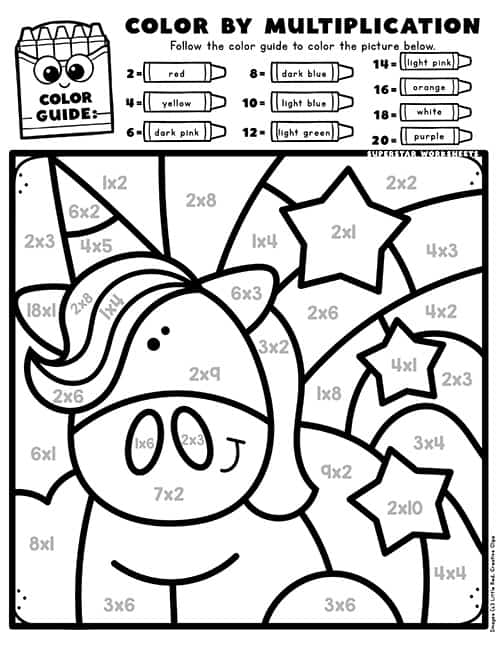 Multiplication is a necessary benchmark for your second-grade students to learn and they will learn the baseline skills of multiplication with this printable.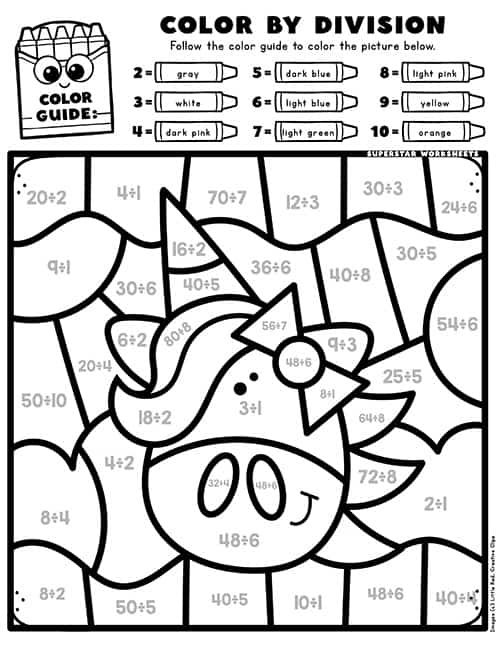 Teach your kids the beginning of division with these simple no-remainder division equations. Over 30 division problems are included in this worksheet.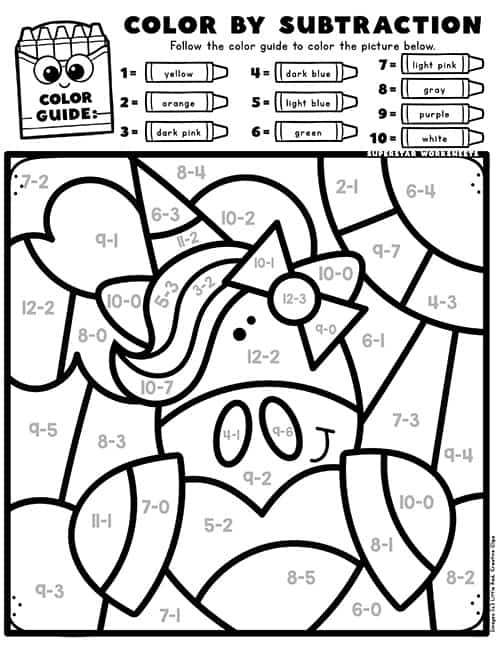 Your first-graders will have a great time learning how to subtract simple numbers when they get to color the problems after they solve them!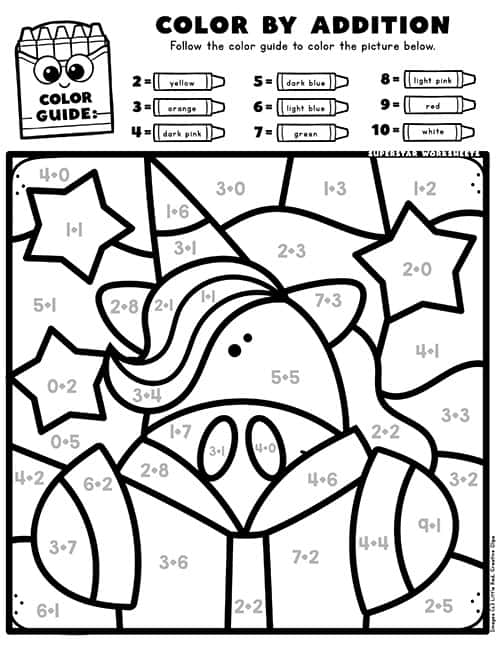 Addition is one of the first math equations that your first-grade elementary students will learn. Teach your children with these interesting and free math worksheets!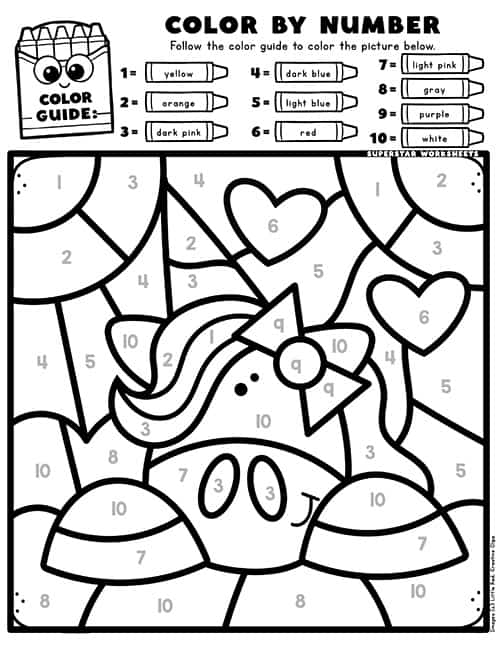 These number worksheets will help your student learn their numbers and the order to put them in. Teachers can send their students home with these simple worksheets as homework.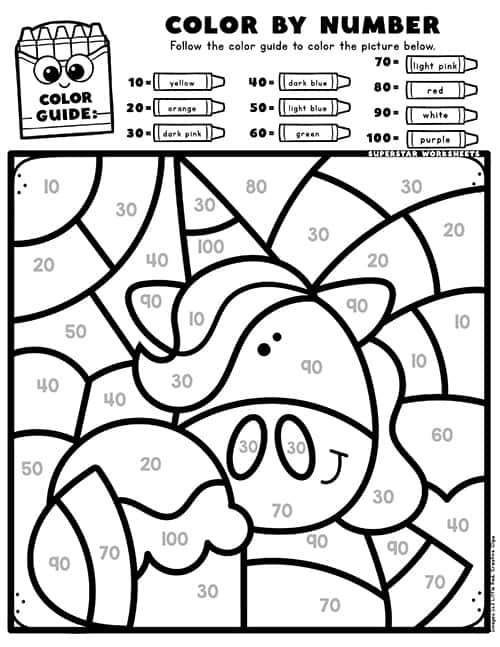 This worksheet includes a set of higher numbers for your students to recognize. These numbers all go up by tens and will help your students understand math patterns.