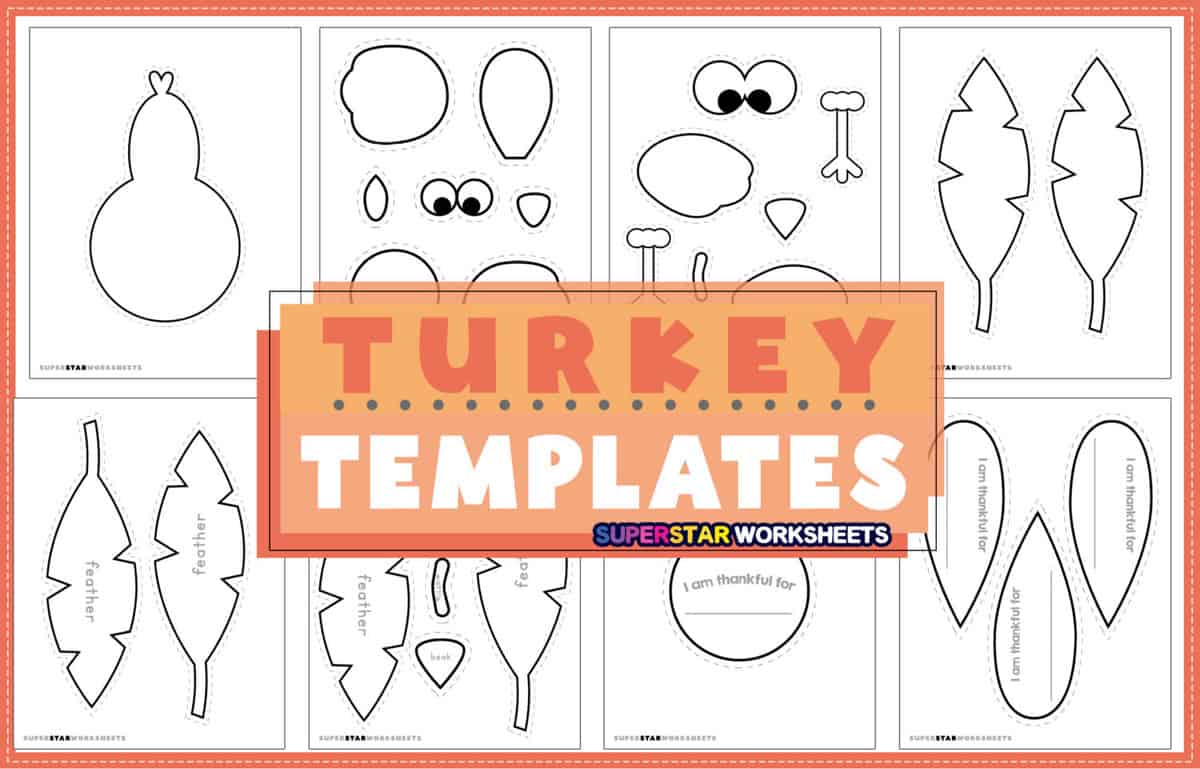 Free Turkey Templates make the perfect addition to Thanksgiving activities in preschool, elementary, and homeschool classrooms. Students will practice fine motor control, design and art skills, problem-solving, cutting and pasting, and so much more! Your Thanksgiving activities will be a lot more engaging when you incorporate these adorable templates! Check out our Thanksgiving Activity Pack for even more Thanksgiving fun!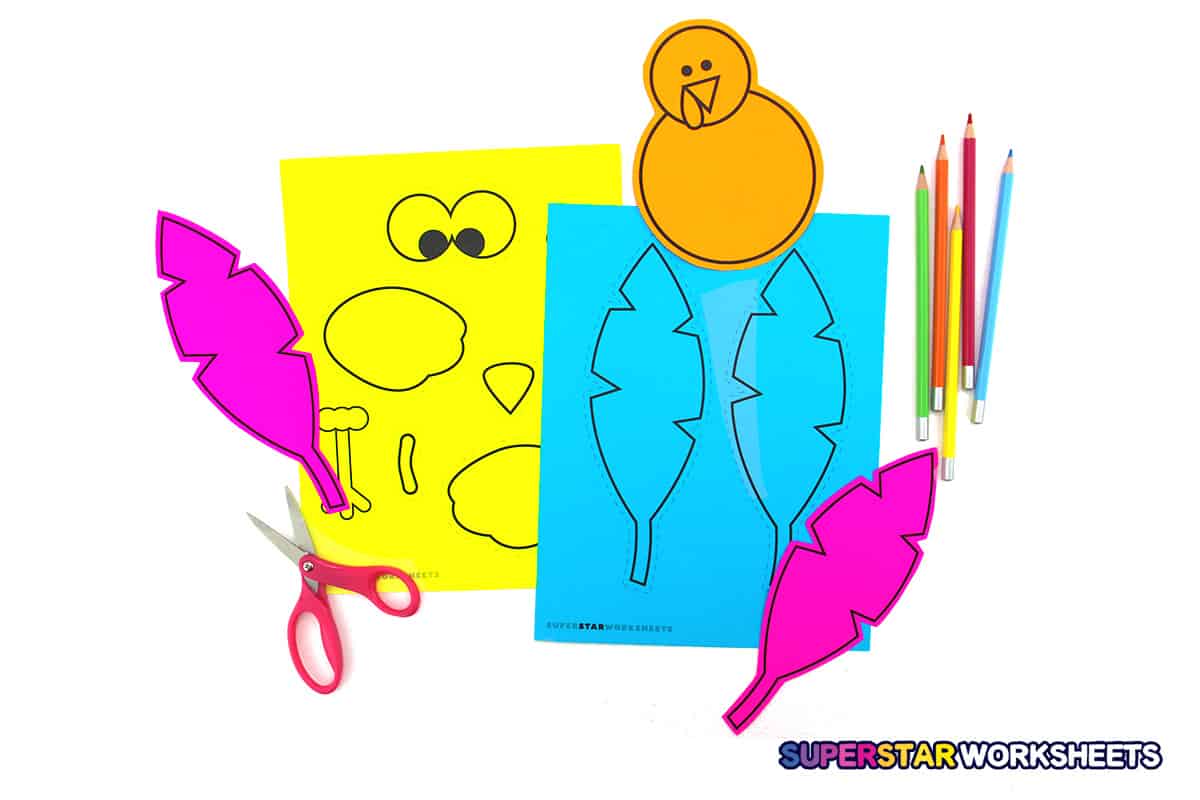 Turkey Template Printable
Want to engage your students in a variety of Thanksgiving activities this holiday season? Check out our free turkey templates. With six different types of activities, there is something for every classroom, every skill level, and every student's interest! Students can design these templates using a variety of art strategies, write, cut, paste, and so much more! For more Thanksgiving fun, try our Turkey Coloring Pages.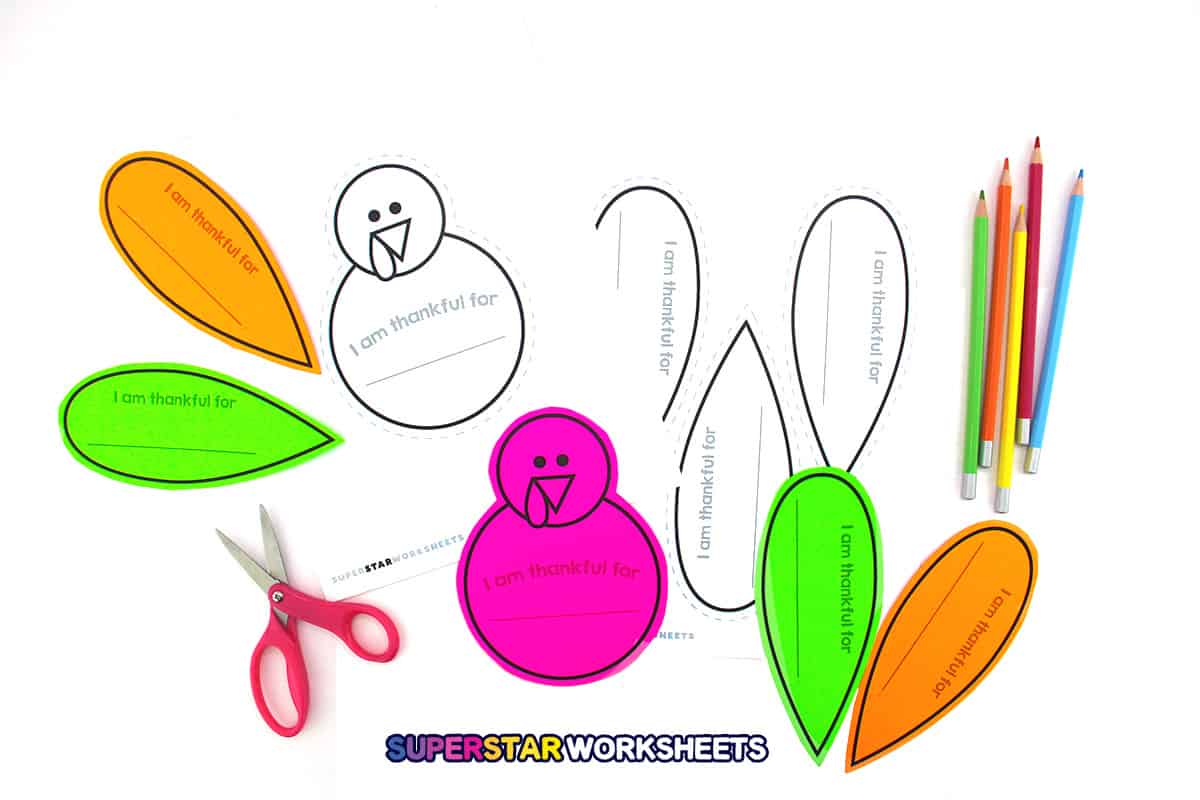 Printable Turkey Template
Over 15 turkey template pages are included in this free downloadable set. These easy-to-use templates make creating adorable turkey fun and easy! Check out our pinecone turkey craft, thankful turkey craft, paper bag turkey craft, and so much more! Want more Thanksgiving fun? Check out our Thanksgiving Color By Number activities today!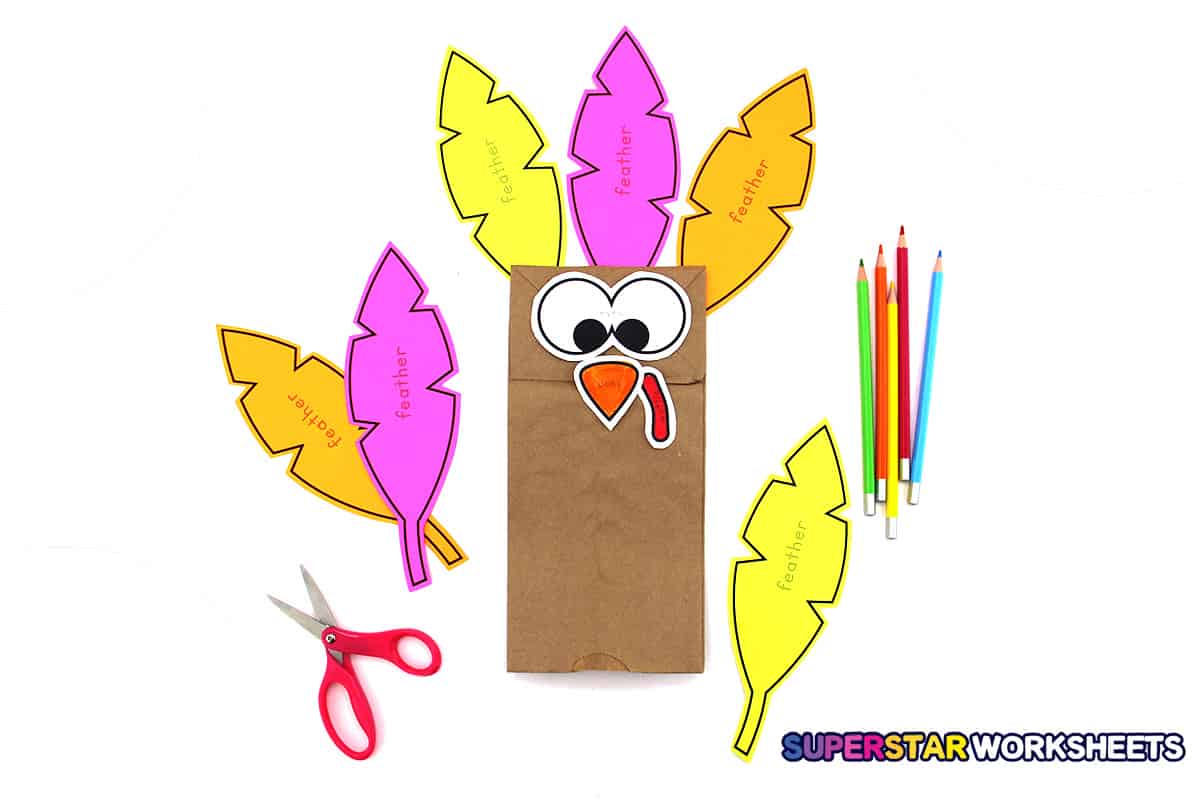 Turkey Craft Template
Want to give students a variety of fun Thanksgiving activities to work on? Check out these low-prep printable templates. Simply print, design, and construct to create the most adorable turkeys you have ever seen! We recommend printing these templates on cardstock for added durability. For even more, laminate after the students have decorated. A variety of templates are included in this free set which means there is something for everyone this holiday season! If your students are begging for more Thanksgiving fun, check out our Fall & Thanksgiving Mazes.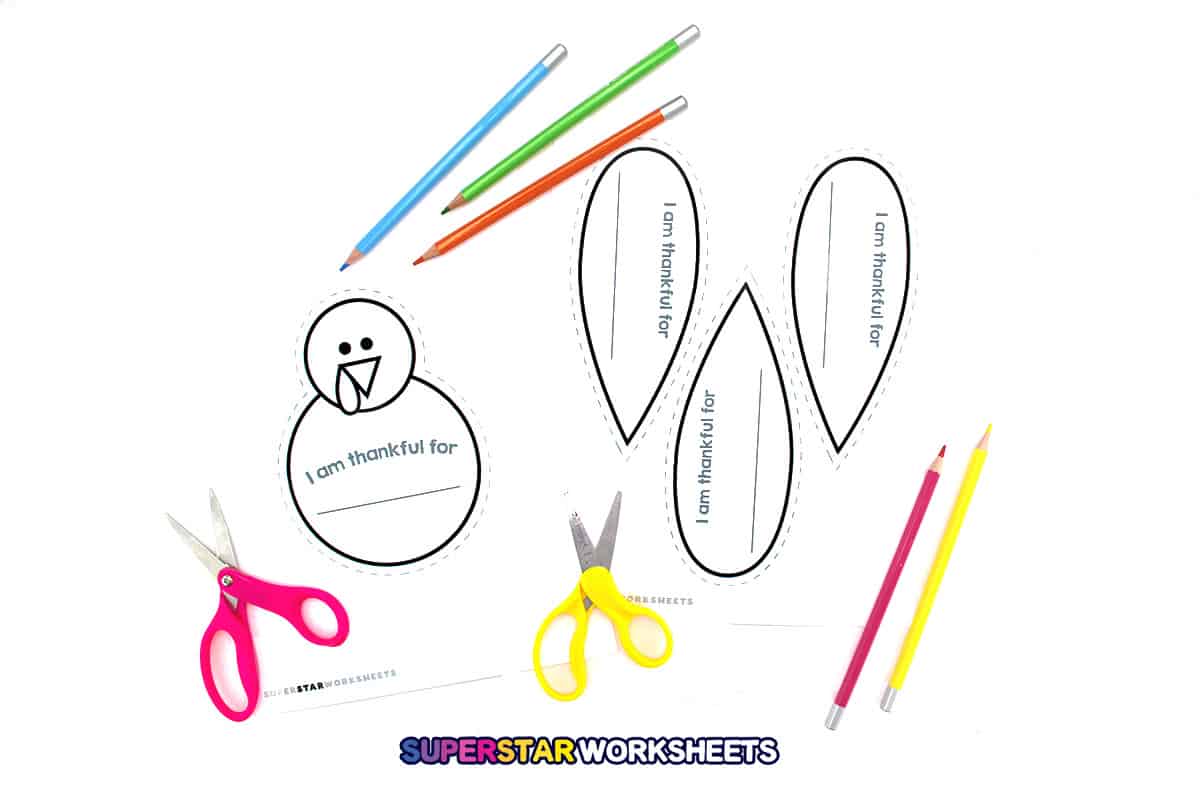 Cut-Out Turkey Templates
Free cut-out Turkey templates make the perfect arts and crafts opportunity for preschool, elementary, and homeschool students. Simply print the turkeys and design, create, craft, and more! Your students will LOVE these adorable turkey templates while also building fine motor cutting skills. Be sure to check out our Thanksgiving Coloring Pages for more Thanksgiving activities.
The perfect addition to your next bulletin board or art project, this colored turkey template is adorable and fun to look at or re-create!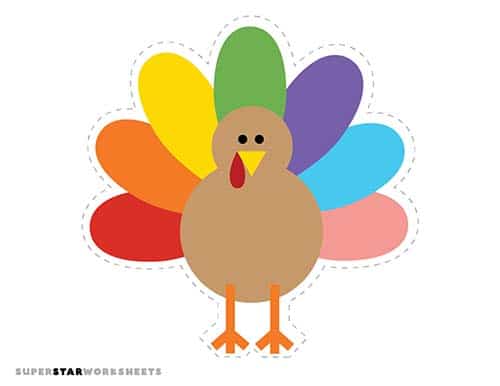 Want your students to practice their fine motor cutting skills? Print this colored cut-out turkey template with lines for extra practice today!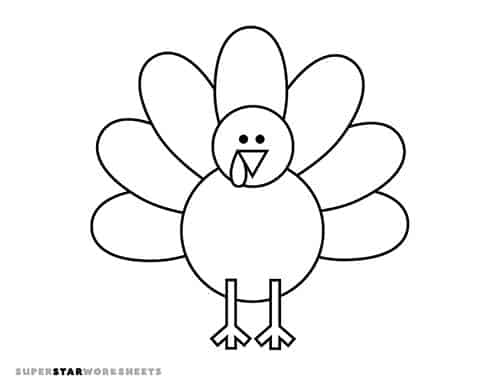 Black and white turkey templates let students design turkeys. This template could be used for a variety of activities including placemats and disguise the turkey activities.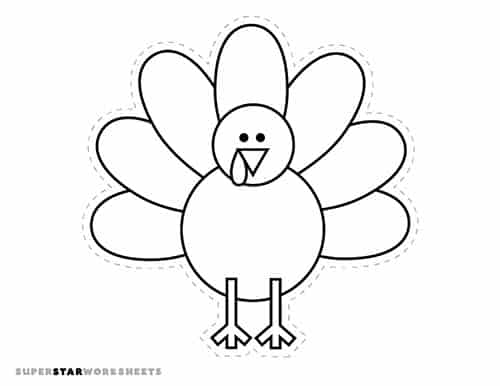 Free cut-out turkey template with lines. This template is in black and white giving students the opportunity to design, create, and fall in love with art.
Turkey Hat Template
Is Thanksgiving coming up? Or perhaps you're studying turkeys with your students? This cute headband craft makes a great addition to any lesson about turkeys or Thanksgiving.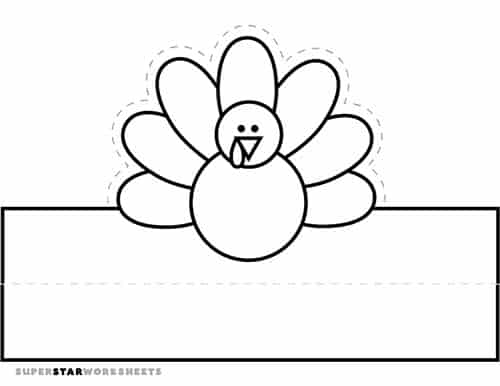 An adorable Thanksgiving turkey headband template for preschool, elementary, and homeschool classrooms. This Thanksgiving, let your students design this engaging template, cut it out, paste or staple the band together and let them enjoy being "turkeys" for the day!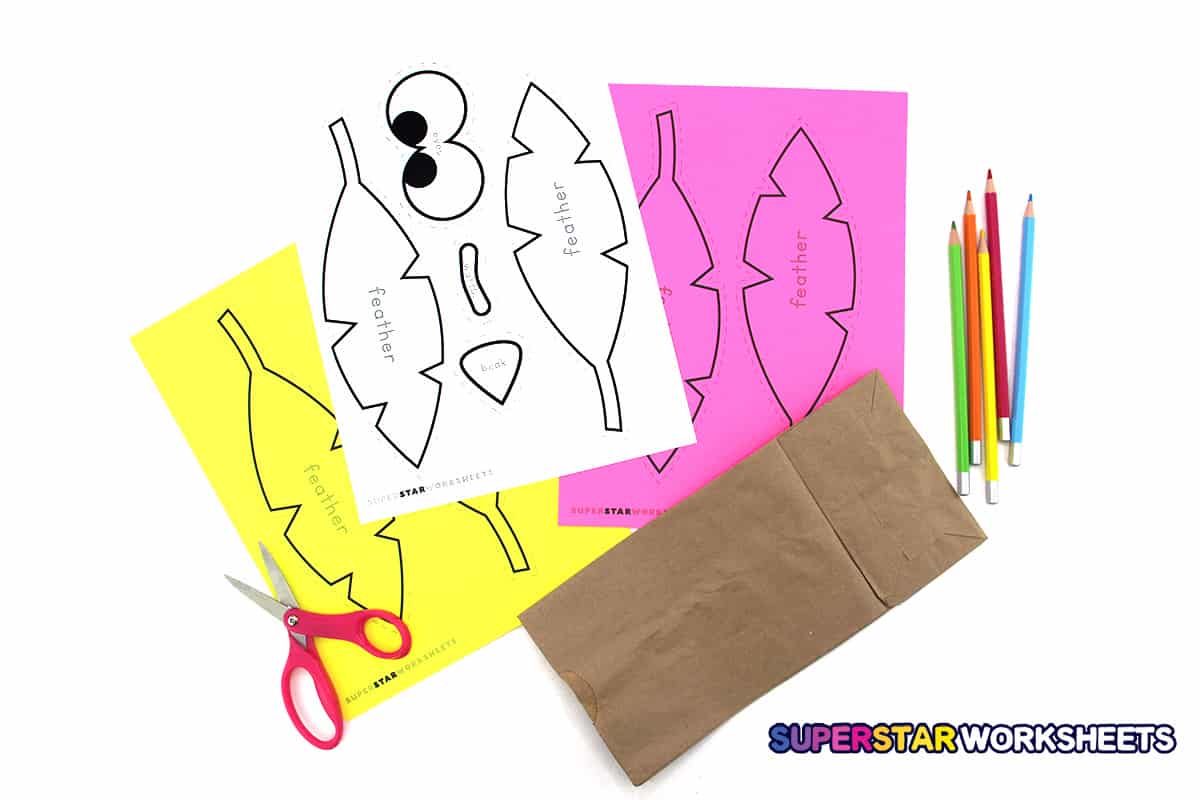 Paper Bag Turkey Template
Create adorable Thanksgiving crafts your students will be ecstatic about! Free paper bag turkey templates allow students to show off their creativity and art design while also practicing their fine motor skills through cutting and pasting. All you need is a paper bag, glue, and crayons or colored pencils!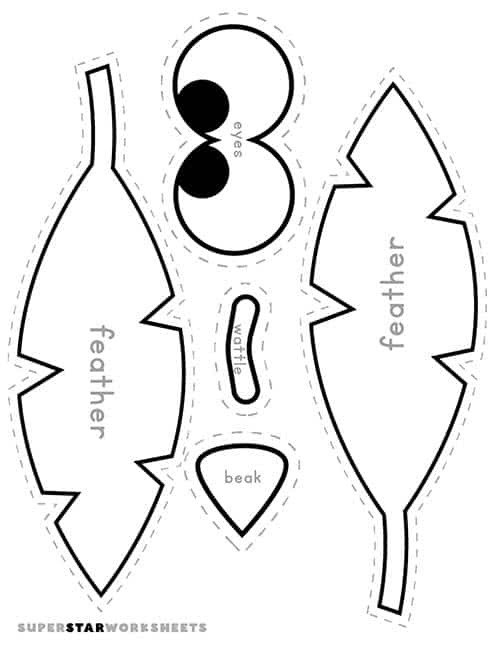 Want to make a turkey puppet? Check out our paper bag turkey templates. This template includes feathers, beaks, wattle, and eyes. These design elements give students the opportunity to show off their creativity and art skills!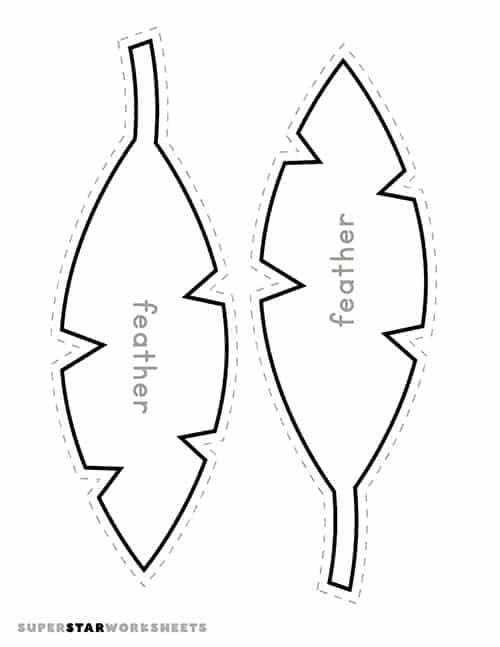 Paper bag turkey craft feathers should be pasted to the back of a small paper bag to complete the design. These feathers can be decorated with crayons or colored pencils and cut out by students.
Pinecone Turkey Template
This fall is the perfect time to create a pinecone turkey! Your early learners will enjoy going out into nature to seek out the perfect pinecone body! Then, come back inside for some artsy fun! Students will color, cut, and glue these turkey template pieces to the pinecone. This craft will be a wonderful addition to your Thanksgiving table!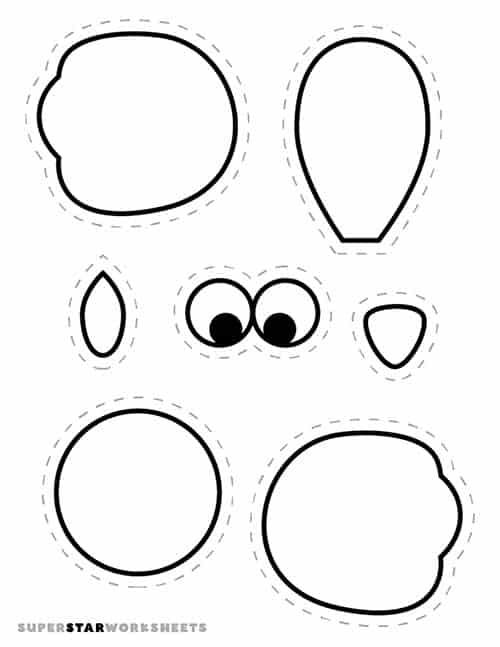 Making pinecone turkeys this Thanksgiving season? These adorable eyes, beak, wings, wattle, and feet will help your pinecone take a turkey-like shape!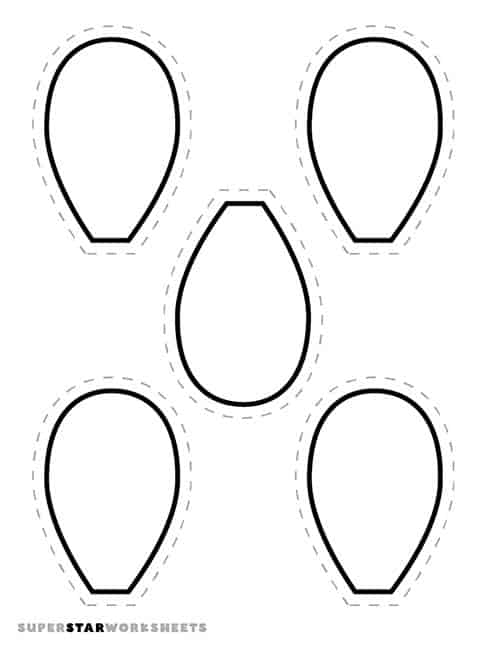 Free turkey craft feathers provide adorable feathers for students to glue onto a pinecone turkey. Pair these feathers with our Pinecone Turkey Face Templates for the full turkey design!
Thankful Turkey Template
Discussing gratefulness and thankfulness during the month of November is fun and engaging when you include this thankful turkey template. Students will write, design, cut, and paste with this fun Thanksgiving turkey template.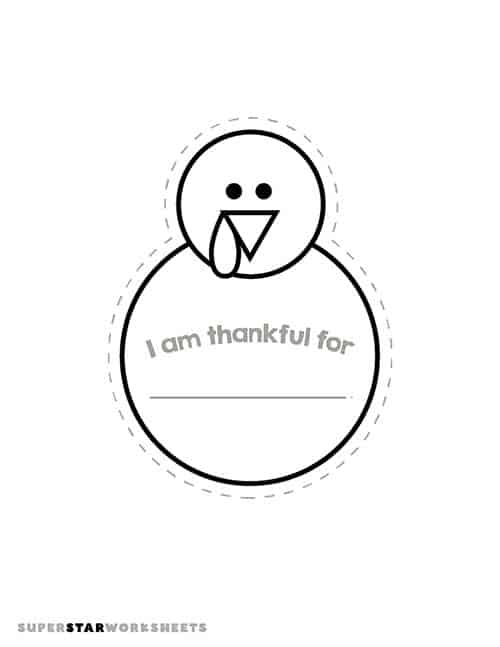 Free thankful turkey body and head template for classroom use. Download this adorable turkey template, students can cut it out, then glue on their thankful feathers.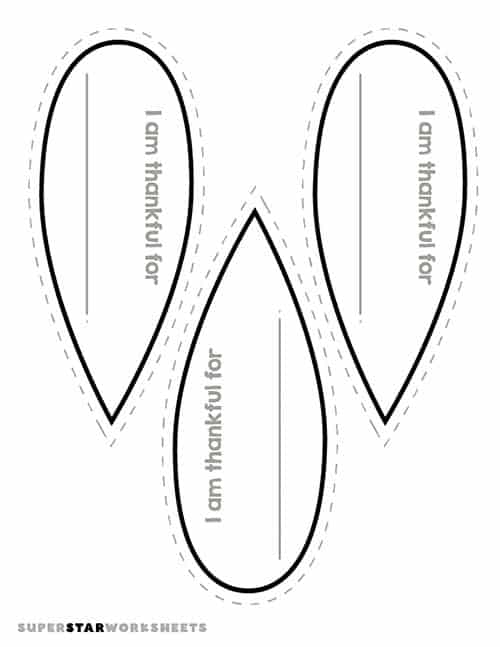 Thankful turkey feather templates pair perfectly with our thankful turkey body template. Download them both today, print them on white cardstock (for durability) and let students design!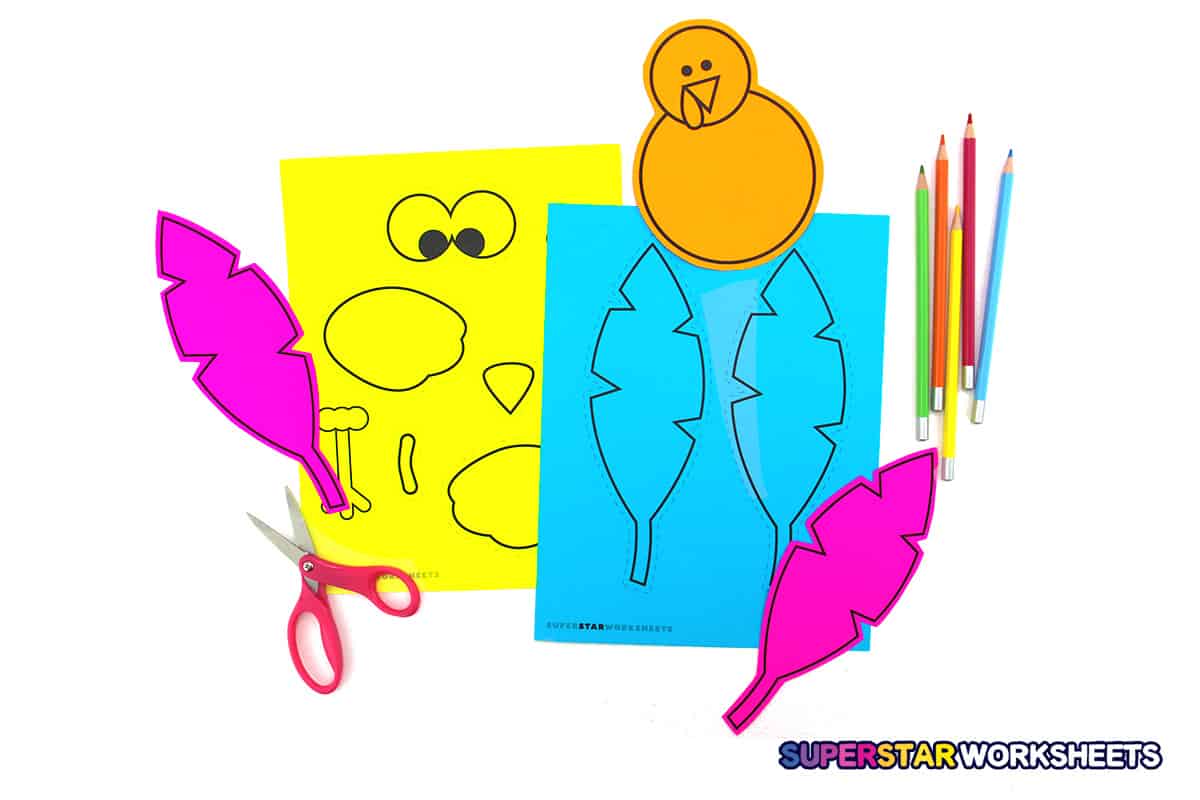 Turkey Craft Templates
Fall is here and your students will LOVE being able to design their own turkeys! Choose from a variety of body types, eyes, feathers, and more! Mix and match these adorable templates to make the PERFECT Thanksgiving craft with your students this season! Use these for a paper bag turkey craft or on a headband — the possibilities are endless!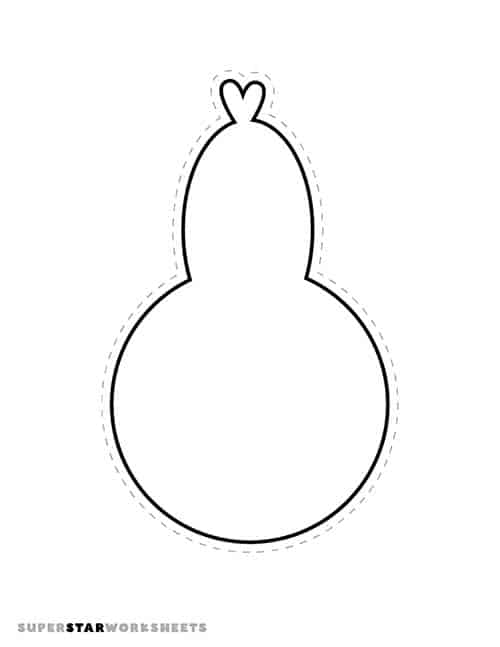 A turkey body template for young learners. This template can be used with a variety of our other templates to create cut turkeys. This craft improves fine motor, problem-solving, design, and art skills. Your young learners will love it!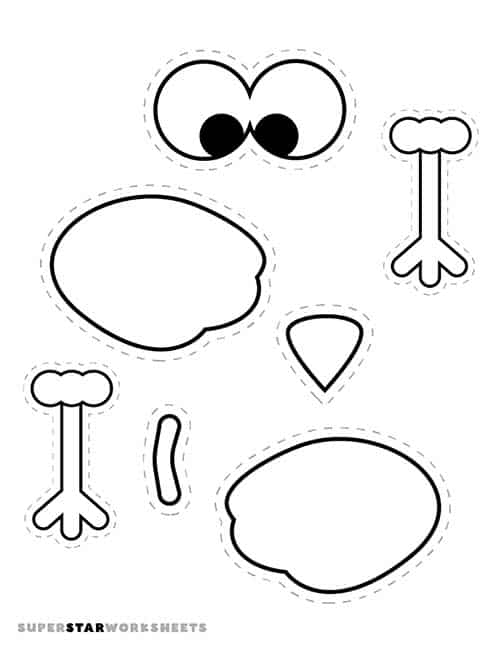 Your students will love these turkey body parts. Included are eyes, legs, wings, beak, and wattle. Use these body parts to make adorable turkey crafts: paper bag turkeys, pinecone turkeys, or paper turkeys to name a few!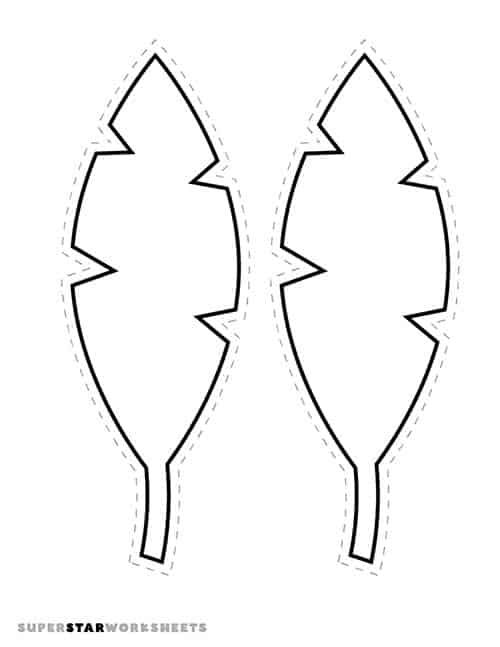 The cutest turkey feathers you have ever seen! These feathers could be used for turkey crafts, making turkey headbands/costumes, and as fun game pieces during the Thanksgiving season! Download it today.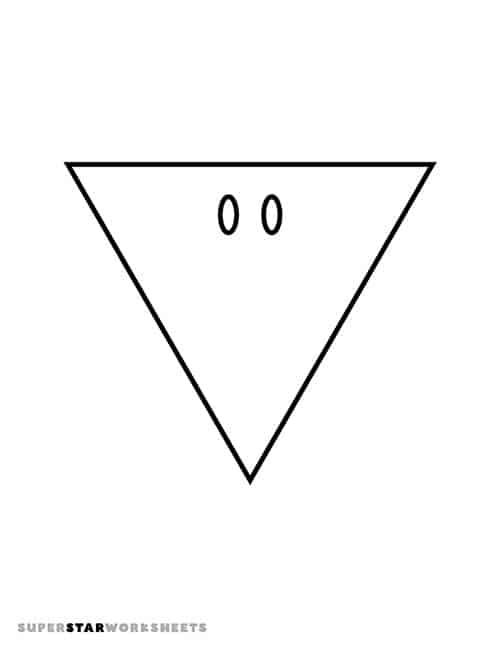 A large turkey beak template makes a great addition to your next turkey craft. Free and easy to use! Simply print and go! Print on white paper for students to design or choose yellow/orange!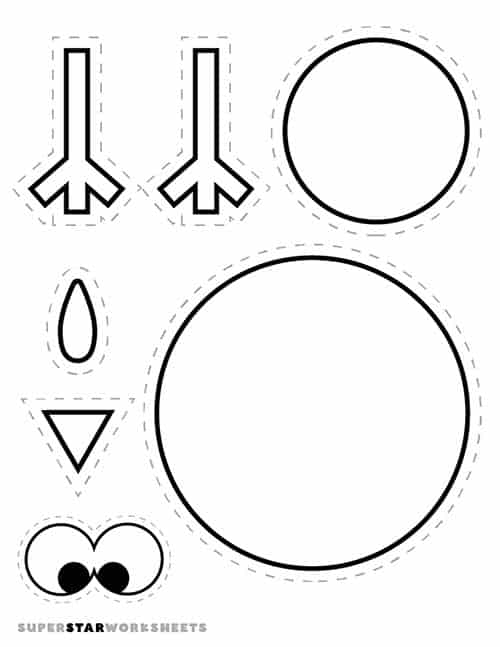 Everything you need to design an adorable turkey. From feet to the body and up to the eyes and everything in between. Your students will love cutting and designing!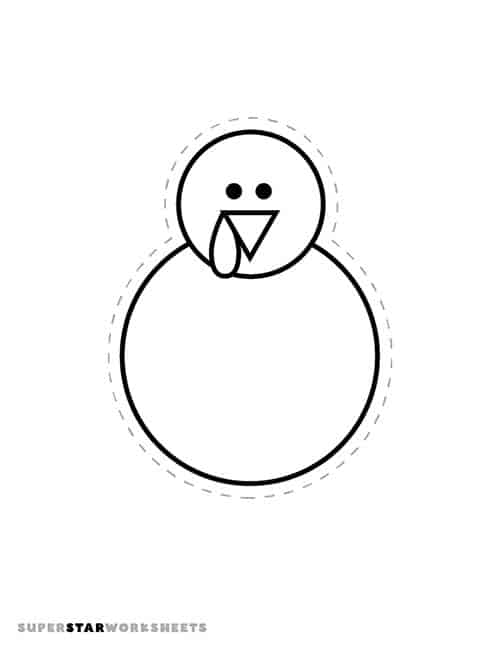 This adorable turkey body and head template give students the base for an adorable turkey craft. Perfect for those fall months in preschool, elementary, and homeschool classrooms.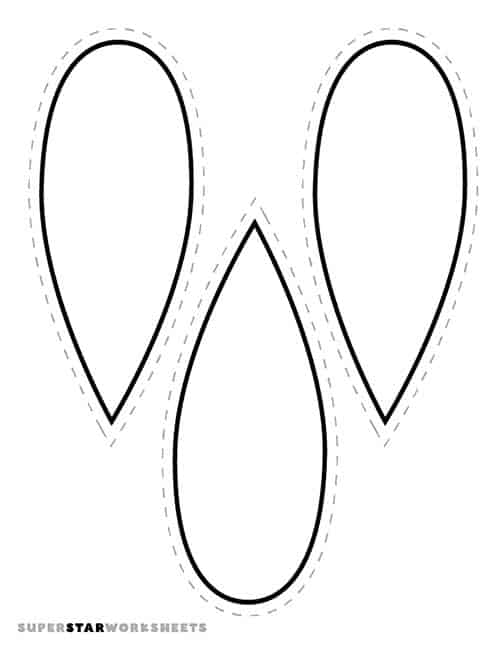 Rounded turkey feathers template. These feathers can be added to adorable Thanksgiving turkey crafts while promoting fine motor skills.
Feather template for turkey crafts. Perfect for fall or Thanksgiving decor, fine motor practice, design opportunities, and more!