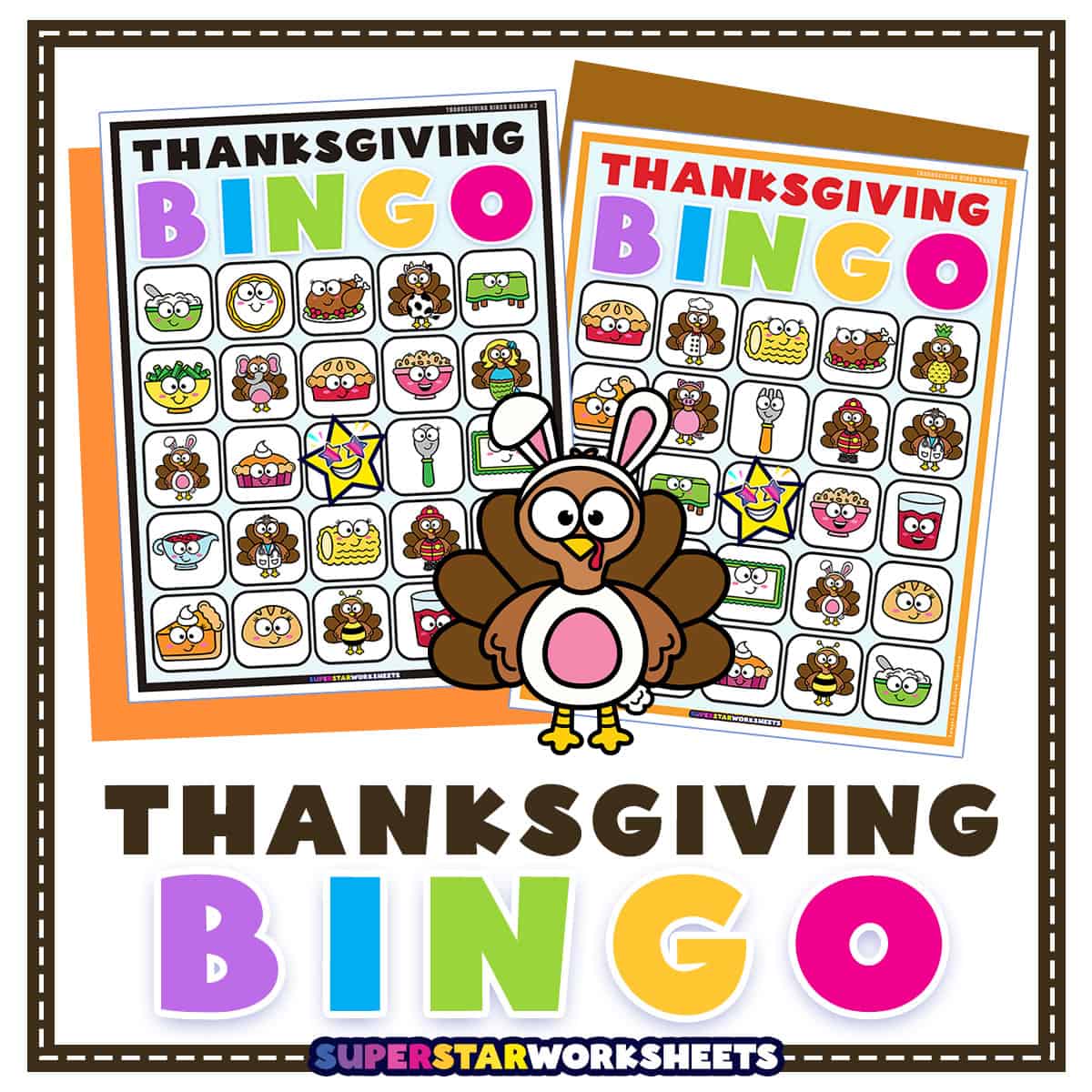 Free Thanksgiving BINGO for students as printable game boards and calling cards! We created fun and engaging printable Thanksgiving bingo cards for students of all ages to play during the fall or Thanksgiving season. You'll see there are a variety of printable bingo cards as well as a full page of calling cards included making it easy to use and fun for all! If Thanksgiving is big with your students, then you're going to want to check out our Thanksgiving pack! It is packed full of fun games, activity pages, and printable worksheets!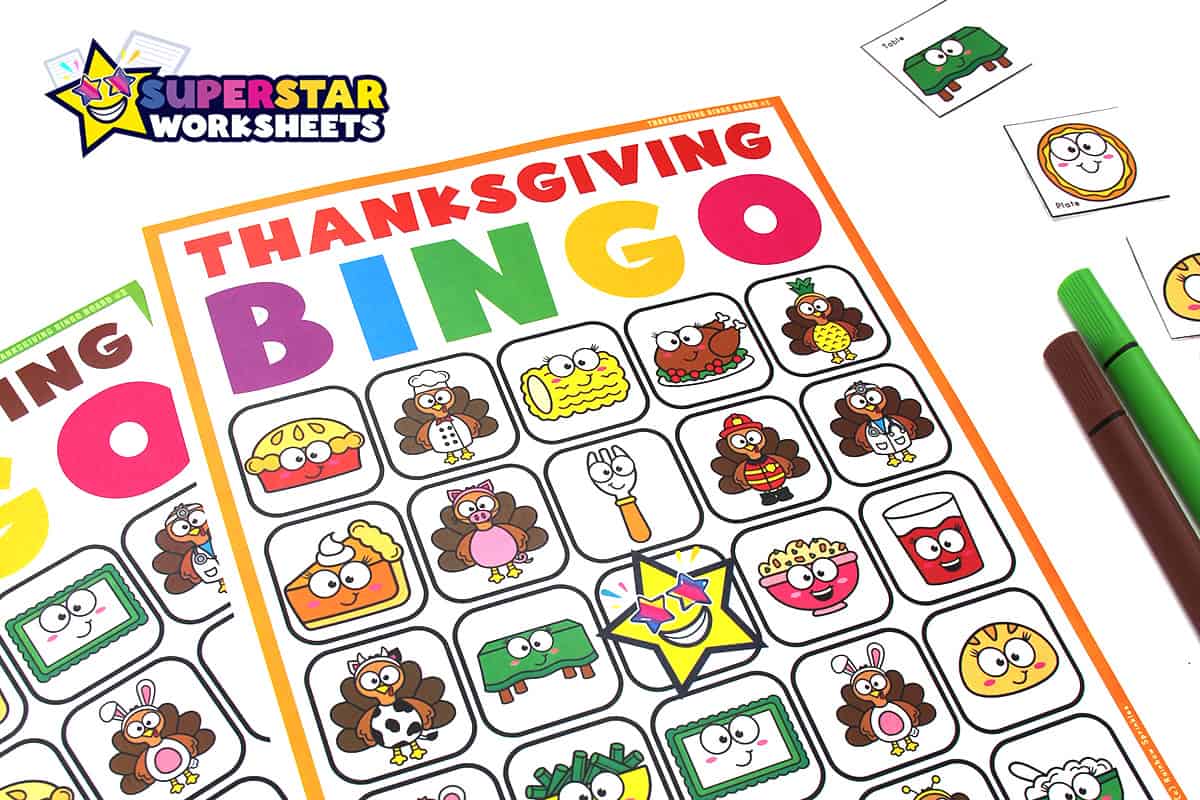 Thanksgiving Bingo Cards
Thankful Bingo is a Thanksgiving holiday-themed bingo game that works well in preschool, homeschool, and elementary settings. It is a great activity to encourage problem-solving skills and the recognition of patterns and sequences. Our Free Thanksgiving BINGO is the perfect resource for adding excitement to the fall or Thanksgiving season! With a range of printable bingo cards for students, this game is designed to be fun and engaging. We've also included a full page of calling cards, so it's easy to use and enjoyable for everyone involved.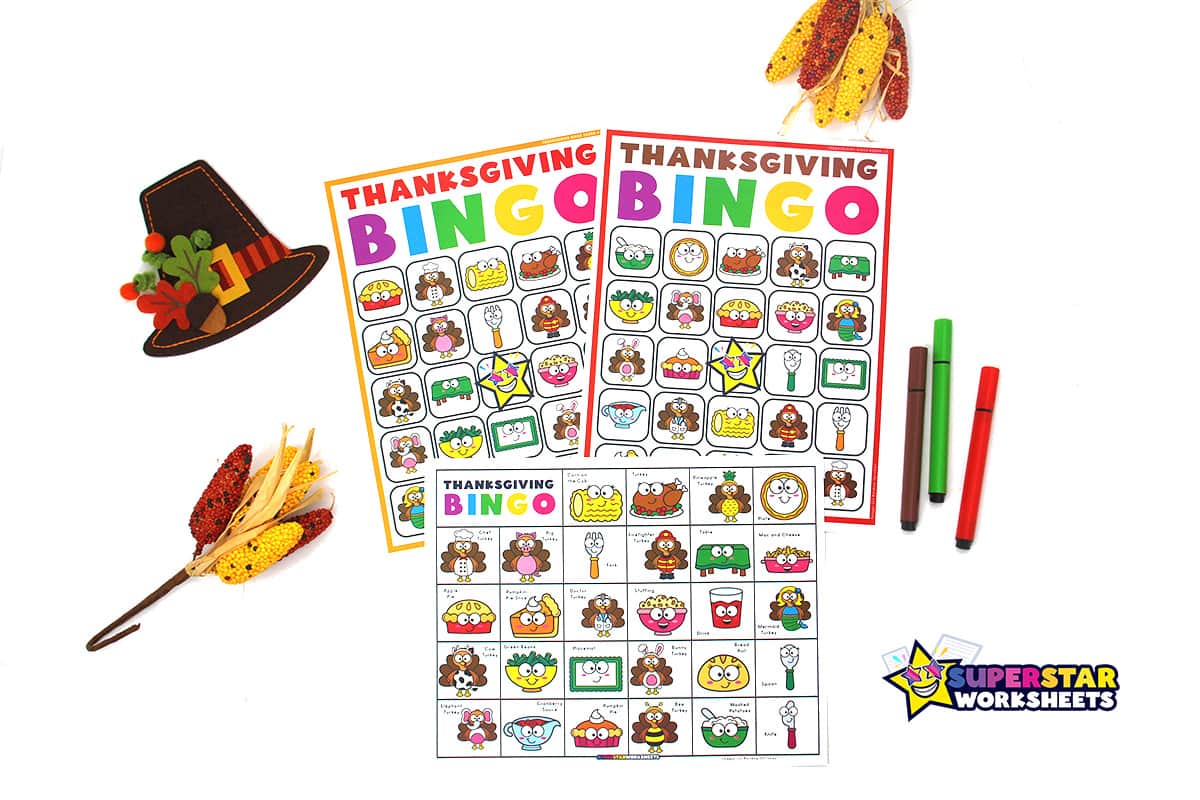 Thanksgiving Bingo Cards Printable
Our free Thanksgiving bingo printables offer several benefits for students. Firstly, it promotes gratitude and reflection as students discuss the things they are thankful for while playing the game. It also enhances problem-solving skills as they strategize and make decisions while marking off images on their bingo cards. Additionally, the recognition of patterns and sequences in the game helps develop cognitive abilities and critical thinking skills.
Here are a few tips and tricks to keep in mind while implementing this activity:
Set clear instructions: Ensure that students understand the rules of the game and how to mark off the images correctly.
Provide examples: Show students how to recognize patterns or sequences and demonstrate the gameplay before they start.
Encourage discussion: Ask students to share why they are grateful for the images they mark off, promoting thoughtful conversations and enhancing the gratitude aspect of the activity.
Ensure fairness: If playing in small groups, ensure that students take turns calling out the images or use a random image generator to avoid any bias.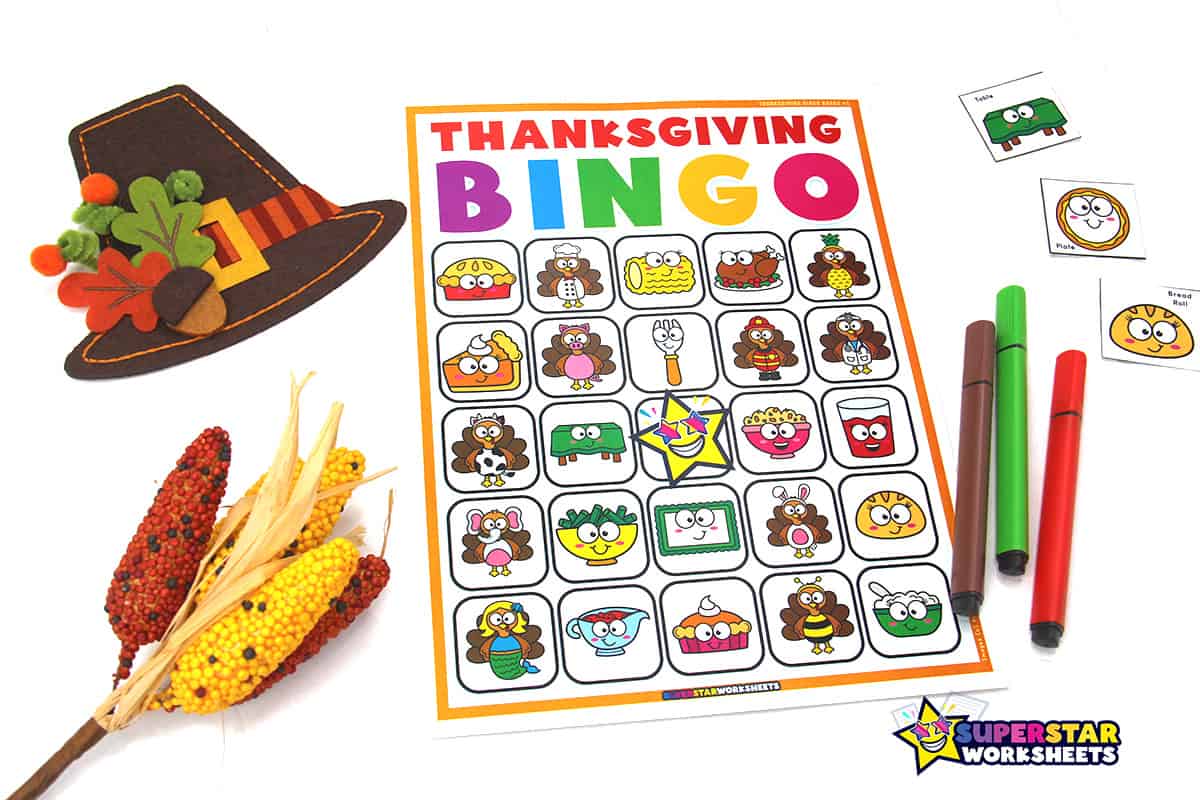 Thanksgiving Bingo Printable
The best way to begin using this printable bingo activity is to start by introducing the concept of gratitude and discussing what it means to be thankful. Teach students about the meaning of Thanksgiving and how the holiday came to be. Then, distribute the printable bingo cards to the students along with markers or treats to cover the called-out images. Explain the rules of the game and demonstrate a few rounds before allowing the students to play independently or in small groups. Encourage problem-solving and pattern recognition as they mark off the images. To make it even more educational, discuss the images and ask students to share why they are thankful for those things. This activity can also be used as a reward or fun break during the Thanksgiving season. Ensure that the students are engaged and having fun while reinforcing the theme of gratitude.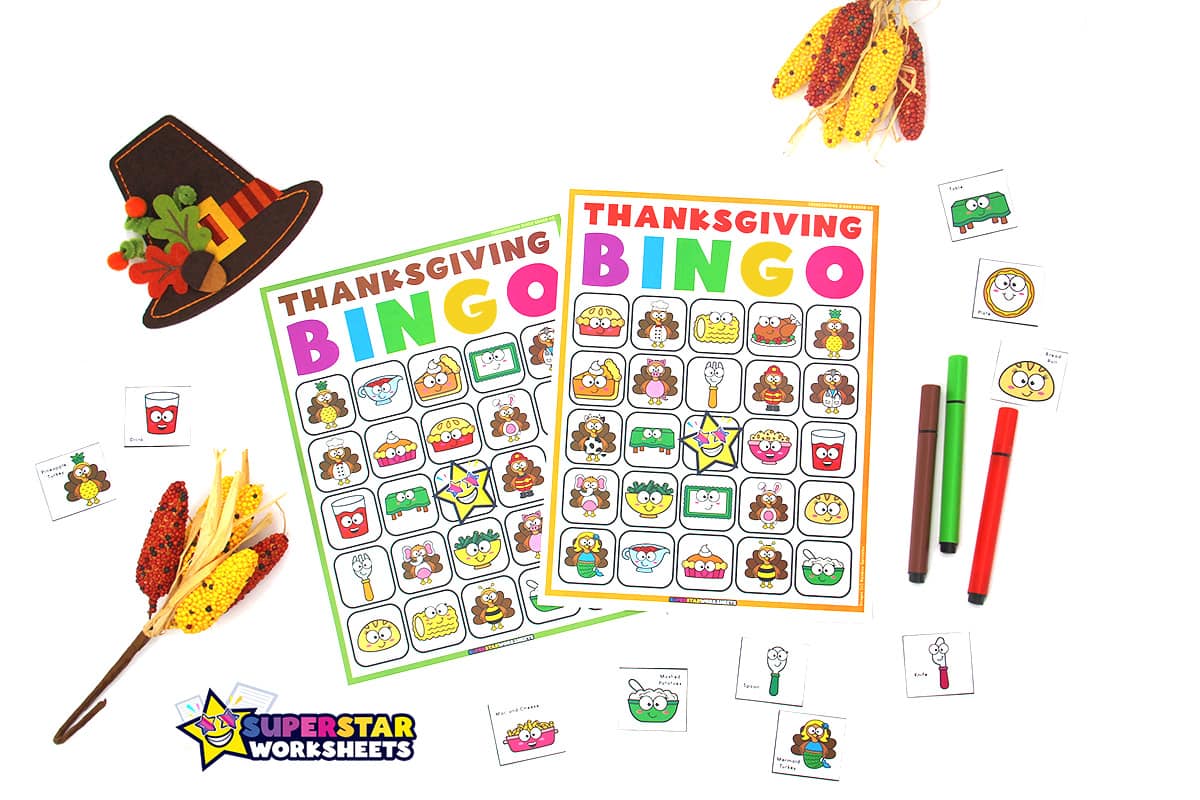 How Do you play Thanksgiving BINGO?

The game is played by distributing the following bingo cards that have Thanksgiving-related images instead of numbers. Each player marks off the images as they are called out, and the first person to get a line, whether horizontal, vertical, or diagonal, shouts "Bingo!" This free, printable resource is available in PDF format, making it easy to access and print at home or in the classroom. It is a fun and educational game that can be enjoyed by students during the Thanksgiving holiday season.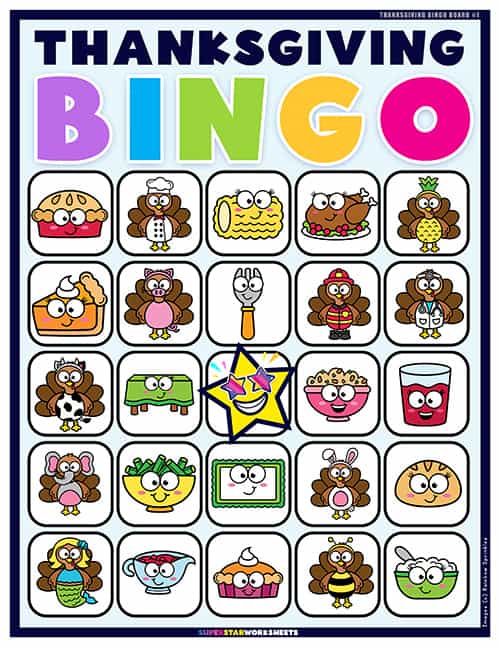 Free, printable Thanksgiving bingo card for students. This card features a variety of fun and very cute Thanksgiving-themed graphics.
Thanksgiving bingo cards for preschool, homeschool, and elementary students. Grab this card for free today!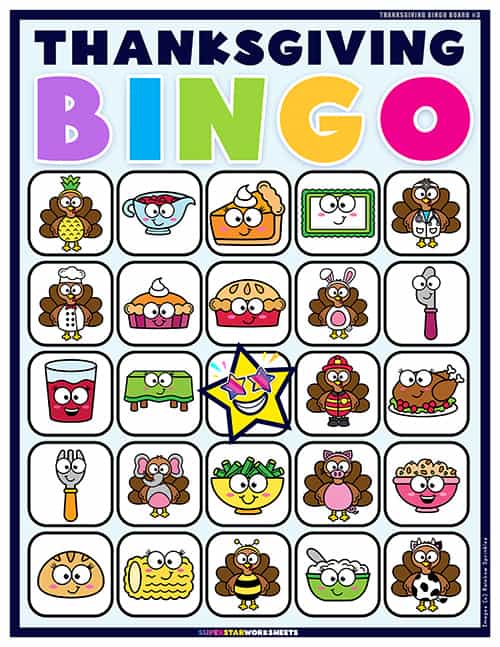 Thanksgiving bingo is super easy to use! Simply download, print, and play! Your students are going to be begging for more!
How Do You Make Thanksgiving BINGO Fun?

To make our Thanksgiving Bingo game more fun, you can use holiday-themed treats as markers instead of traditional options. Consider using candies like candy corn or colorful M&M's to cover the called-out images on the bingo cards. Another variation could be creating special winning patterns related to Thanksgiving, such as covering all four corners or forming a turkey shape. Additionally, you can turn it into a whole class activity by using a giant bingo grid or displaying it on a smart board, while students write down the corresponding words on whiteboards or paper to earn points. These modifications add excitement and engagement to the game while incorporating the Thanksgiving theme.