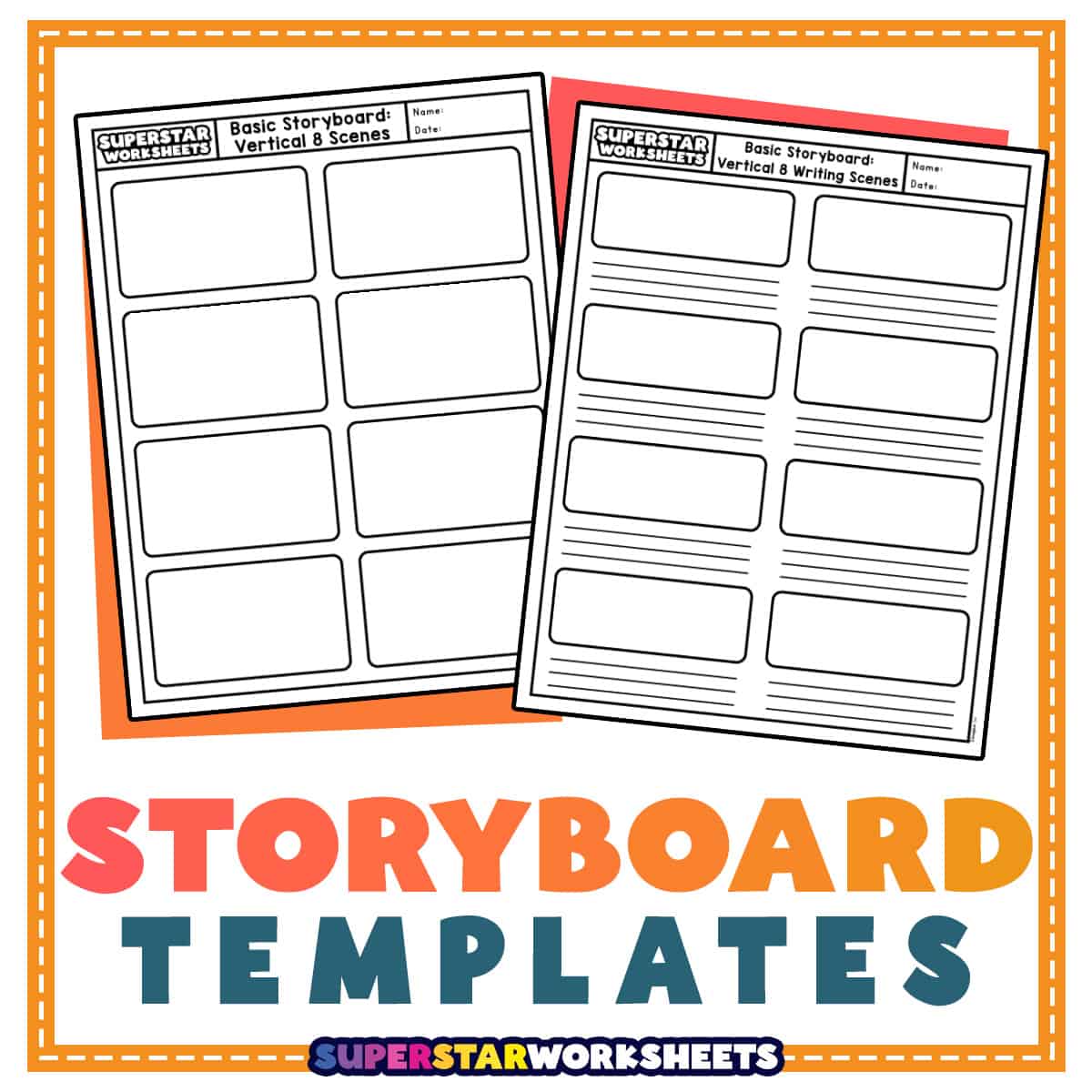 Storyboard Templates make writing fun and easy for students to organize their creative writing story lines. These templates make the perfect addition to writing projects for kids because they will help improve creating writing through the use of these free, printable PDF worksheets. These templates make writing in elementary school easy and enjoyable! Writing becomes super fun with our Writing Bundle – check it out today!
What is a Storyboard?
A storyboard is a visual representation of a story or concept, typically used in filmmaking, animation, or advertising. It is a series of sequential sketches or illustrations accompanied by brief descriptions or dialogues that outline the key scenes or actions. The purpose of a storyboard is to plan and visualize the flow of a narrative or idea before it is produced or executed. This enables writers to communicate their vision, make necessary revisions, and ensure that the final product meets their creative objectives.
What are the Steps to Storyboarding?
Step 1: Understand Your Story or Idea
Before you start storyboarding, make sure you have a clear understanding of the story or idea you want to convey.
Identify the main characters, setting, and key events that happen in your story.
Step 2: Divide Your Story into Scenes
Divide your story into different scenes or sections. Each scene represents a specific moment or action.
You can think of scenes like different chapters of a book or episodes of a TV show.
Step 3: Sketch the Main Actions
Take each scene and sketch the main actions that happen in that particular moment.
Remember, your sketches don't have to be fancy or detailed. They can be simple stick figures or rough drawings that represent the actions.
Step 4: Add Descriptions or Dialogue
Alongside each sketched action, write a brief description or dialogue to explain what is happening in the scene.
This helps to provide context and give more information to the reader.
Step 5: Arrange Your Scenes in Order
Once you have sketched and described all your scenes, arrange them in the order they will occur in your story.
This helps create a logical flow and ensures that your story unfolds in a sequence.
Step 6: Review and Revise
Take a step back and review your storyboard as a whole. Make sure it makes sense and effectively conveys your story or idea.
You can make revisions or add additional details if needed.
Step 7: Share and Present
Finally, share your storyboard with others. You can present it to your classmates, teachers, or even use it as a guide for creating a project or video.
How Do You Create a Storyboard?
Step 1: Choose a Template from Above
Step 2: Print the Template
Step 3: Define Your Story or Concept
Step 4: Divide the Story into Scenes/Parts (Beginning, Middle, End)
Step 5: Sketch the Frames
Step 6: Add Visual Details
Step 7: Add Captions or Dialogue
Step 8: Sequence the Frames
Step 9: Review and Revise
Step 10: Finalize and Share