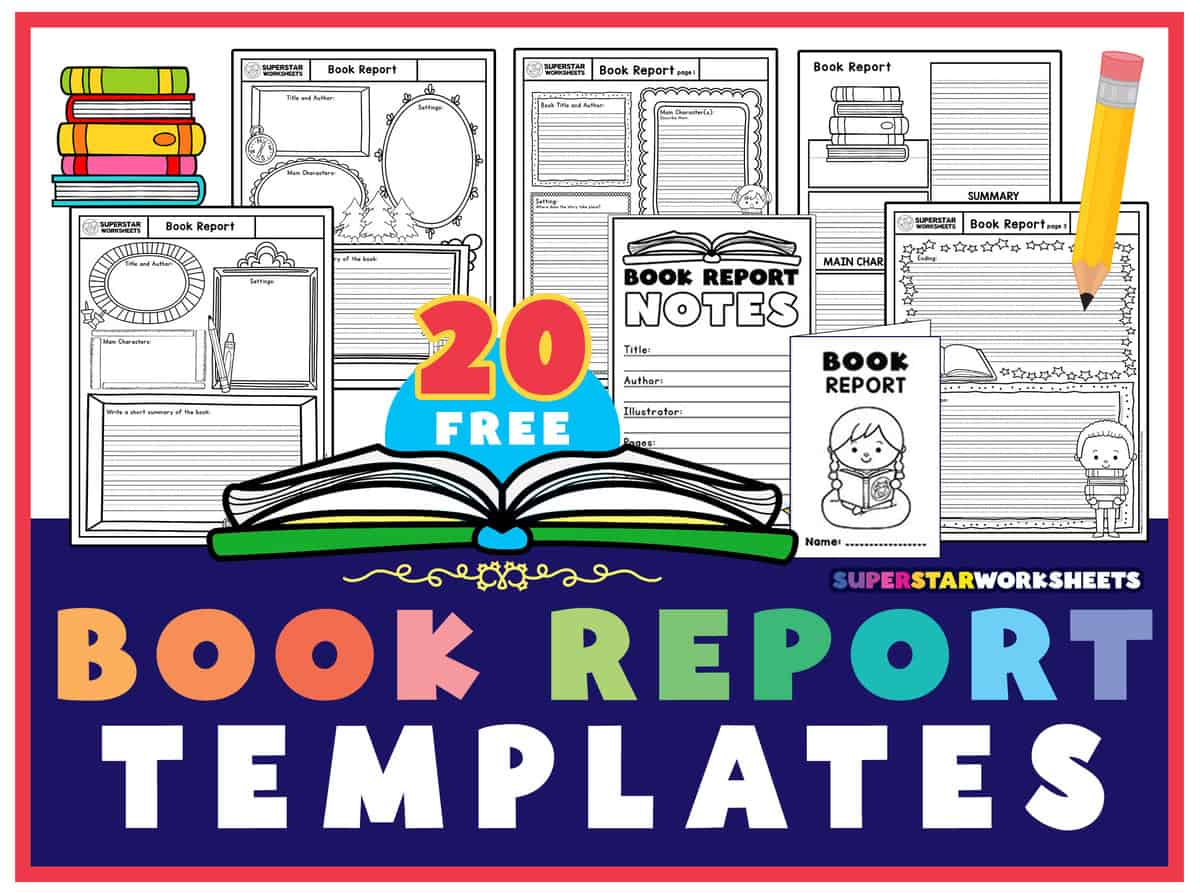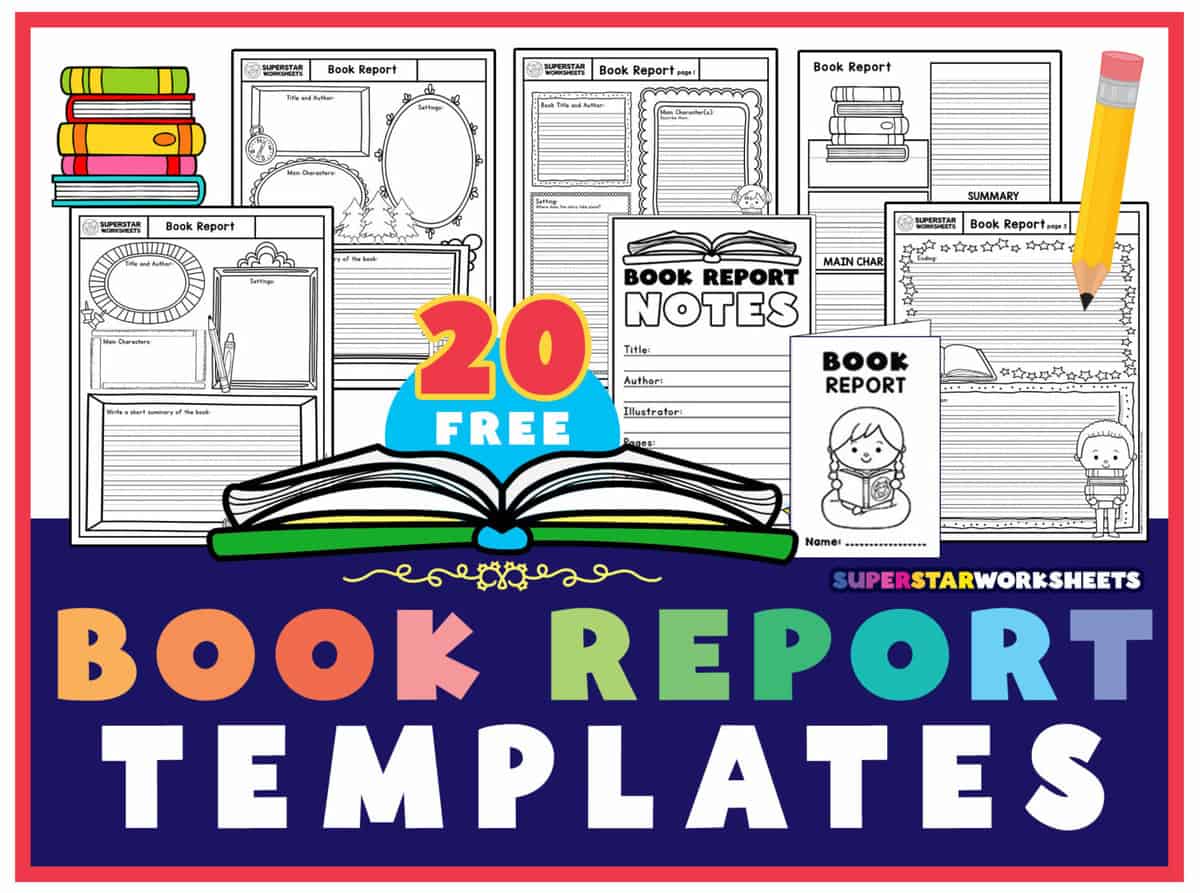 Book Report Templates for Elementary Students to practice research and writing skills! These blank book reports are FREE and easy to use. Young students can use these printable PDF book report worksheets as graphic organizers to outline and summarize any story or book. Students will read, write, and show off their creativity with these simple report templates. For more independent report writing practice, check out our U.S.A State Activity Bundle. Inside this bundle, you will find a variety of self-led research and writing reports for your students to learn about all 50 states.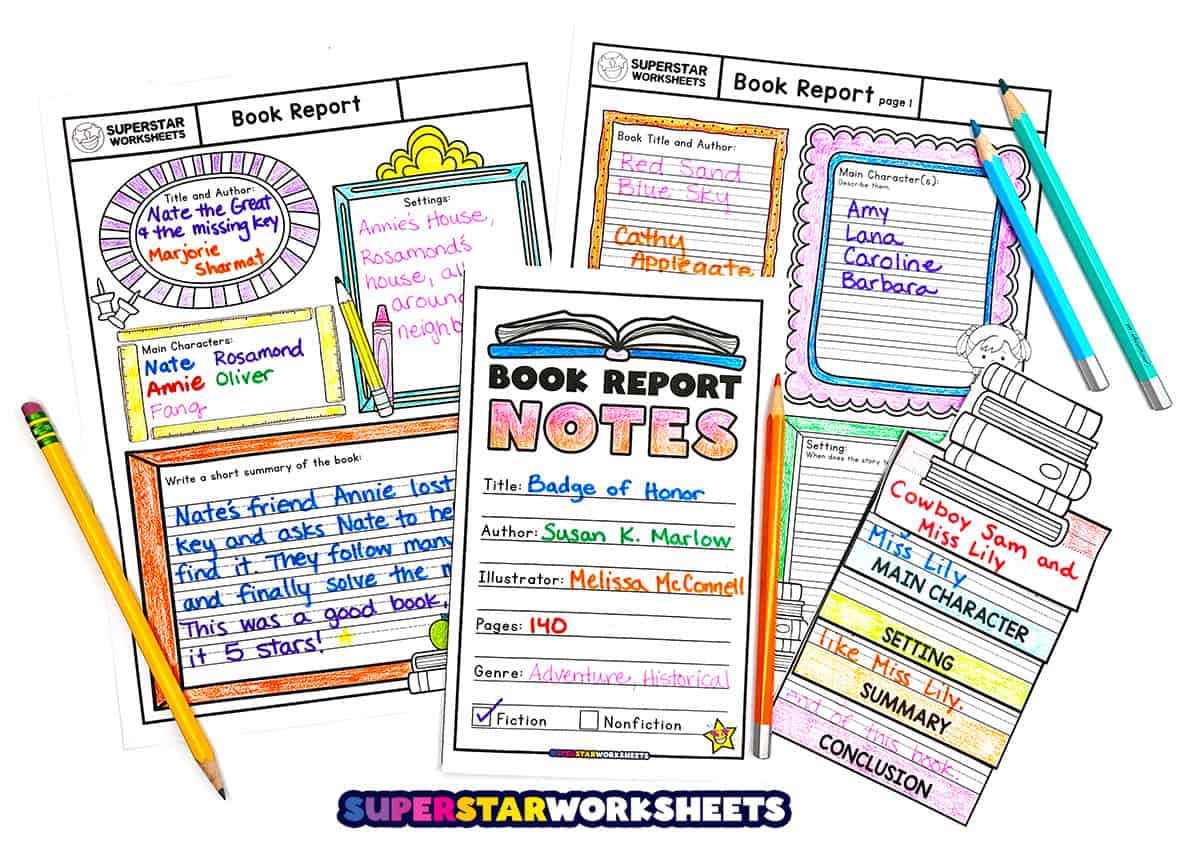 Printable Book Report Template
We've created PDF book report templates with a variety of activities for students from kindergarten to middle school. These skill-building activities support students in independent research through content organization, summarizing, and sequencing. Your students are sure to build confidence to completing their book reports when you incorporate these engaging book report templates. You can print what you need for your homeschool or classroom.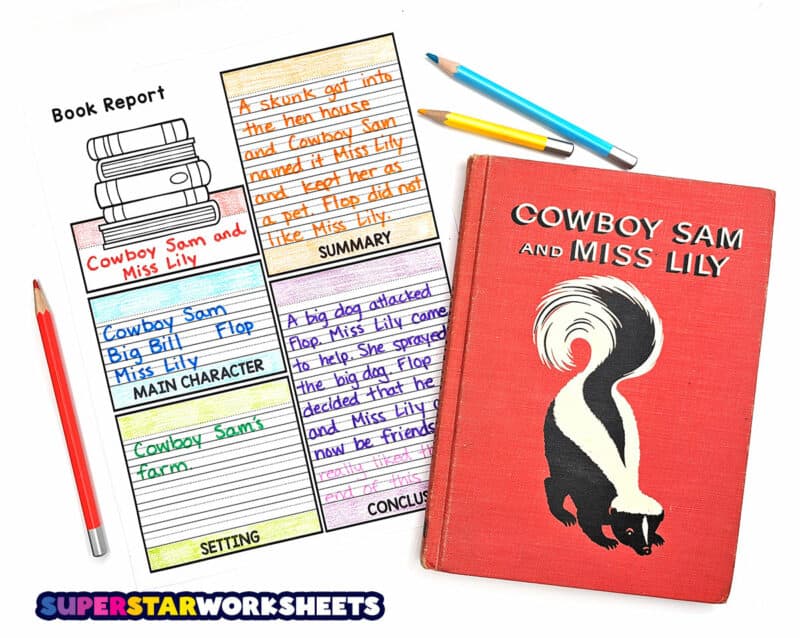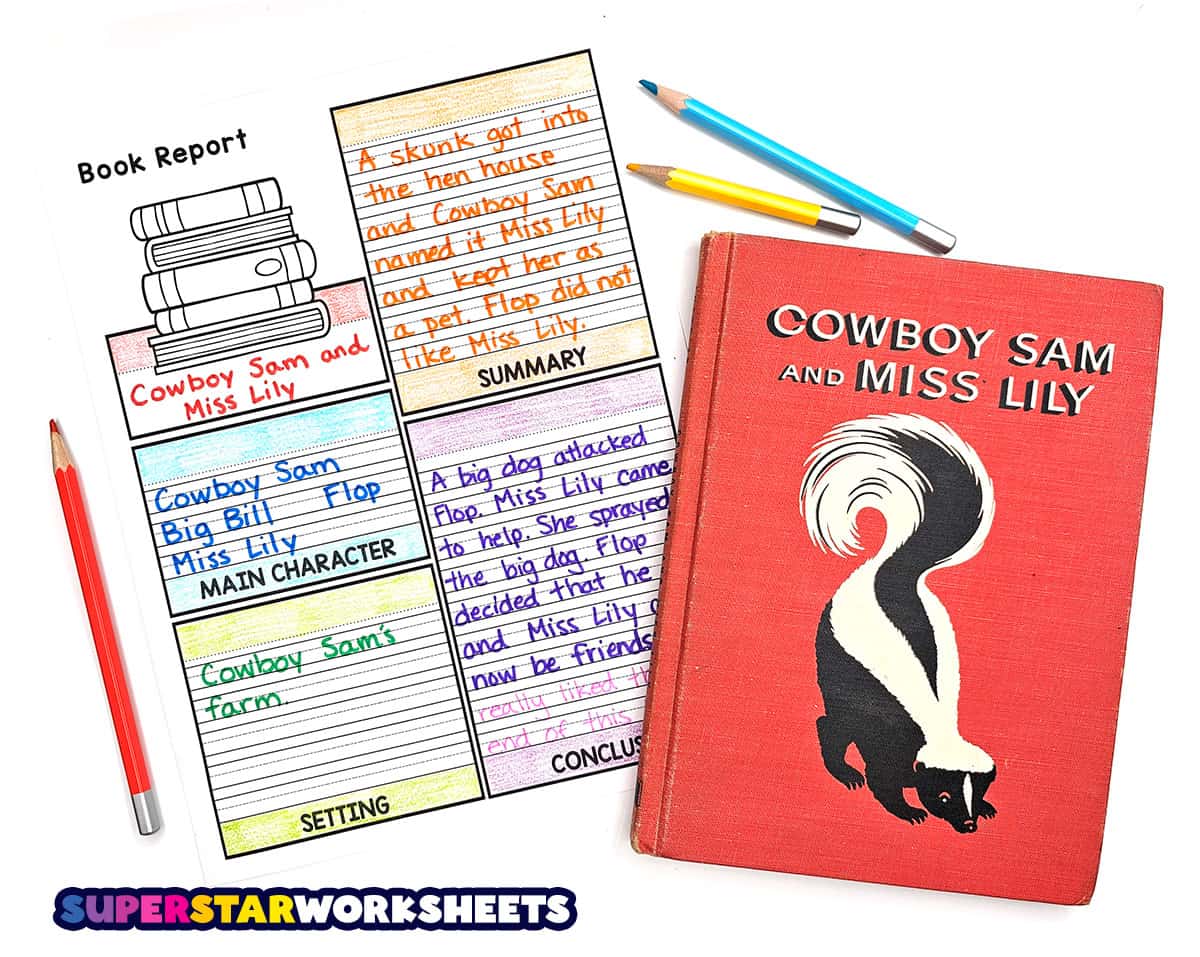 Template For Book Reports
These book report template pages are teacher friendly and easy for students to use. Featuring simple, yet engaging illustrations and organization, our book report templates will promote reading and writing skills in your elementary classroom. Once a story has been read, students (or teachers) can choose a template to complete a book report. Each template features a wide variety of writing areas including title and author, beginning, summary, end, and conclusion. Templates are leveled below by suggesed grade, so there is sure to be a page for everyone! If you have early childhood students, our Kindergarten Writing Paper also makes a wonderful final draft version for student work.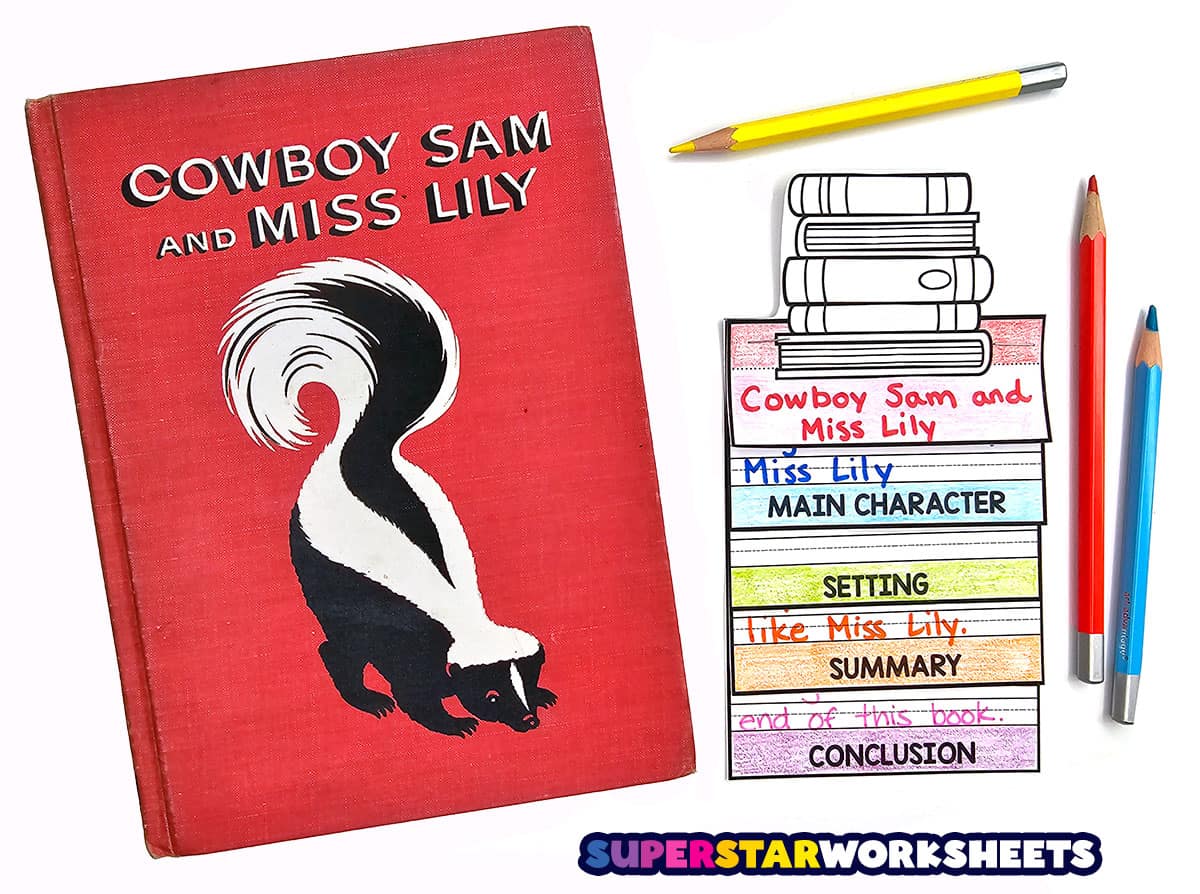 Free Book Report Template
When first starting out with book reports, it's important to choose a story with a simple storyline, maybe even a book your student has read before. Remember, you are teaching the process and needs of a book report at this stage. You might even do a book report example or two together based on simple books you've already read. Once they show an understanding of the book report format, you can then introduce new content for them to read. Once a story has been read, giving every student the same template will give the teacher an idea of how each student understood and "saw" the story. Writing is an important skill in early elementary. Check out our Kindergarten Writing Prompts for more writing skill practice.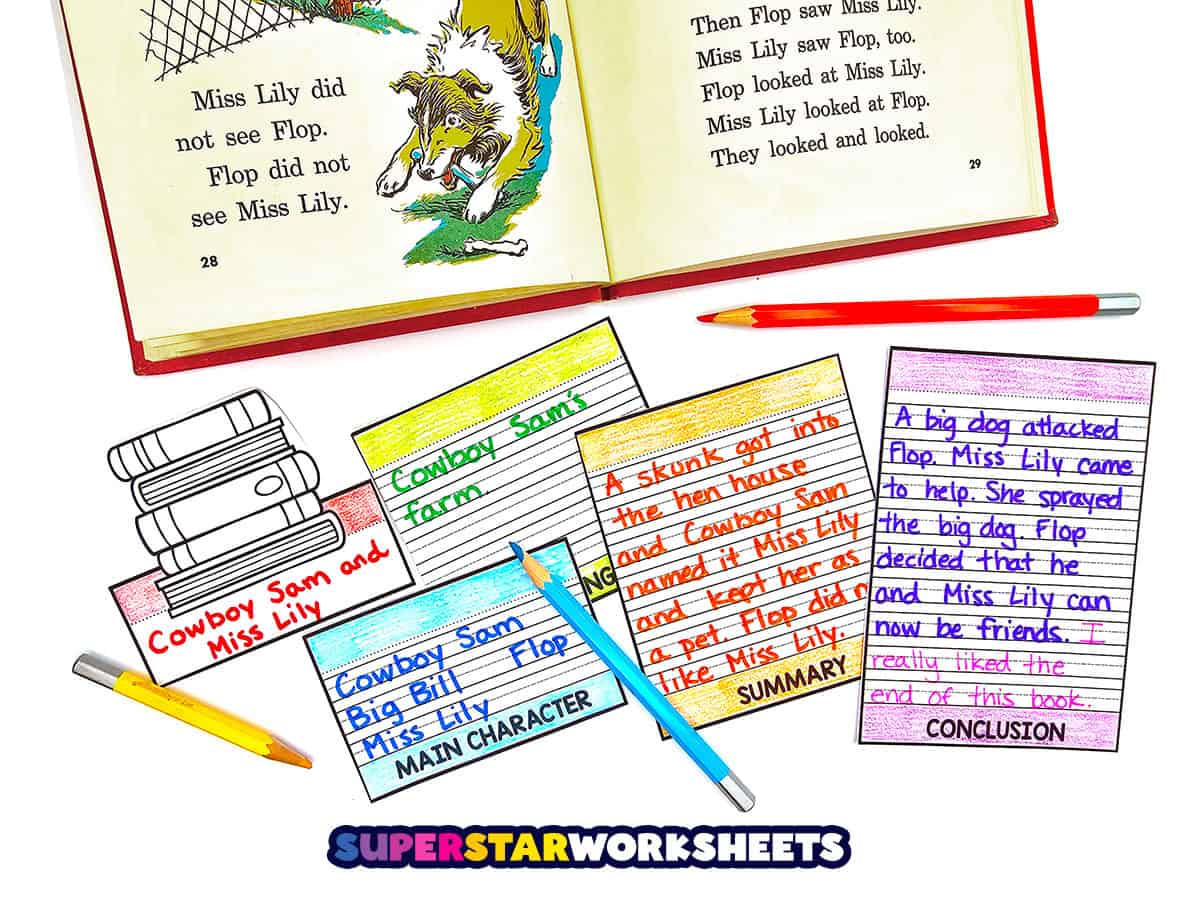 Printable Book Report Templates for K-1
These free printable book report templates are available in PDF format so you can print them for your homeschool or classroom needs. We've designed this set of book report templates for beginners, meaning your kindergarten and first-grade students. This format provides your students with exposure to the idea of a book report and helps them to begin to understand the parts of a book.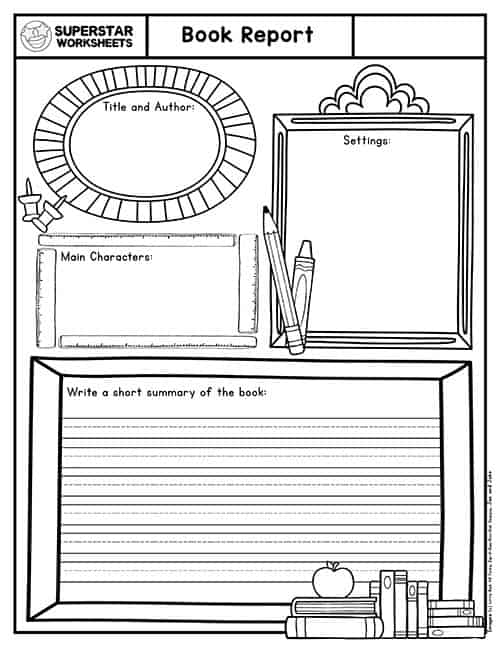 Simple and easy printable book report template for beginners. This single-page book report template is the perfect graphic organizer to help young students record details about their book. Students note the title, author, main characters, and setting. There is room to write a short summary of the book.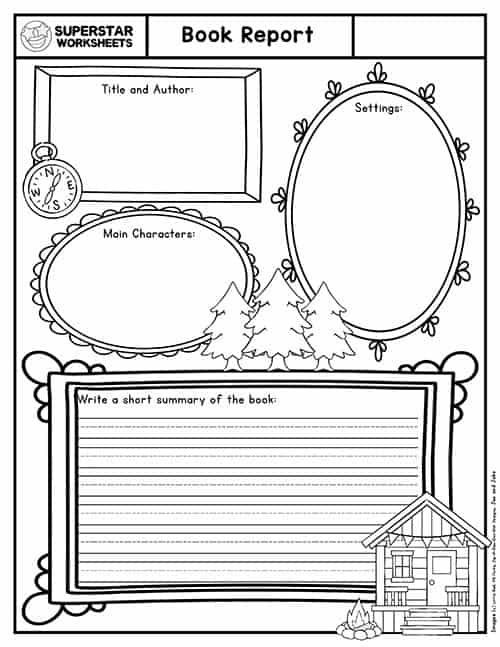 This free printable PDF Book Report Template is great for young kindergarten and first grade students. Ample room is provided for students to record and report their book details. Younger students can draw a picture of the main characters and the setting. Guided handwriting lines help with penmanship.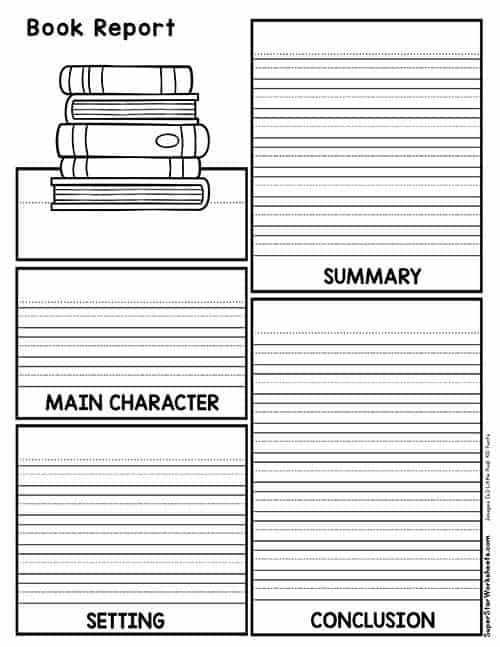 Perfect for early elementary students, this layer book report template gives students writing practice while they have fun showing off their knowledge! After students record notes in each of the sections, cut them out and assemble smallest to largest and staple together. This will create a Flip Book Report your student can share.
2nd Grade Book Report Templates
As your second-grade students begin to understand the purpose of a book report, they can go beyond reporting, and also answer book report questions that will add in their opinion. Opinion writing is a simple style to introduce alongside book reports as your students can easily tell if they enjoyed the book (or not) and their favorite parts. They can also begin to develop an awareness of who else might like to read this type of book.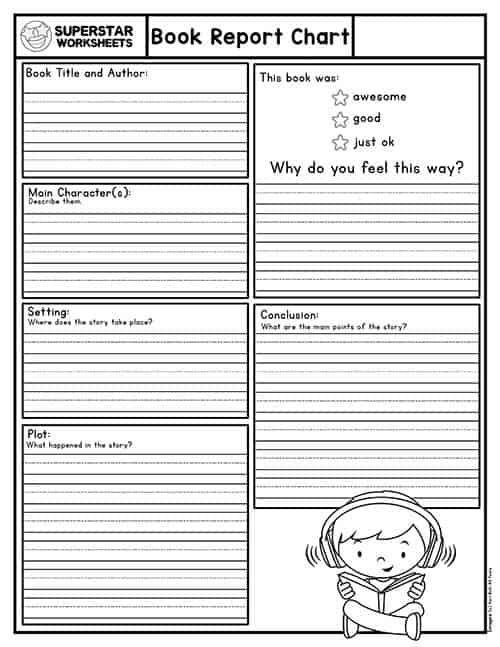 Our free book report chart will have your elementary students begging to do book reports each week! This resource if fun and easy to use! This book report includes a printable book review template where students are asked to rate their book and explain why they gave it that rating.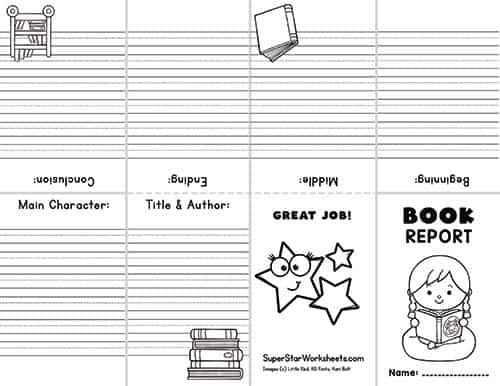 Free printable book report template foldable. Perfect for young elementary students. This includes title and author, along with main character, beginning, ending, and more!
Cereal box book report planning sheets make book reporting fun and easy!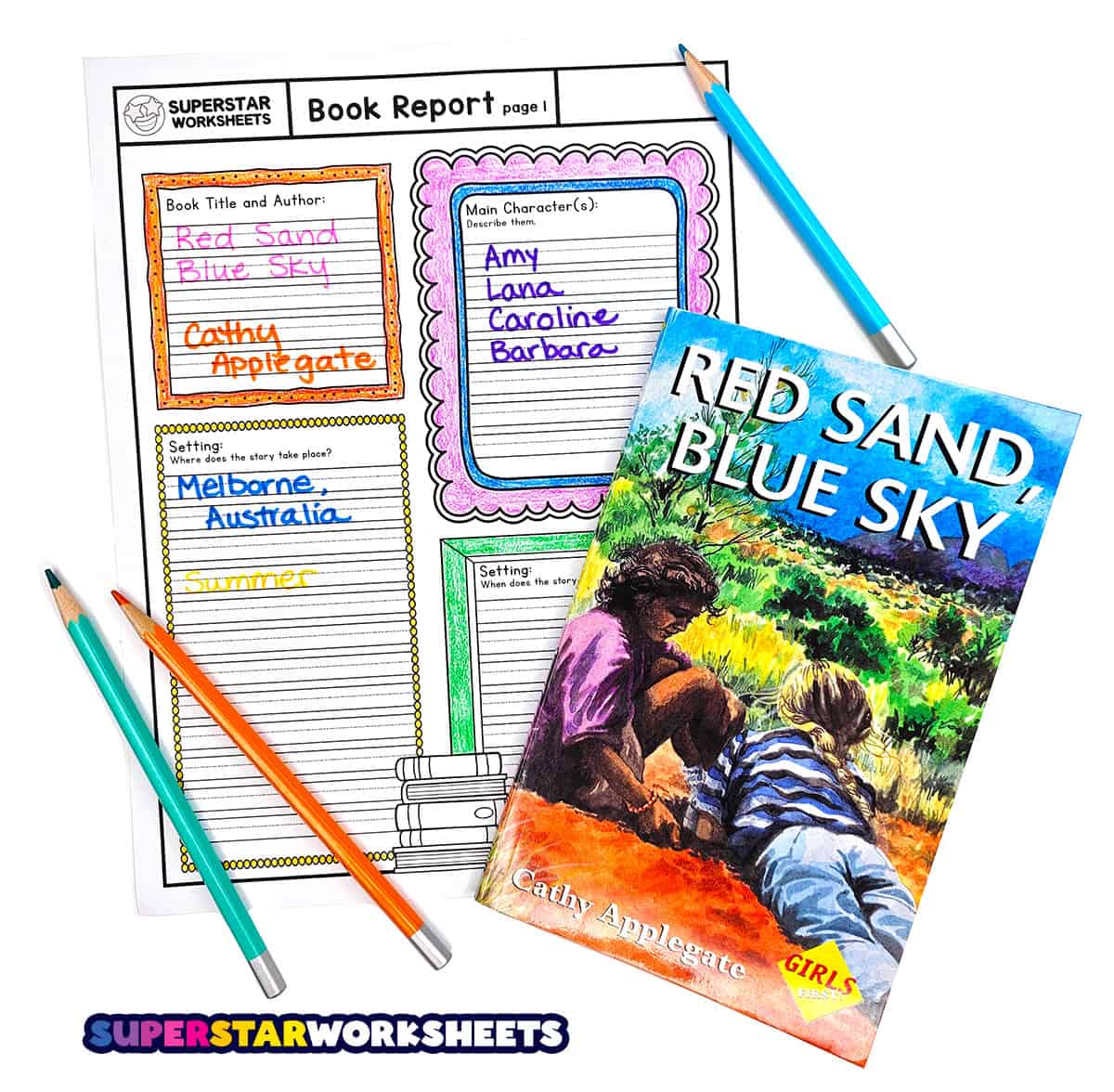 3rd Grade Book Report Templates
Our third-grade book report template include expanded writing opportunities for your students to go into more detail. We've incresed the writing area for all sections of the report. It is suggested that you provide all three pages to your students and have them design an illustration for the cover page. Some elements of these book report worksheets include the book title and author, main characters, settings (time and location), beginning, middle, end, and a conclusion.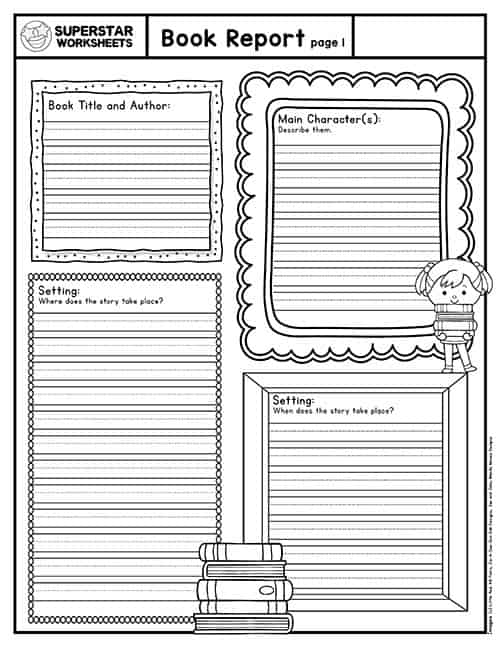 Page one of our three-page book report template. This page starts the book report off for your elementary students. On this printable sheet, students record the title, author, main characters, and setting. Guided lines help with handwriting for younger writers.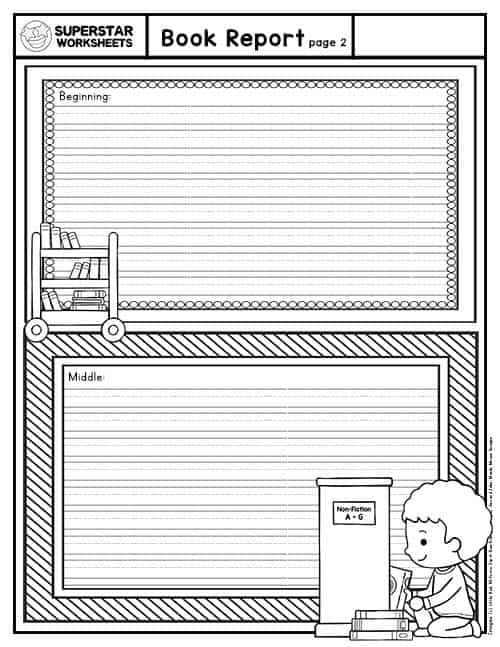 Page two of our three-page book report template. This printable book report template splits the page in half with clear sections for your students to record the sequence of events in their story starting with what happens in the beginning, and the middle of the story. Remind students that the middle of the story is where they record the problem, or the climax of the story.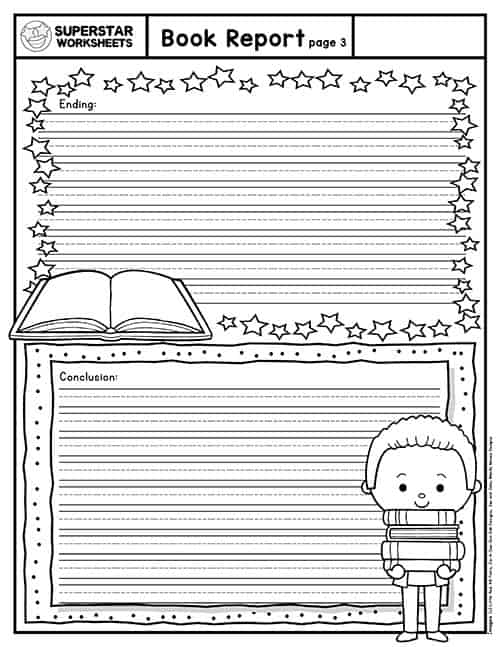 Fun, free, and easy to use. This is the third page of our 3rd grade book report writing template. Your students will record the ending of the book report detailing how the problem was resolved. There is also room for the conclusion paragraph, where students can offer their opinion of the book, give it a rating, and other suggestions.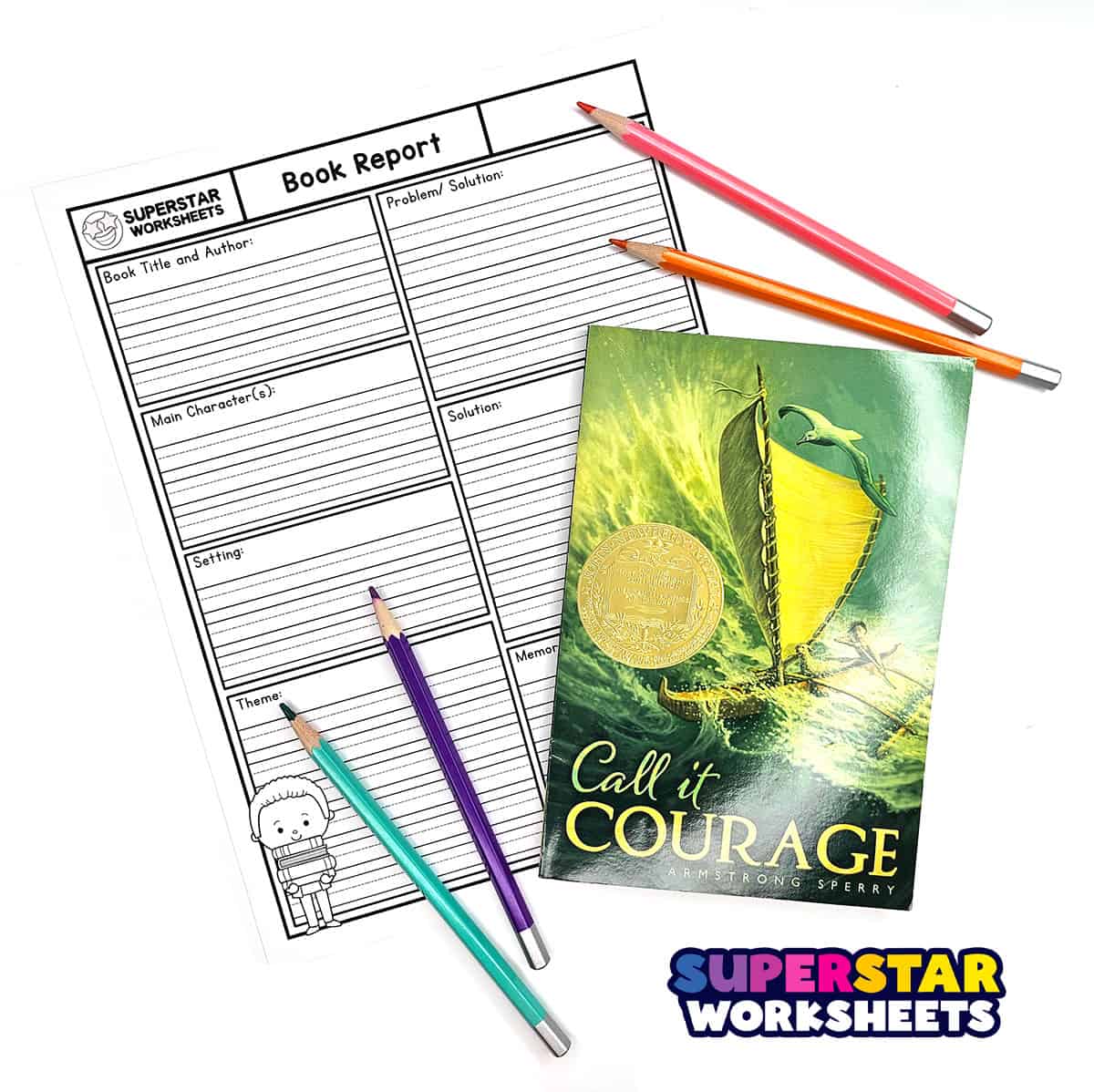 4th Grade Book Report Templates
If your child is in fourth grade, they may be ready for simple book report outlines. We've included a blank book report template along with some starting prompts your students can use as rough draft outlines.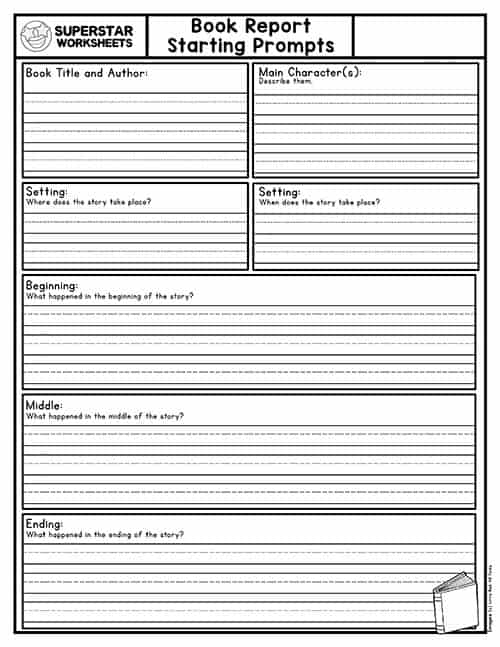 Starting prompts for book reports get students to think about a variety of questions. Each section is clearly labeled and the sequence of events can easily be mapped out (beginning, middle, end).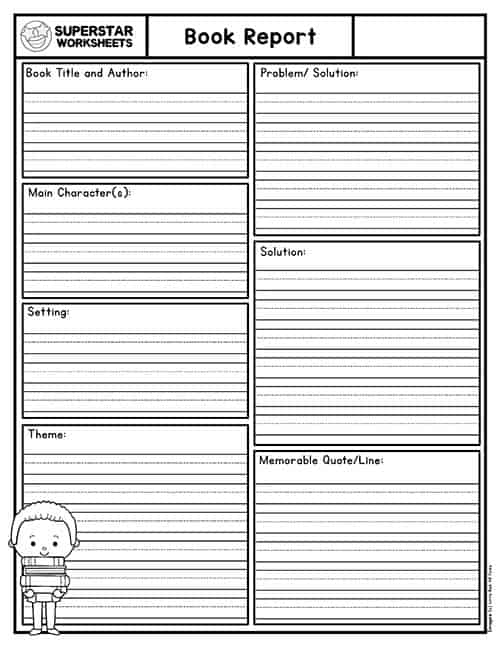 This book report template is similar to a graphic organizer, where students can store key facts and notes about their book. As they read they will glean information and write it in the appropriate areas for later reference.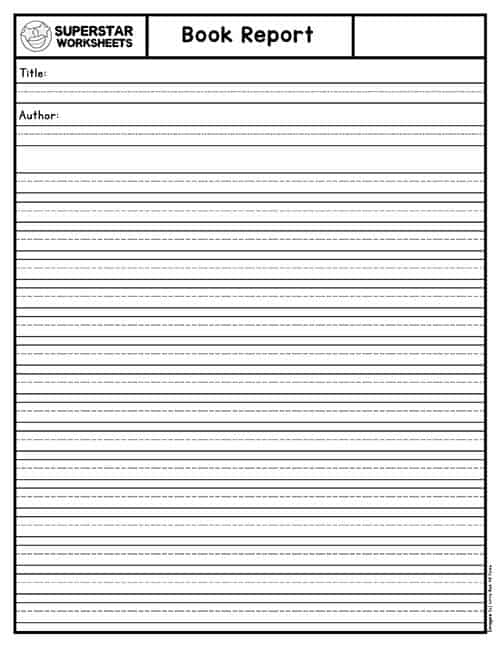 Blank book report template for upper elementary students to write. If your student is ready to write their final draft, you can use this blank book report writing paper for them to quickly and easily write a few paragraphs about their book.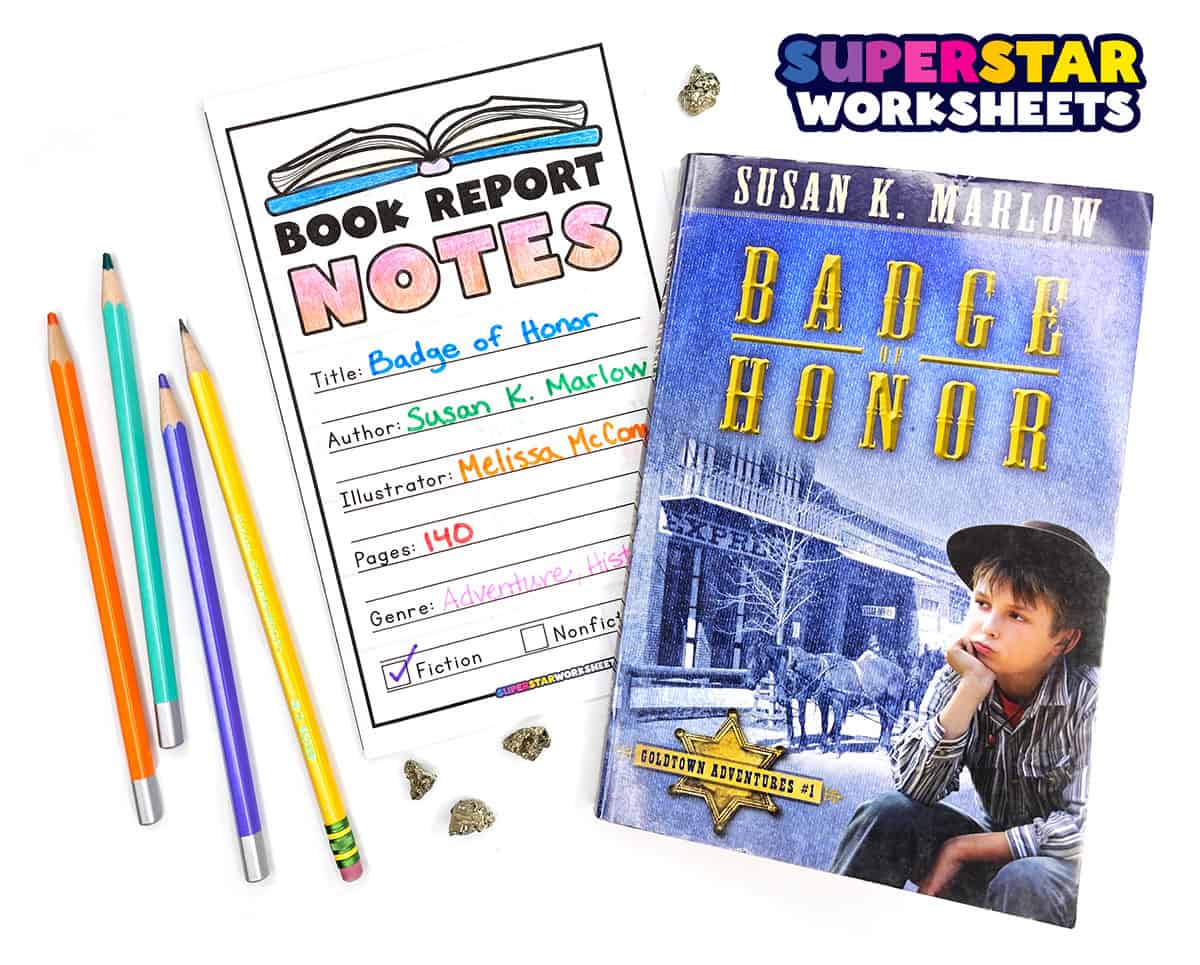 5th Grade Book Report Templates, Outlines, & Notes
By fifth grade, it's likely your students will be typing up their book reports. This printable book report template will help your late elementary and early middle school students with their book reports. We suggest this format for 5th, 6th, and 7th-grade students. Middle school students are likely reading larger chapter books with many characters, settings, and events. The books are much too detailed to try to skim back through after reading to pick out the necessary details. As such, they will need to take excellent notes as they read. That is why we've created this simple book report note-taking resource for your students.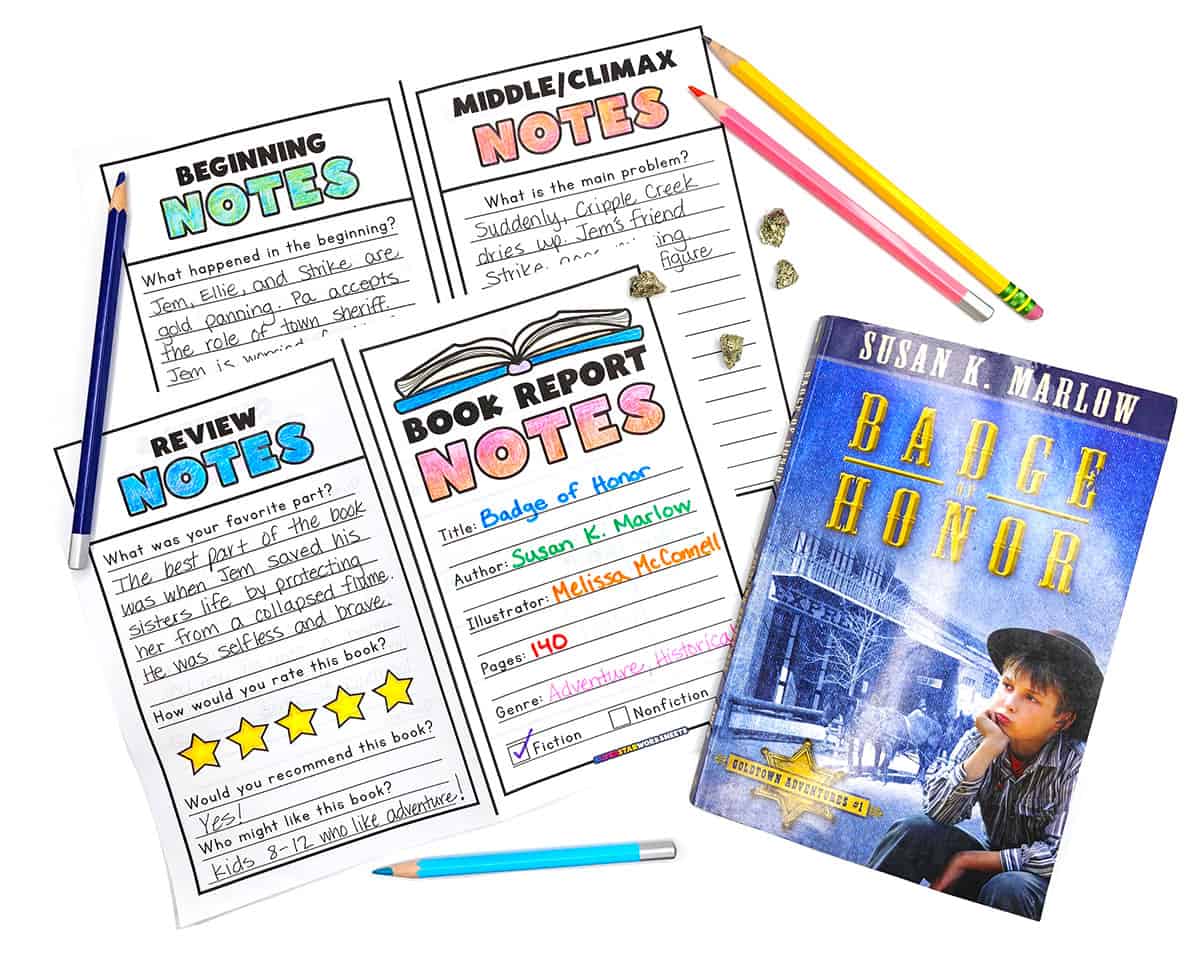 How to Use Book Report Templates
This book report graphic organizer has been tried and tested for many years and continues to be a winner with my kiddos. Before beginning the book, I have my kiddos fill out the cover completely. Then usually by the end of the first chapter, they'll have the first page of character information written in. Getting this information down immediately serves as a springboard for information gathering and will help your students develop good note-taking habits as they read and look to fill in the other areas of the note-taking template. Remind your students this tool is for jotting down quick notes, and as such, full sentences, and proper grammar are not required. This will simply serve as a memory tool they can use when it comes time to write the book report.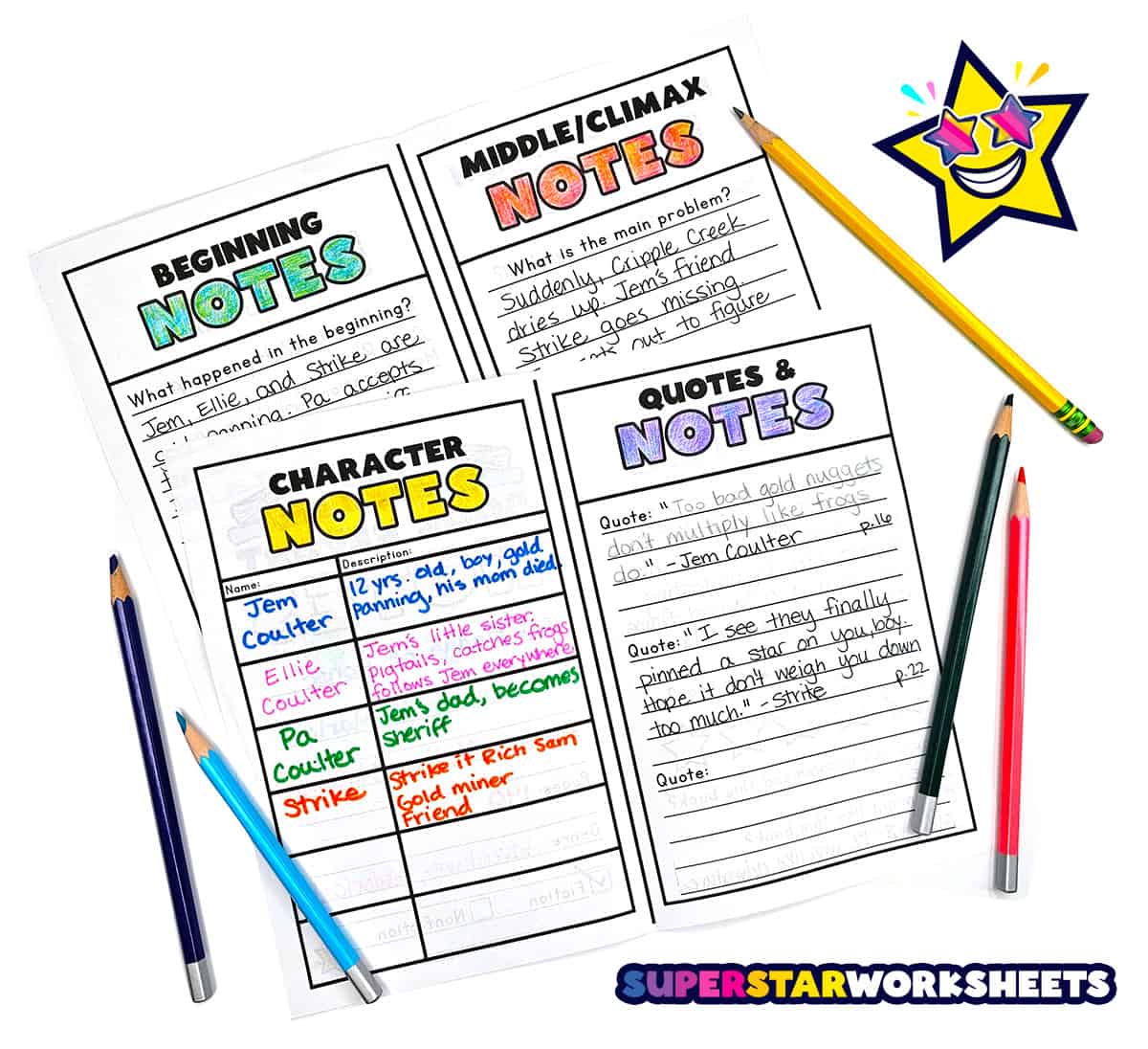 How to Organize Book Report Notes
This book report template has been designed to help your student capture and organize the most important details they will need to write their book report. Too often, students forget to take notes, or take the wrong notes and record unnecessary details. Or even worse, they sit down to write their book report and realize they've forgotten major parts of the storyline, or characters. This leads to frustration and a general fear and reluctance to write book reports.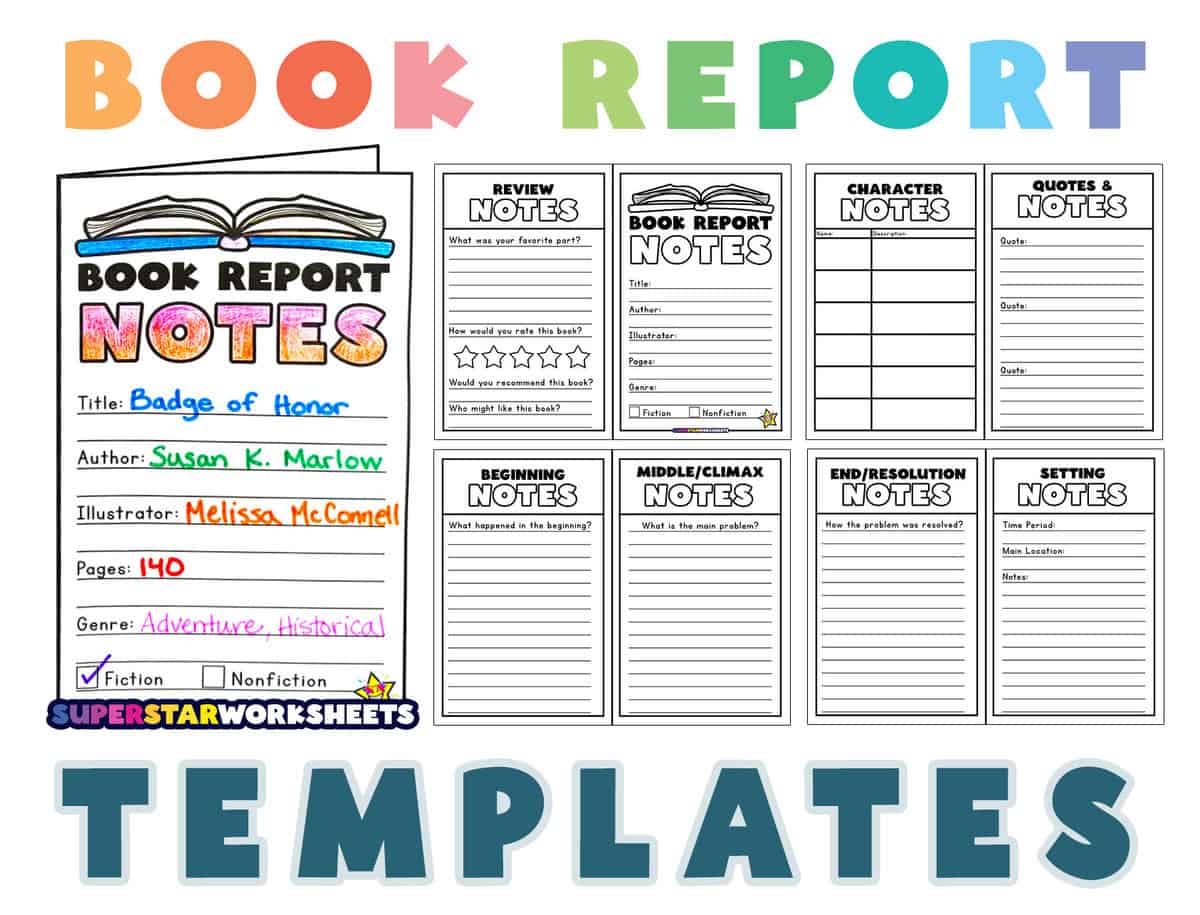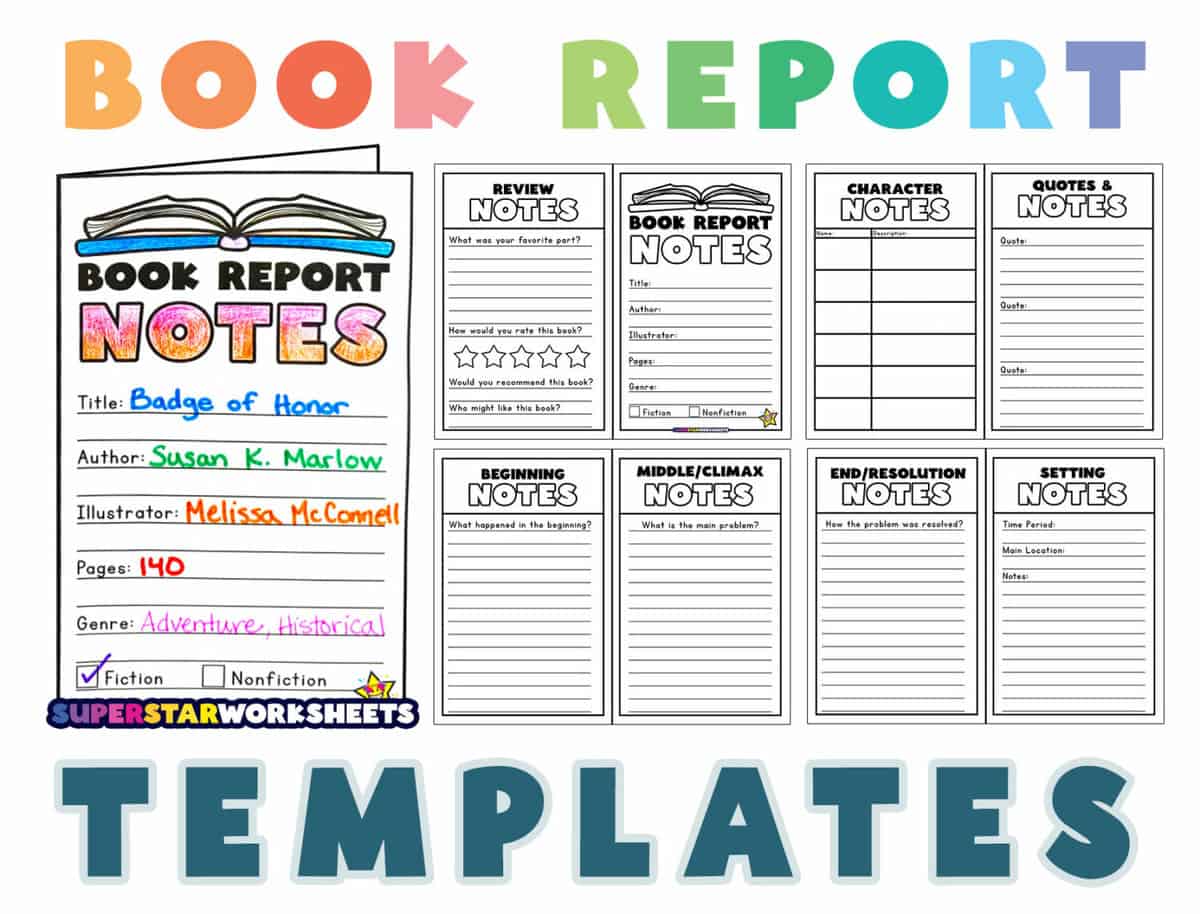 Why Use Book Report Templates?
There are many reasons you'll want to use book report templates and note-taking templates with your students. First, to equip students with tools they can use to develop important research skills. Trust me, as soon as you implement this note-taking habit, it will become expected as the very first step of a book report. Before creating this printable version, I would fold little booklets by hand and label each of the sections for my kids—they asked for "that thing you make" before they would ever start reading their assigned book. Second, these graphic organizers are designed to build confidence. Students can clearly see what information is the most important to gather and glean as they read. This confidence will translate into independence and the ability to meet their own specific rubric requirements. I've noticed that often book report requirements will have multiple sections where specific materials, formats, and presentations are required. It's a lot for young students to organize and process. Bringing order into the note-taking process helps build a reference tool they can consult as they jump through each requirement. Finally, note-taking has been a helpful tool for ME to quickly understand the overall theme and storyline of their book. Inevitably, there are questions along the way, and this format gives me clues and key insights into which direction I can help steer them to get back on track with their report.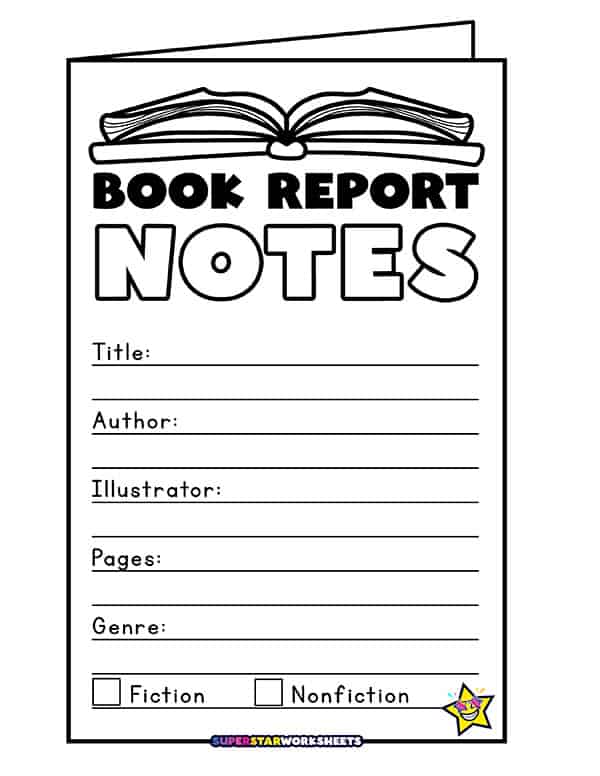 Free printable template for taking notes before a book report. Students record data as they read.
Printing & Assembly Instructions: This PDF document has been designed for double-sided printing. When printing, select "Double-Sided" and "Flip on Short Edge." This will ensure the document prints correctly so that you can simply stack, fold, and staple the resource together.
NOTE: If you do not have double-sided printing, you can still use these resources. Simply cut apart the pages and reassemble them in order
Cover: Book Info
Page 1: Characters
Page 2: Setting
Page 3: Beginning
Page 4: Middle/Climax
Page 5: End/Resolution
Page 6: Quotes & Fun
Back: Ratings & Favorites