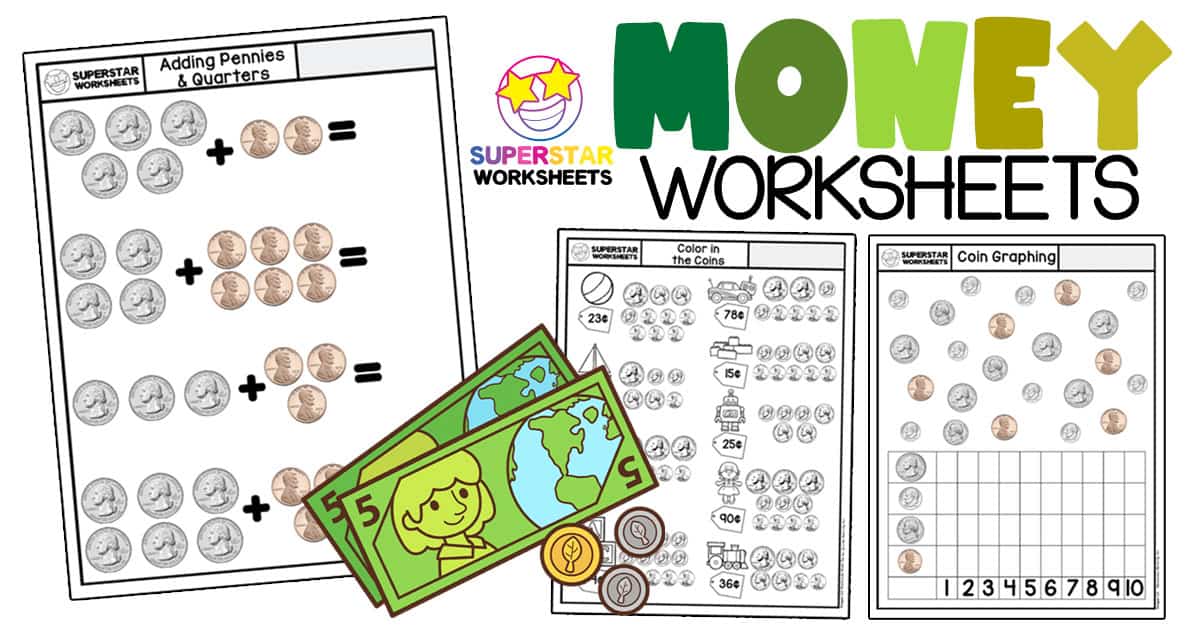 Free counting money worksheets for kindergarten and beyond. These free printable worksheets will help your students build an understanding of coin recognition, coin value, addition, subtraction, skip counting, place value, and more. Use these free counting money worksheets with your kindergarten, first, and second-grade students. Difficulty level builds as you scroll down to view all resources. Click here to see more!
Counting Money Worksheets
Before your students are able to add, subtract, multiply and skip count with coins, they will need to know the denomination of each coin. These kindergarten worksheets will help your students get there. From a coin value chart to testing their recognition, these are a great first step!
Counting Pennies Worksheets
Students will use these addition and worksheets to find out how many pennies there are. These free printable money counting worksheets are a great way to start them on the road to counting money.
Counting Nickels Worksheets
Students will level up their math skills with these money math worksheets. How will they find the answer depends on if you are working on skip counting or through multiplication and addition. Great for kindergarten, 1st and 2nd grade!
Counting Dimes Worksheets
Now that your students have mastered counting nickels, it is time for the dimes. These worksheets will have them working on addition, subtraction, skip counting by 10 as well as multiplying, all in one sheet.
Counting Quarters Worksheets
These counting quarters worksheets a great way to help your students with the next step in counting money. Your students will build skills in: following directions, skip counting by 25, addition, fractions and multiplication.
Counting Mixed Coin Worksheets
Now that your students have a grasp on the value of coins, you can take them to the next level with these money math counting, mixed coin worksheets. They vary from kindergarten to 2nd grade level. You and your students will profit from these free, printable worksheets.
Kindergarten Money Worksheets
These worksheets will ask students to count the coins to find the total for an item then label it with the correct price. Next they will work backwards to see what coins they need to purchase the items. Addition, subtraction, skip counting, multiplication, and counting money all in one worksheet!