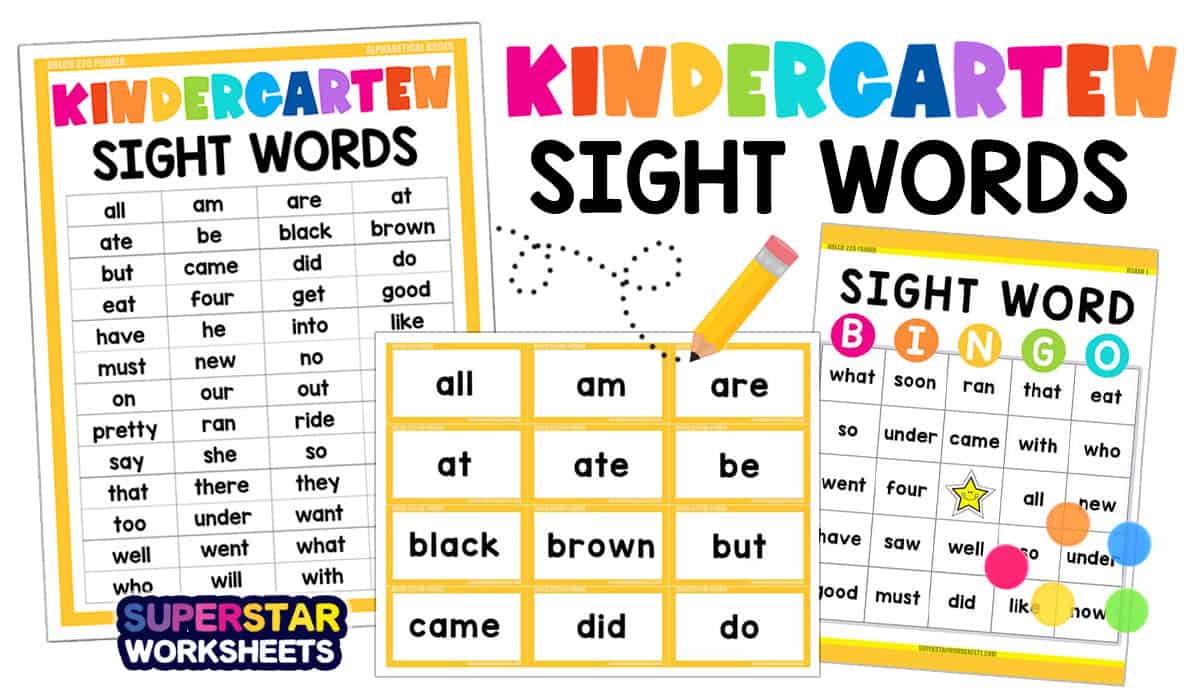 Kindergarten Sight Words made simple and fun! Free kindergarten sight word lists, printables, worksheets, games, assessments, and activities. Teach your students to learn to read kindergarten sight words with our free 52 Dolch and Fry 100 sight word printables. Our colorful an engaging kinder sight word printables will help encourage even the most reluctant reader. Level up your sight word learning centers with our Kindergarten Sight Word Curriculum today! We've packed it with hands-on learning opportunities that will help your kindergarteners learn the sight words they need to know!
Sight Words for Kindergarten
So, what are the kindergarten sight words? Or more specifically, what sight words does my child need to know in kindergarten. There are two widely accepted high-frequency sight word lists; Dolch Sight Words, and Fry's Sight Words, complied respectively by Dr. Edward William Dolch and Dr. Edward Fry. More commonly, we've seen the Dolch Sight Word List prevail as the accepted, grade-level specific list of sight words, however many families and schools use Fry's 100 Sight Words Lists for kindergarten as well. The kindergarten words on this page reference Dolch 220 Sight Word Primer words intended for the kindergarten year.
Kindergarten Sight Words List
all
am
are
at
ate
be
black
brown
but
came
did
do
eat
four
get
good
have
he
into
like
must
new
no
now
on
our
out
please
pretty
ran
ride
saw
say
she
so
soon
that
there
they
this
too
under
want
was
well
went
what
white
who
will
with
yes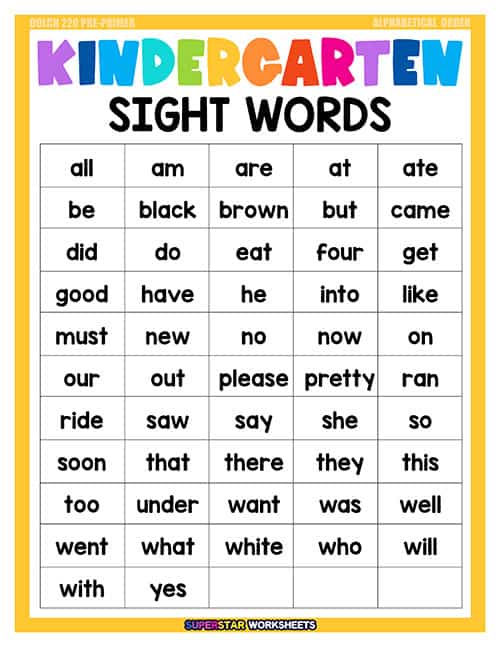 This is a free printable PDF of Kindergarten Sight words from Dolch 220 Primer word list. These sight words are in alphabetical order for easy reference. Print this sight word list as a reference chart, for extra practice, or even use as a sight word assessment to see how many words your students know!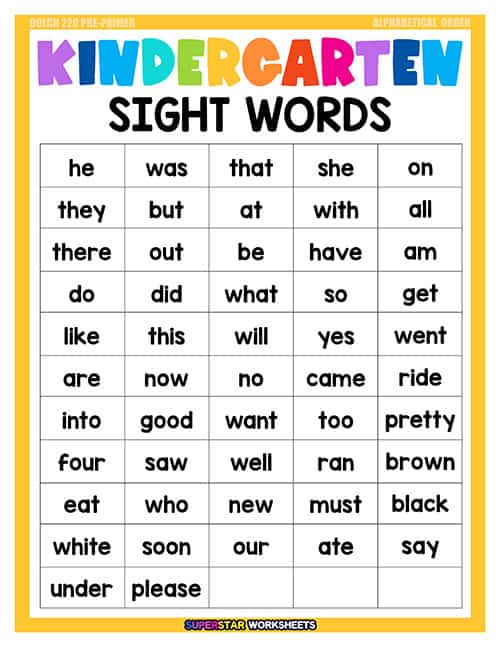 Kindergarten students can learn important sight words in order of frequency. This preschool sight word list presents the Dolch 220 Pre-Primer sight words in order based on use in texts. This is very helpful for building important reading fluency skills as these are the most common words your preschool student will come across in books.
Kindergarten Sight Word Worksheets
Free printable Kindergarten sight words worksheets for kids. Over the years we've created TON of free and fun kindergarten sight words worksheets, games, activity pages and hands-on learning opportunities. Below we have some of our most loved kindergarten sight word worksheets to provide your students with ample opportunity to practice reading, writing, and spelling common sight words.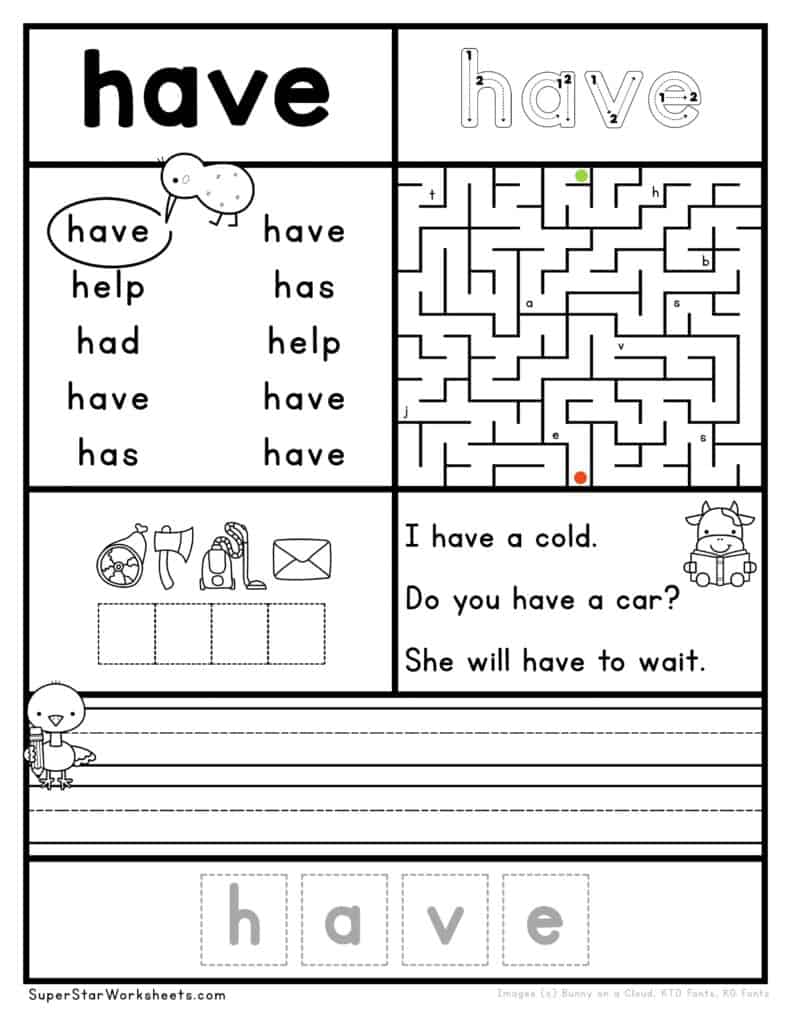 Students work on a variety of skills for learning 52 sight words! With this free sight word activity your kindergarten students will:
Read Sight Words
Recognize Sight Words
Trace Sight Words
Solve a Sight Word Maze
Mystery Sight Words
Sight Word Sentences
Writing Sight Words
Stamping Sight Words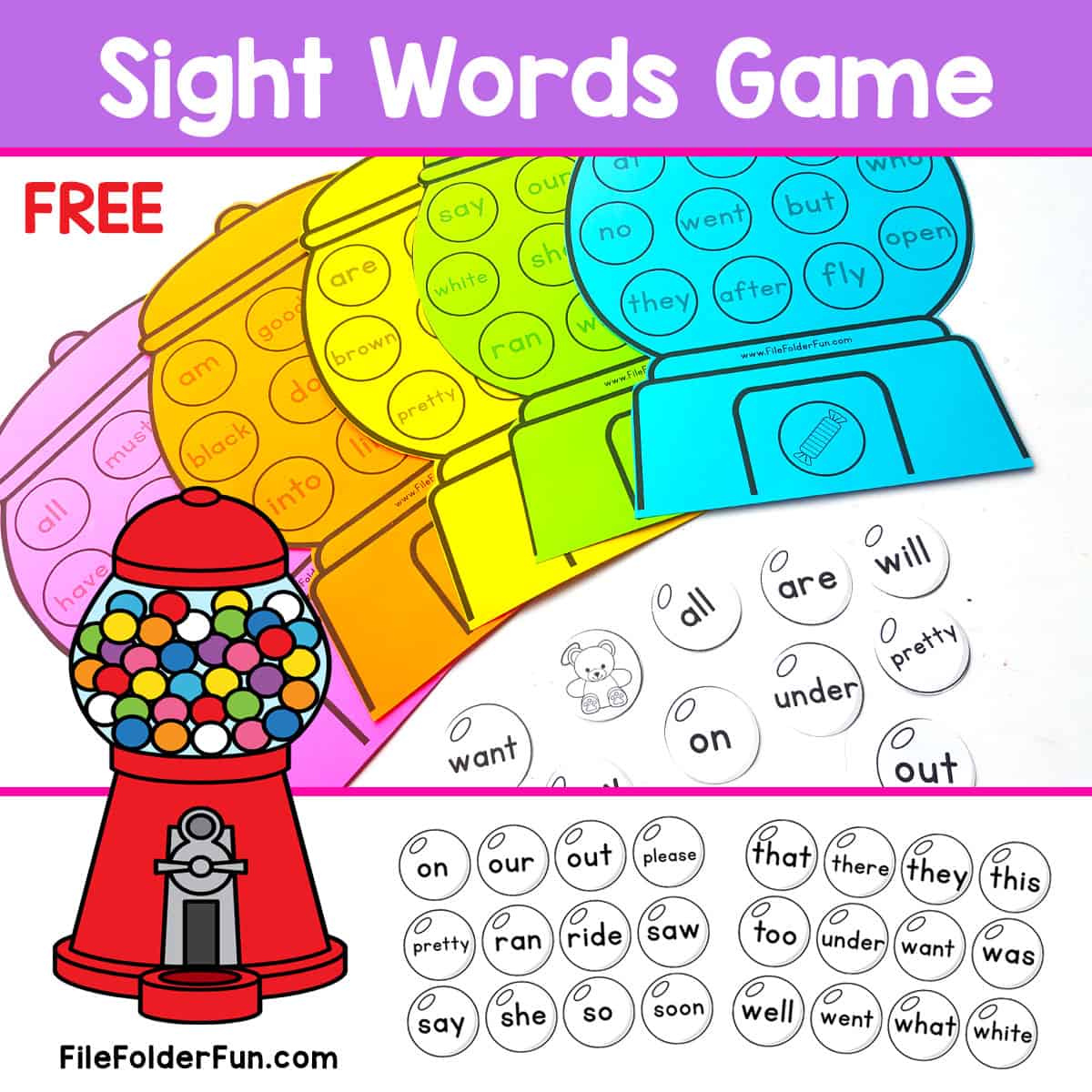 This free sight words file folder game will have your students learning their kinder words with ease! Featuring our simple circle punch game format, this learning center can be played by up to five players. Simply print, punch, and play. Each gumball features a different kindergarten sight word. Students must draw and collect the sight words they need to win the game.
Kindergarten Sight Word Games
Learning sight words in Kindergarten is FUN with our free printable Sight Word Games and Activities! With our printable sight word flashcards, you can use our gameboards or create your own hands-on learning games. , flashcards, games, and activities for kids! We've created fun, hands-on learning activities for your kindergarteners to learn sight words.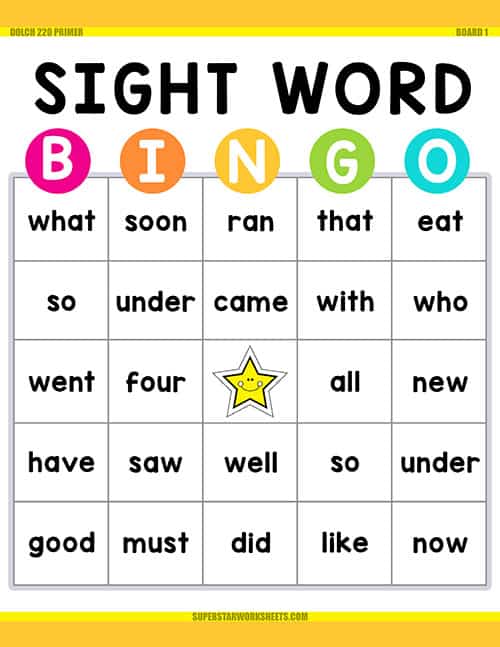 Learning sight words is fun with our free printable Sight Word BINGO games! Each game features unique sight words from the Dolch Primer Word list for your kindergarten students to find, read, and cover!
Free printable kindergarten sight word flashcards for Dolch 220Primer words list. These color-coded flashcards include every sight word your kindergarten student should know! Great for learning to read practice or used with our Sight Word Games. These can be used as BINGO calling cards as well.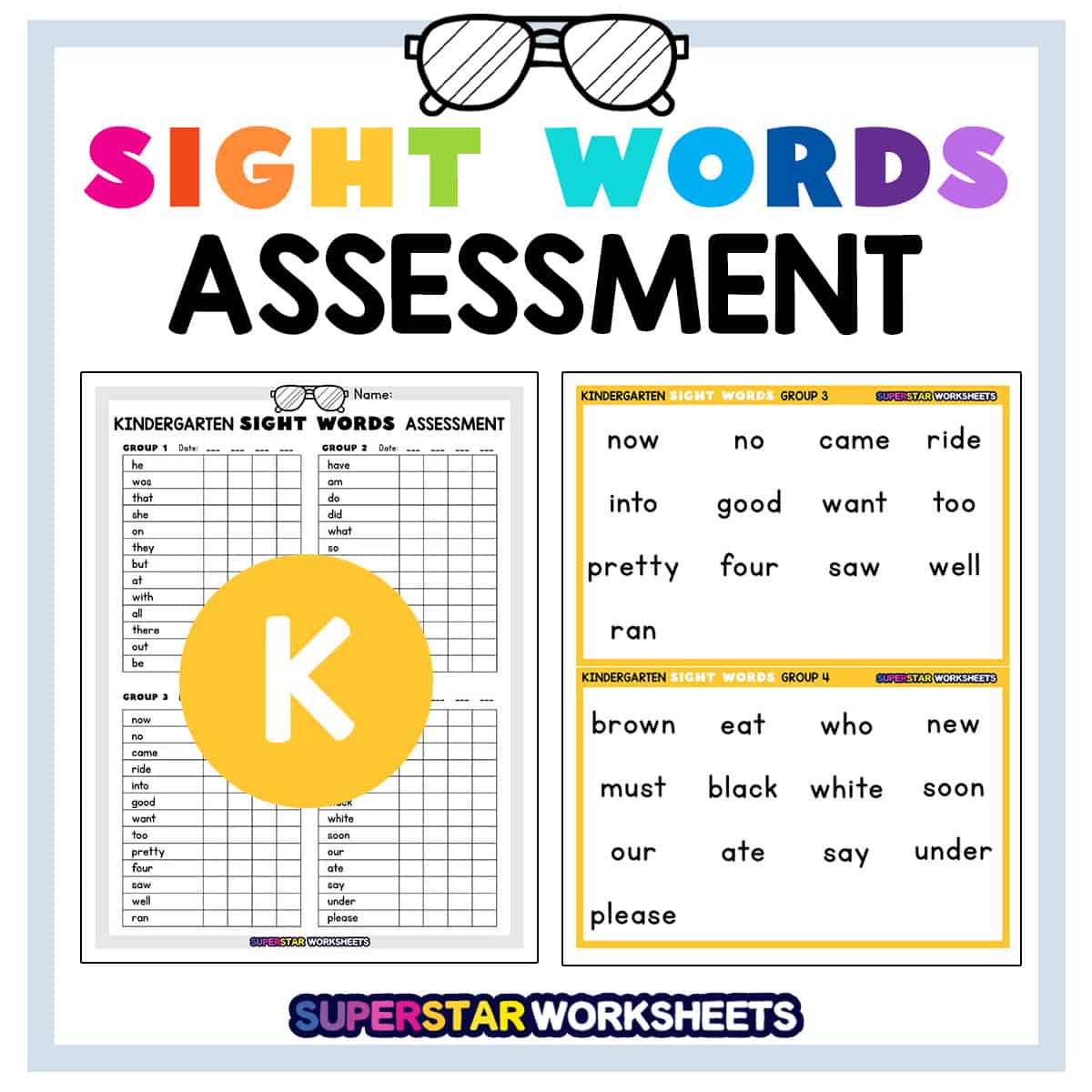 Kindergarten sight word assessment sheets are great for students and teachers alike. Teachers have a no-prep assessment that students are sure to be engaged in. Student pages are easy to read and teacher pages are easy to track and monitor growth.
What are Kindergarten Sight Words?
You might be wondering, what is a sight word? In general, Sight Words are words that cannot be sounded out phonetically and must be read by sight. For example, the word "cat" can be sounded out with individual letter sounds "c—a—t" and thus is not a sight word. Words like "four" and "she" cannot be sounded out phonetically. These words must be memorized through repetition and exposure. There are exceptions to this rule, but this is a good starting point for understanding the purpose of sight words and the need for memorization. Read more about sight words for kids here.
Kindergarten Sight Words: Dolch Sight Words Primer List
If you need a simple and quick list of Preschool Sight Words in alphabetical order, you can simply copy and print the list below! Use the list to plan out your homeschool preschool, or target word list for the school year. These sight words are taken from Dolch 220 Primer Word List:
Kindergarten Sight Words List in Alphabetical Order
all
am
are
at
ate
be
black
brown
but
came
did
do
eat
four
get
good
have
he
into
like
must
new
no
now
on
our
out
please
pretty
ran
ride
saw
say
she
so
soon
that
there
they
this
too
under
want
was
well
went
what
white
who
will
with
yes
Kindergarten Sight Words List in Frequency Order
he
was
that
she
on
they
but
at
with
all
there
out
be
have
am
do
did
what
so
get
like
this
will
yes
went
are
now
no
came
ride
into
good
want
too
pretty
four
saw
well
ran
brown
eat
who
new
must
black
white
soon
our
ate
say
under
please
How to Teach Sight Words in Kindergarten
Here are some helpful tools that will help you teach your kindergarten students important sight words. Kindergarten students learn through play, so you'll want to incorporate many hands-on kindergarten sight word games! Repetition is key, so you'll find that many of the printables and games we feature below will help your student with extra practice on important preschool reading skills. Additionally, kindergarten students generally begin handwriting skills so you'll want to include opportunities for students to trace and write sight words on their own.
Learning to read is a journey and requires kindergarten students to learn a variety of strategies. That is why our best-selling Kindergarten Reading Program covers word families, sight words, grammar, language arts, and even writing. Our hands-on, comprehensive approach is loved by parents, teachers, and students all over the world.
Sight Word of the Week Curriculum
Our Kindergarten Sight Word Curriculum strategically introduces your child to one new sight word of the week. New sight words are introduced by frequency order so that you are teaching your students the most common sight words they need to know at the start of the kindergarten year. This is especially important as these will be the most common word they come across in kindergarten-level early readers and any other curriculum you are using.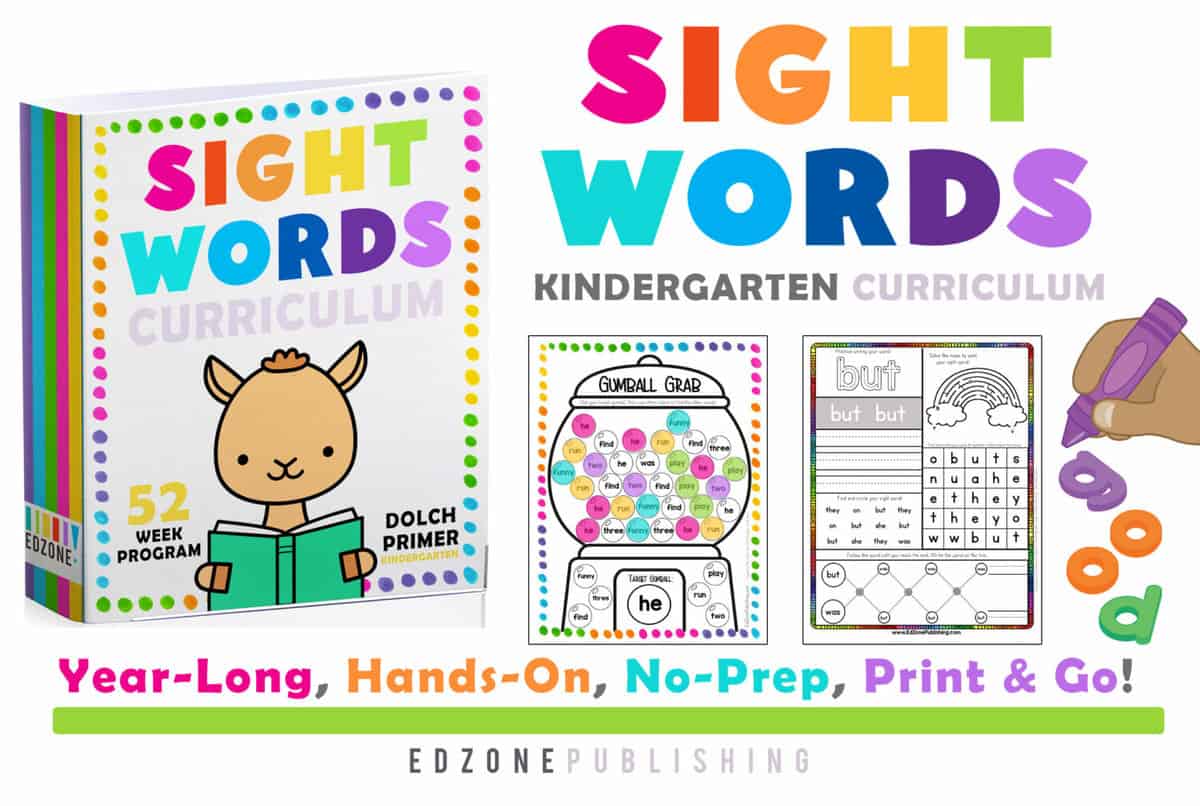 Kindergarten Sight Words Curriculum
We've created some fun, hands-on learning opportunities for your preschool students to learn preschool sight words! Check out the following products: