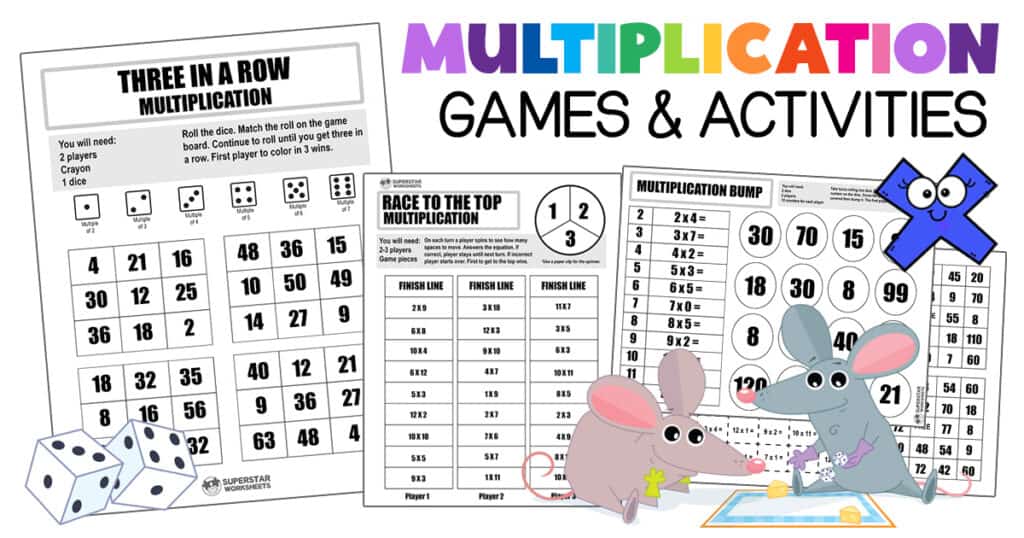 Free Multiplication games to download instantly! If you're looking for an easy way to practice multiplication facts, these multiplication game printables are available for your students for help with practicing beginner multiplication facts. From Multiplication Bingo to Multiplication Tic Tac Toe, we've got plenty of easy-to-understand math activities that will help your child master their number skills!
Free Multiplication Games
Looking for an easy way to practice multiplication facts? Look no further than our multiplication games in an instant download!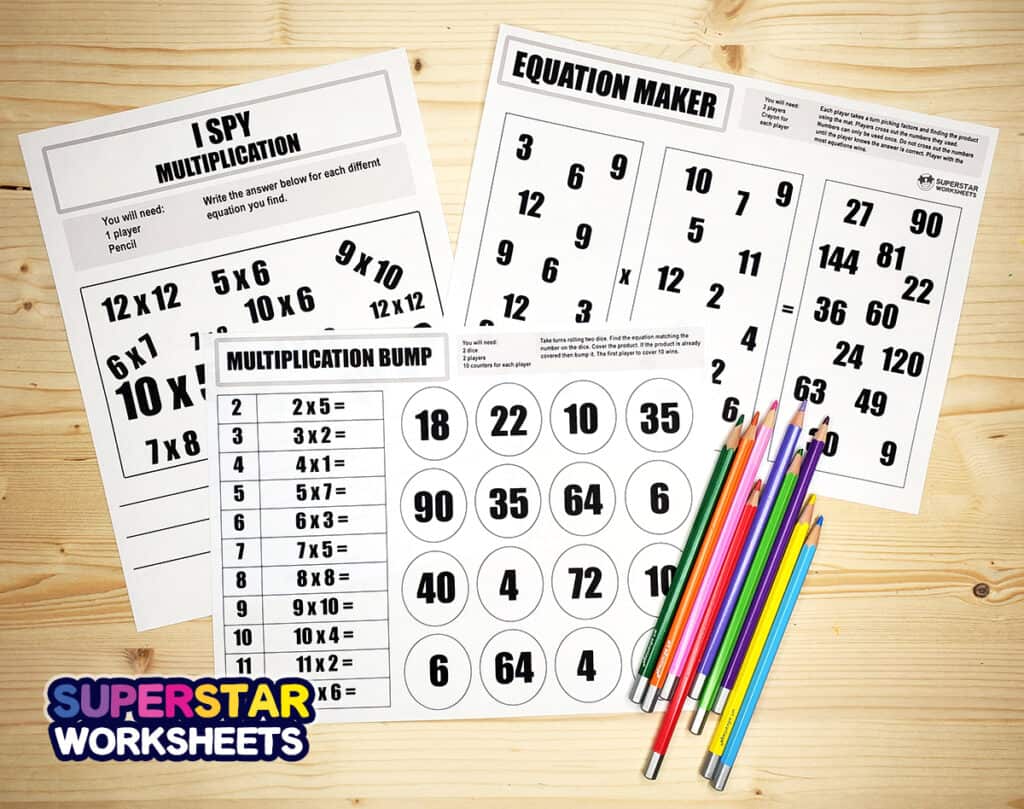 Multiplication Games for Kids
There are many surprising benefits of using multiplication exercises for students learning how to multiply easily. Practicing math worksheets help children critically think, understand concepts, facilitate time management, and focus on the task at hand. 3rd Grade Math Worksheets help build a core foundation for later studies in math.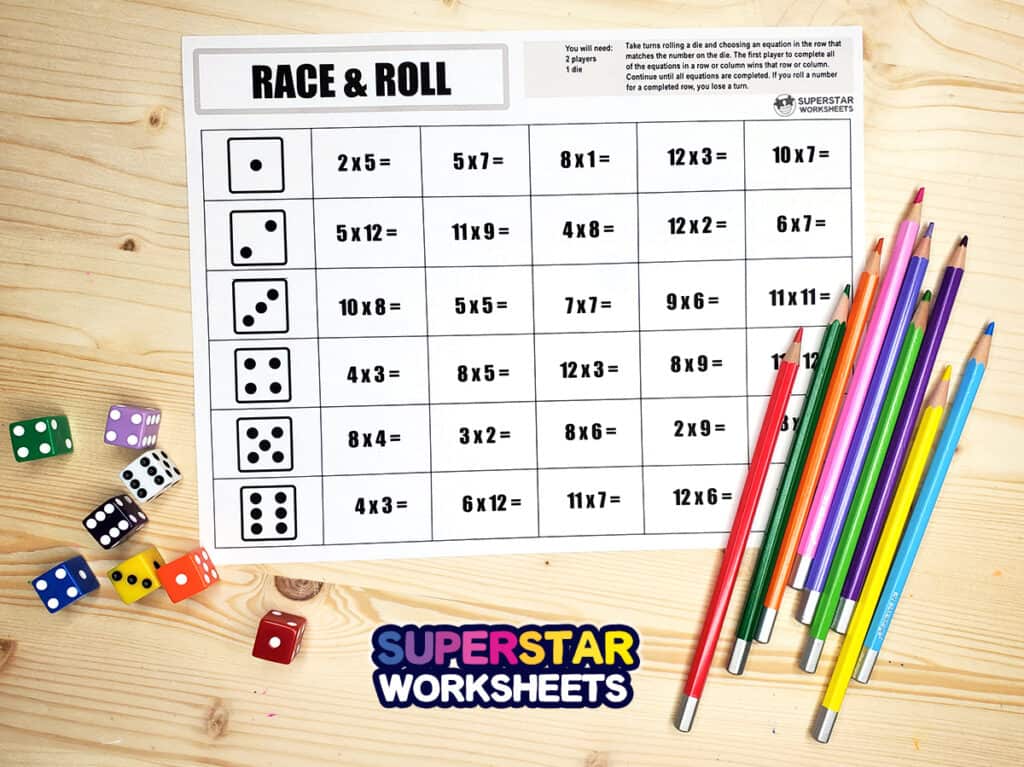 Multiplication Games for 3rd Grade
These handy tools are great for teaching more complicated math concepts like multiplication to young kids just learning how to multiply or struggling learners. It's an excellent way to promote consistent practice and build skills in various patterns and math logic.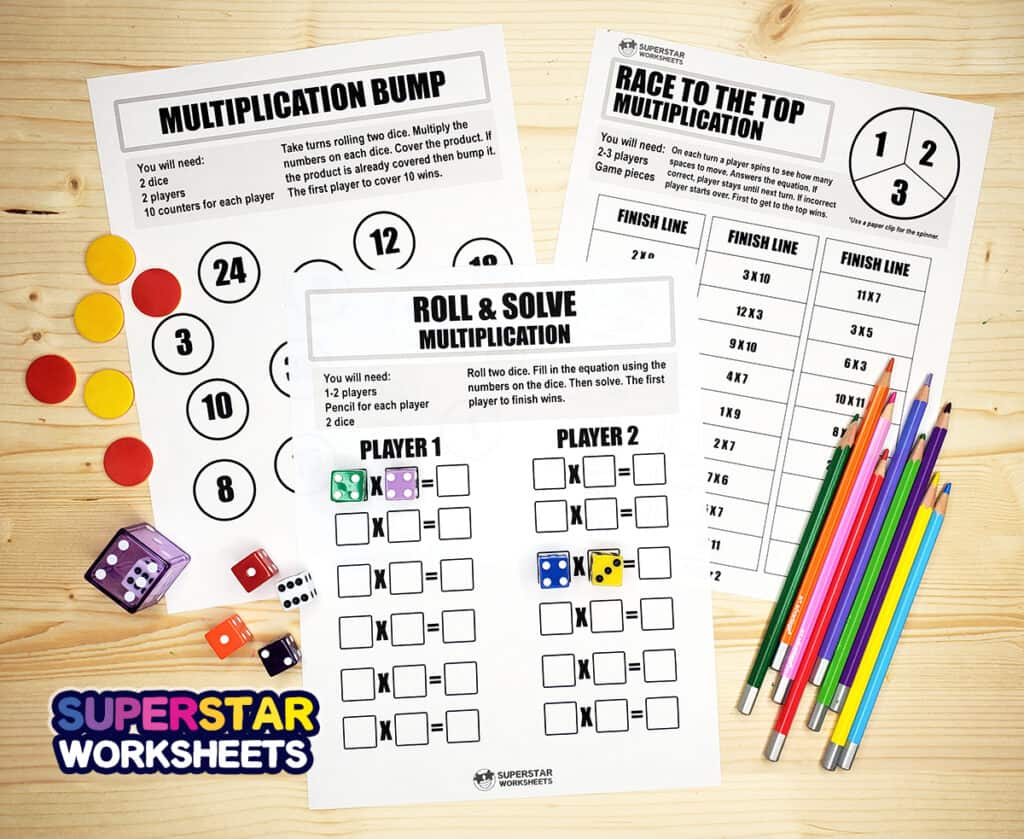 Math Multiplication Games
Teachers in a homeschool or classroom setting can use these as take-home papers, learning centers, and finish early students. You'll discover 30 multiplication games that are common and easy to play such as Three in a Row, Multiplication Bingo, Multiplication Bump, I Spy, Equation Maker, Race & Roll, Roll to the Top, and Roll & Cover.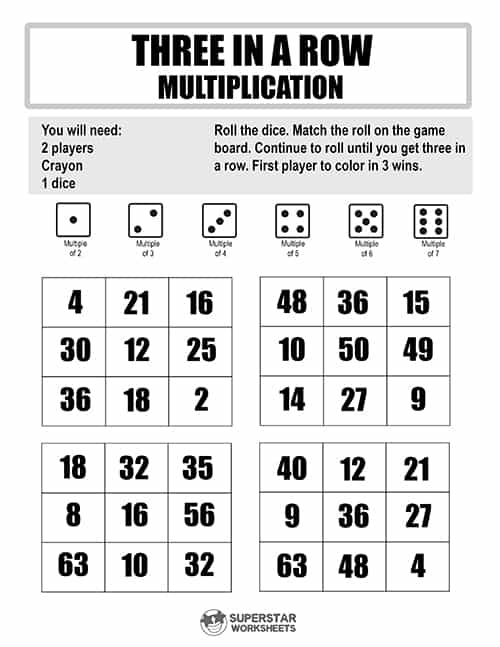 These free simple multiplication games are helpful for students learning basic multiplication facts. Kids have fun playing the Three in a Row Multiplication Game!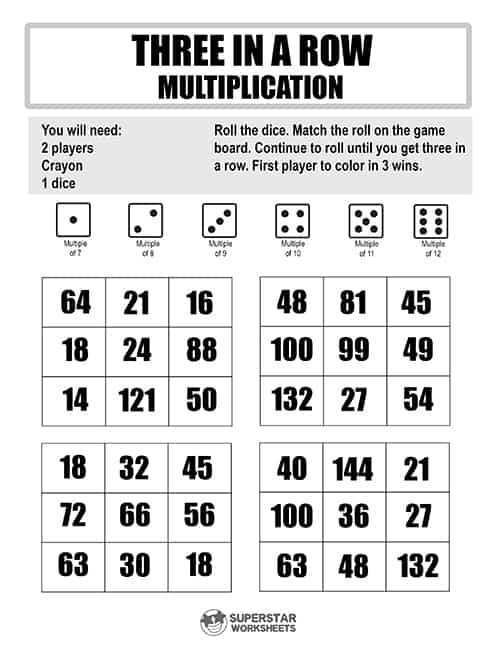 Your students will learn through repetition as they solve each math problem on this Three in a Row Multiply Game with two players.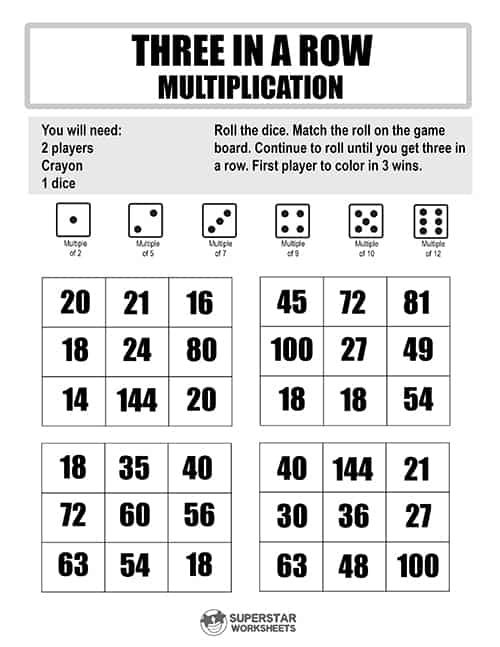 Teachers will love our Three in Row Multiplication Game that requires only 2 players, crayons, and 1 Dice. Instructions are included.
Multiplication Bingo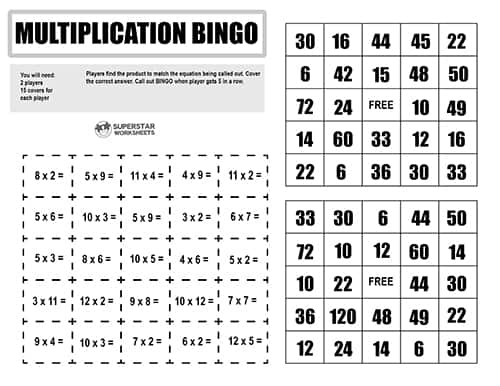 Our Multiplication Bingo will allow your kids to soar in Math skills. Ask students to figure out the answers to each problem in the Bingo game before playing.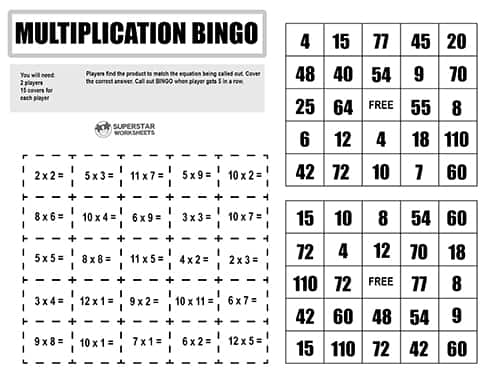 This multiplication Bingo Game allows students to gain a ton of practice with math skills while having a ton of fun. Answer each problem then winner says 'Bingo'!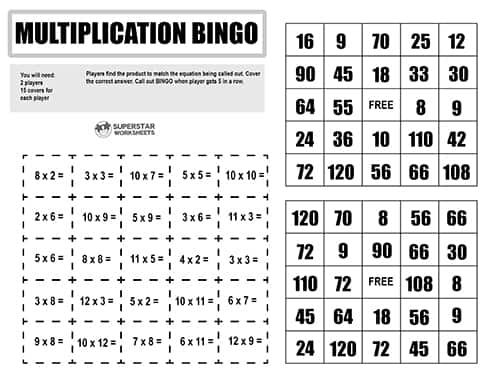 Students will have a blast as they practice multiplication while playing the game of Bingo. Have students write their answers before playing.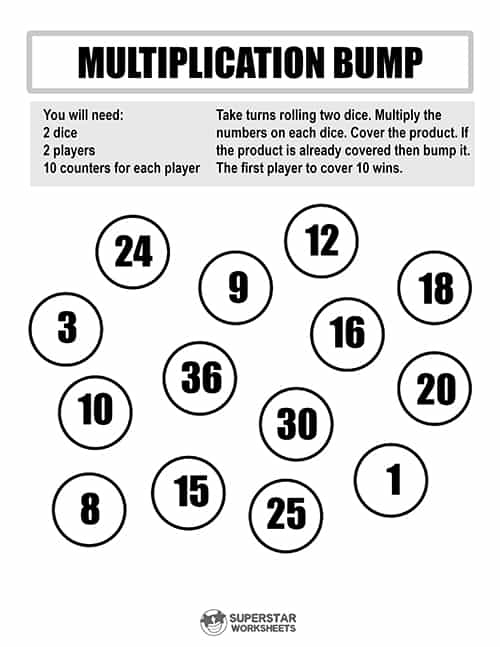 Have your students ever played Bump before? They'll have a great time! Kids can bump each other's markers when they get the same answer!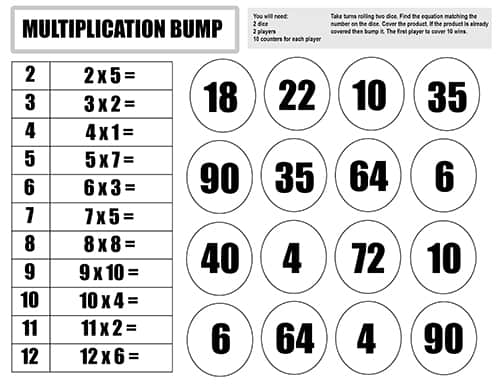 Use a marker-type object to cover the answers on the right that are formulated on the left. Each student takes a turn and can bump each off their space!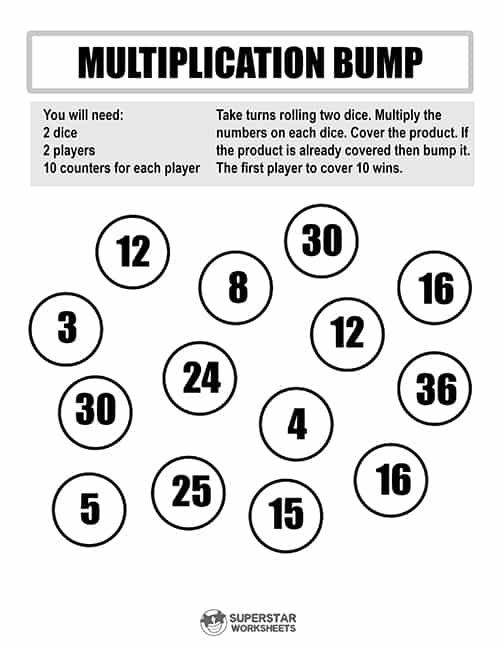 Kids will have a blast playing each other and taking turns rolling the dice with our Multiplication Bump Game for Kids.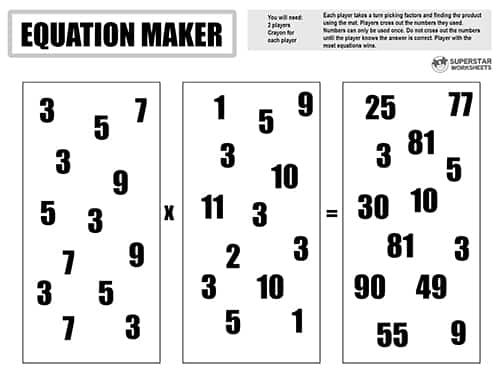 Our Multiplication Games Printables are wonderful tools to help kids learn more complicated math concepts as young students.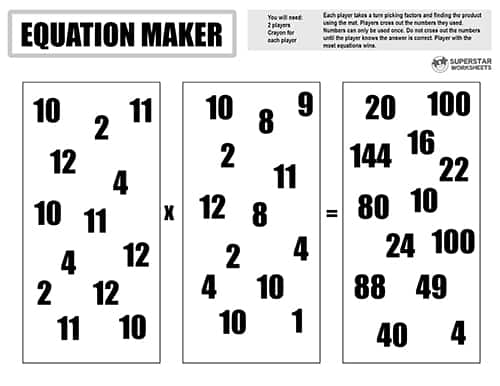 Our multiplication games in 3rd grade are designed for kids learning how to multiply but have a hard time focusing.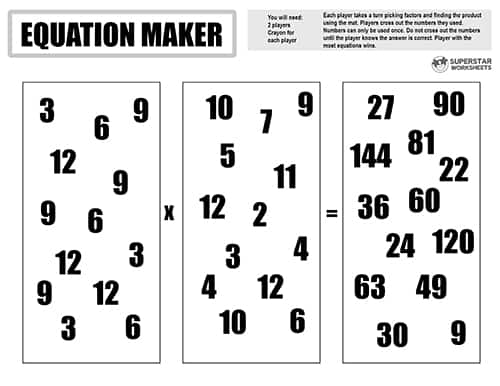 This Equation Maker is great for kids in 3rd grade who have already memorized or are reviewing their multiplication tables.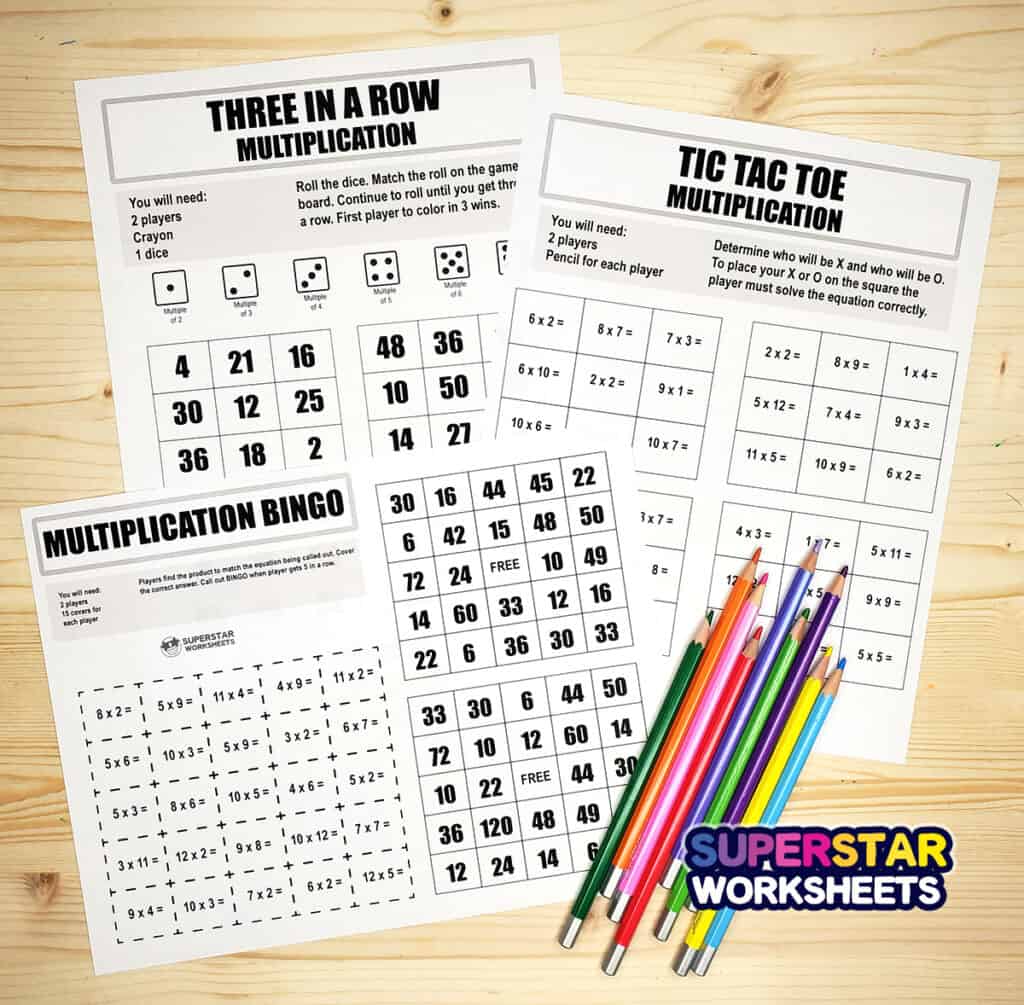 Multiplication Fact Games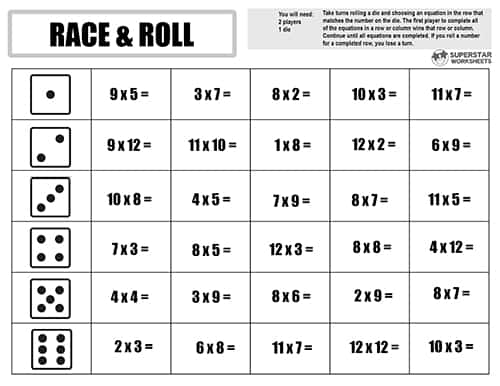 Free multiplication games for students learning single-digit multiplication. Fun multiplication games for early finishers, homework packs, and more.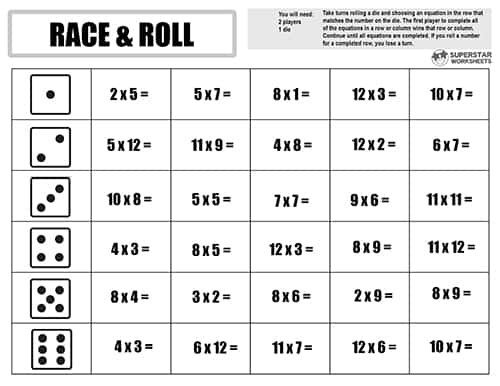 Multiplication practice games are perfect for kids beginning to learn their multiplication. Kids can play Race & Roll as they roll quickly to the finish line!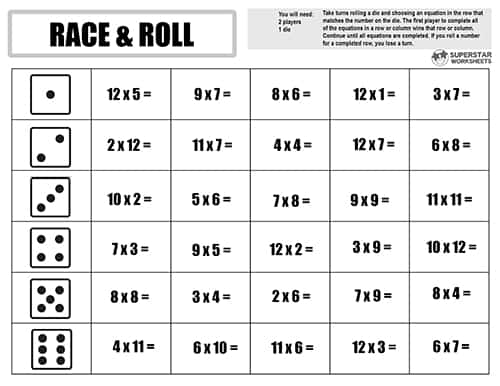 These two players Multiplication Fact Games are perfect for beginner students learning how to multiply with single-digits.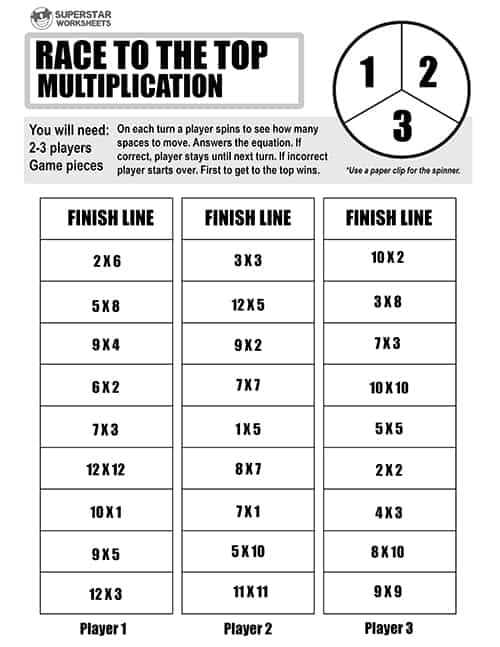 Teachers: you can use our multiplication game worksheets for testing, as a teaching tool, and for practice assignments.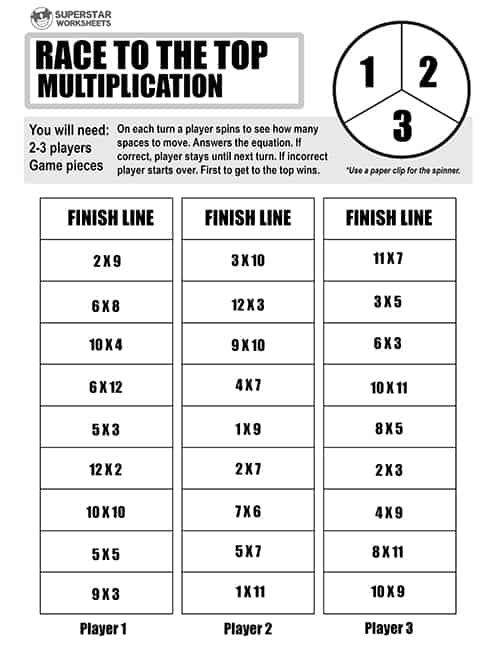 Our Race to the Top Math Games is great for home school too! Give them to your children to use to learn new skills, practice, and test.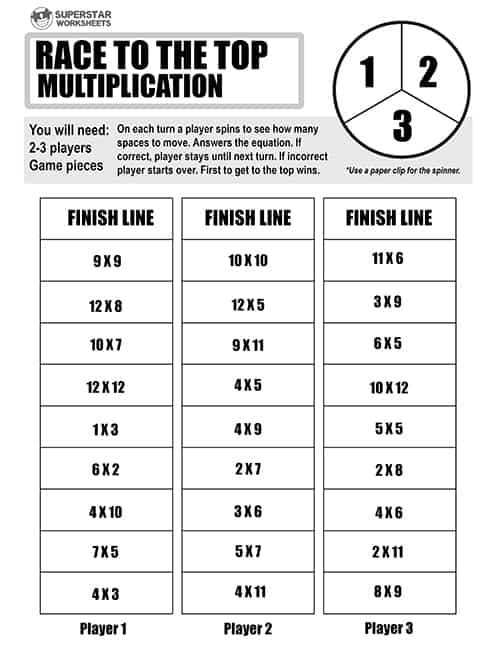 Your students will master multiplication through practice with our Race to the Top Multiplication Games. 8 exercises for each player!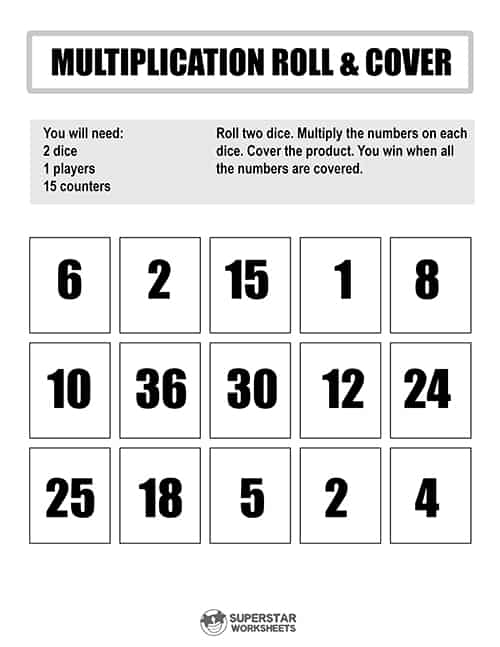 Use these free, printable Roll & Cover Multiplication Worksheets for students learning single multiplication numbers 0-12!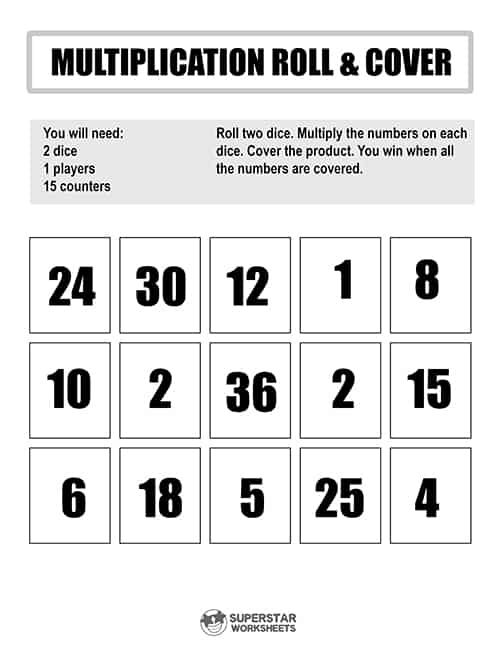 Multiplying is easy with our Roll & Cover Multiplication Games designed for beginner students. With these math games, you can use 1 player.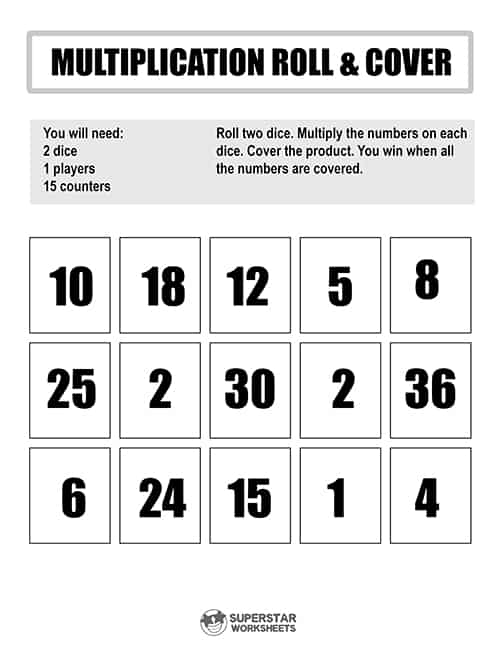 If you have 2 dice, your students can play this multiplication Roll and Cover game! Easy to play with our simple to follow instructions.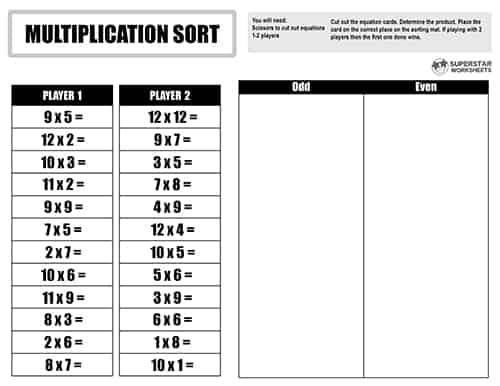 Teach your students how to multiply numbers all the way up to 12 with our Multiplication Sort Game. WIth 2 players, kids will write answers and then sort.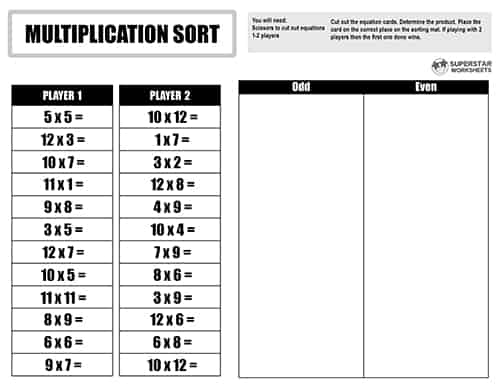 These free, printable multiplication games will allow your student to master their multiplication skills through practice with the Sort Math Game!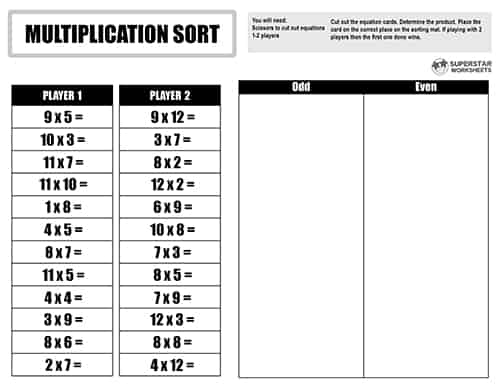 Our free printable multiplication games give mastery and confidence to students learning how to multiply in single-digit format.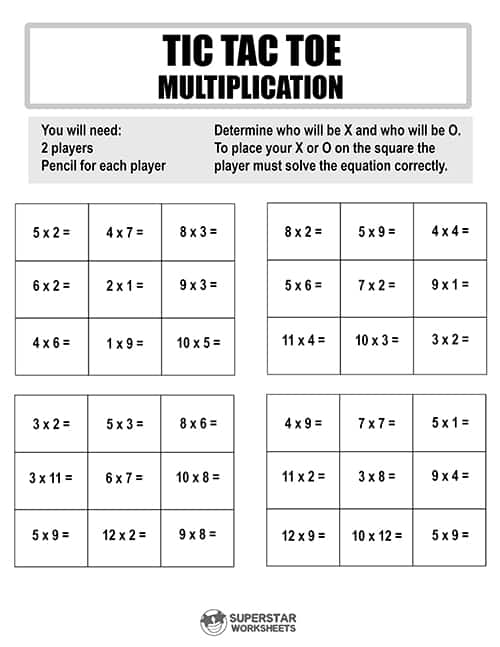 Test and quicken the pace with your student's math skills as they master their multiplication using our fun Tic Tac Toe Game!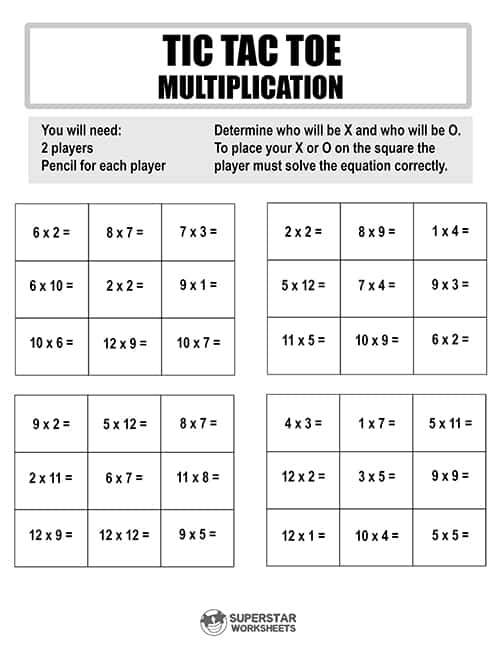 Help your students succeed in math with our free multiplication game 'Tic Tac Toe'! Add them to your math center or take-home papers!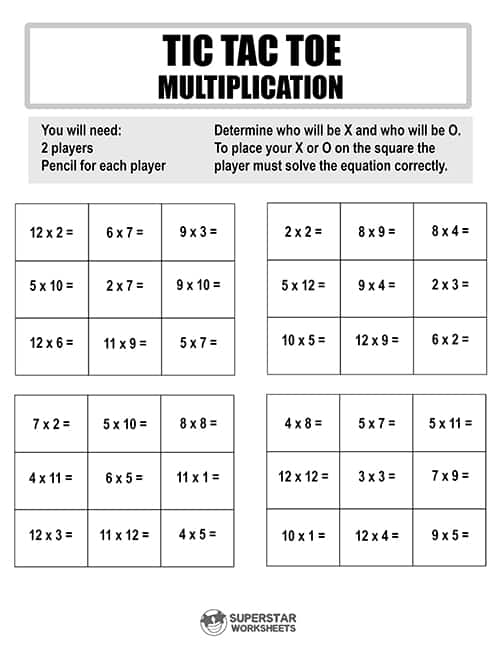 Math is an important part of everyday life but make it an enjoyable experience with a little friendly competition using our Tic Tac Toe Game!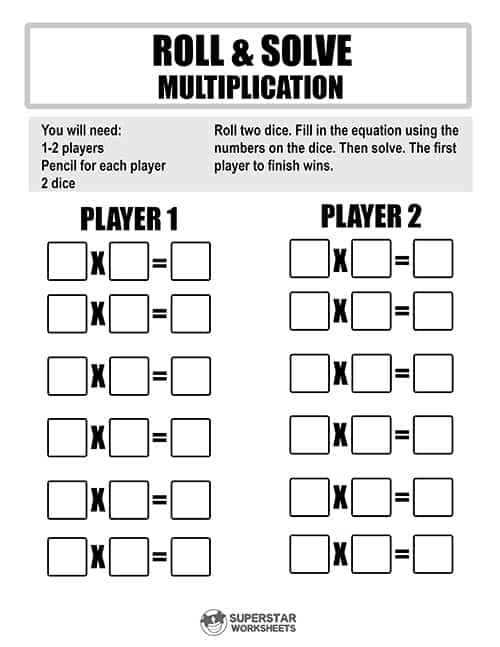 Help solve the answer with our Math Facts Game! Our Roll & Solve Multiplication Math Game allows kids to have fun with a little competition!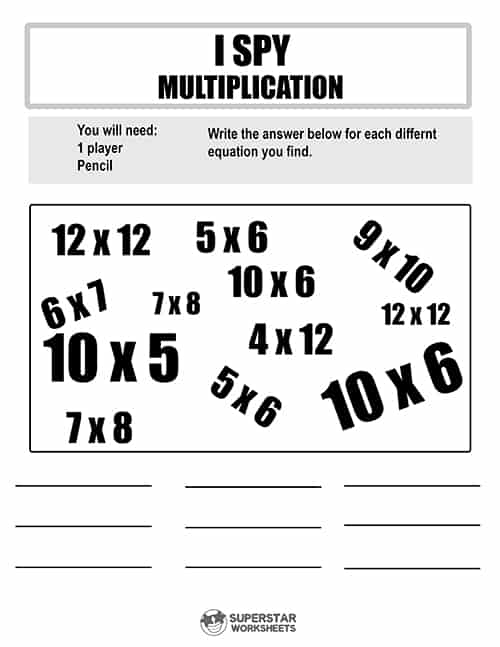 Here's a 1 player game. Students will have fun with this free multiplication game 'I Spy'. What do they spy on with their little eye?