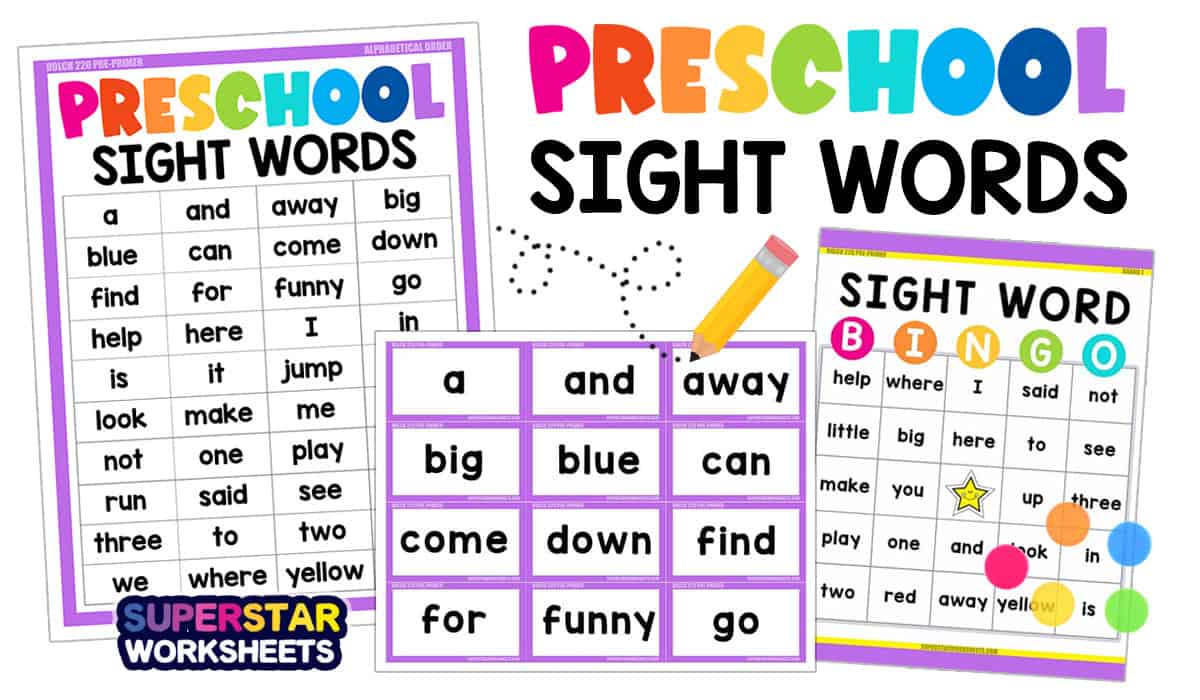 Free preschool sight word lists, printables, games, activities, worksheets and more! Teach your child to read with our free sight word printables from Dolch Pre Primer Sight Word Lists. Ready for more? Try our Preschool Sight Word Curriculum today! We've packed it with hands-on learning opportunities that will help your preschoolers learn the sight words they need to know!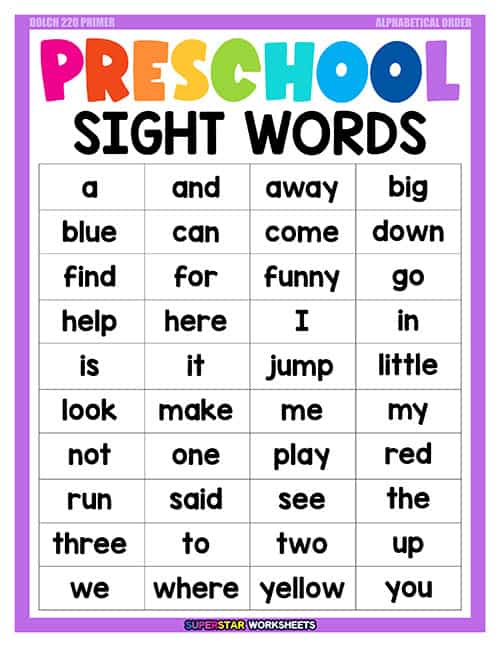 This is a free printable PDF of Preschool Sight words from Dolch 220 PrePrimer word list. These sight words are in alphabetical order for easy reference. Print this sight word list as a reference chart, for extra practice, or even use as a sight word assessment to see how many words your students know!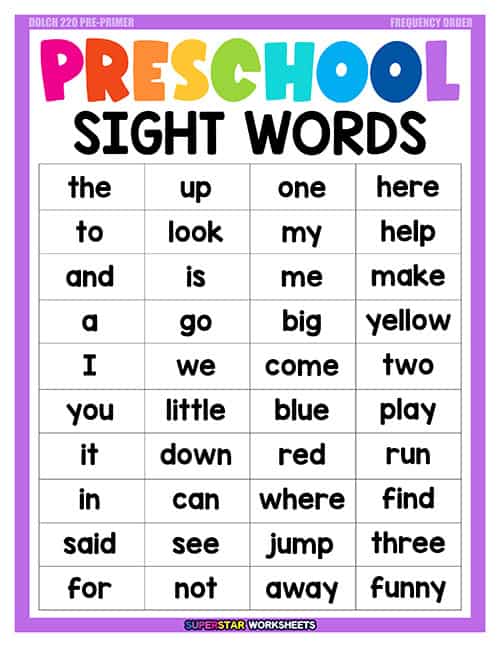 Preschool students can learn important sight words in order of frequency. This preschool sight word list presents the Dolch 220 Pre-Primer sight words in order based on use in texts. This is very helpful for building important reading fluency skills as these are the most common words your preschool student will come across in books.
Preschool Sight Words List
a
and
away
big
blue
can
come
down
find
for
funny
go
help
here
I
in
is
it
jump
little
look
make
me
my
not
one
play
red
run
said
see
the
three
to
two
up
we
where
yellow
you
Preschool Sight Word Games
Learning sight words in preschool is FUN with our free printable Sight Word Games and Activities! With our printable sight word flashcards, you can use our gameboards or create your own hands-on learning games.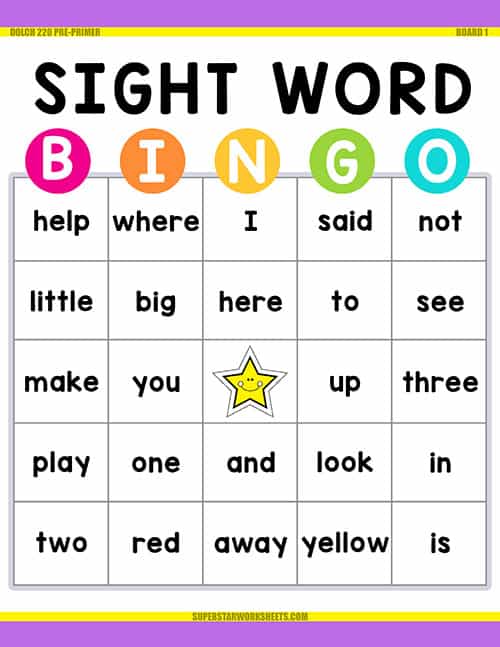 Learning sight words is fun with our free printable Sight Word BINGO games! Each game features unique sight words from the Dolch Pre-Primer Word list for your students to find, read, and cover!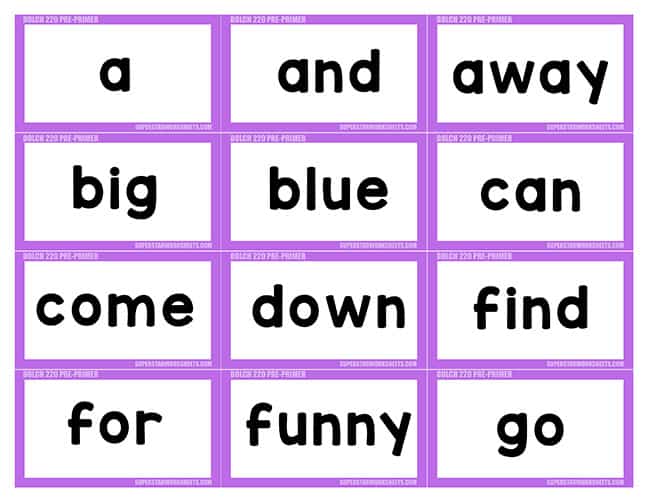 Free printable preschool sight word flashcards for Dolch 220 PrePrimer words list. These color coded flashcards include every sight word your preschooler should know! Great for learning to read practice or used with our Sight Word Games. These can be used as BINGO calling cards as well.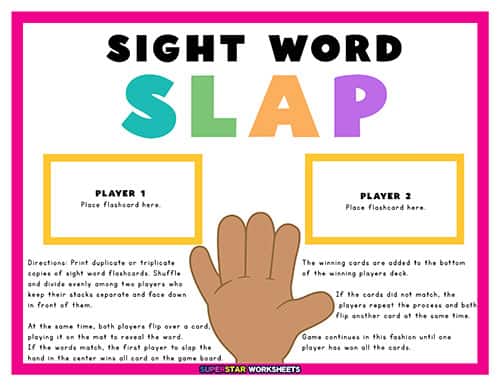 Learning to read preschool sight words can be fun with our printable PDF sight words games. You'll love how our sight word games coordinate perfectly with our sight word flashcards so you can easily differentiate them for all students in your preschool classroom. Find fun games like Sight Word Slap, Sight Word Fishing and more!
More Preschool Sight Word Games:
Preschool Sight Words Worksheets
Free printable sight words worksheets, flashcards, games, and activities for kids! We've created fun, hands-on learning activities for your preschoolers to learn sightwords.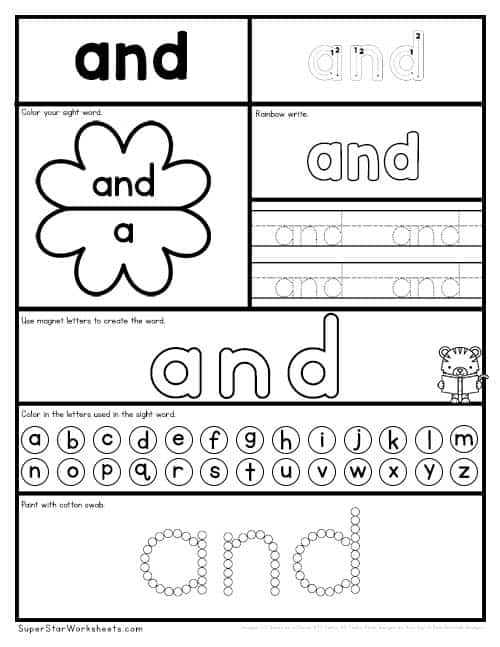 Students work on a variety of skills for learning sight words! With this free sight word activity your preschool students will:
Read Sight Words
Recognize Sight Words
Trace Sight Words
Sight Word Magnets
Sight Word Spelling
Sight Word Dab & Paint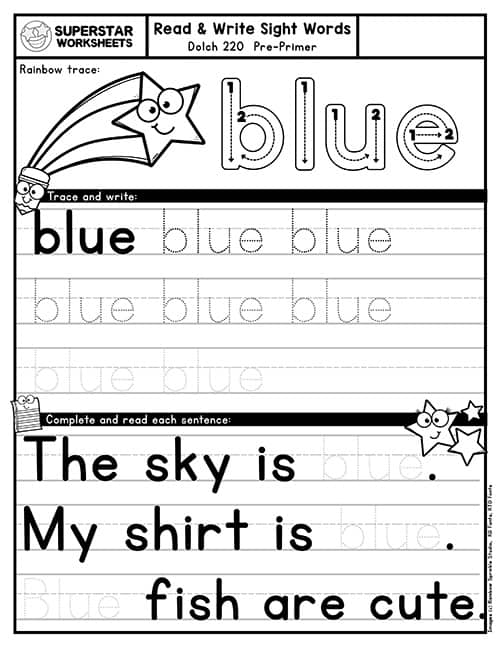 Your students can read, write and trace sight words with these free printable sight words tracing worksheets. These are specifically designed to give your student extra practice tracing all of the preschool sight words. Laminate and use with dry erase markers for ample practice.
More Preschool Sight Word Worksheets:
How to Teach Sight Words in Preschool
Here are some helpful tools that will help you teach your preschool students important sight words. Preschool students learn through play, so you'll want to incorporate many hands-on preschool sight word games! Repetition is key, so you'll find that many of the printables and games we feature below will help your student with extra practice on important preschool reading skills.
Preschool Sight Words Assessment
With 40 words to learn during the preschool year, it can quickly become difficult to track which sight words your student has mastered and which common words they still need to practice. We've created a helpful benchmark tool you can use to assess student growth each quarter. This can be used with an unlimited number of students and each will have their own record of progress.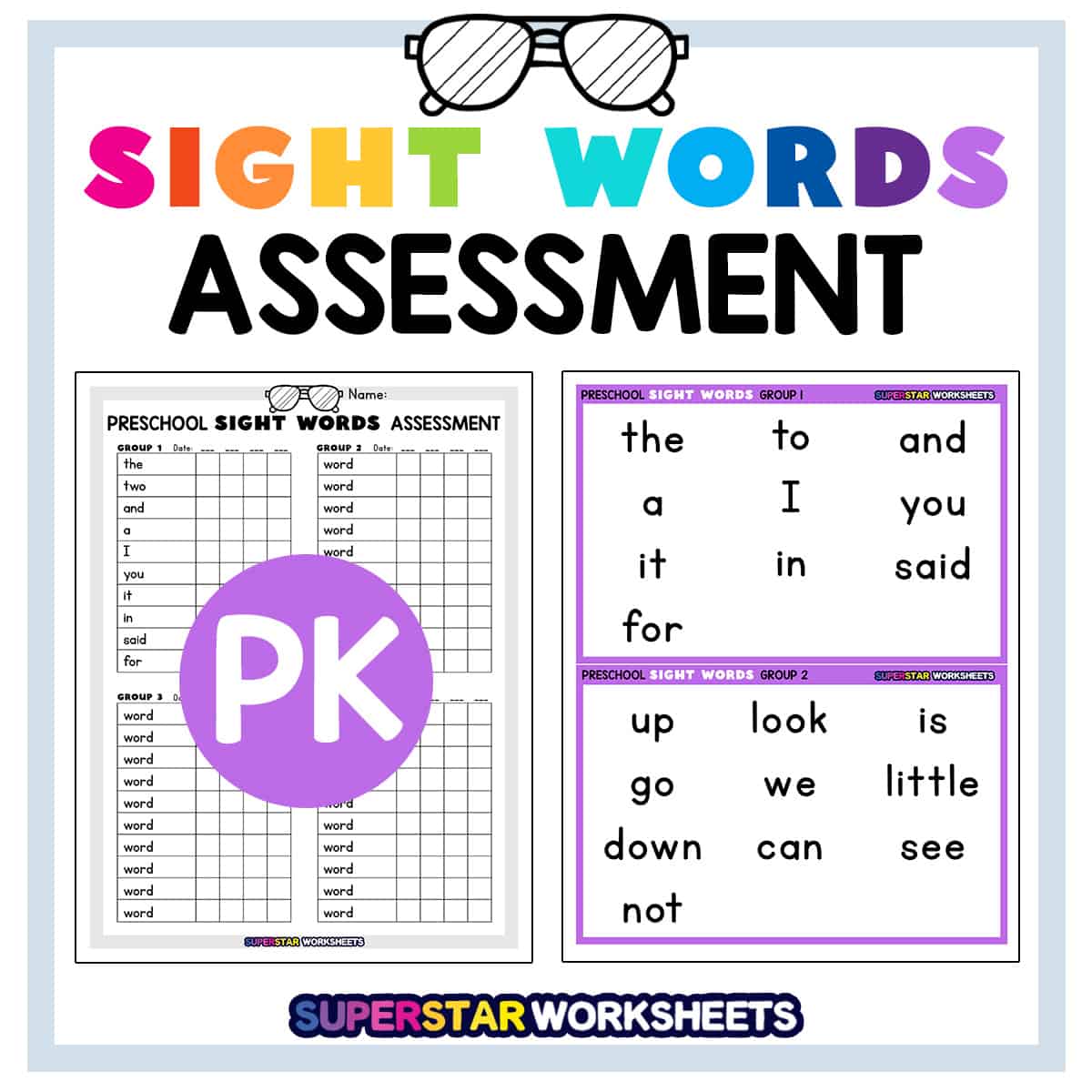 Your preschool students will enjoy being quizzed with these engaging sight word pages! All of the words listed are from the Dolch preschool (pre-primer) word list. Students are sure to love showing what they know when using this resource! You'll appreciate how easy it is to document student progress each quarter of the year.
Preschool Sight Words Curriculum
We've created some fun, hands-on learning opportunities for your preschool students to learn preschool sight words! Check out the following products: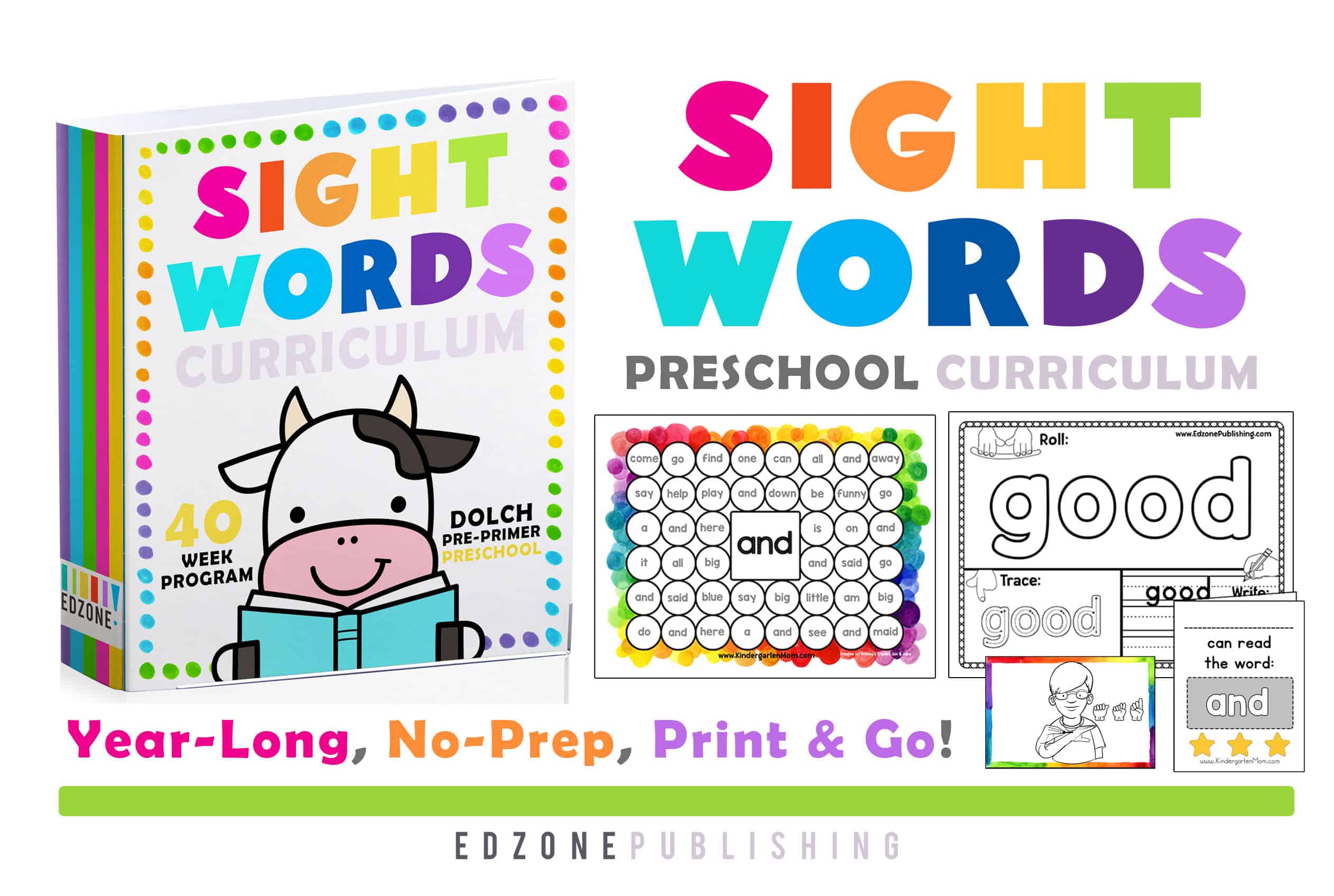 Sight Word of the Week Preschool Program (Dolch 220 Pre-Primer words)
Editable Sight Words Learning Bundles (Type in your own sight words)
Editable Type Your Own Name Learning Pack (Use as Fine Motor Sight Words
What are Preschool Sight Words?
Preschool Sight Words are words that cannot be sounded out phonetically and must be read by sight. Thus preschool students who are learning to read, should also work on learning and memorizing common, high-frequency words by sight.
If you need a simple and quick list of Preschool Sight Words in alphabetical order, you can simply copy and print the list below and hit print! Use the list to plan out your homeschool preschool, or target word list for the school year. These sight words are taken from Dolch 220 Primer Word List:
Preschool Sight Words List in Alphabetical Order
a
and
away
big
blue
can
come
down
find
for
funny
go
help
here
I
in
is
it
jump
little
look
make
me
my
not
one
play
red
run
said
see
the
three
to
two
up
we
where
yellow
you
Preschool Sight Words List in Dolch 220 Pre Primer Frequency Order
the
to
and
a
i
you
it
in
said
for
up
look
is
go
we
little
down
can
see
not
one
my
me
big
come
blue
red
where
jump
away
here
help
make
yellow
two
play
run
find
three
funny