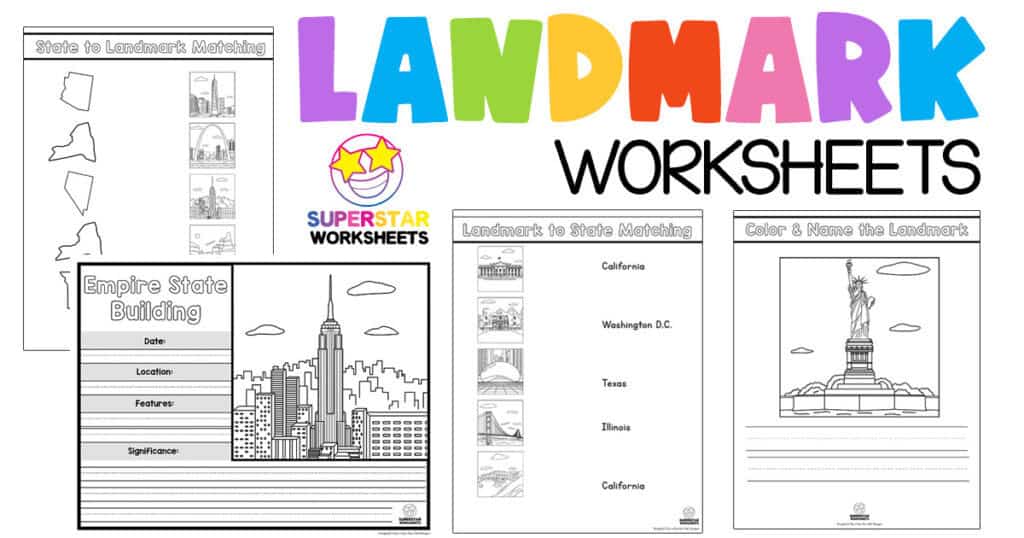 These famous USA landmark worksheets are your students first stop on their tour of the US. Our landmark printables are great for morning-work stations, early finisher activities, and for take-home activities. Teaching young children geography is a great way to help them learn about their community, state, country, and beyond. With these USA landmark worksheets will also help them build skills in reading, following directions, writing, tracing and much more!
USA Landmark Information Worksheets
Start your students here, with these individual landmark printables. Your students will need to read, follow directions and search for information to finish these full-page USA landmark worksheets. These worksheets can be used in a number of ways. They can be used for individual lessons in the library or computer lab. Or use them for group projects for class reports. Either way, your students will have fun filling them out and coloring them as they learn more about landmarks around the USA.
Color and Name the Landmark
Now that your students have had a chance to study and learn the USA landmarks, use can use these sheets to have them practicing reading, spelling and more. These USA landmark worksheets would be a great addition to your geography and history curriculum. By adding coloring to the instructions it is safe to say that your students will enjoy coloring in these full-page landmark printable worksheets.
Match and Color the Landmark
This set of USA landmark worksheets will make a great addition to your curriculum. Your students will work on reading, following directions, writing, cutting, pasting, matching, and coloring. Make sure to print all of these pages for the activity. We recommend writing out or verbally giving instructions to help your students follow and complete these landmark printable worksheets in the order you choose. They are great for individual activities or try pairing students together for a group project.
State to Landmark Matching
These USA landmark worksheets are great for recall, testing and getting the information from working to explicit memory. After using our USA worksheets and the USA landmark worksheets above, these will be a great next step. Your students will have fun coloring then matching landmarks to state outlines and state names.
Cut, Paste, and Match USA Landmark Worksheets
Now that your students have had the chance to learn about the USA landmarks, use these worksheets to help them recall what they have learned. They will use fine motor skills to cut out each colored landmark. Next they will find the matching name and paste them onto the page. Try having your students cutting the landmark names out as well and doing a match game by flipping them upside down then flipping 2 over at a time to see if they get the image and landmark name to match!