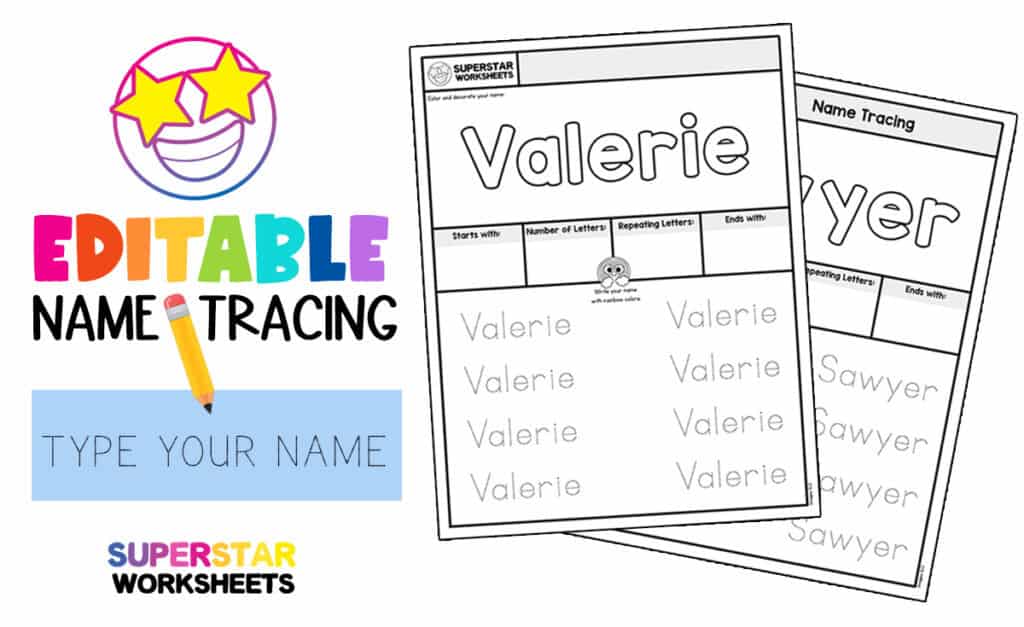 Our Free editable name tracing worksheets are just right for students learning to write their names. Simply type in your student name and watch as the worksheet is auto-filled with multiple name tracing opportunities for your students. Name tracing is a simple activity that is important for young preschool students to practice.
Free Name Tracing Worksheets
Name tracing is not only helpful for students to learn how to recognize and spell their name, but they will build key fine motor skills along the way. Our free editable name tracing worksheet also provides your student with extra enriching activities. Students will first color and decorate their name with crayons or colored pencils. Next, students are asked to identify and report the following:
First Letter of Name
Number of Letters in Name
Repeating Letters
Last Letter of Name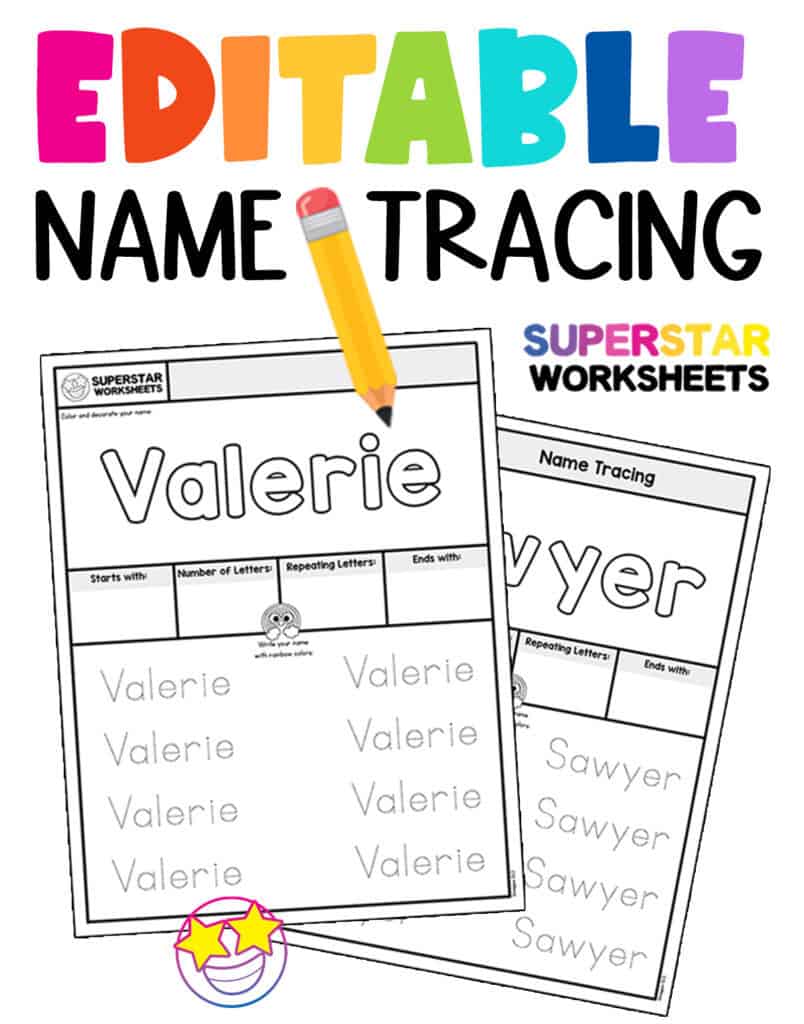 There is ample room to report these answers so you can have students use letter tiles, magnets, or even stamps to fill in the blanks. If you are using this name tracing worksheet with young students, you can work alongside them, or have them skip this more difficult parts of the sheet. These are great to build up to as your student grows in skill.
Editable Name Tracing Worksheet
Once your students master their first names, reprint the set with their last names. Don't worry about the longer names as this editable worksheet will automatically resize to fit longer names.
How to use this Editable Name Tracing Worksheet:
Remember, as with all of our editable worksheets, you will need to follow these specific steps exactly:
Download to a Standard Computer
Open file with Adobe Reader
Type & Edit.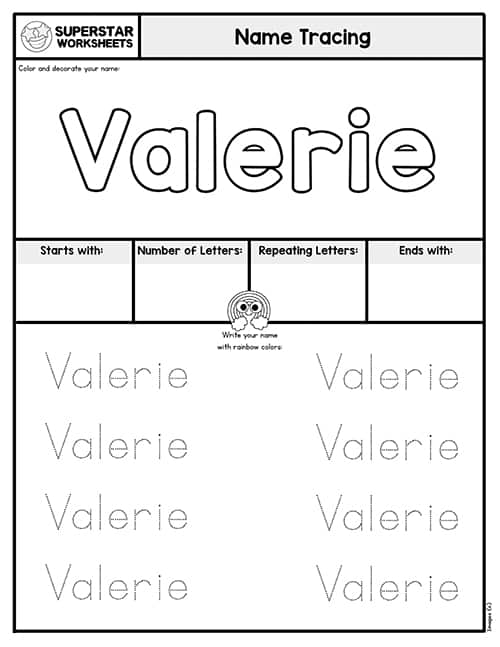 Print our free editable name tracing worksheet for your students today! For extra practice, laminate or store in a page protector and use a dry erase marker. Your students will be writing their names in no time!
Name Tracing Worksheets for Preschool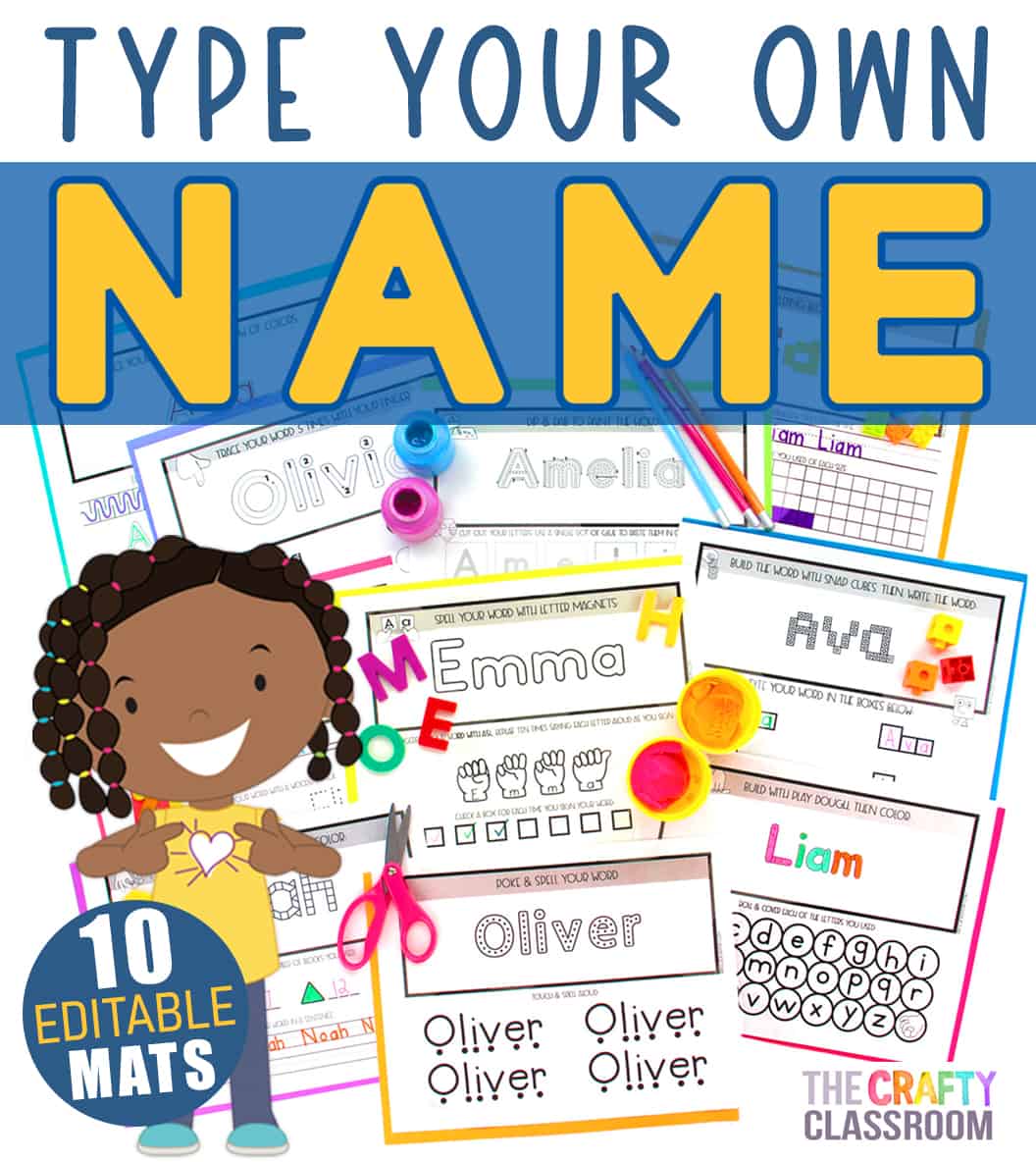 If you are teaching preschoolers, you might be interested in our Editable Name Tracing Activity Pack! This set includes TEN different hands-on activities that you can customize to fit any word. These sheets are especially helpful for students learning to write their name or to identify key sight words. Activities include pattern blocks, letter magnets, ASL, play dough, bingo daubeRs, cut & paste, Popsicle stick pictures, q-tip painting, pin & poke, rainbow words, snap cubes, LEGO(TM) words and more! Best of all you only have to type your word in once and it will auto-fil to all activity pages! Click Here for Details.