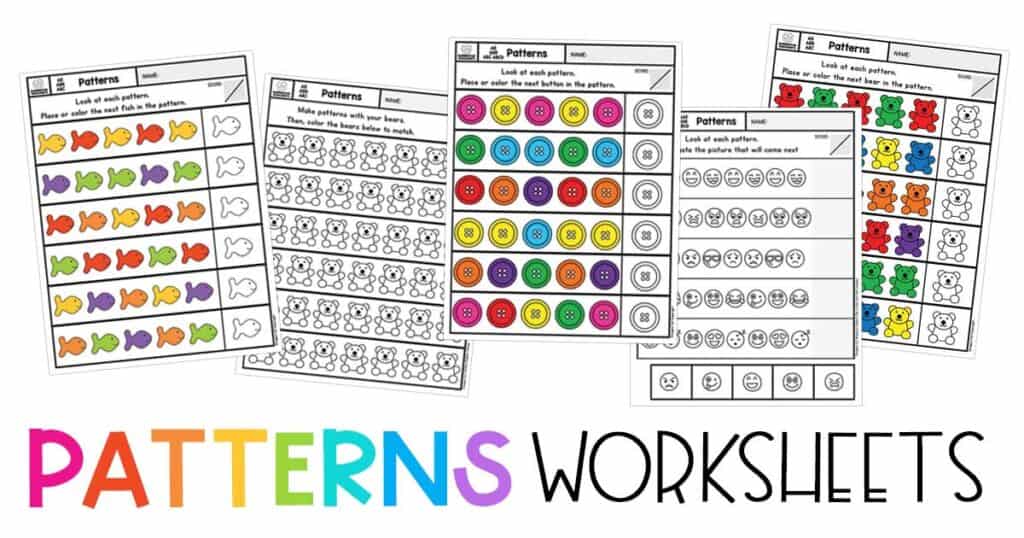 Free pattern worksheets for preschool, kindergarten, and elementary math students. These free worksheets will help your students learn a variety of patterns and sequences including ABAB, ABB, AAB, AABB, ABC, ABCD and more. Older students can begin to learn number sequences that will develop important foundations for skip counting.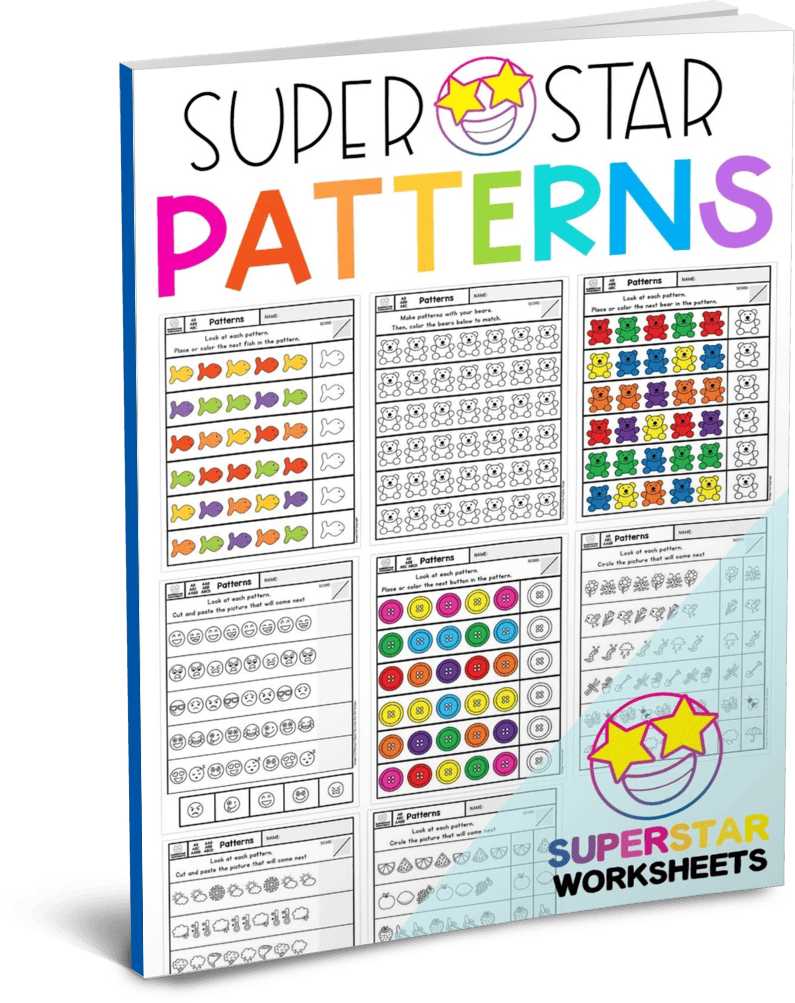 Subscriber Freebie!
As a special THANK YOU to our subscribers, this kindergarten assessment pack is offered in an easy download! (Not ready to subscribe? Print the free pages individually below. )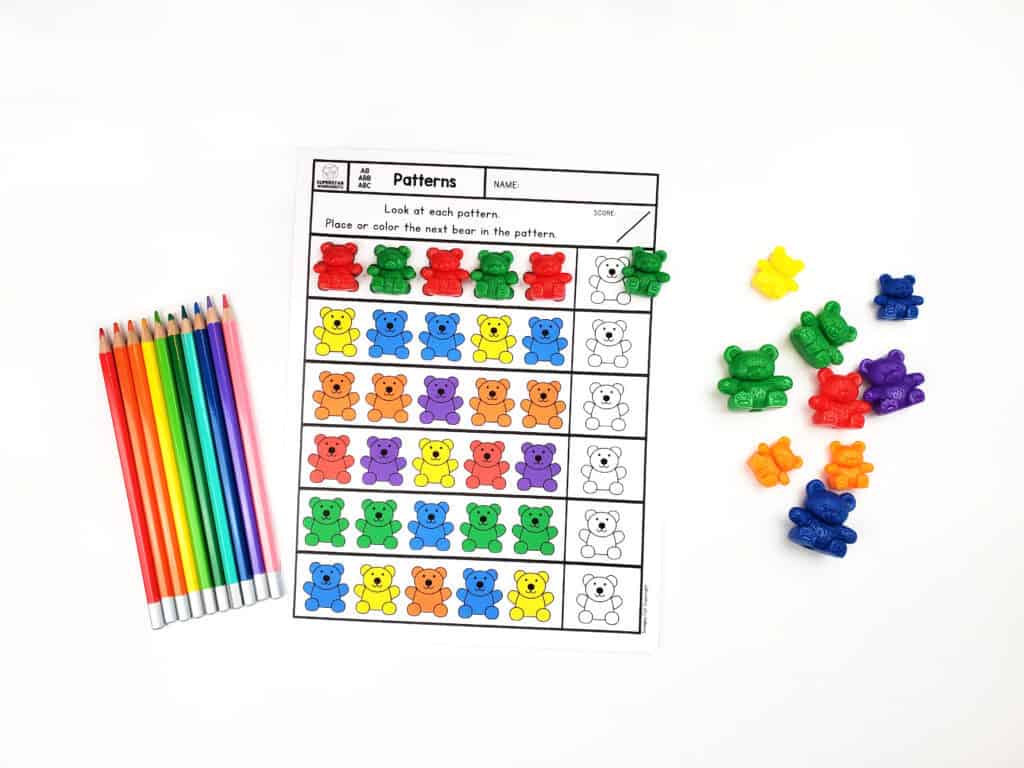 Preschool Pattern Worksheets
Our free preschool pattern worksheets help your young students recognize visual differences in color and shapes. These are simple worksheets for the youngest of students to complete.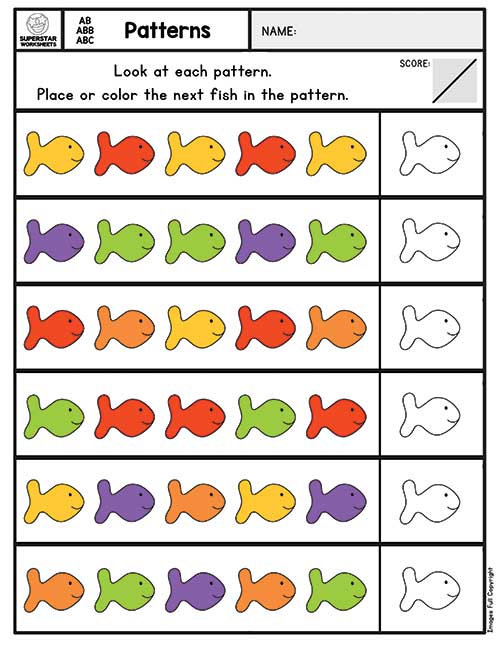 Students use a handful of rainbow goldfish crackers to copy and expand the color pattern in each row.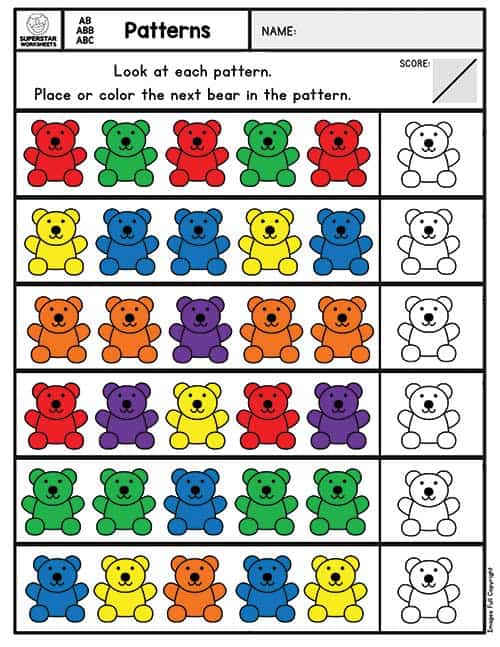 Students use rainbow bear counters to build and continue the color patterns with AB, ABB, ABC.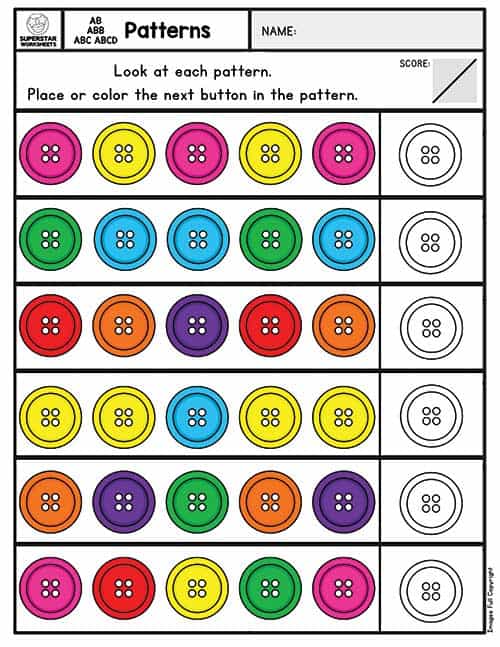 Rainbow buttons can be used with this free printable patterns worksheet for preschoolers.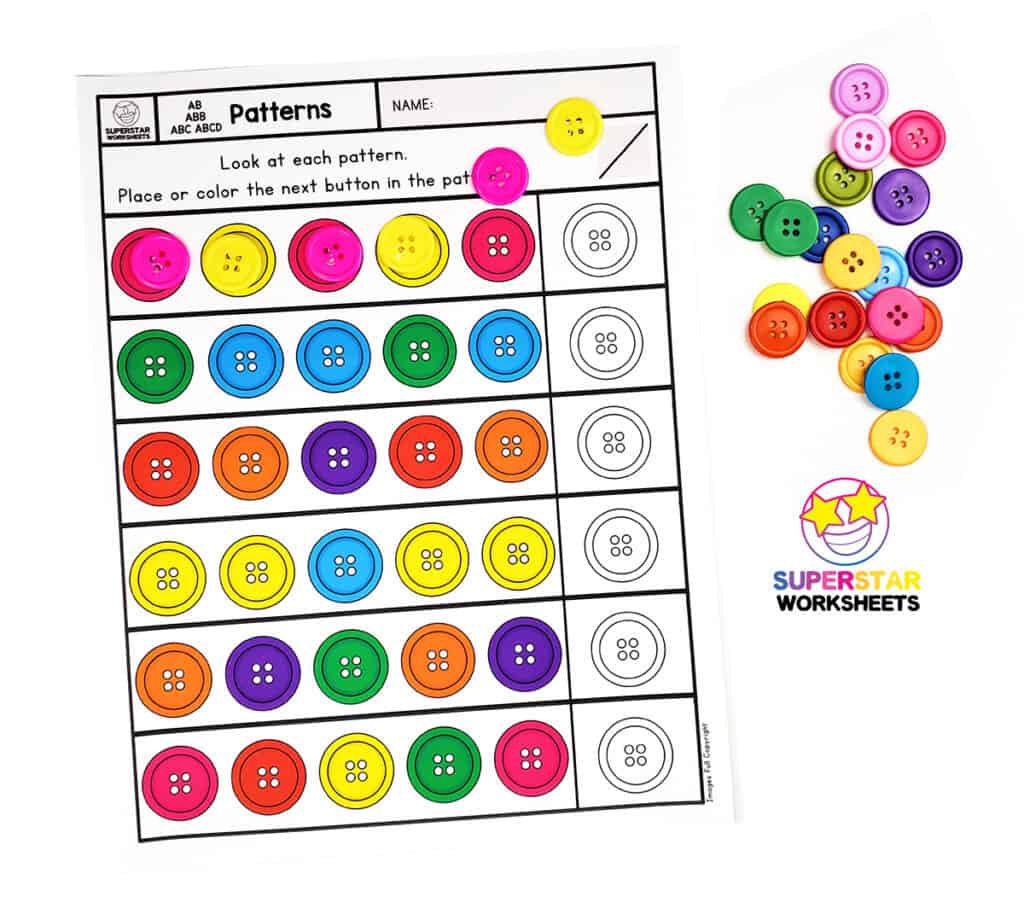 Preschool Pattern Coloring Worksheets
These free pattern worksheets are perfect for students who want to COLOR in their own patterns. These can be used alonside hands-on manipulatives such as goldfish, counting bears, rainbow buttons etc. Students can build their own patterns on the table then color in the pattern worksheets to match what they made.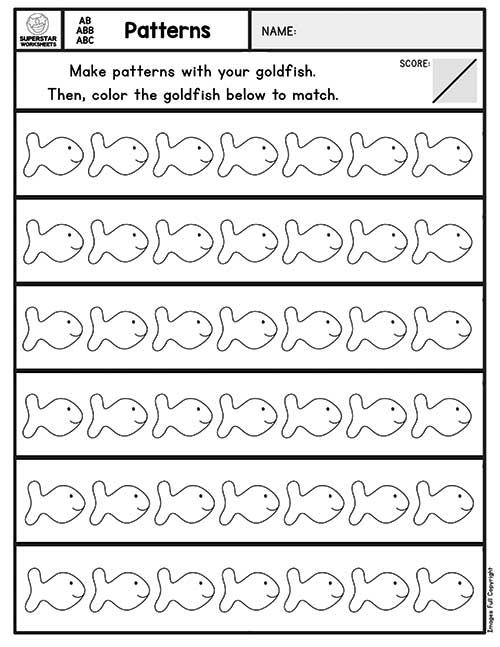 This is a free pattern coloring sheet for students to color in the patterns they make with their rainbow goldfish crackers.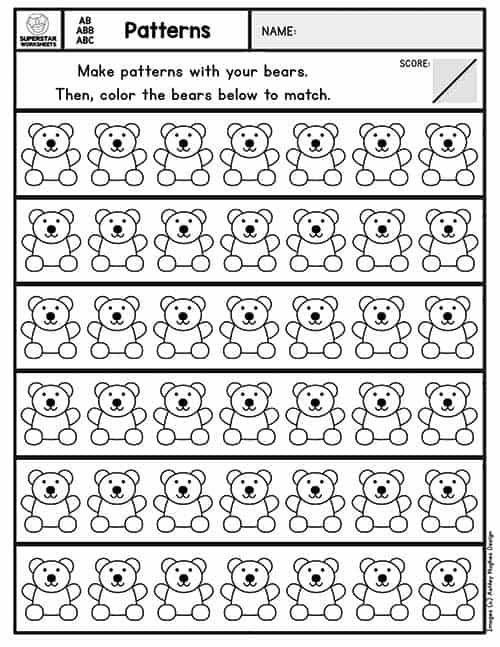 This is a free pattern worksheet for preschool students to build and color patterns with rainbow bears.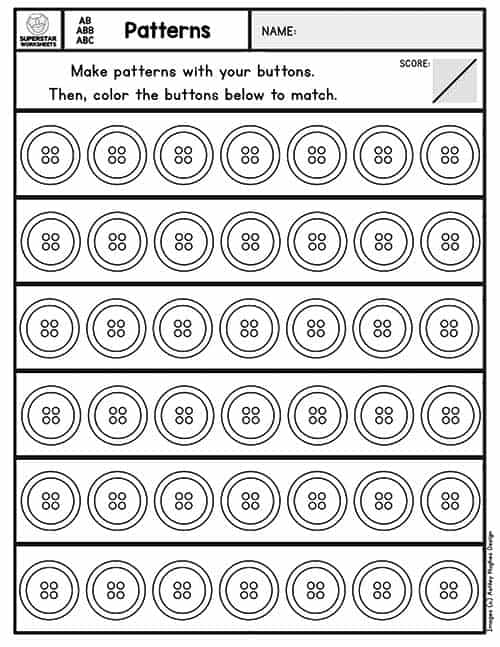 Students create patterns with rainbow buttons then use this follow up worksheets to color a model of the patterns they made.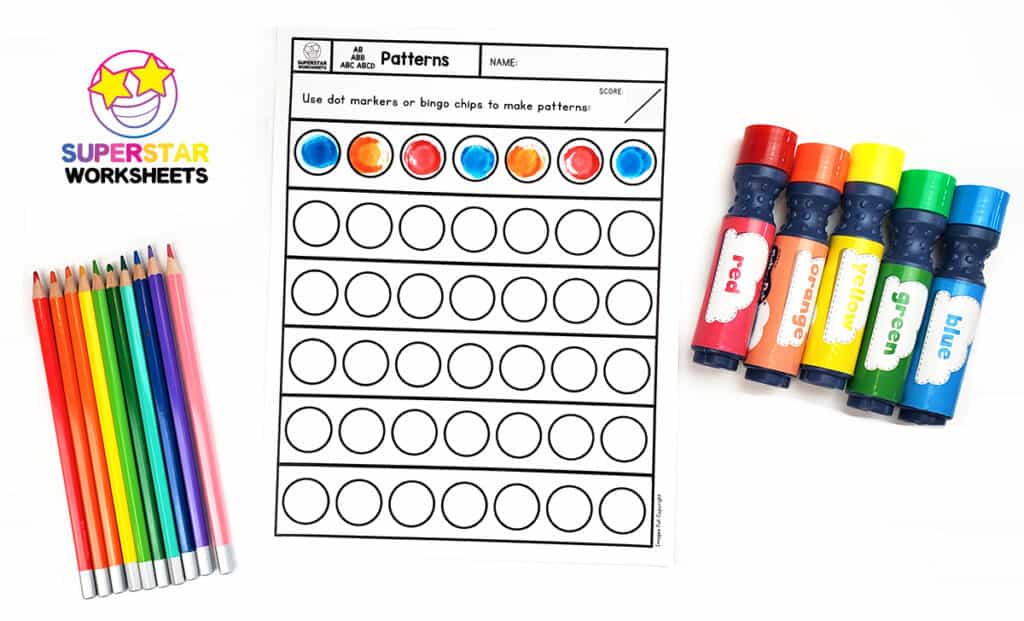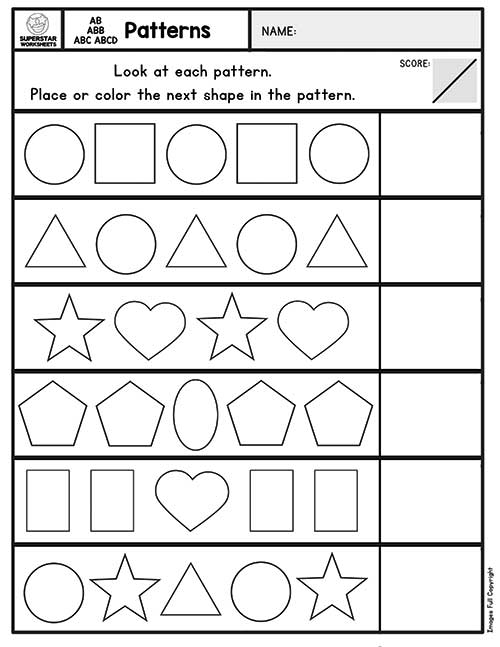 Students color shape patterns and draw the next shape with this free printable worksheets.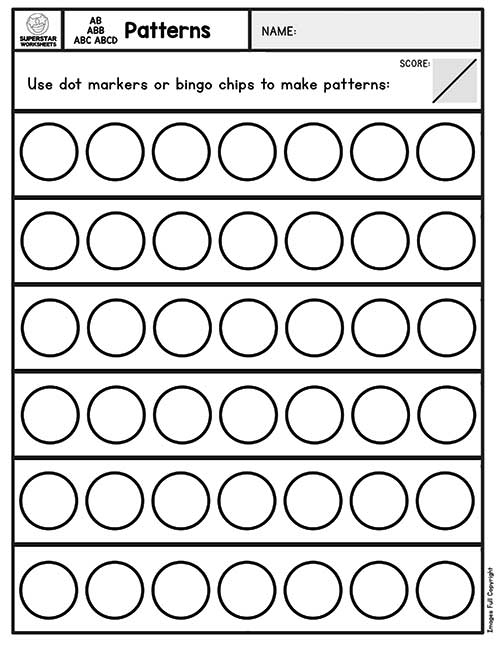 This blank pattern grid can be used with plastic BINGO chips, dot markers or crayons.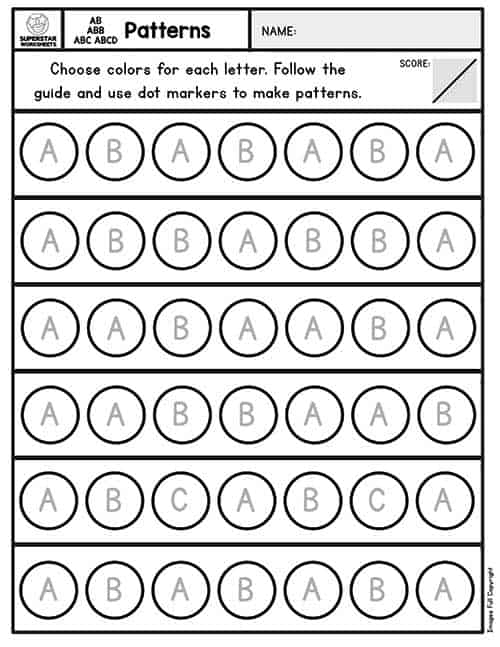 Students follow the pattern instructions to create a variety of different patterns.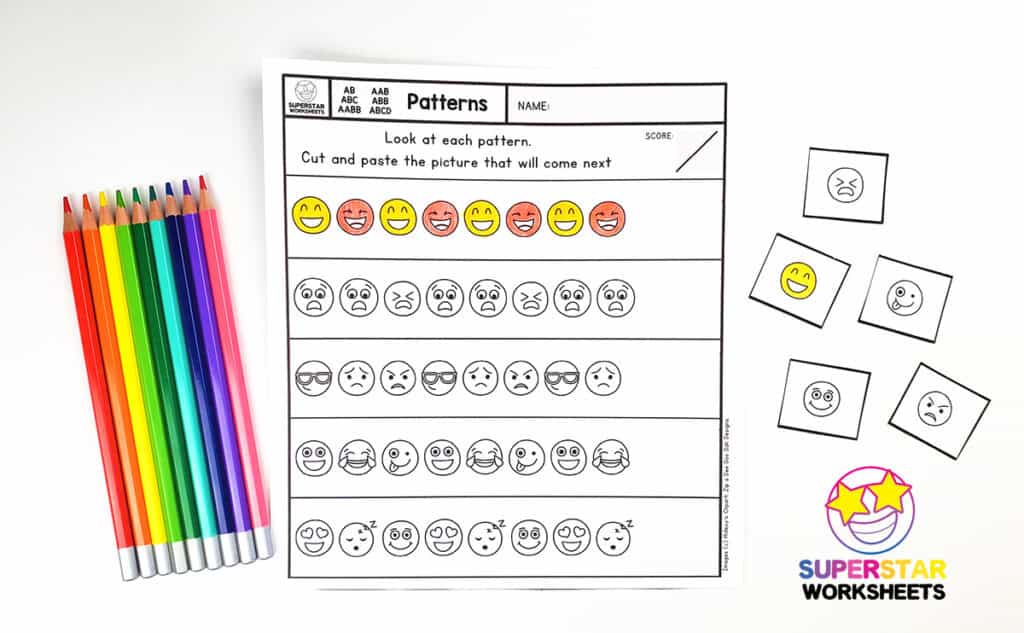 Cut & Paste Pattern Worksheets
Our cut and paste pattern worksheets help students build key fine motor skills while also developing pattern recognition skills. These activity pages are helpful for students who are wanting a little more challenge and interaction with their learning. These pattern worksheets are essentially self-correcting and are a good bridge from our preschool to our kindergarten pattern worksheets.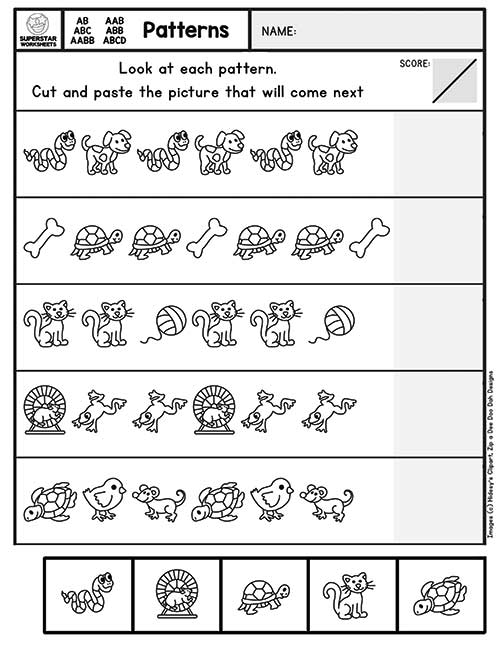 Students work on AB, ABB, AAB, and ABC patterns with this free cut and paste patterns worksheet.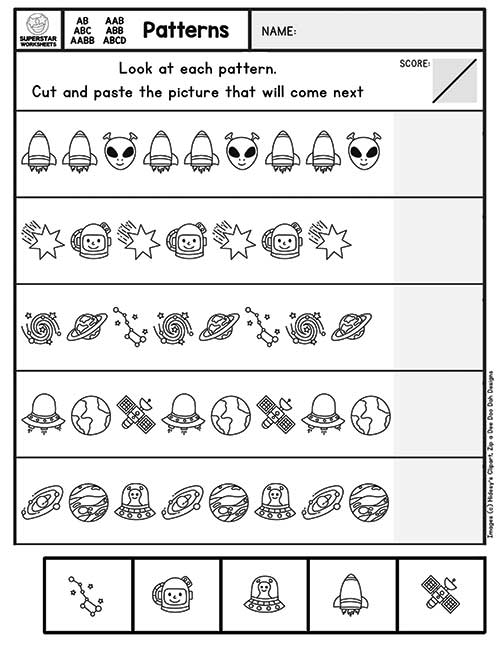 Students work on AAB, AB, and ABC patterns with this free cut and paste patterns worksheet.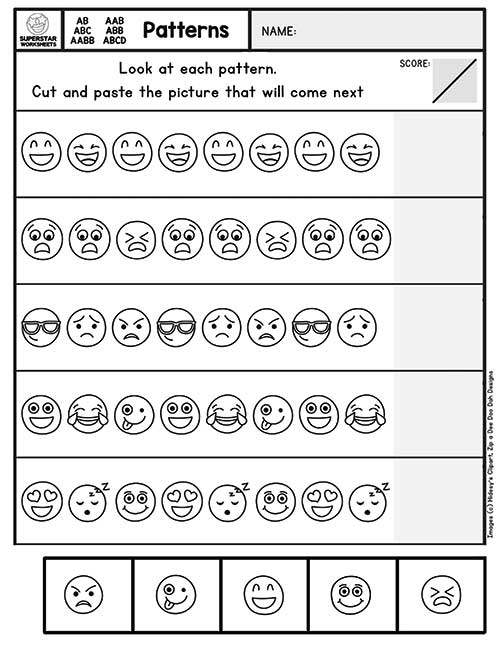 Your kindergarten students will need to look closely at these emoji patterns to see who's next!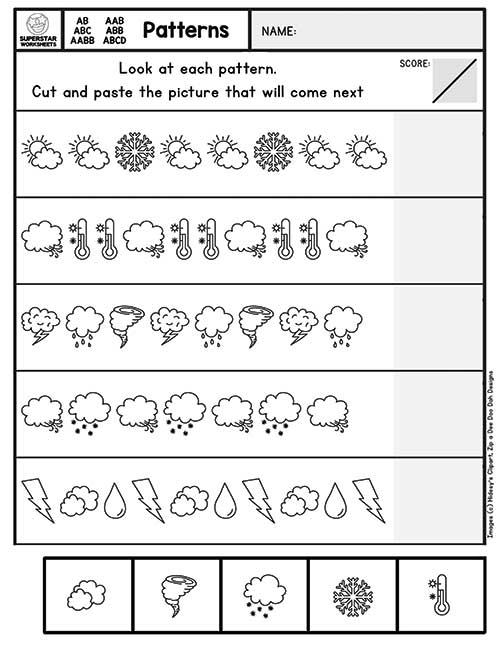 Free weather patterns worksheet for students to work on AAB, ABB, ABC patterns.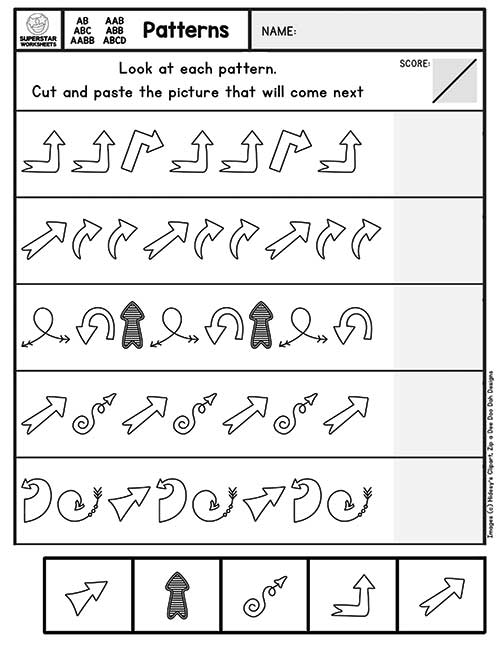 Kindergarten students cut and paste the correct arrows to complete the patterns.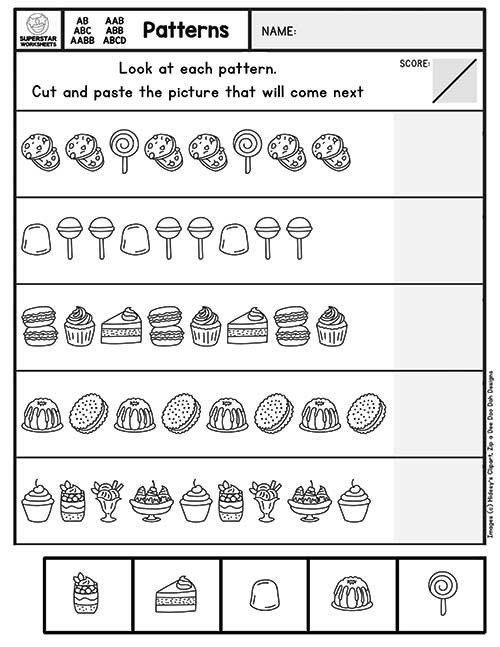 These pattern worksheets are super sweet! Students work on AAB, ABB, ABC, AB, and ABCD patterns.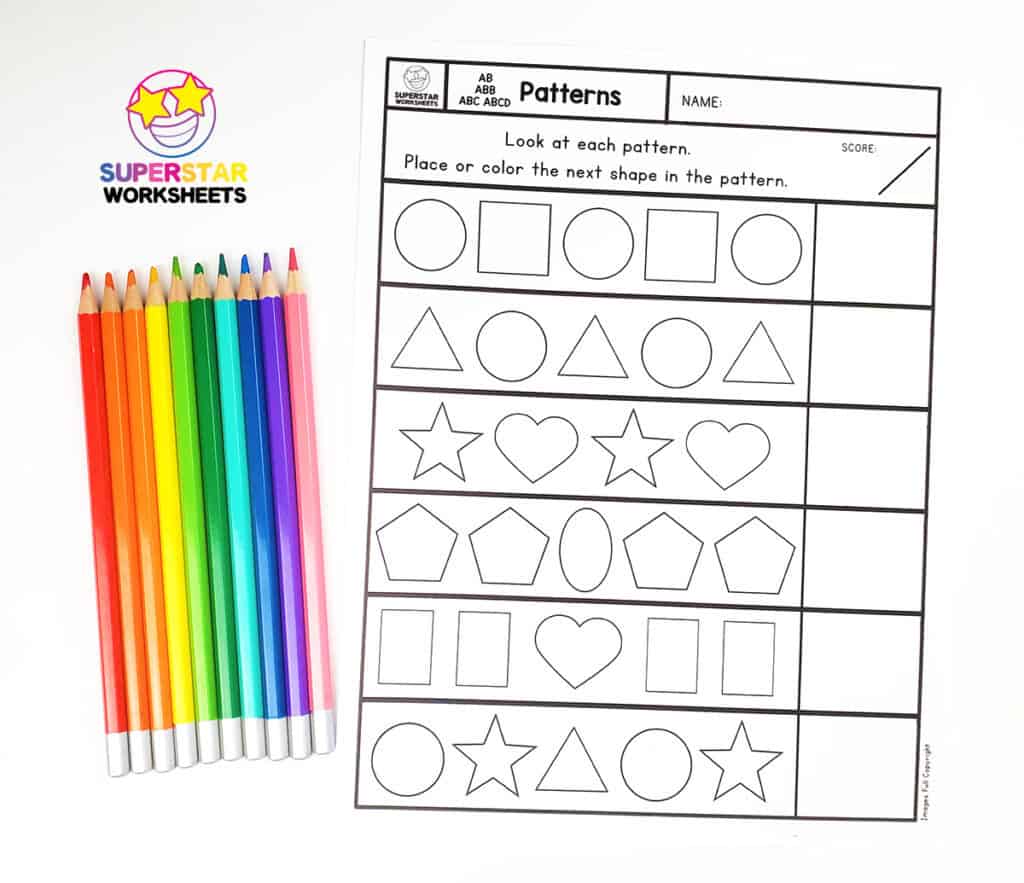 Pattern Worksheets for Kindergarten
Our free kindergarten pattern worksheets build key skills with identifying pictures and objects. Students work to develop ability to see longer and more difficult patterns.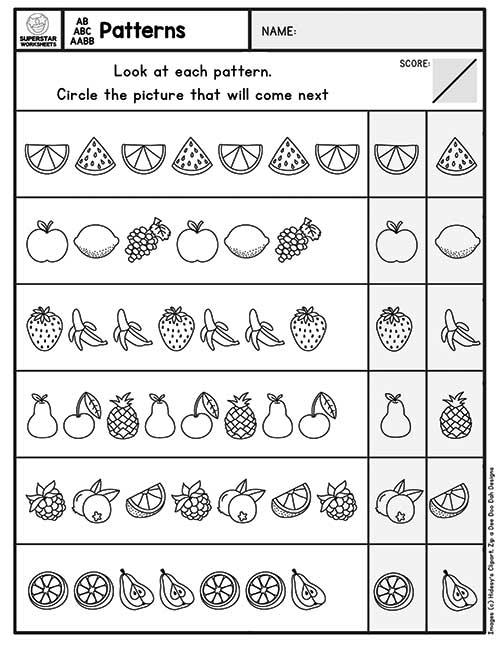 Students complete the pattern by choosing the fruit that comes next.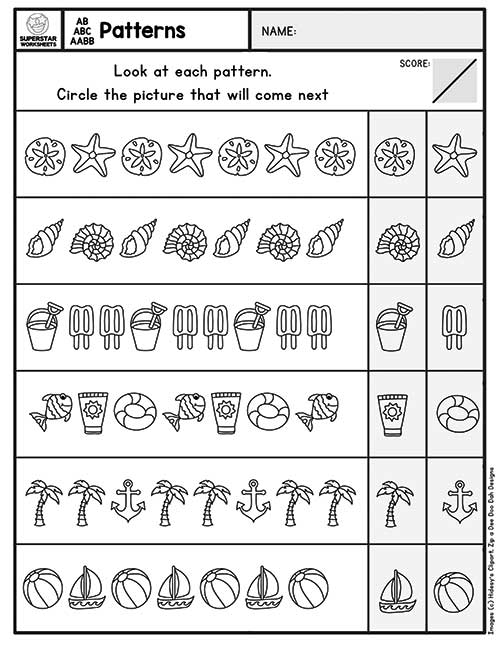 Students work on a variety of pattern recognition skills by choosing next picture.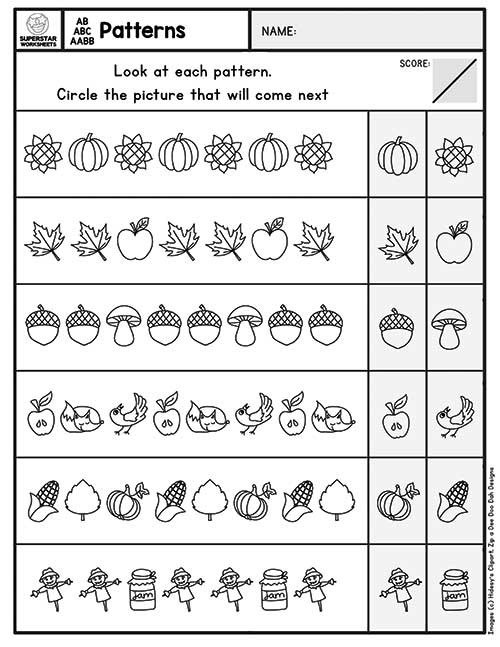 This free fall pattern worksheet is filled with pumpkins, leaves, acorns and apples!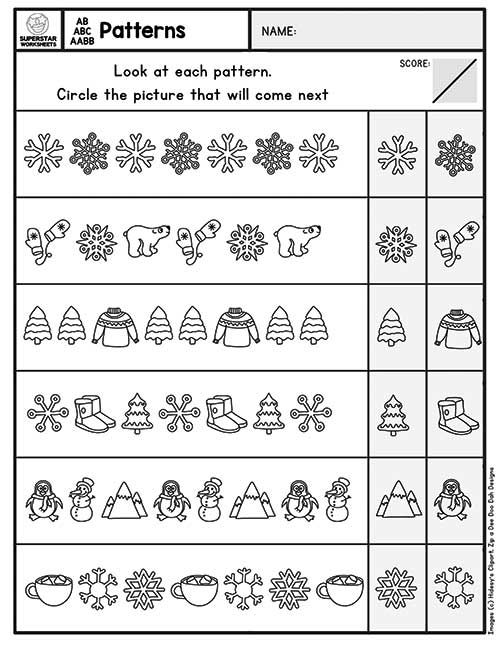 Students choose the next winter picture for each of these seasonal patterns.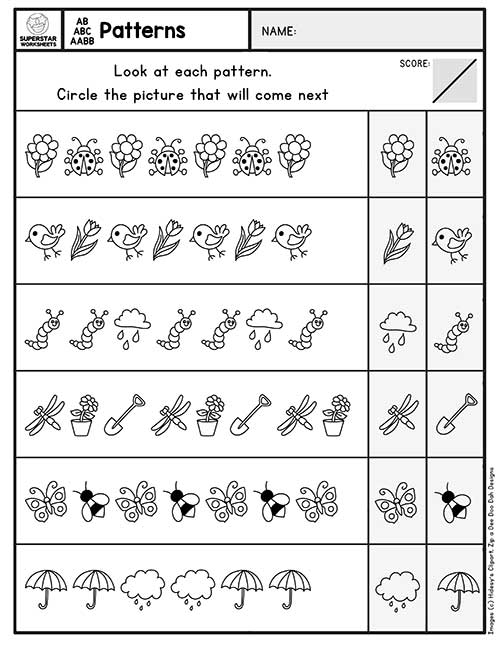 This is a free, fun, and thematic spring pattern worksheet for kindergarten!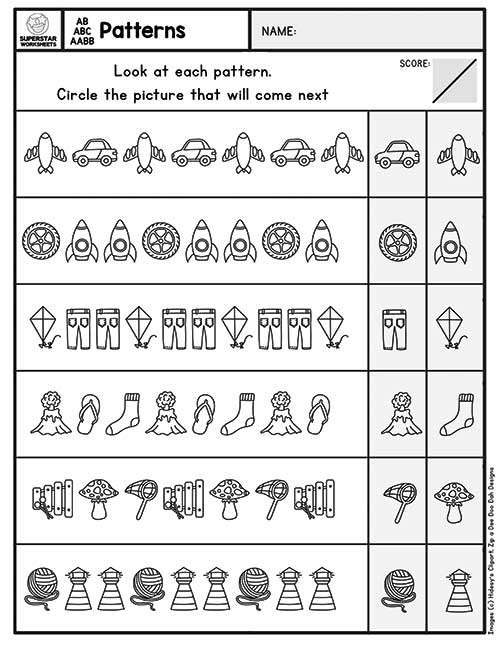 Using a variety of pictures, students must choose the next one in the pattern.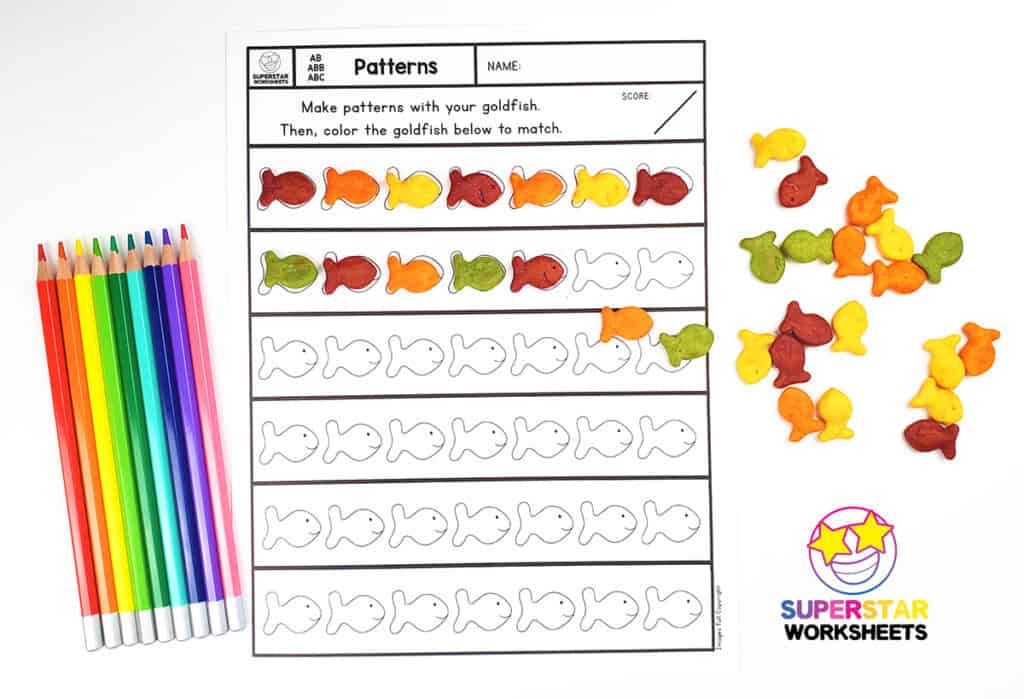 Number Pattern Worksheets
These number pattern worksheets are helpful for students who are ready to progress beyond shapes and object pattern recognition. Starting with simple number patterns, students will begin to understand sequencing that will later develop into skip counting skills.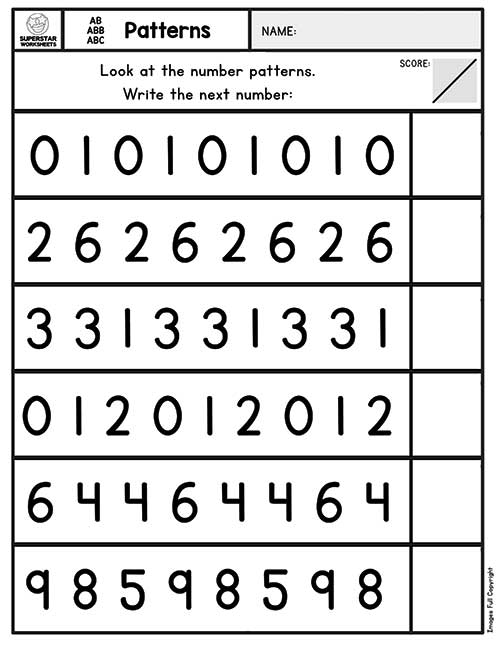 Students identify the number pattern and write in the number that comes next.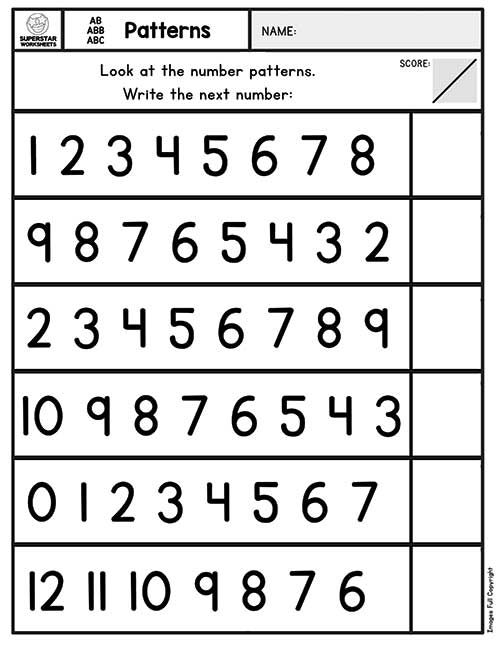 Students look for the number sequence to determine the next number in the pattern.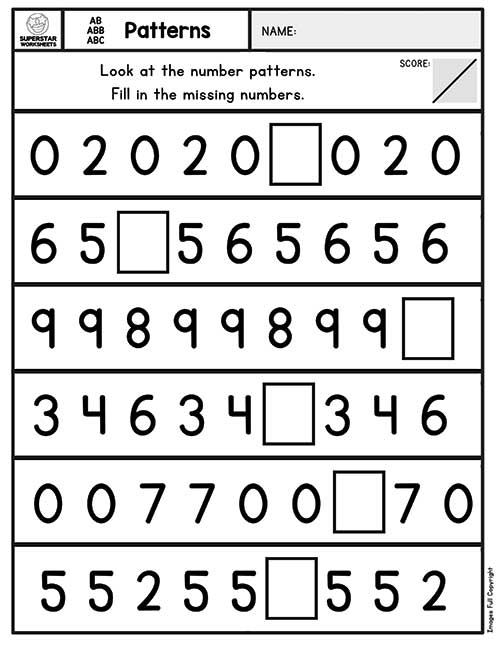 This number sequence worksheet has missing numbers through out the pattern.
Pattern Block Worksheets
Working with pattern blocks is a fun way to increase visual spatial and fine motor skills. You'll find a variety of challenging pattern block worksheets here.