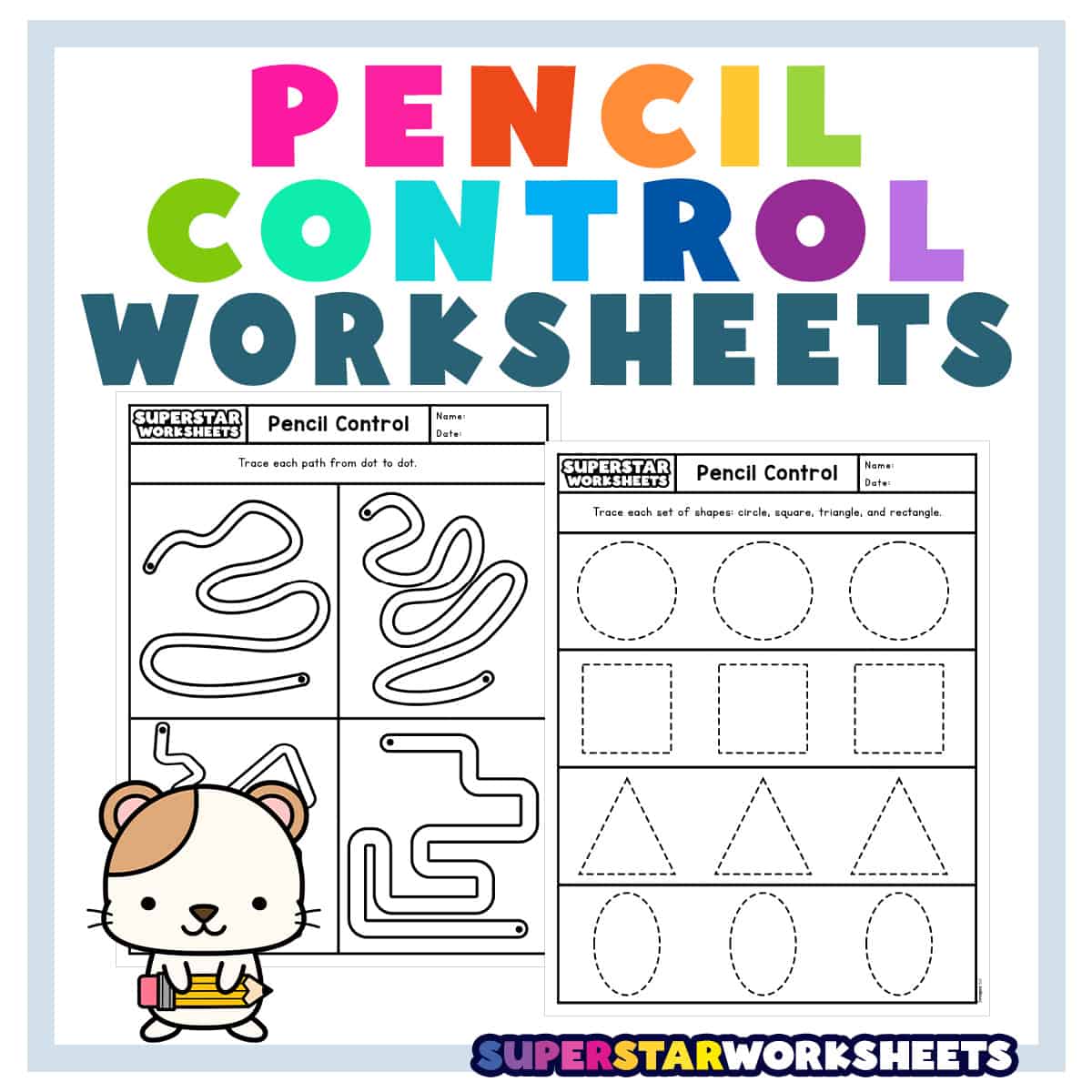 Pencil Control Worksheets provide preschool and kindergarten students with a variety of fine motor, and pencil exercises. These pages and activities promote and develop increased pencil control in 3, 4, and 5-year-old students. With a variety of designs and topics, there's sure to be something for everyone! The best part about these activity pages and printables… they are FREE! Check out our full Pencil Control Bundle to get your students excited about learning and growing their fine motor skills!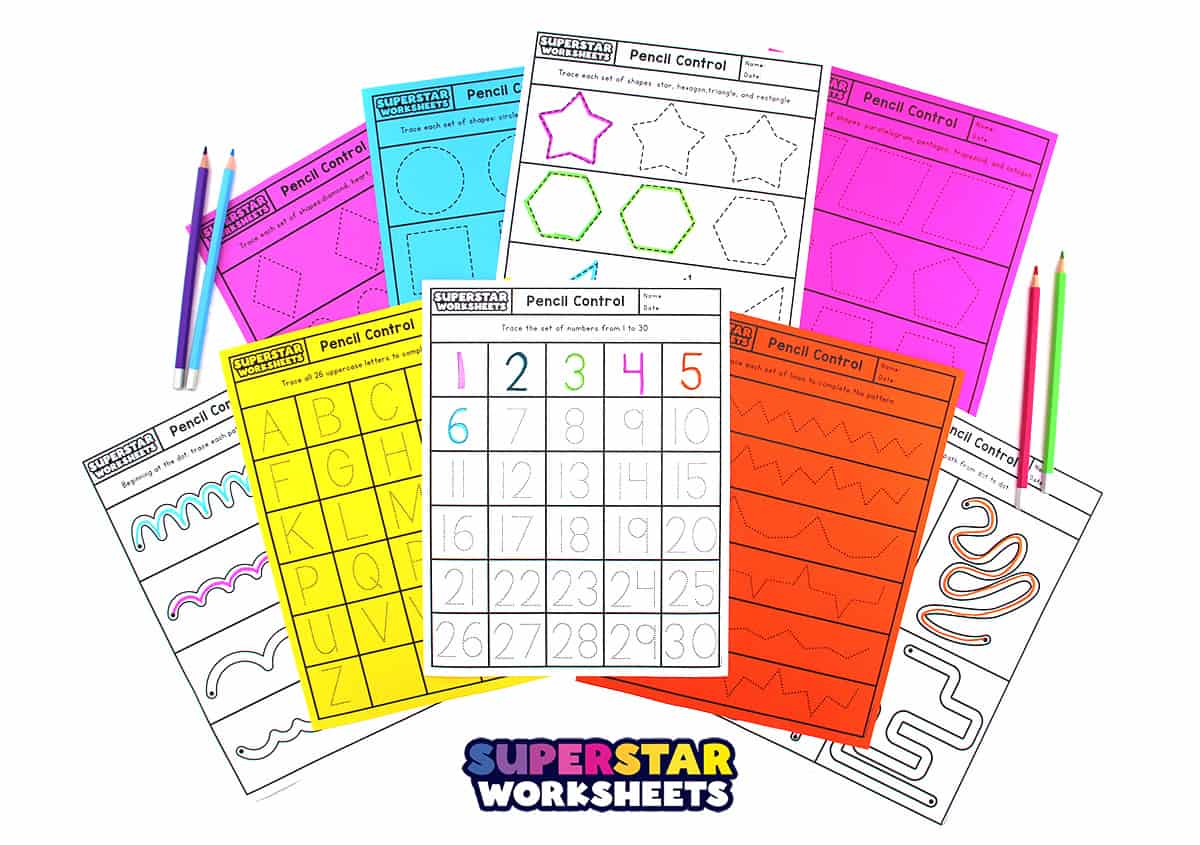 What is Pencil Control?
Pencil control refers to the ability to hold and manipulate a pencil during handwriting tasks with a functional grasp. It includes sensory processing, visual motor, and fine motor aspects such as finger strength and appropriate pressure applied to the paper with the pencil. Controlled pencil movements require this functional grasp and the ability to write letters with changes in direction at a speed that is developmentally appropriate and automatic. Learn more about how to teach pencil control here.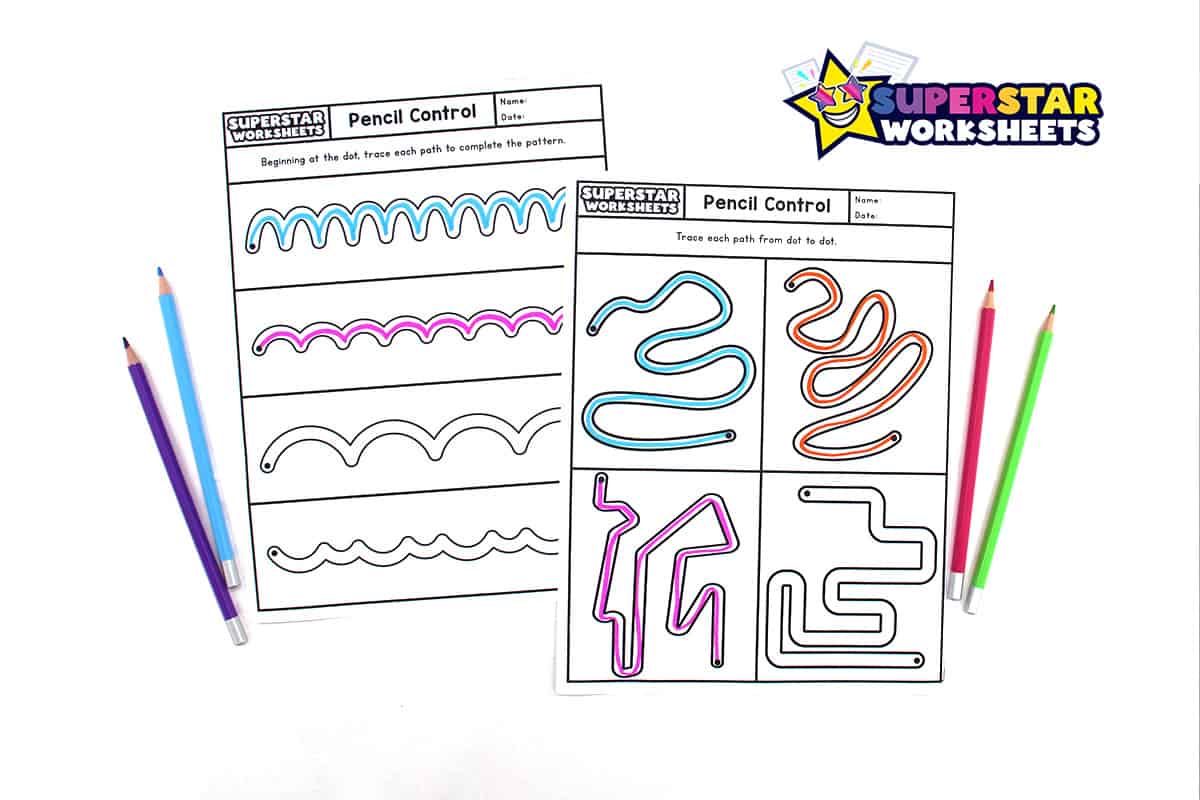 Pencil Control Worksheets
The following pencil control worksheets provide your students with a variety of patterns and paths that move from left to right. These pages help students improve fine motor control, pencil grip, as well as practice left-to-right movements. These work best inside a page protector with a brightly colored dry-erase marker. That way students can easily see their own line, and can practice again and again. If you find the markers move to "fast" for students, print a few versions for use with colored pencils. This will increase the friction on the page for additional control. Find more line tracing worksheets here.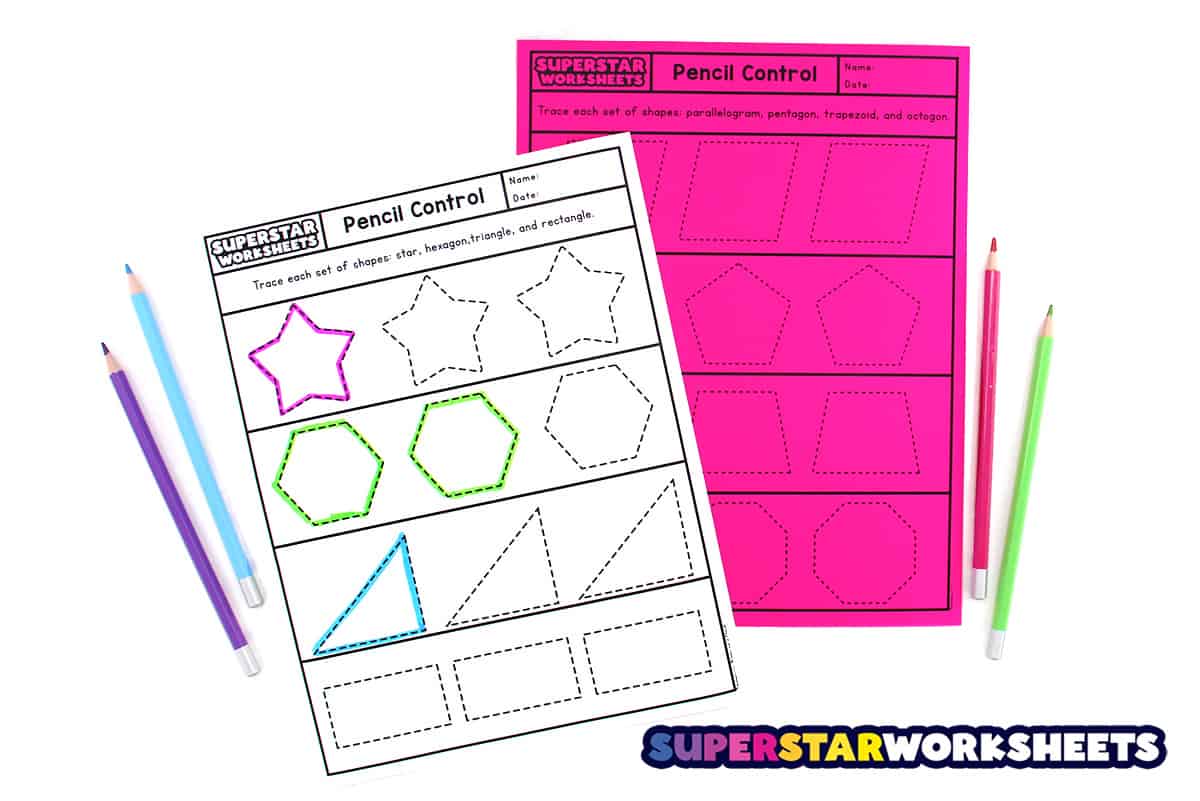 Pencil Control Shape Worksheets
Our pencil control worksheets and activities are designed to improve pencil control and build fine motor skills, helping your child develop the skills they need for success in writing and other fine motor activities. These pre-handwriting exercises will give your child a head start in writing during preschool and kindergarten. For more shape tracing see our free printable shape tracing worksheets.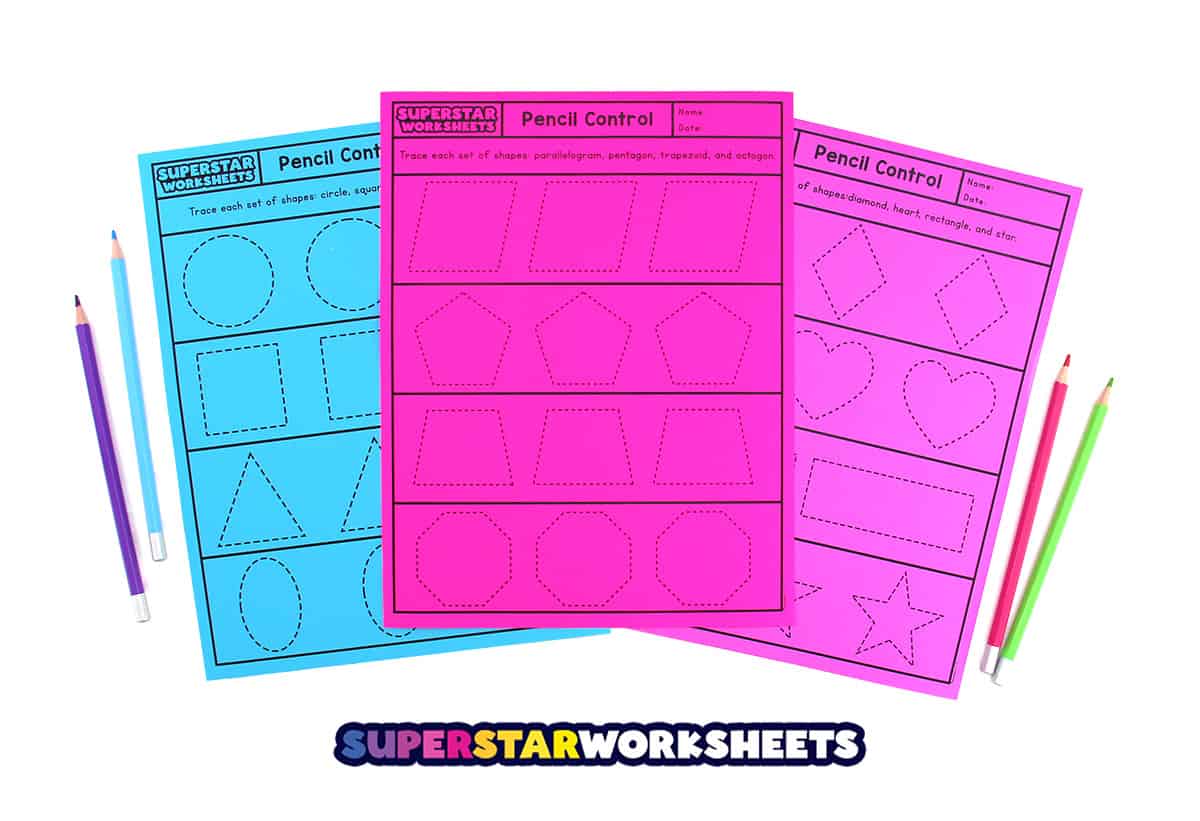 Pencil Control Pictures & Activities
When students have mastered tracing lines, and tracing shapes, you can introduce them to our pencil control pictures! This is a great way to bridge the connection between the various lines they've been learning to pictures of items they are familiar with. Try our free preschool tracing pictures for more. Soon your students will be well on their way to drawing! You can build their drawing skills with our Directed Drawing Bundle.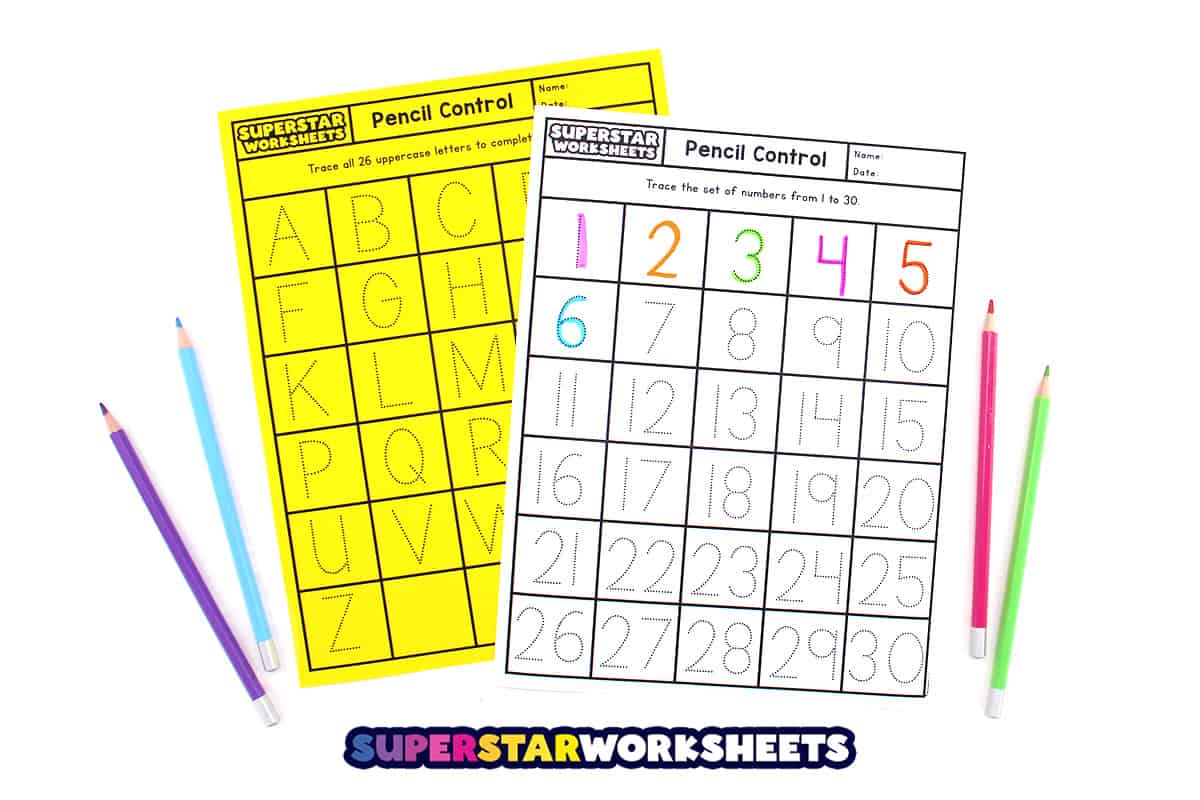 Pencil Control Alphabet & Number Printables
The following pencil control printables feature leters and numbers for your students to trace. We recommend teaching uppercase letters first, as they are easier to trace; having similar features of straight lines, and wider curves. Once children master the uppercase alphabet, try the lowercase alphabet, which requires much shorter strokes, tighter curves, and dots. Find more pre-handwriting worksheets here. Are your students doing well with these worksheets? Take your students' writing skills to the next level with our Preschool Writing Prompts!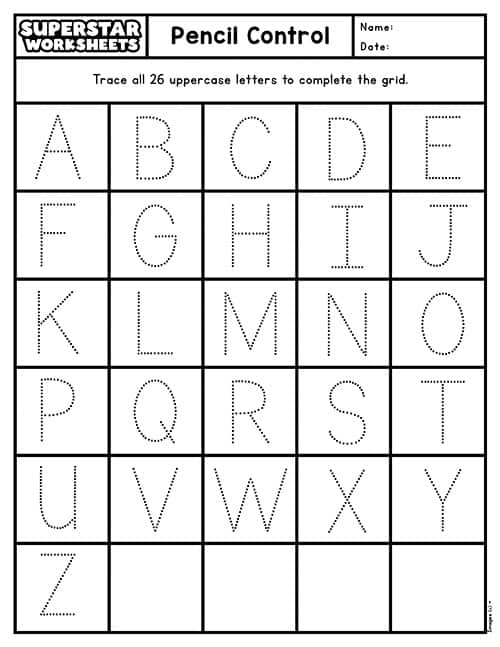 Practicing letter writing with preschool or kindergarten students? Start with the uppercase alphabet. These letters require simpler straight lines with wider arc on each curve.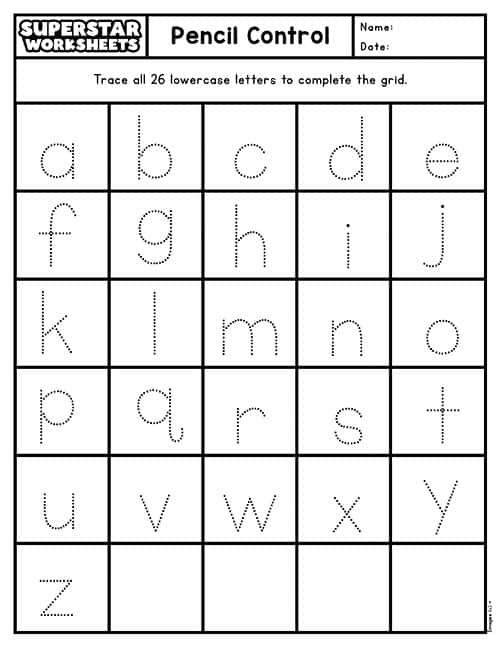 Free printable lowercase letter tracing worksheet for students who are building pencil control skills. Lowercase letters have more variation, smaller strokes and tighter curves.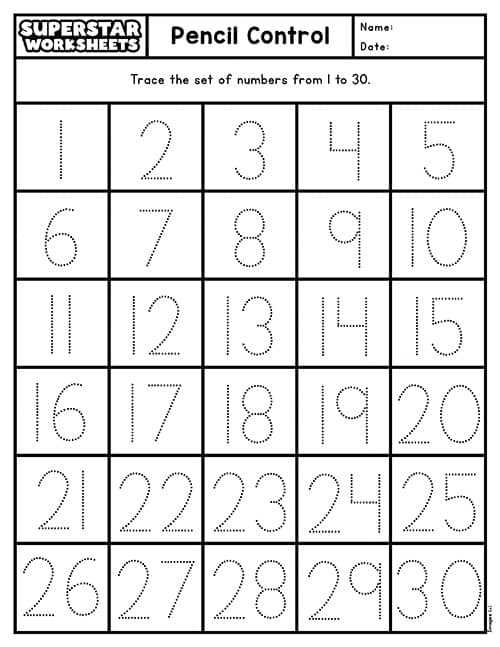 Let's practice writing our numbers! Kindergarten students are sure to improve their number writing when using this free printable pencil control worksheet!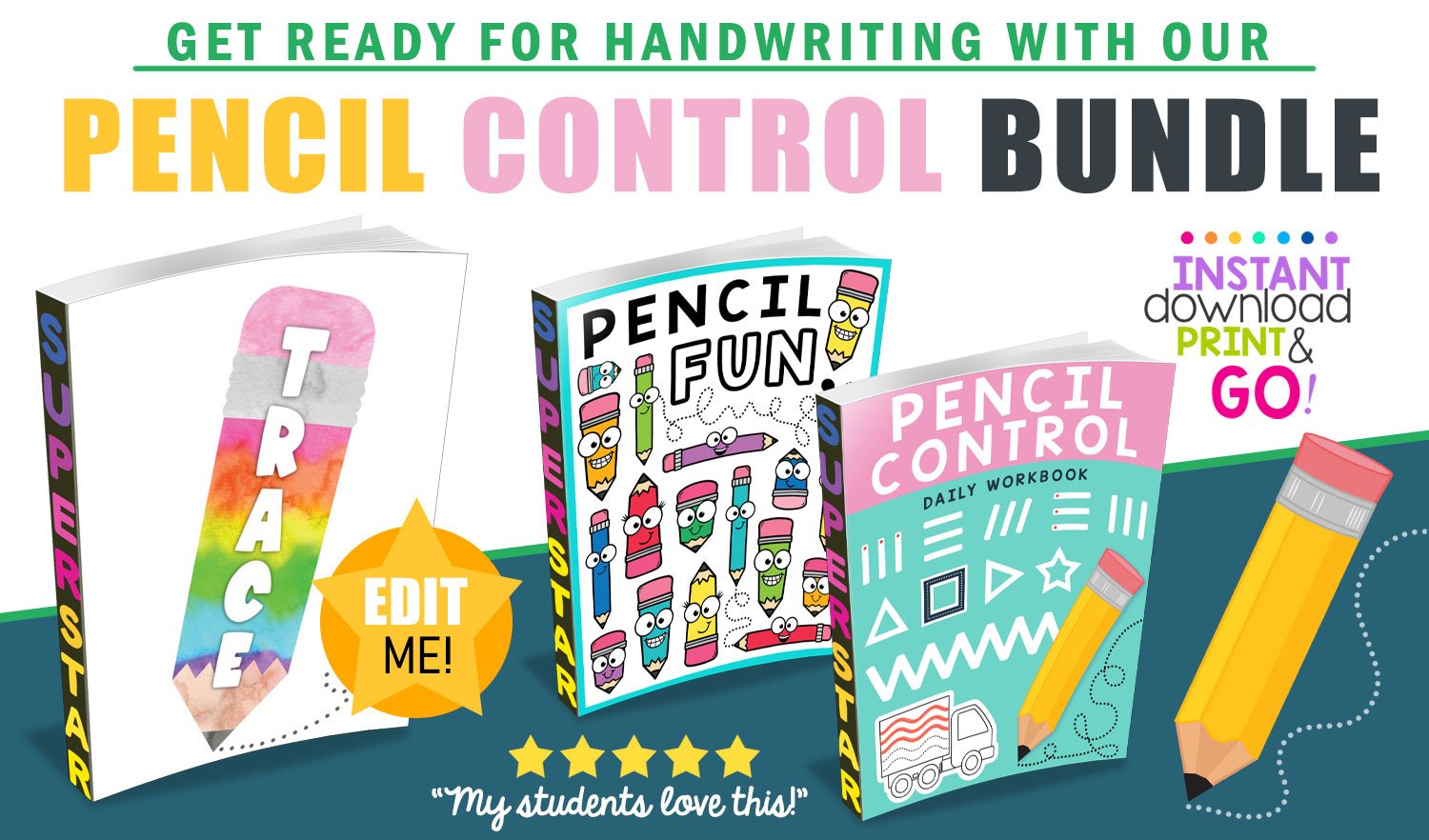 Pencil Control Activities
Ready to capitalize on the growth and development your students are making with their small motor muscles? Our Pencil Control Bundle has everything you need! You'll have hundreds of differentiated, daily exercises that build fine motor while having fun. Get ready for your engagement levels to go through the roof and find out why teachers and homeschooling families LOVE our products. Click Here