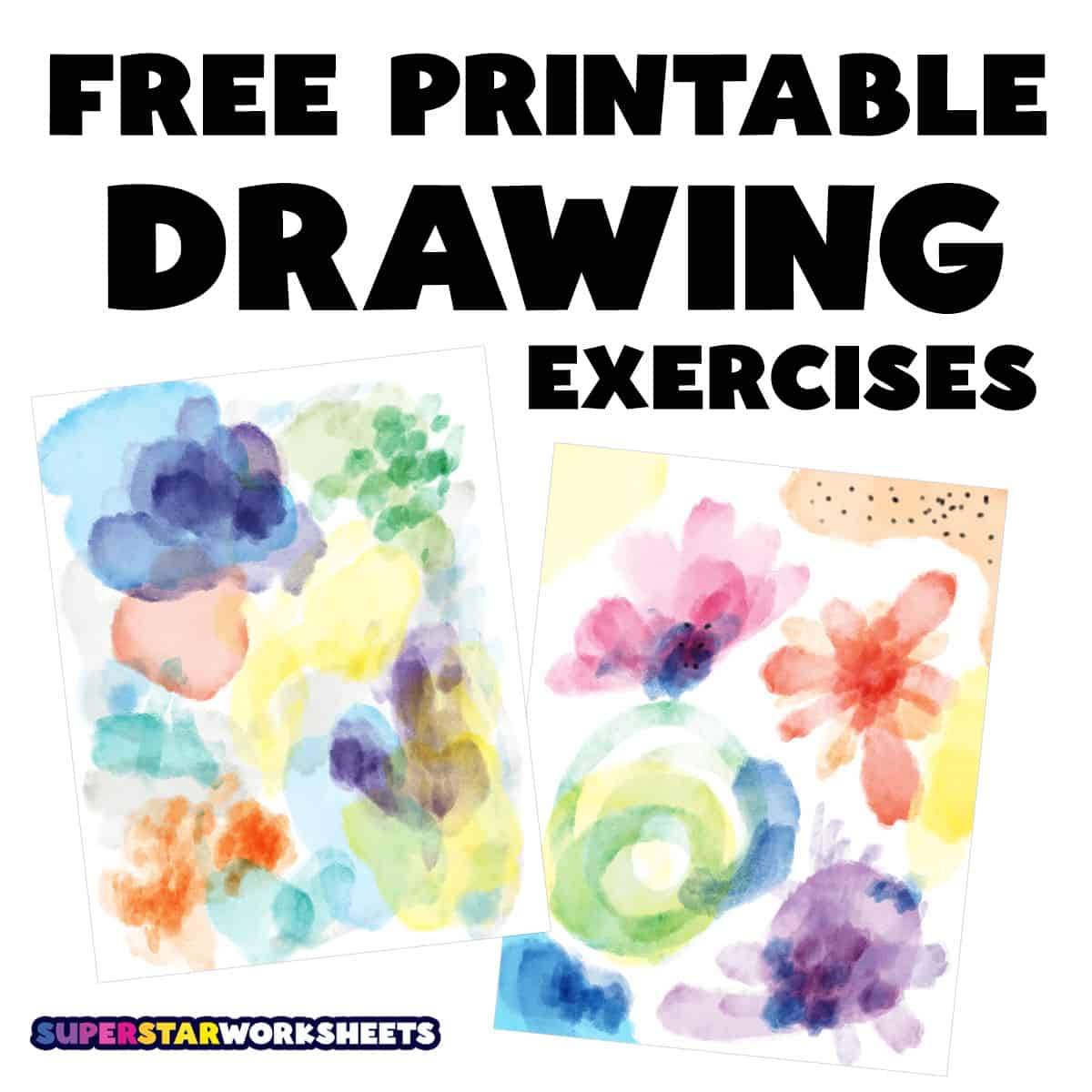 Are you ready for a relaxing art activity that not only bolsters student creativity but builds important drawing and painting skills? This reverse coloring art activity is a hit with students of all ages, and you'll love the amazingly unique and creative designs your students will make. We've created a set of free printable reverse coloring pages below, or your students can make their own with watercolor paper or tie in tech standards with free Photoshop watercolor brushes.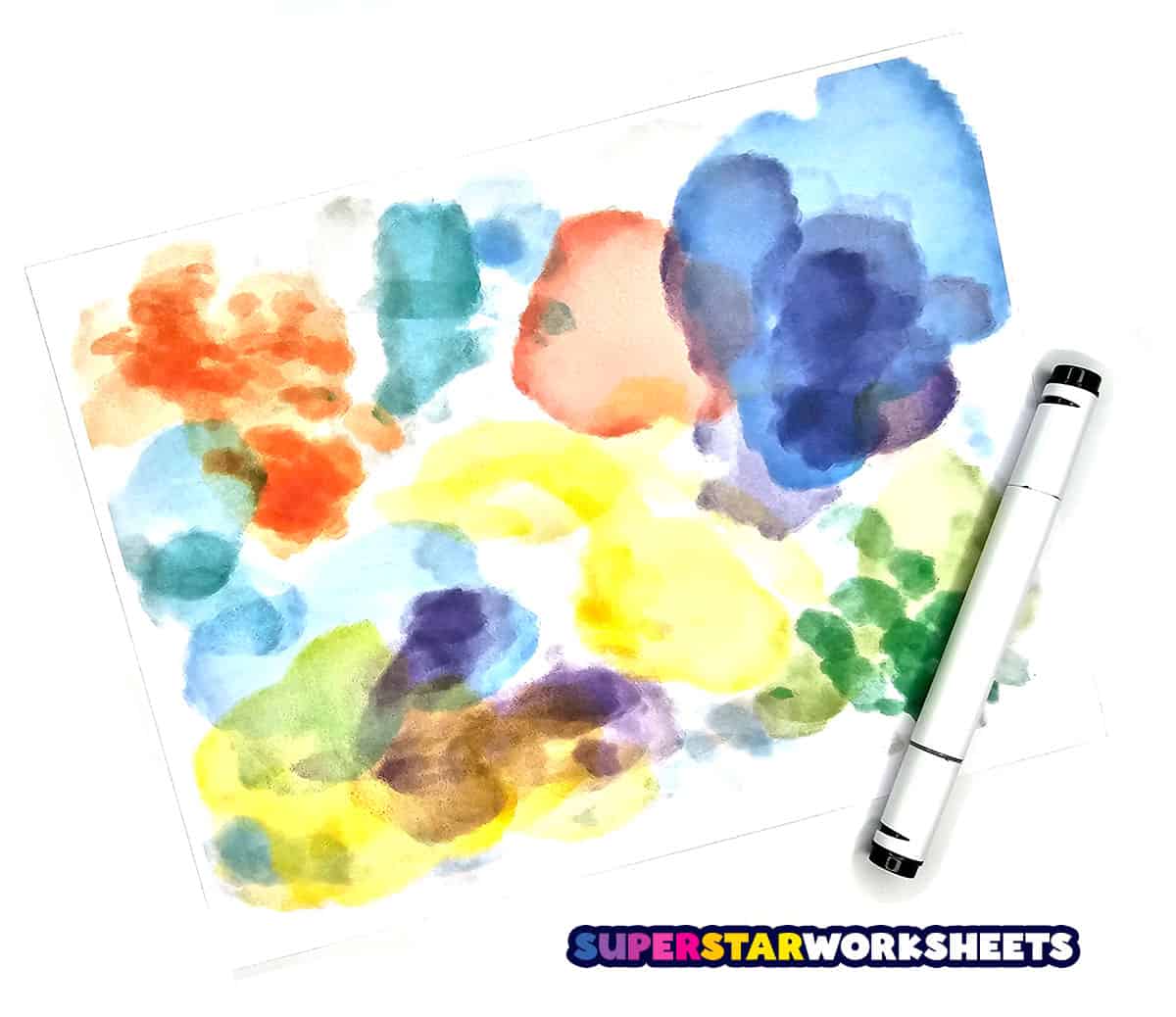 Reverse Coloring Art Project
This art project might seem simple, but there are plenty of creative opportunities to teach and learn key art standards. This is a wonderful summer project, or great for those longer afternoons in the classroom. Here are some concepts to keep in mind and to point out as you teach and instruct your students.
Imagination & Creativity
Self-Expression
Flexibility & Ability to Adapt
Mixed Media (Watercolor & Pen, or Photoshop & Pen)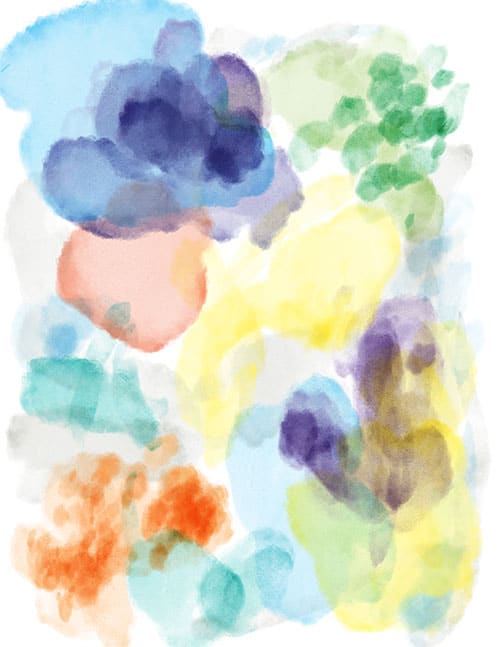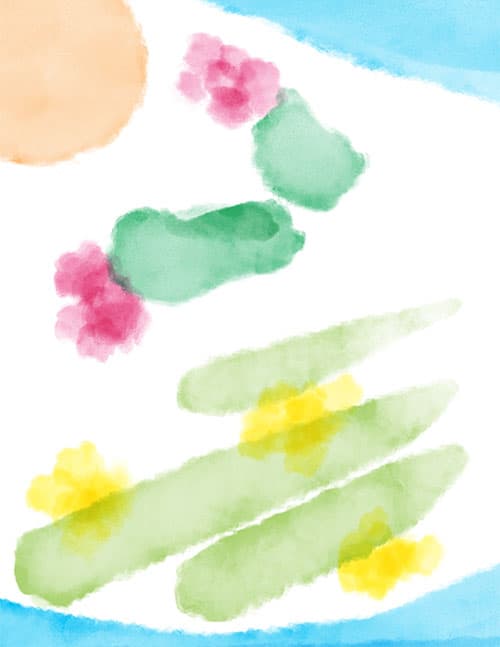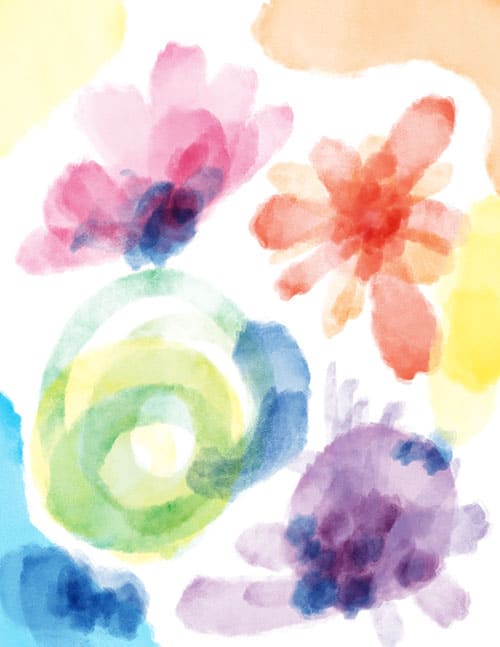 Free Printable Reverse Coloring Pages
We've created three free and unique reverse coloring pages for you to print for your students. Alternatively, your students can create their own backdrops using watercolors. You could even have your class swap backdrops before starting to draw.
Here is a list of materials you'll want to have on hand for your students.
Black Pens (varying thickness)
Optional: Watercolor & Paper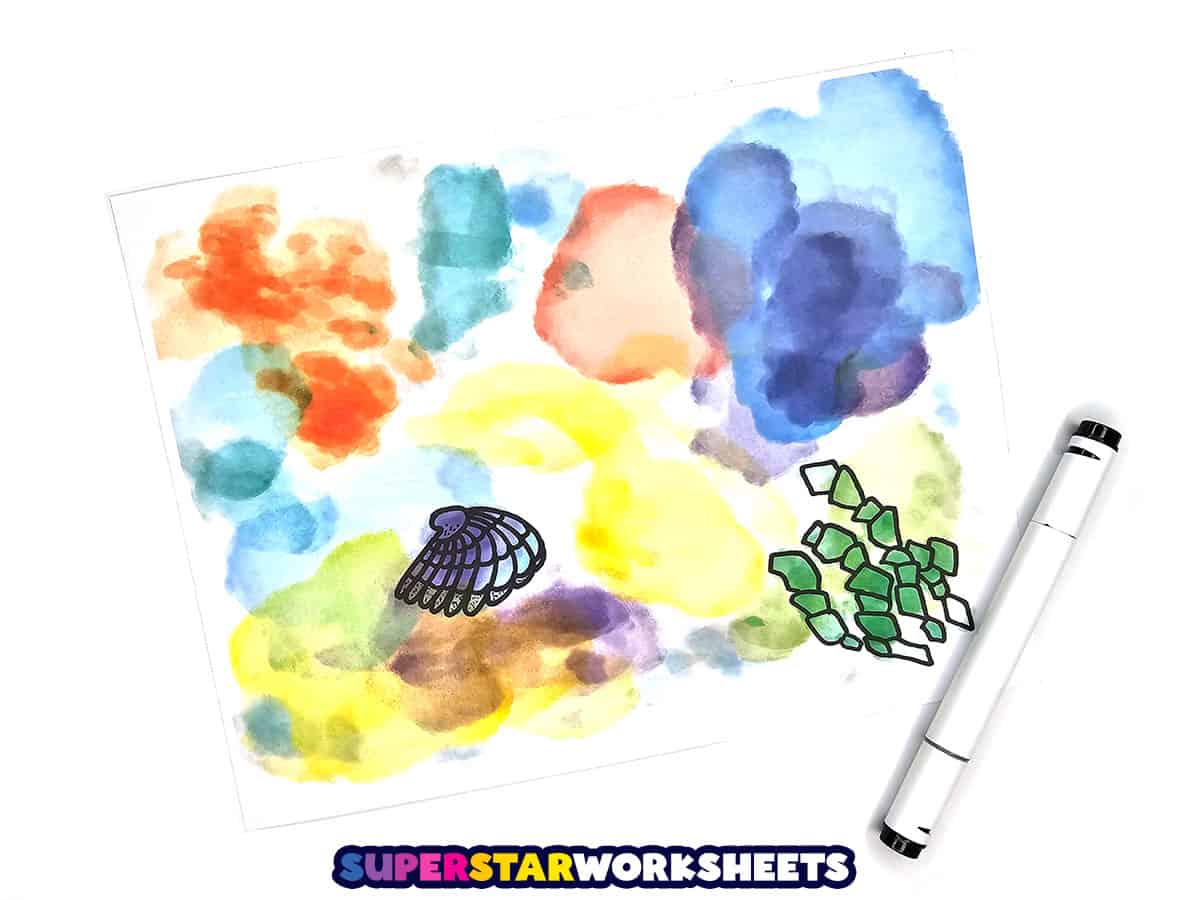 Reverse Coloring Pages Tutorial
Print the backdrop template of your choice above. Or, if your students are making their own backdrops with watercolor or Photoshop, encourage them to use a variety of colors, building out aread with different strokes and blending. Provide examples of various backdrops you've made beforehand so they can get a general idea of the purpose of the backdrops. (Fluid shapes, unique lines, white space, etc…)
Ask students to take time to look at their backdrop and visualize the type of scene they would like to make. It can be a coheasive theme, or random drawings and designs. There will likely be shapes and colors that pop out as familiar items.
Let them create!! Give students ample time to draw and design and build out their drawing. The intention is an open-ended project that is complete when students are happy with their results. You might have some students that want to create multiple drawings. If you printed a pre-made template, you'll have fun design varieties to share with your students.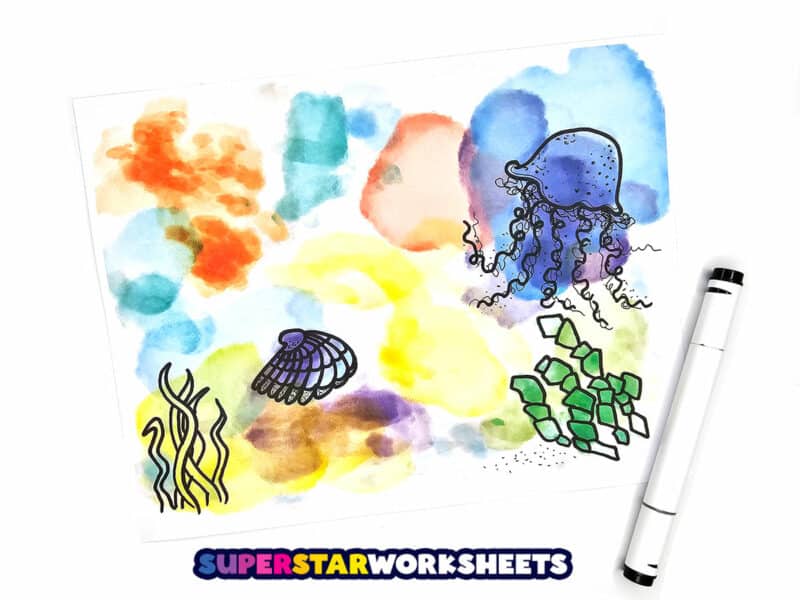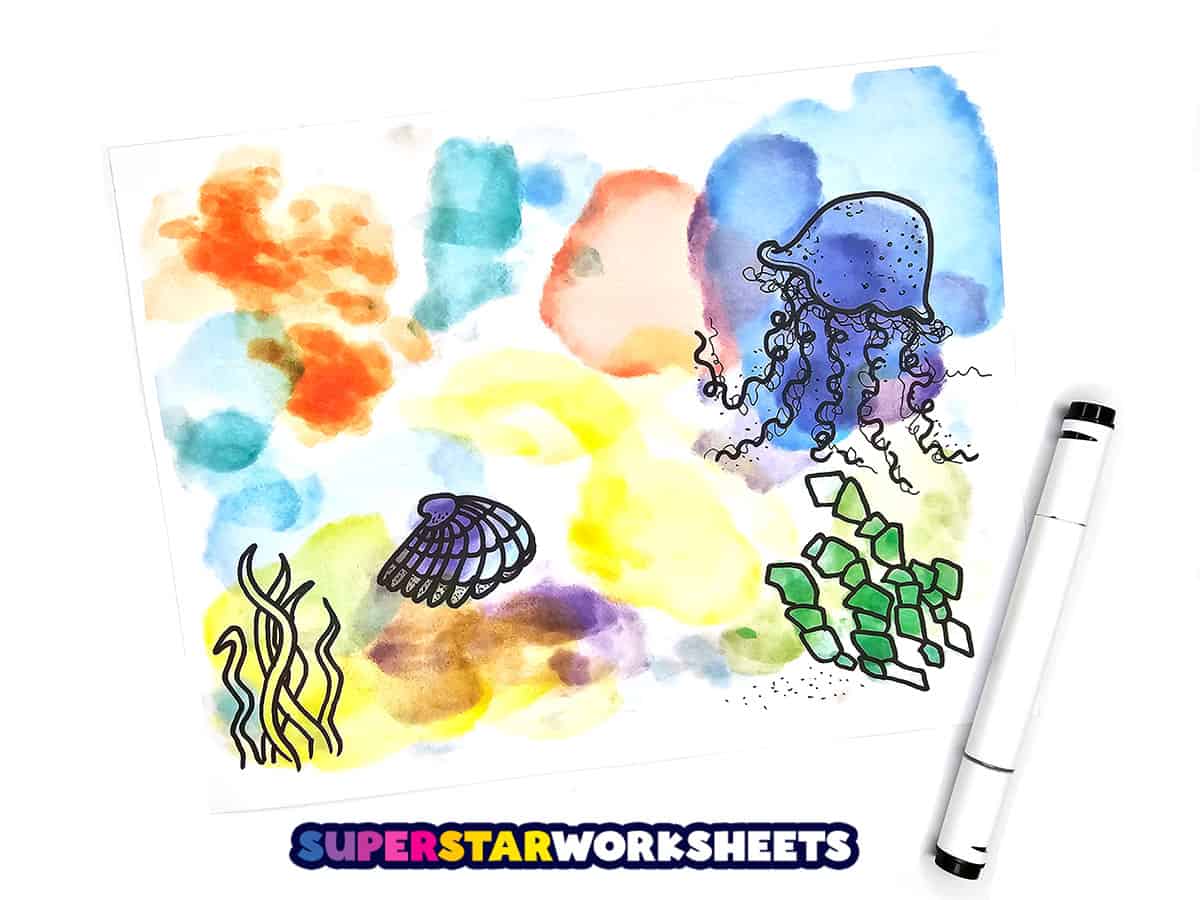 Fun Ideas with Reverse Coloring Pages
If you've already tried reverse coloring in your classroom and you are looking for a way to boost engagement, here are some fun ideas to try that your students might enjoy:
Print the exact same backdrop for every student and make sure they don't see what others are creating. When finished, compare the similarities and differences. This method is especially fun for parent night to see student work on the bulletin boards.
Have each student create their own backdrop, but then have them switch backdrops with a partner. When finished, ask them what they were envisioning they might create with their backdrop and what their partner actually created.
Provide a variety of different pens for drawing. White gel pens, glitter gel pens, and other paint pens that can be built on top of the watercolor create a fun look.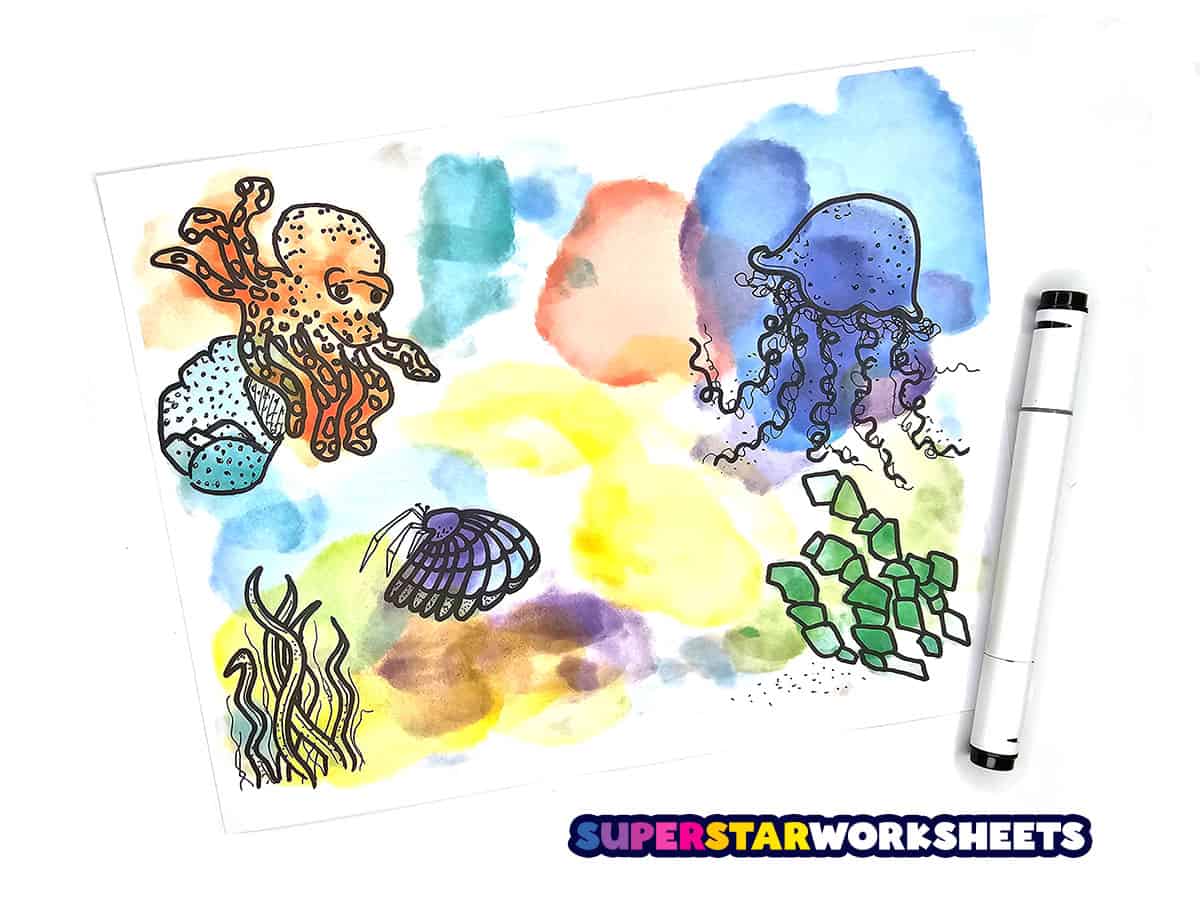 Expand Learning with Reverse Coloring Pages
Write a variety of animals or items on small pieces of paper folded up. Have students draw a few pieces of paper and try to incorporate a drawing of that item into their picture. This can be used as a drawing prompt, or as a fun exercise in innovation and problem-solving as they find shapes and spaces to add the new item into their design.
Be sure to add in some fun presentations, either student-led or by displaying the art in your classroom for everyone to enjoy.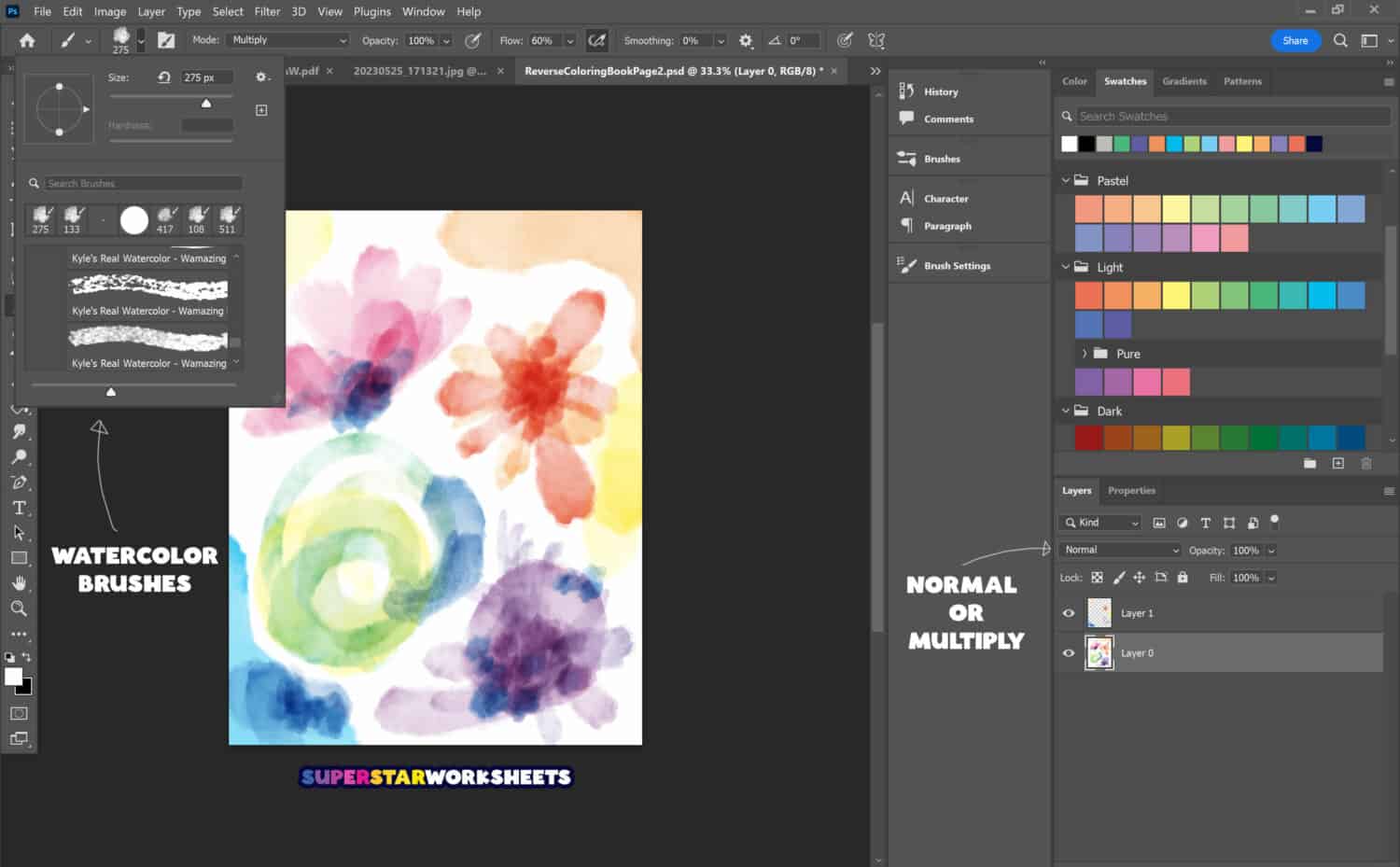 DIY Reverse Coloring Pages with Photoshop
If you are handy with tech, you can easily make your own reverse coloring pages with Photoshop. In fact, your students might appreciate the opportunity to connect tech and art in a tangible way. We used Photoshop, along with these free printable watercolor brushes to create the pages above. Set your layers to "Normal" or "Multiply" so that your colors overlaps and bleed through and get started "painting" just as you would with watercolor brushes.
Try Reverse Coloring Books for More Fun
While your students are sure to be excited with their own custom projects, if you're looking to take out some of the prep work, there are a variety of reverse drawing coloring books and therapeutic backwards coloring books available to purchase. I would suggest looking for scripted pages as well as pages that, at first glance don't necessarily pop out as specific scenes. For example, above we've provided three different pages that might prompt flowers, or fireworks, cacti, or worms. These are a bit easier for the imagination. The page used for the ocean scene is a little more vague and allowed for more individual creativity and innovation. Here are a few reverse coloring books that look promising for your students: