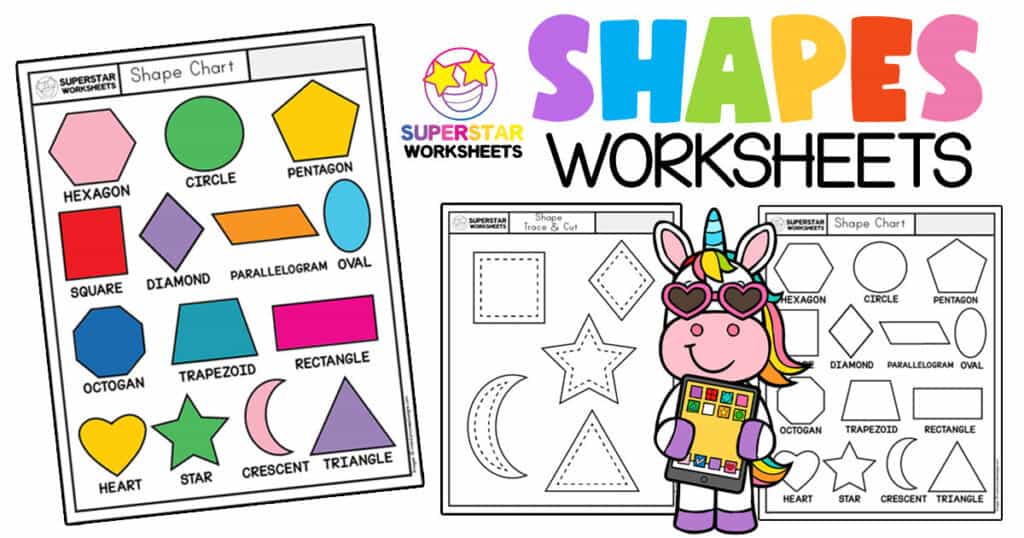 Students will build their knowledge of tracing, matching, spatial awareness and shape identification with these delightful worksheets. They contain shapes such as circles, triangles, squares, rectangles and more complex shapes, such as stars, trapezoids, hearts, ovals diamonds and more. If you are looking for more fun with shapes try our Shape of the Week Program.
Color by Shape Worksheets
Students use and build their skills in following directions, color matching, labeling and identifying shapes and more. With a combination of creativity and learning shapes, it is sure to be a fun activity.
Shape Tracing Worksheets
Students will learn to trace shapes, such as circles, triangles and squares with these single shape work sheets. They will also practice spatial awareness with on and in. It combines creativity with shapes in an enjoyable worksheet.
Shape Name, Trace and Color Worksheets
Students will have fun with these shape naming, tracing and coloring worksheets. With ice cream, house and boat themes, it will entice their creativity, in this delightful activity.
Shape Tracing and Drawing Worksheets
Tracing shapes has now moved up to free hand drawing with these next level shape drawing worksheets. It is a great way to scaffold to the next step. With simple and complex shapes, these worksheet are a great way to progress in shape drawing.
Shape Symmetry Worksheet
Students will learn how to follow directions as they finish the shapes and trace the links. These worksheets teach shape recognition with simple shapes such as circles, squares and triangles as well as more complex shapes such as hearts, trapezoids, octagons, hexagons and more. Bringing it to the next level is a worksheet that focusing on symmetry and the beginnings of fractions.