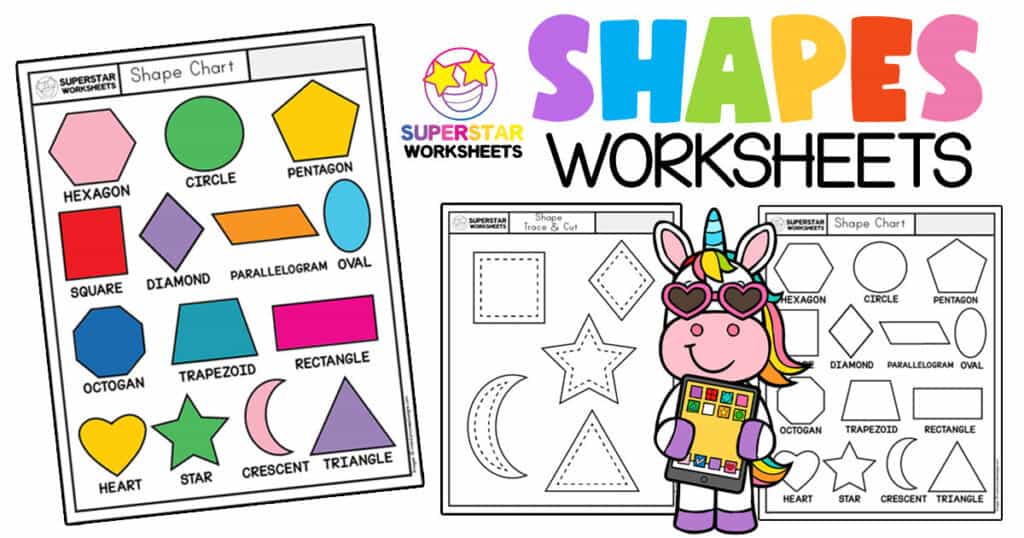 12 FREE shape worksheets for Kindergarten! Students will have a TON of FUN while they build their knowledge of tracing, matching, spatial awareness, and shape identification with these delightful worksheets. They contain shapes such as circles, triangles, squares, rectangles, and more complex shapes, such as stars, trapezoids, hearts, ovals diamonds, and more. If you are looking for more fun with shapes try our Shape of the Week Program.
Tracing Shapes Worksheets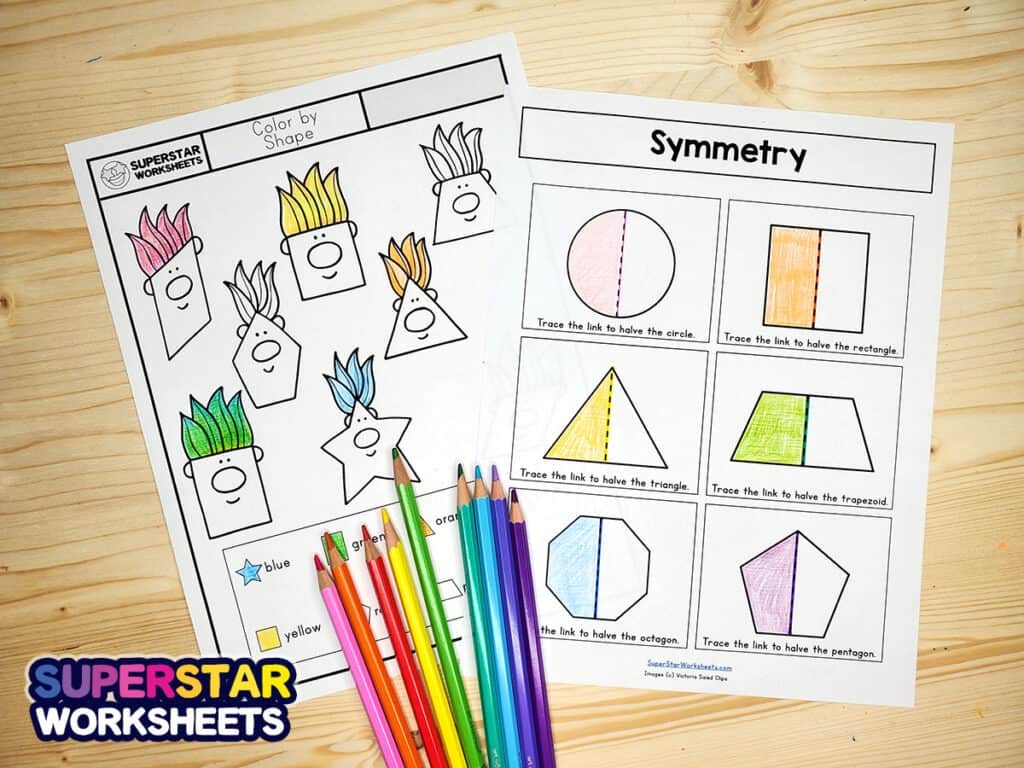 Learning shapes have so many benefits for your toddlers and preschoolers. One of the benefits to learn various shapes is to help them differentiate between objects. Kids focus on the little details more and tend to memorize how the shapes compare to each other. These worksheets include so many fun activities to color, learn shapes, and follow directions.
Preschool Shapes Worksheets
Even from an early age, kids recognize differences in objects and their shapes. Sometimes it takes longer for young children to learn the specific dimensions of each shape, like their appearance and how many sides each shape includes. Preschoolers getting lots of practice with shapes help them reinforce their understanding of two-dimensional structures. Worksheets that include shapes are wonderful hands-on activities for toddlers and preschoolers.
Shapes for Kindergarten Worksheets
Since little ones recognize differences between 2 objects with our shapes printables, this detail-oriented learning is great for anything in life! We highly recommend all young children gain lots of practice with learning their shapes.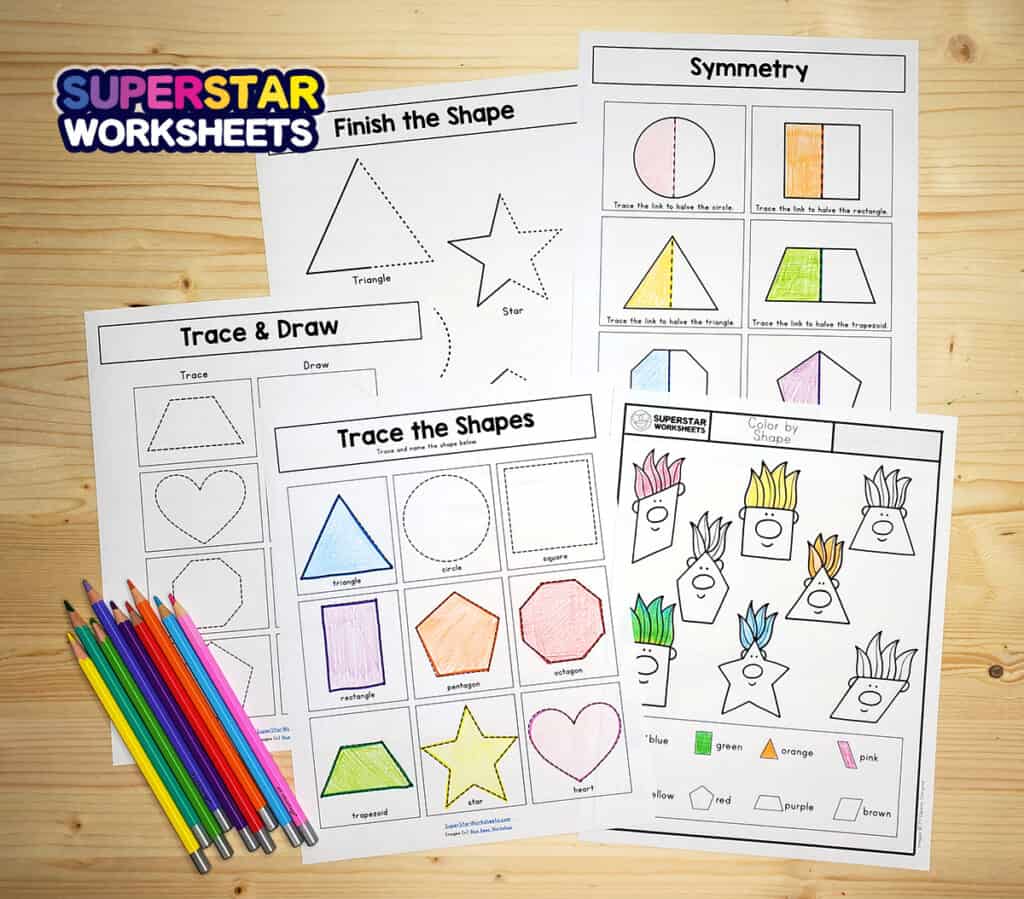 Color by Shape Worksheets
Students use and build their skills in following directions, color matching, labeling and identifying shapes and more. In addition, these exercises help children strengthen their focusing and following directions skills. With a combination of entertainment, education, and experience in learning shapes, it is sure to be a fun activity.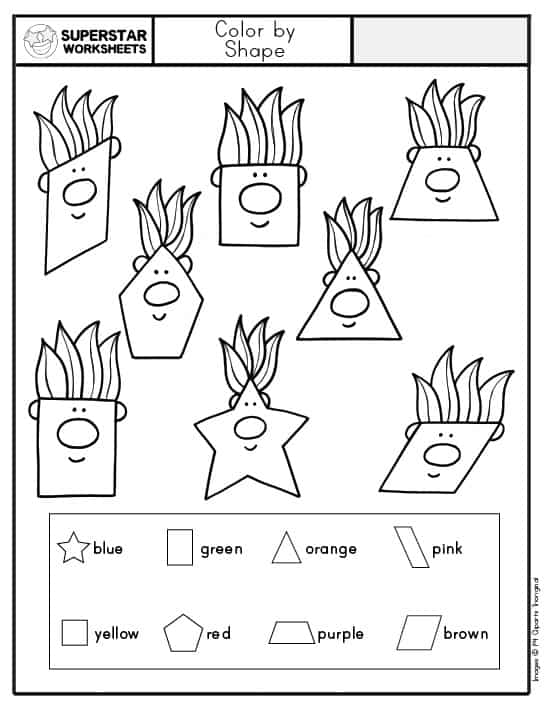 Students use the color guide to match shapes in this fun troll worksheet. Have student color each shape to help them easily color each shape-themed trol..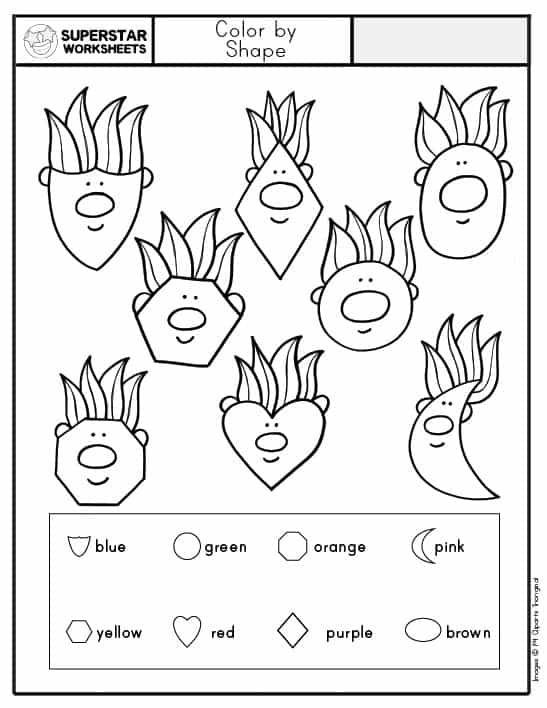 Students use the color guide to shape match with this cute troll worksheet. Kids will learn the various shapes like diamond, hexagon, circle and oval.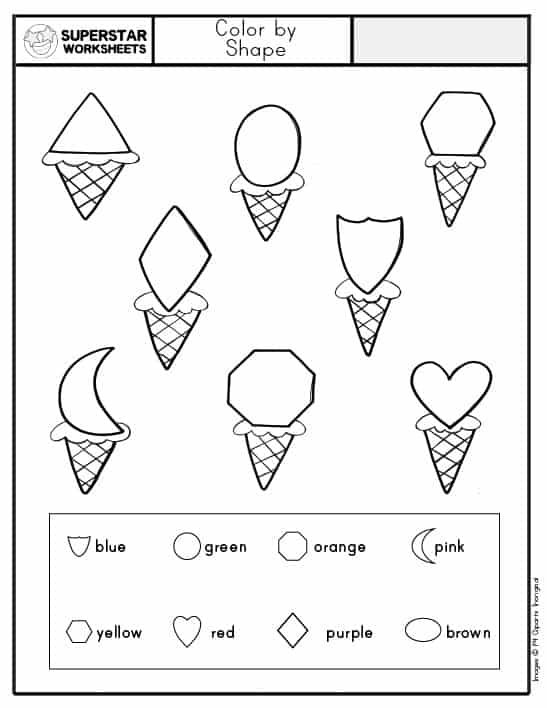 Ice cream for all in this fun color and shape matching worksheet. Did you know a honeycomb is the shape of a hexagon?!!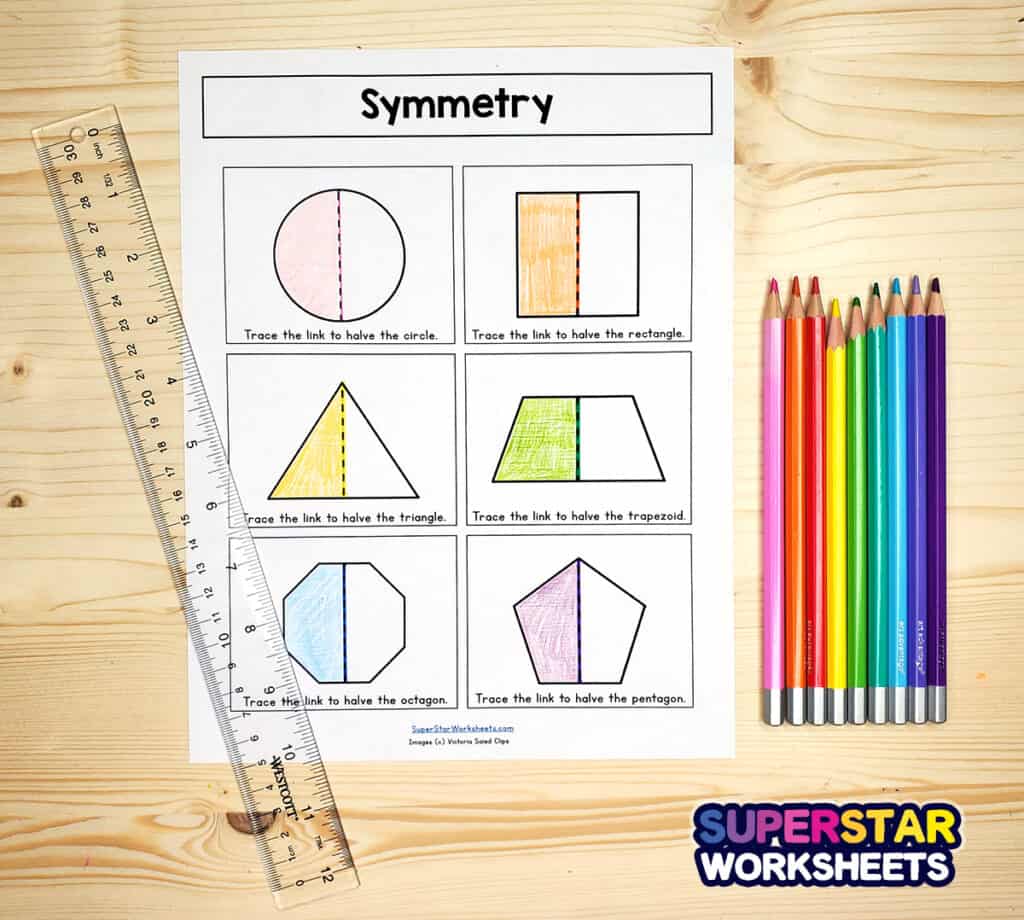 Shape Tracing Worksheets
Students will learn to trace shapes, such as circles, triangles, and squares with these single shape worksheets. They will also practice spatial awareness with on and in. It combines creativity with shapes in an enjoyable worksheet. Check out our Fine Motor Shape Bundle for even more awesome hands-on activities!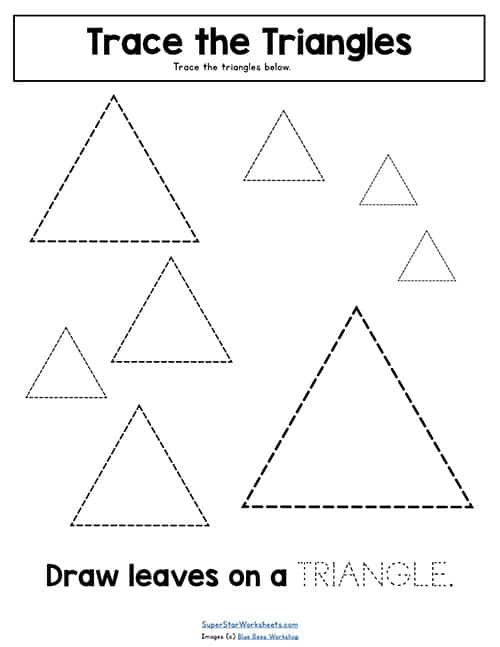 Students will learn shape recognition with our learn to trace triangles, identify shapes, and spatial awareness with this worksheet.
In this worksheet, Students trace the lines of the circle while learning names of shapes and spatial awareness. How many circles do you see?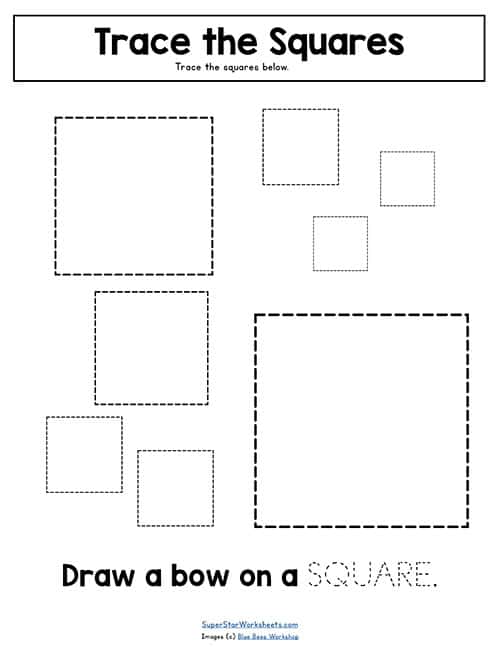 This worksheet will teach students how to trace and recognize squares as well as spatial awareness. Draw a bow on a square!
Shape Name, Trace and Color Worksheets
Students will have fun with these shape naming, shape identification and coloring worksheets. With ice cream, house and boat themes, it will entice their creativity, in this delightful activity.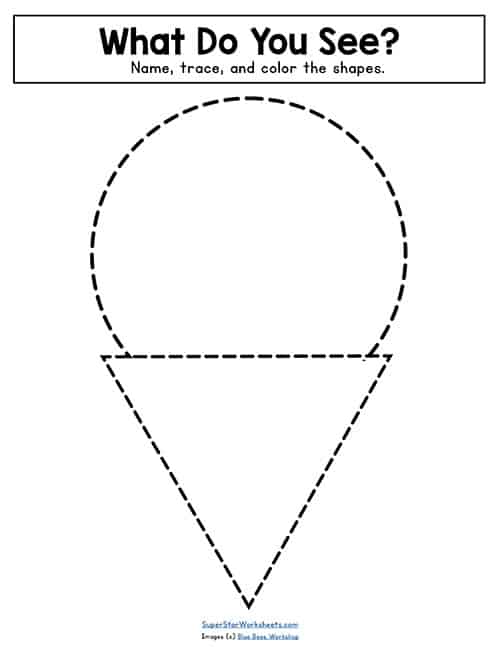 Students will have fun with this ice cream theme worksheet as they learn shape names and how they are drawn through tracing.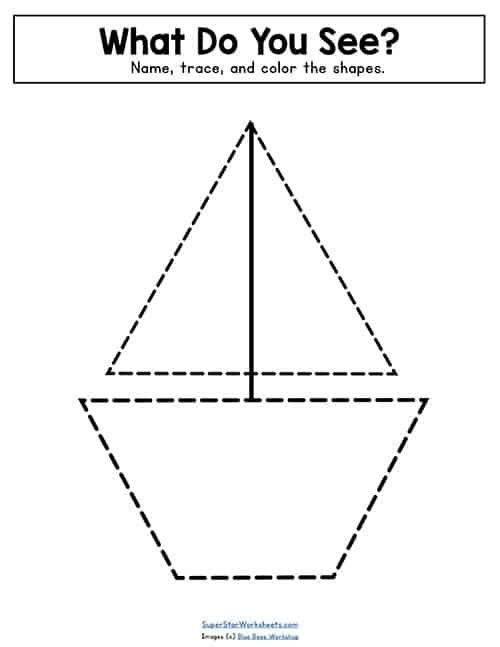 This boat, shape tracing worksheet is sure to be a hit. It will help the students learn shape names while being creative.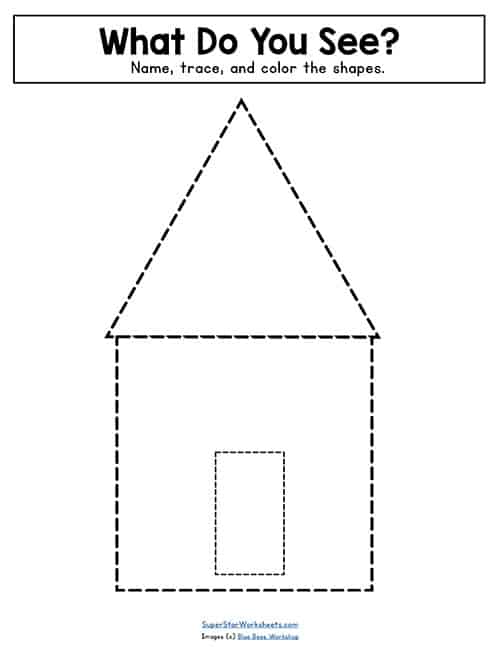 Name, trace and color this worksheet to complete the house. A creative way to learn shapes. Students can color, then trace each shape and write them.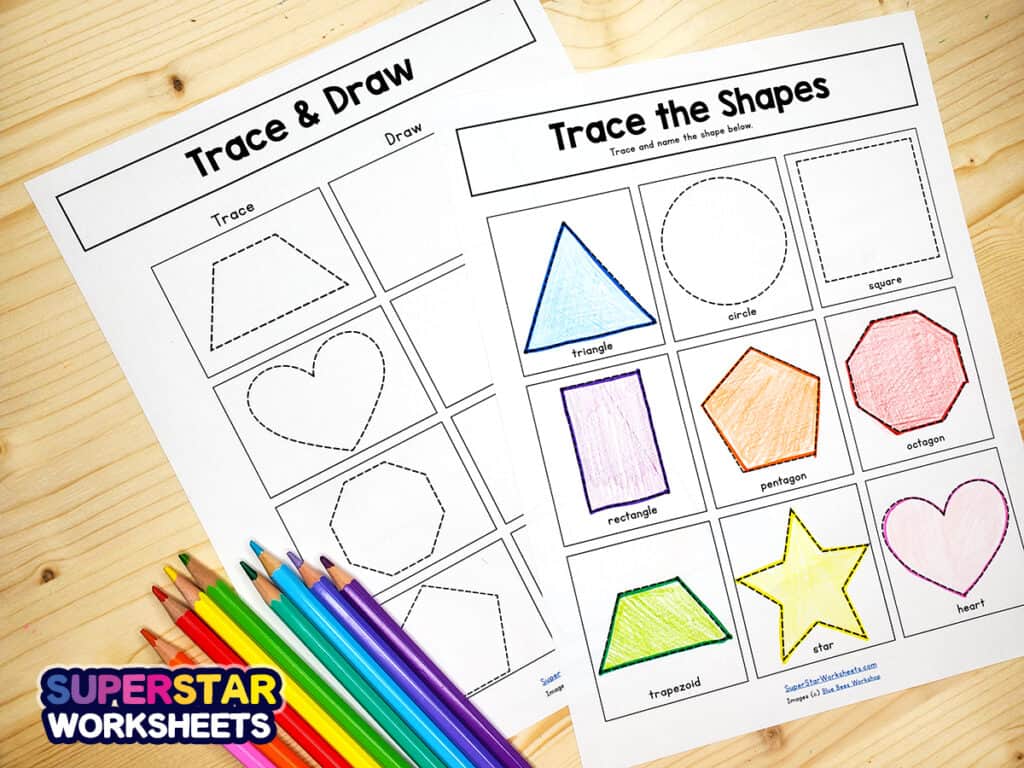 Shape Tracing and Drawing Worksheets
Tracing shapes has now moved up to freehand drawing with these next-level shape drawing worksheets. It is a great way to scaffold to the next step. With simple and complex shapes, these worksheets are a great way to progress in shape drawing.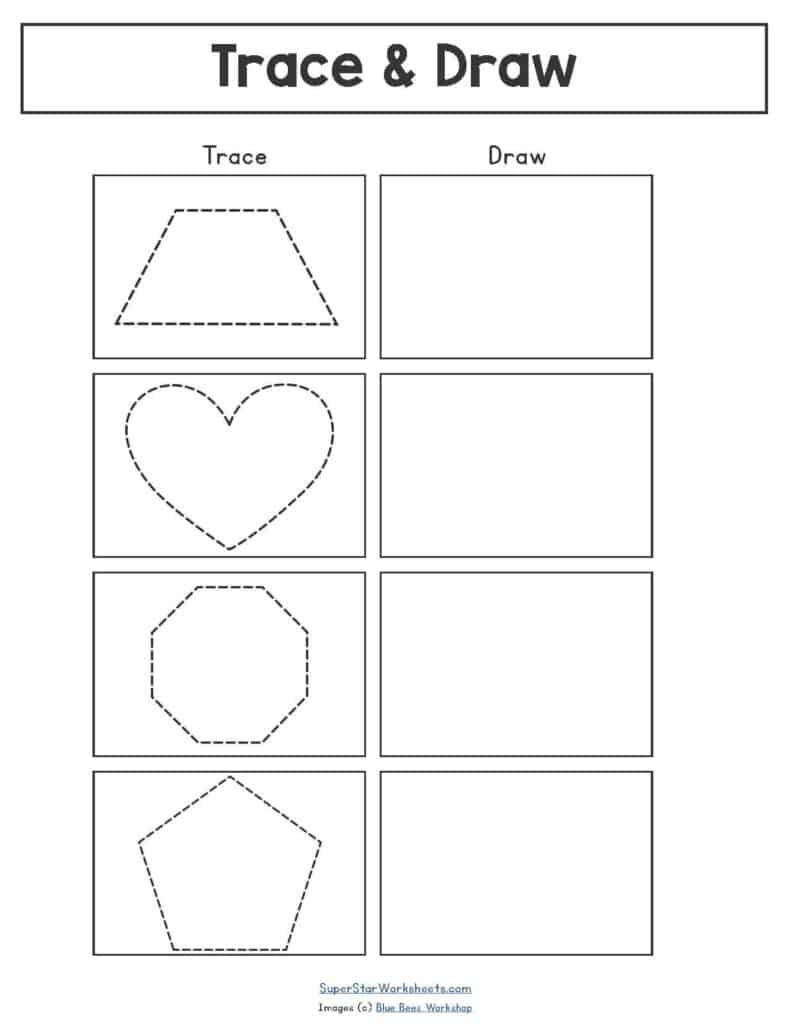 Students will learn to trace and draw shapes with this handy worksheet. This free shape worksheet includes a trapezoid, heart, hexagon, and pentagon.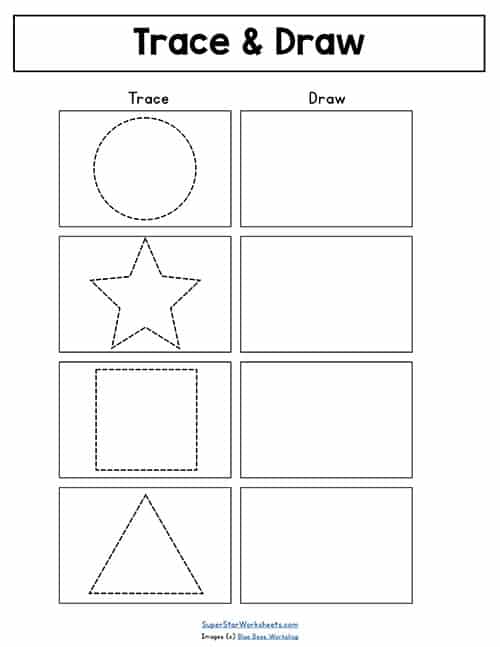 This free shapes worksheet will help children trace then free-hand simple shapes. Kids will trace circle, star, square, and triangle.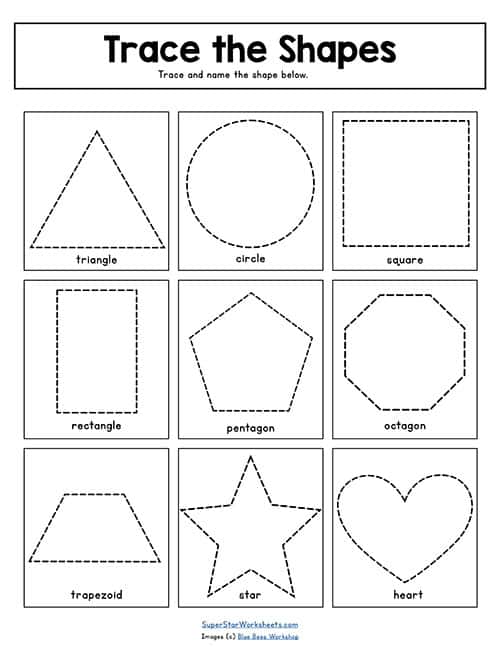 Students will learn simple and complex shapes through tracing with this worksheet. Students learn the names of all 9 basic shapes.
Shape Symmetry Worksheet
Students will learn how to follow directions as they finish the shapes and trace the links. These worksheets teach shape recognition with simple shapes such as circles, squares and triangles as well as more complex shapes such as hearts, trapezoids, octagons, hexagons and more. Bringing it to the next level is a worksheet that focusing on symmetry and the beginnings of fractions.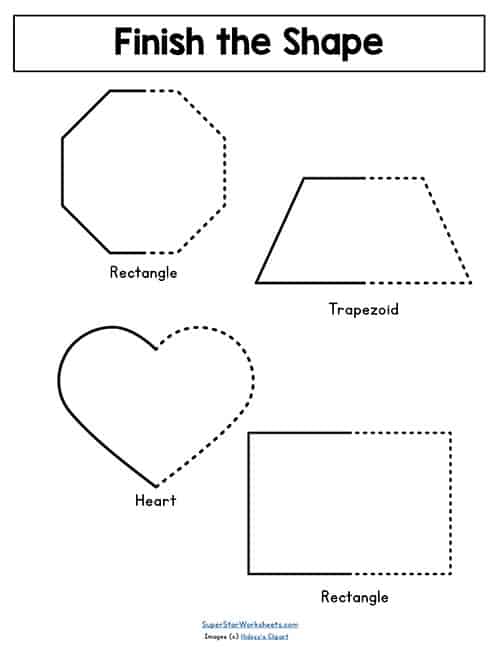 Students will learn shape names, recognition, and build on following directions with this tracing worksheet.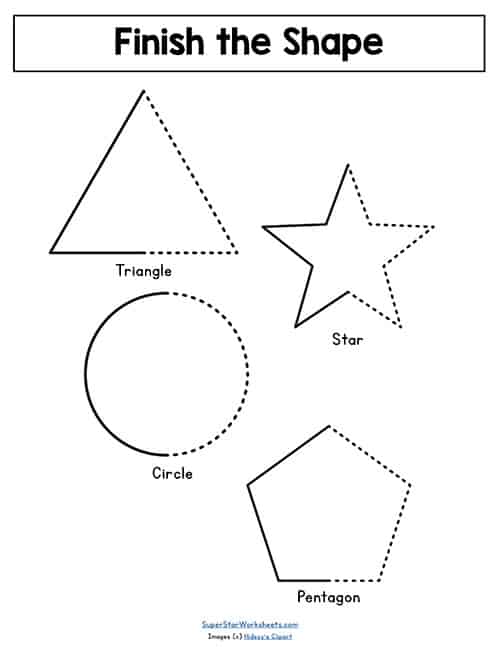 This worksheet is a great way to have students follow directions as they learn shape recognition and names.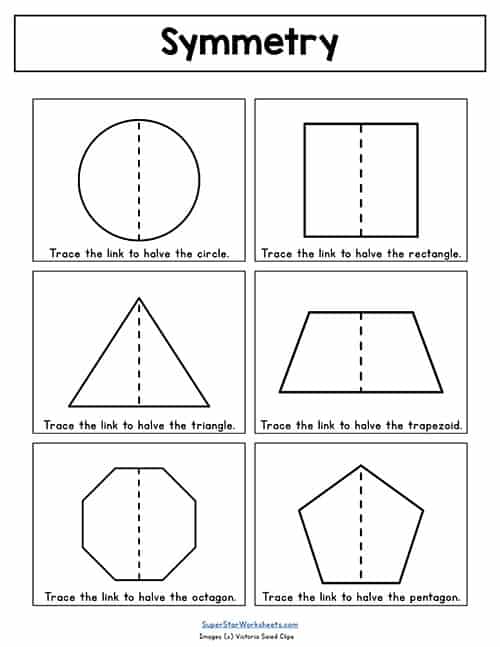 This worksheet gives students a more in-depth look at the symmetry of shapes as well as the beginning stages of fractions.