Preschool Shape Worksheets to build multiple preschool skills! These valuable shape worksheets help students master the basic shapes. Kids will learn their shapes while practicing lots of skill sets including identifying, tracing, drawing, writing, counting, and spelling 2D shapes.
Shape Worksheets for Preschool
Shapes worksheets are wonderful for preschool and kindergarten students and develop a robust foundation in geometry. Did you know that learning shapes not only helps children with geometry but also aids them in identifying and organizing visual information? Many subject areas are covered including reading, math, and yes, even science. For additional exercises, try our Fine Motor Shapes or Shape of the Week Curriculum.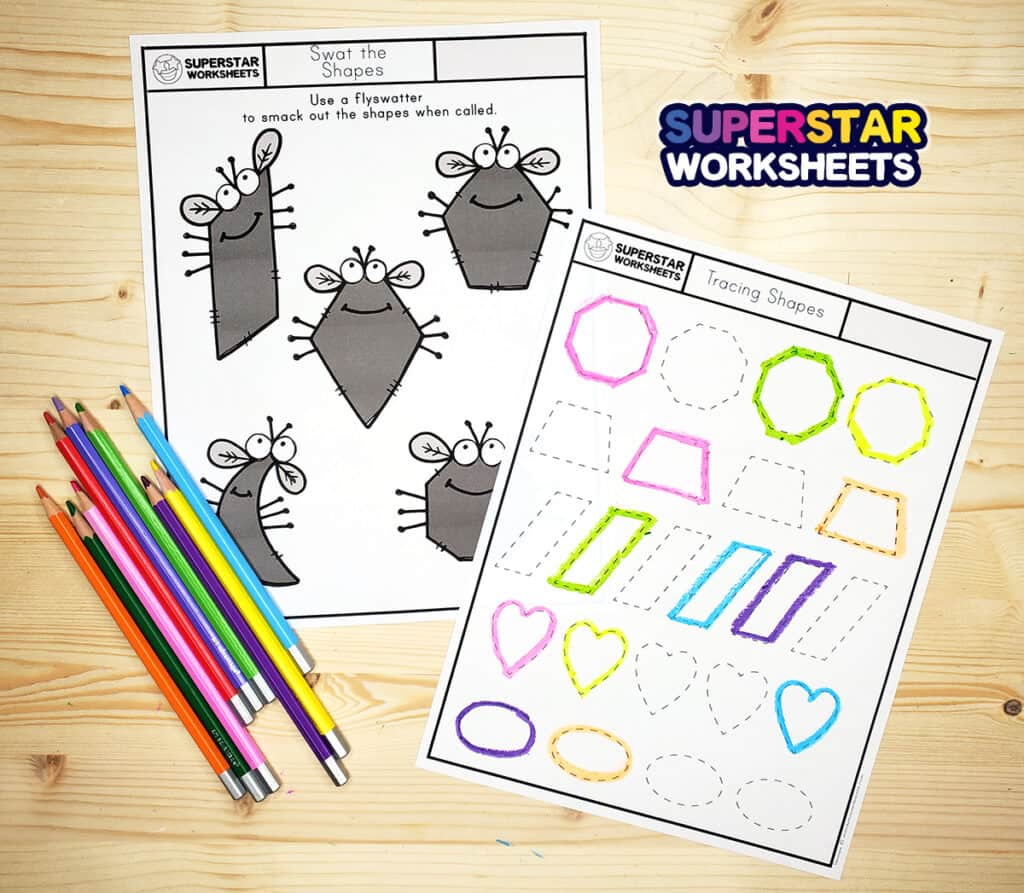 Preschool Shapes Worksheet
Our shape worksheets include activities for building math skills, fine motor skills, and in addition, contain a fun collection of counting games for preschoolers. Use our free printable worksheet with dry erase markers or paint crayons for extra pop!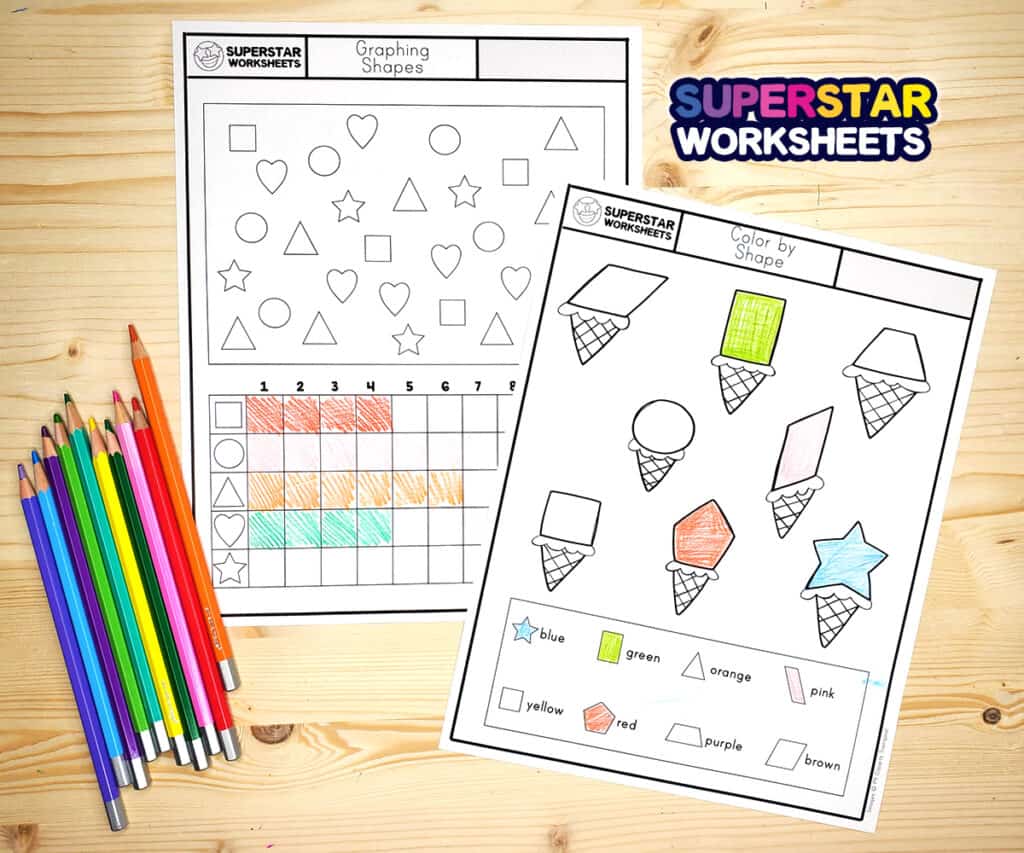 Preschool Shape Charts
There are so many wonderful features of our free preschool shape printables. Your child will build math knowledge with our graphing worksheets, learn and count basic shapes with our coloring shape pages, and play games. Looking for more shape tracing worksheets? Check out Preschool Mom's tracing sheets!
Preschool Shapes Printables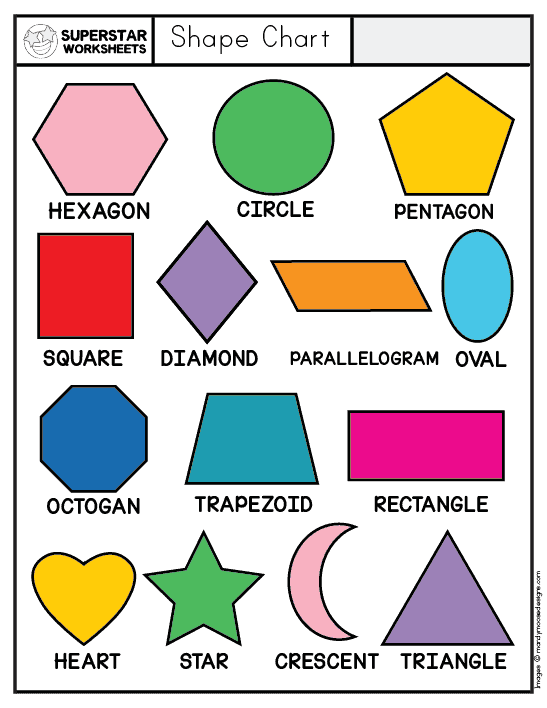 This colorful shape chart gives your children 14 shapes to learn. Laminate this shape chart for longer use to display on a frig or classroom wall.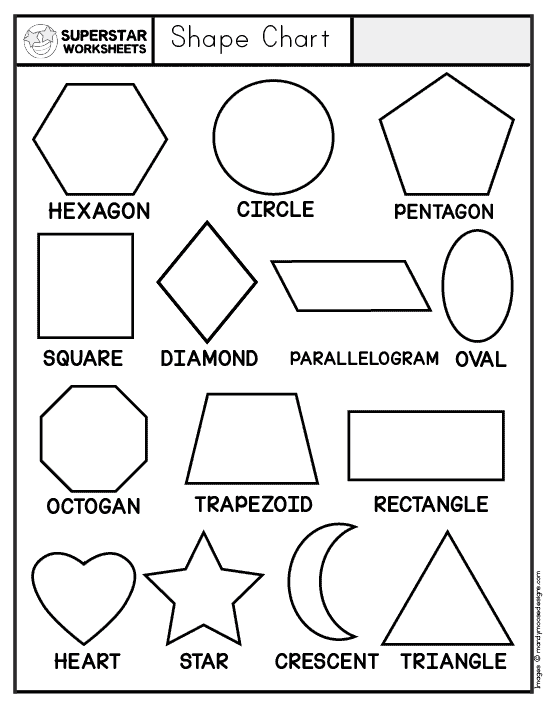 This is a black and white shape chart kids can color and trace. Laminate it once coloring is complete for extra usage or display.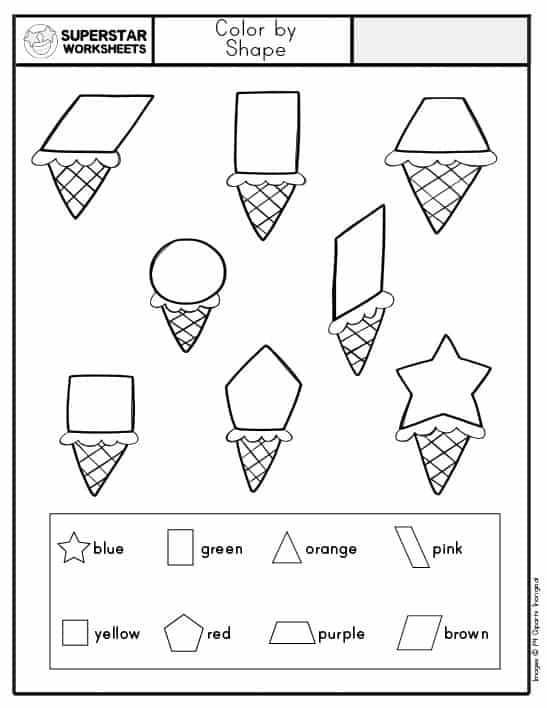 Kids can have a blast with this fun color-by-shape worksheet. There are 8 shapes to color based on the key provided. Ask kids to color key first.
Shape Preschool Worksheets
Below you'll find a wonderful set of 30 shape worksheets for preschool that are free, filled with a ton of activities, and includes lots of fine motor exercises. From counting to graphing, your kids will soar in their preschool abilities. Need more for Kindergarten? Check out our Kindergarten Shape Tracing Worksheets!
Counting Shapes for Preschoolers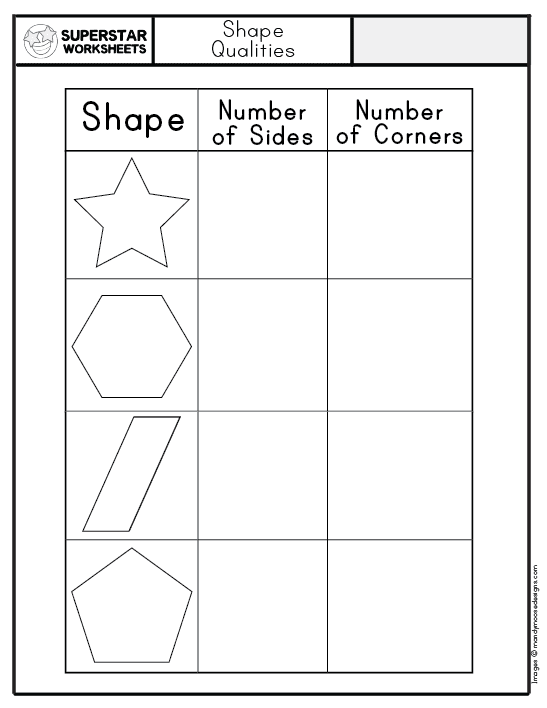 These counting shapes for preschoolers give kids practice with the star, hexagon, parallelogram, and pentagon.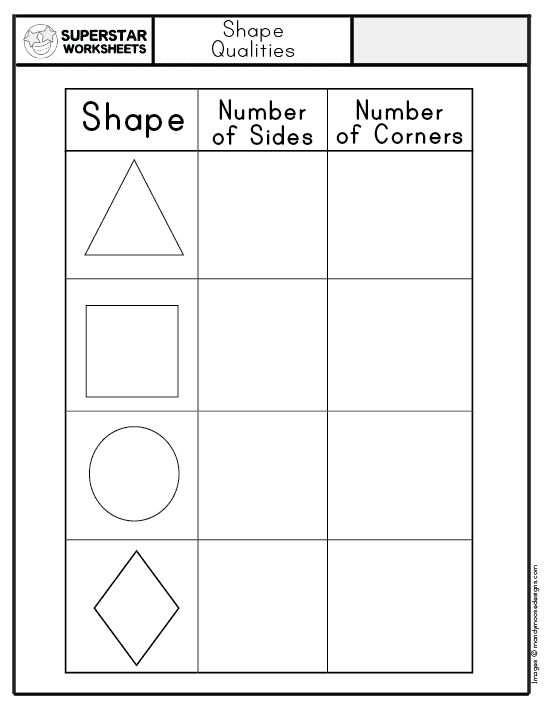 Preschoolers will have fun counting the number of sides and corners. The basic shapes included are triangle, square, circle, and diamond.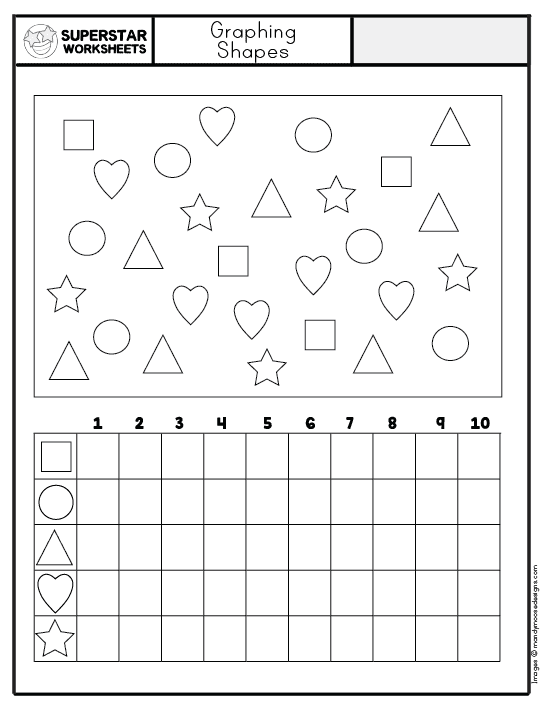 Teach your kids how to graph at an early age with this graphing shapes exercises. Kids will practice with 5 different shapes by counting and coloring.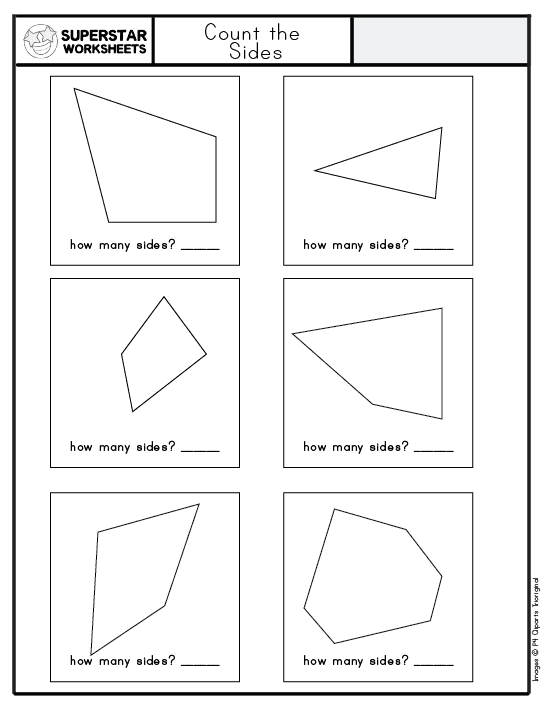 Let's continue to learn counting with our Count the Sides worksheets. There are 6 exercises and each practice section contains a question.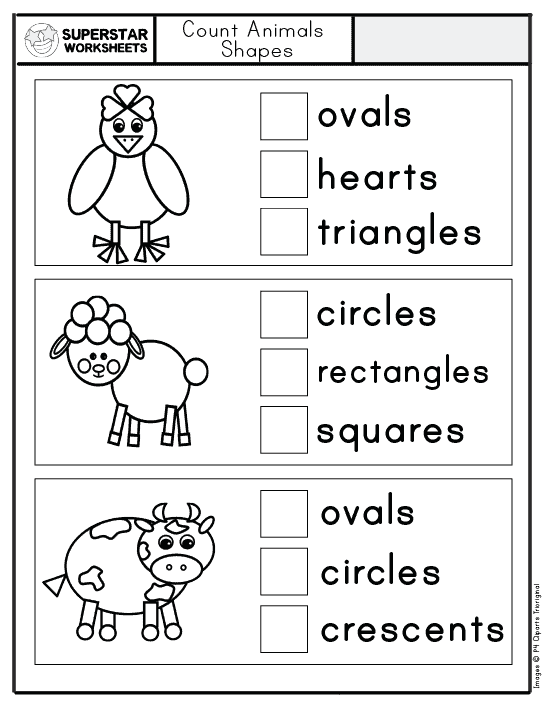 Count how many animal shapes you can see with this fun shape printable. All things have shapes and animals are no exception!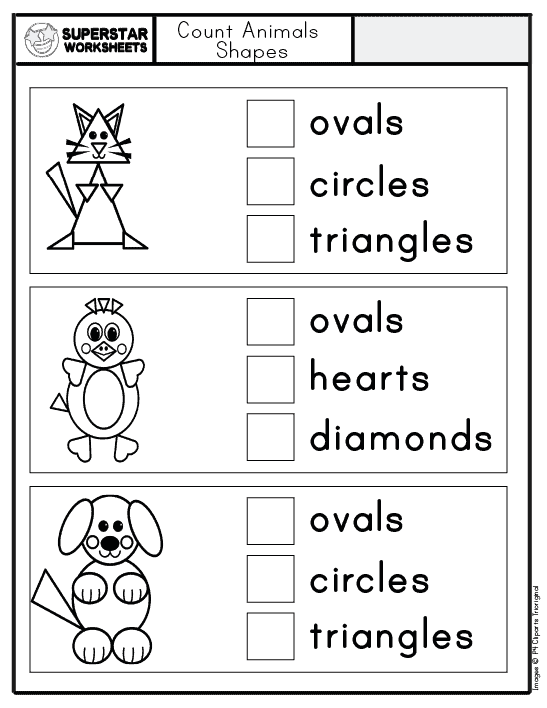 Here is another exercise for practicing shapes and identifying them easily. Kids will write how many ovals, circles, or triangles they can find.
Cut Out Shapes Preschoolers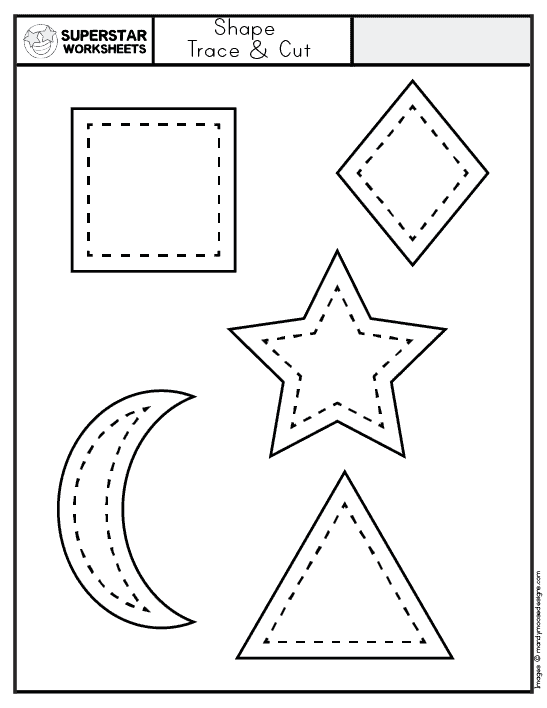 Our cut-out shapes for preschoolers are easy to use and great for fine motor and cutting skills. This free shape worksheet includes 5 different shapes.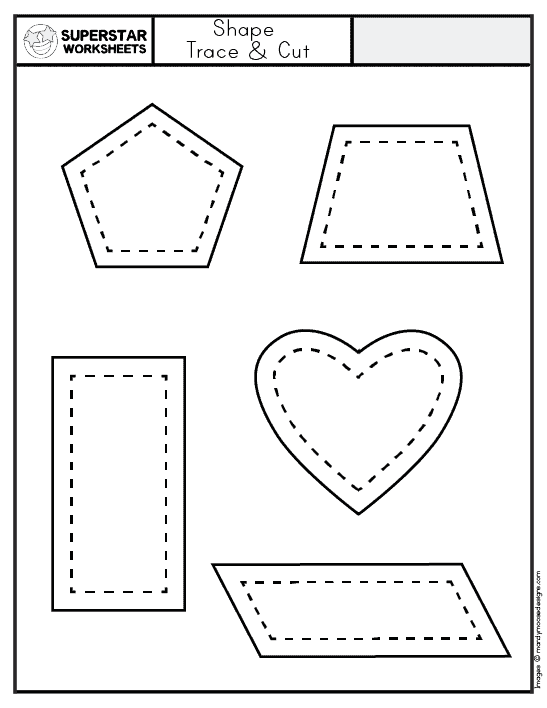 Our Trace and Cut exercises include 5 different types of shapes to trace, cut, and paste on cardstock or colored paper.
How many shapes can you identify? Here are 4 shapes to trace, color, and cut. Don't forget to place them on cardstock for fun creativity!
Tracing Shapes Worksheets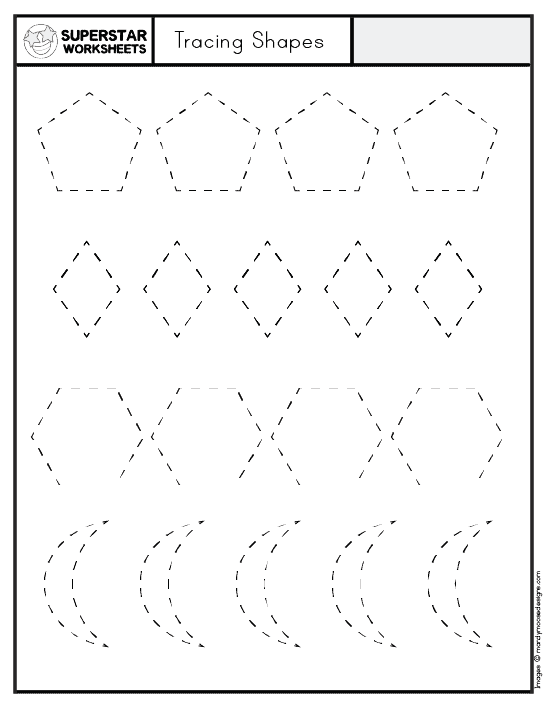 Give your students lots of practice with their shapes. We cover 4 different types of exercises to keep your kids busy and learn how to write and remember.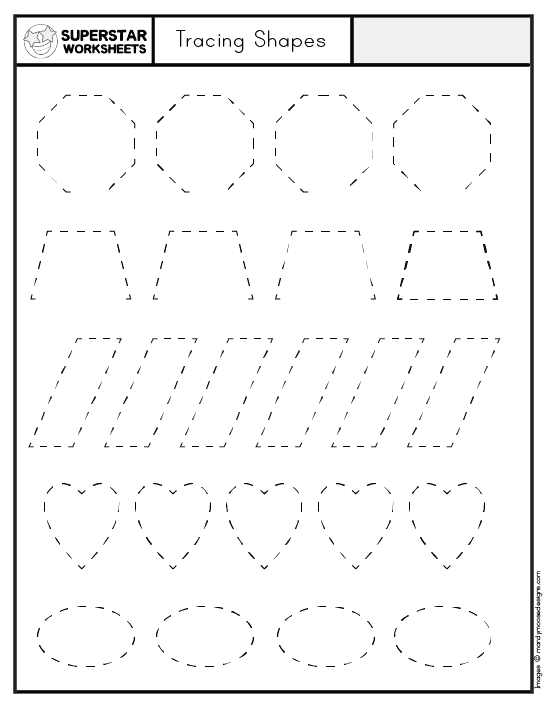 Our Shape Tracing Worksheets are free to use and great for kids practicing shapes. WIth 5 different types of shapes, they'll get lots of practice!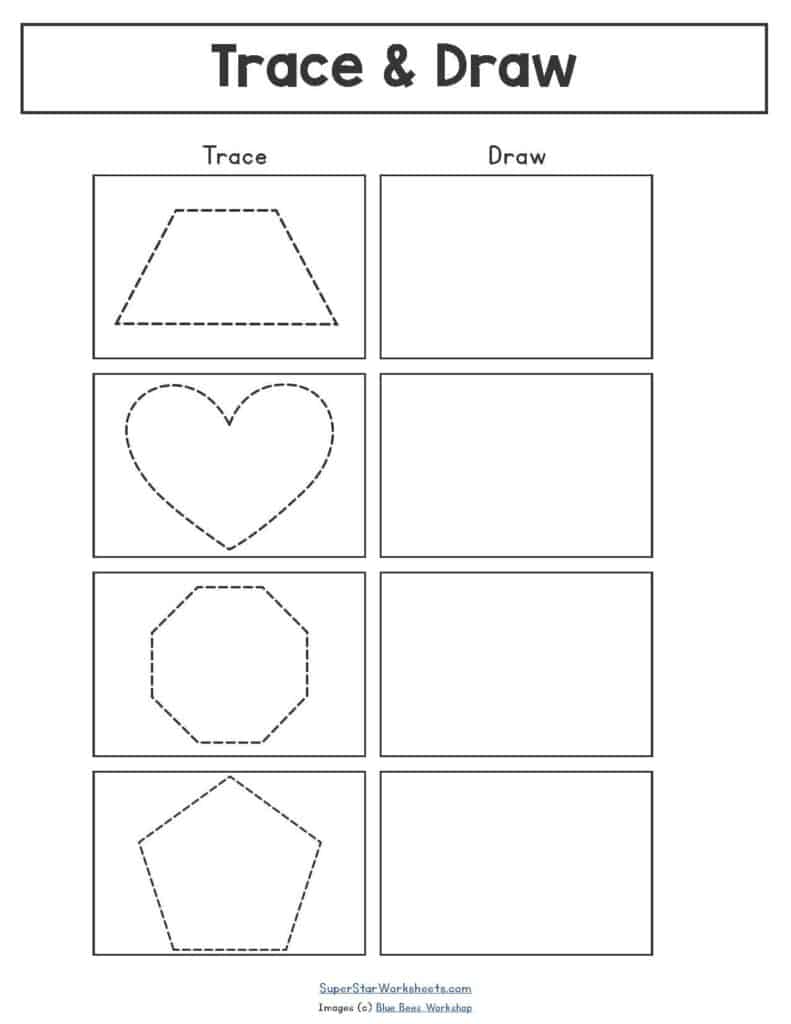 It's time to trace and draw 4 shapes including the trapezoid, heart, hexagon, and pentagon. Kids can trace, color, and draw.
This preschool activity is a great way to encourage spelling with shapes! Kids will practice spelling hexagon, square, octagon, and parallelogram.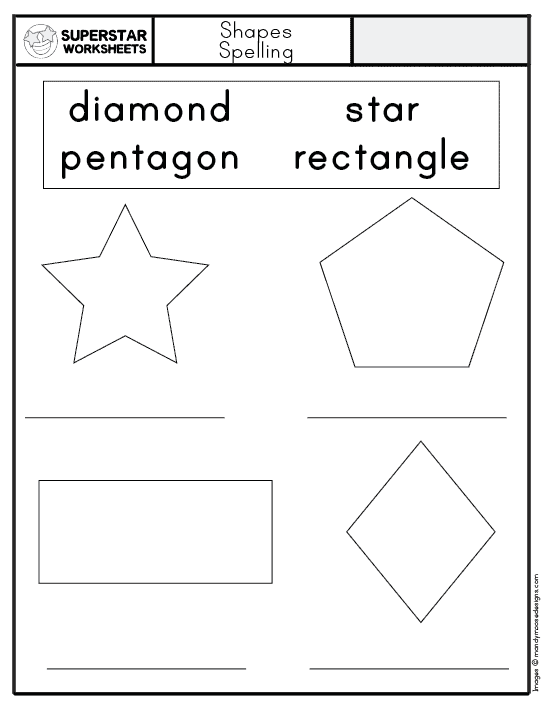 Our shapes spelling pages include 4 different types of shapes to trace and write their names. Kids can use different colors for extra fun.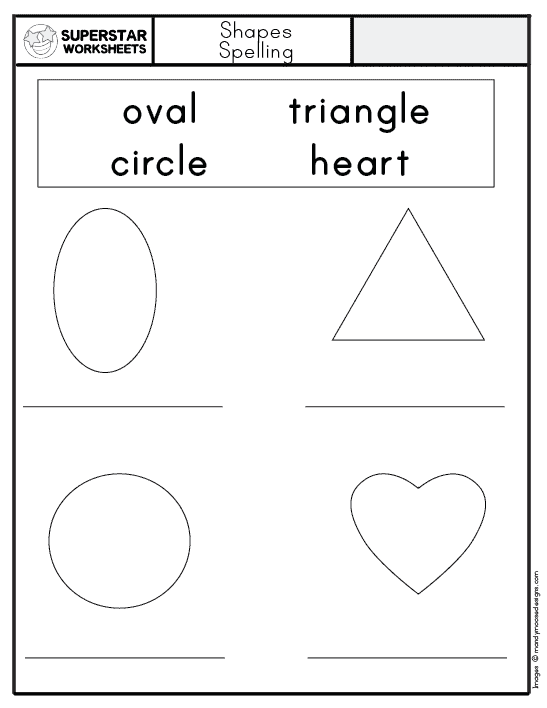 Our Shapes Spelling Sheets include 4 shapes with their 4 names to write and trace. Kids can color each shape a different color as a bonus.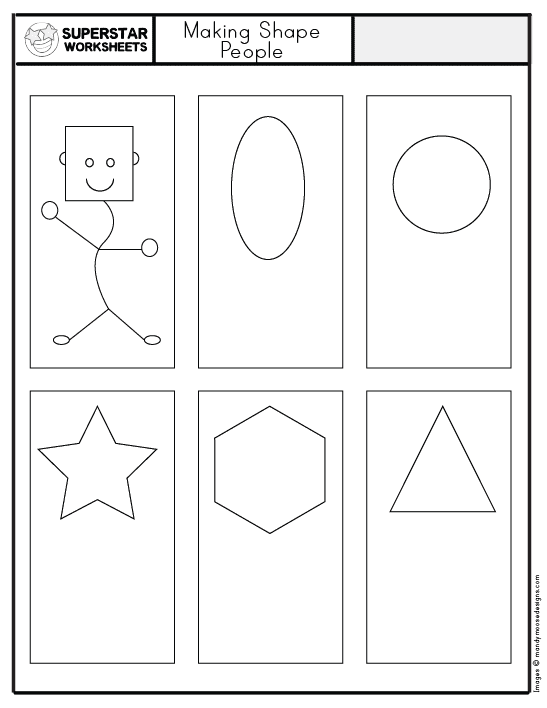 Let's make shape people with a wide variety of shapes. Kids will have fun adding arms, legs, hands, and feet plus faces to their cute and adorable shape people!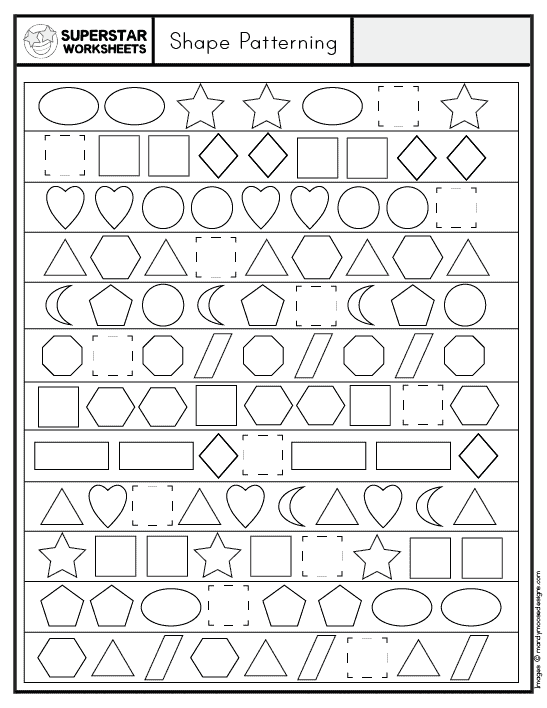 Our Shape Patterning Worksheets allow kids to get a ton of fine motor practice while learning their shapes and identifying their patterns.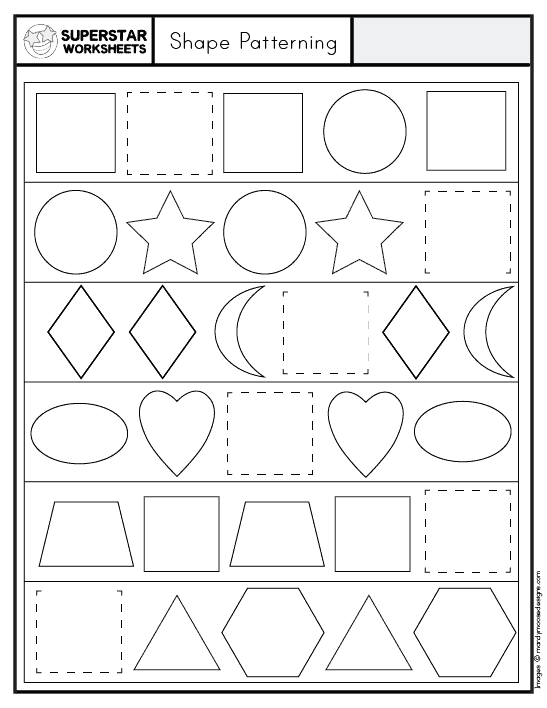 Kids have fun learning their shapes while coloring and drawing. Plus, learn patterns with our shape patterning printables!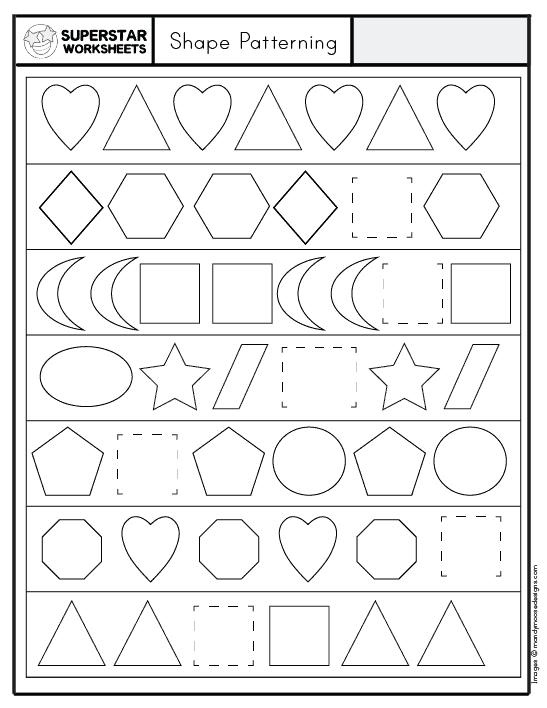 This pattern activity is great for students to learn how to identify sequences and order. Once kids figure out what shape it is, they can trace it and color it too.
Preschool Shape Games Printables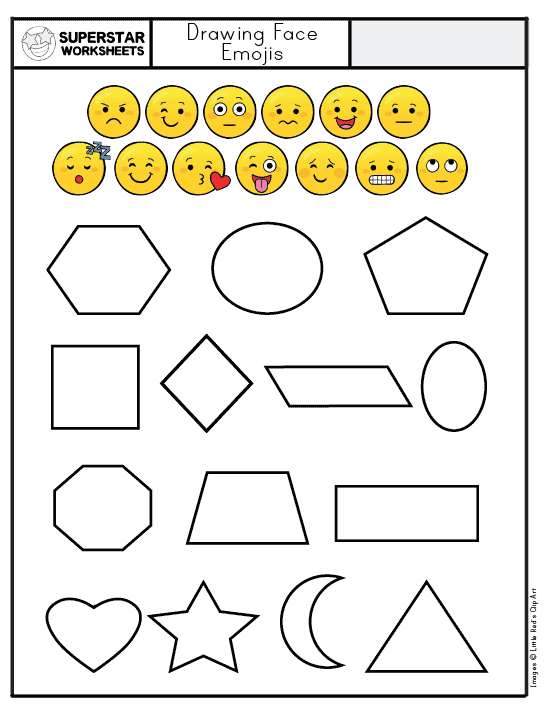 This adorable activity is so much fun for kids. Kids will draw face emojis on each shape. Maybe your kids can figure out which emotion their emojis are revealing?
Our Shapes matching game allows students to figure out which objects represent. Help kids learn how to problem-solve with this fun matching game.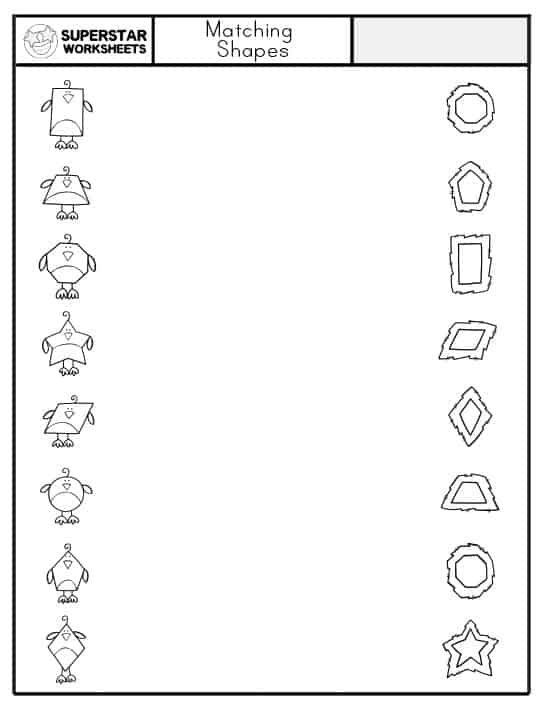 We have 8 matching activities with this matching shape game for kids. They can color each shape and draw a line between the correct shape.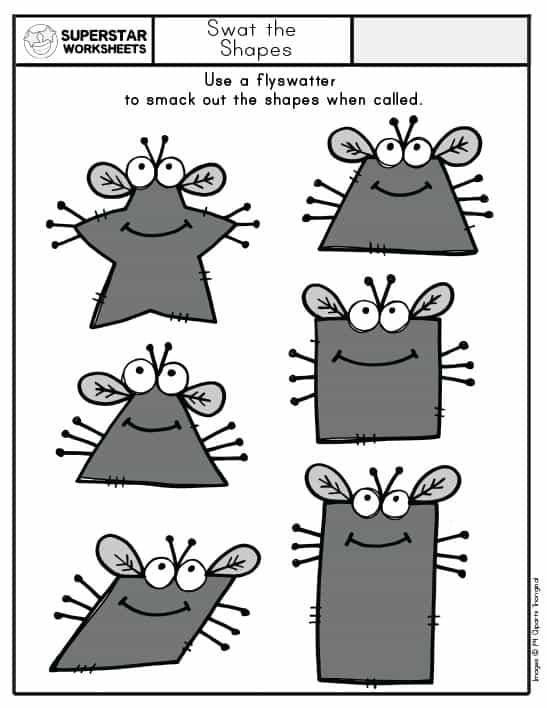 Use a flyswatter to smack out the shapes when called. Kind of like bingo, the teacher or mom will call out a shape and students swat the correct shape fly!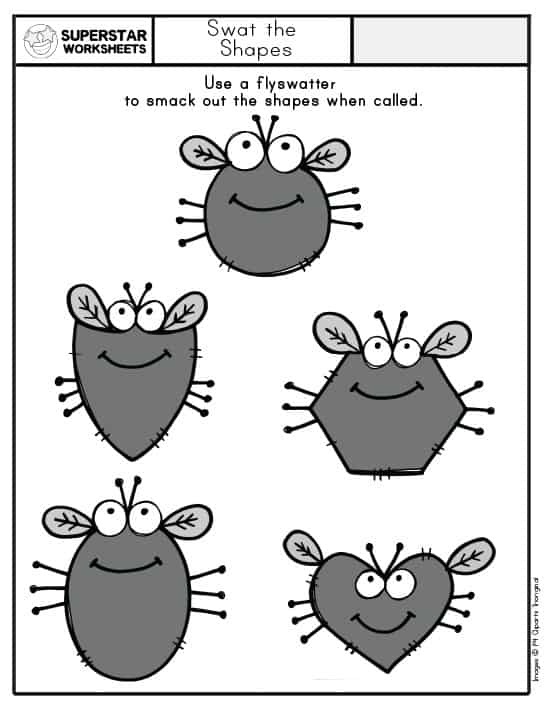 Shoofly, don't bother me! Kids can smack out these shapes with a fly swatter! What fun they'll have as they laugh and giggle with each swat.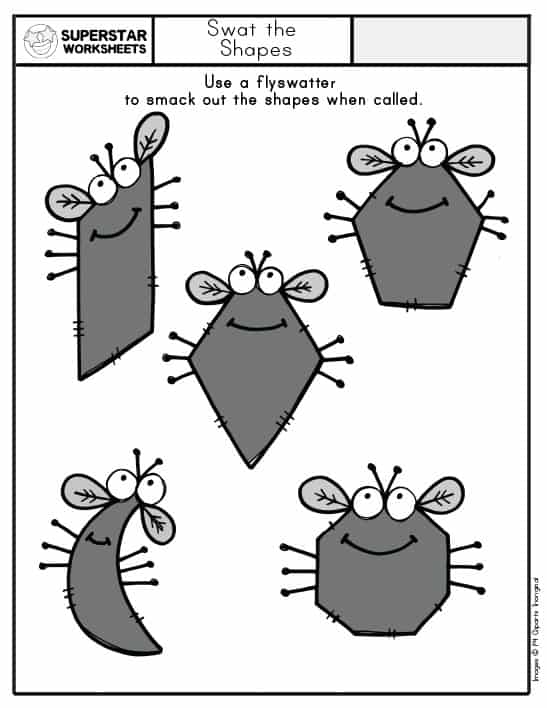 We've included 3 worksheets with shapes of flies that we need to swat. No flies are allowed in this classroom! Each sheet has 5 to 6 shapes to identify.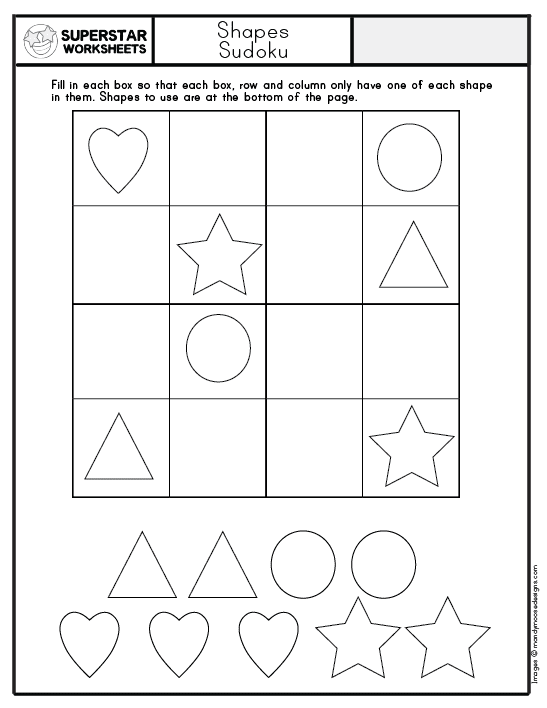 Have your students played shapes sudoku? If not, they are in for a real treat. Don't worry moms and teachers, the answers are on the next worksheet!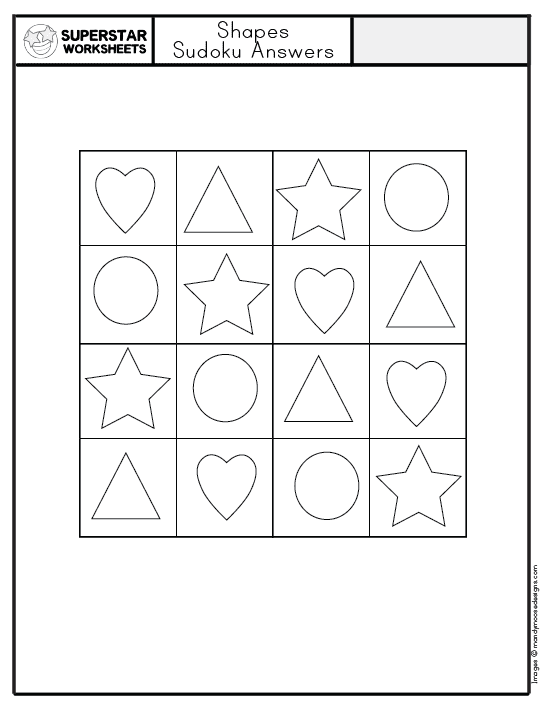 Here are the answers to the Shapes Sudoku on the left-hand side. Kids can color this shapes worksheet after they've checked their answers.